The simple concept behind global food restaurant 'Together at 12th' at Le Meridien Gurgoan is to gather flavors in unison from the kitchen to the bar. To further extend this vibrant idea, co-owners Nitin Tewari and chef Vanshika Bhatia have curated the 'Chef's World Tour' where former interns of the pathbreaking Danish restaurant 'Noma' have come together to cook up a storm. These former interns, including Bhatia, are now all grown up and run their own successful kitchens.
At 'Together at 12th', chefs from 'Masque' (Mumbai), 'Rooh' (Chicago), 'District Winery' (Washington), 'Wilderness Guide' (Finland), 'Pollevie' (Netherlands), among others, have prepared a nine-course menu till July 25, infusing cooking techniques from Finland to Washington DC by using at least one local ingredient from India. Think a melange of pork belly, celery, celeriac puree, farm greens and grey goose nuts vinaigrette or a legend from Danish cuisine hutspot served with carrots and potatoes. But the most heartwarming, gladsome composition comes at the end of the meal. Bhatia's alchemy with beetroot, which also happens to be her favourite ingredient, is pure poetry. With a cake of compact 'kheer', beetroot kombucha, a square button of berry ice cream and Bombay Sapphire gel, she creates a moving symphony of a sweet and tangy dessert. She talks to THE WEEK about Chef's World Tour and kitchen hacks she picked up at 'Noma'.
What are some of the cooking techniques you picked up at 'Noma' that you have applied at 'Together at 12th'
'Noma' taught me a lot of important and innovative methods of cooking. The most personal lessons I have imbibed in my cooking is respecting produce and not to see it in a utilitarian manner, but try to use all methods possible to get the right preparation. Emphasis on zero wastage is the need of the hour, especially as we look towards sustainable methods of living in every area of our lives.
I have learned kombucha making, lacto-fermentation as well as making various kinds of dough.
What are some of the interesting flavors, textures and techniques one can look forward to at the Chef's World Tour?
The chefs are preparing dishes from their own countries; Netherlands, USA, Chicago, Finland to name a few. You will find some traditional techniques from the Netherlands, some old school traditional American techniques of making flat bread and of course Indian cooking techniques. In fact, the chef from Netherlands has made fake meat by taking the gluten out of the flour and then steaming it.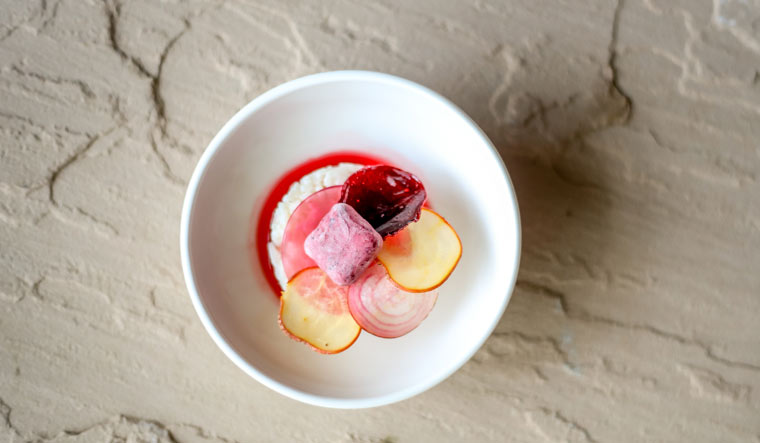 Any interesting dining trend in India that you are excited about, or you feel is missing in India?
India's dining trend is at par with any other country in the world. I personally know so many chefs who want to work in India. We are getting famous in the world for our progressive thinking as well as our connection to the farmers. India is truly a farm-to-fork cuisine landscape, as opposed to a lot of countries where the disconnect between farmers and the end customer is too high.
However, something that is in a way missing is more emphasis on collaborations. There is a new generation of chefs on the block, new-age brands, inventive bartenders and a demographic ready to experiment all. This is a really golden time to work on collaborations and the corporate machinery needs to recognise and adapt accordingly.
'Noma' redefined new Nordic cuisine. How do you want to reimagine modern Indian food?
Indian food is something which is very close to my heart. I don't like to mess with the classics. What I do is play with indigenous Indian ingredients and traditional Indian cooking techniques and mix it with what I have learnt from my seven years for work experience
Which ingredients are you most fond of working with and why?
My favorite is beetroot because it is very versatile. It can be used in desserts , in savoury cuisine and in many different textures.
What's the one signature dish of ;Together at 12th' which can't be replicated anywhere?
I am very open to sharing my recipes and methods because I want people to be more open and not shy away from learning from each other.
Our bamboo chicken is one of our signature dishes definitely. Also the upcycled tortellini is a dish I don't think many are doing since the filling is made up of all the peels and parts that are usually thrown away. We also use black chicken (kadaknath) which is hyper local but in keeping with techniques from Finland.