Style and fashion has changed over time. And the proof of this can be found in the blurring of lines between men's and women's clothing. While androgynous fashion has long been a popular trend among women, designers are putting in more effort to make more choices available to women even as they shop from the men's section. Ujjawal Dubey of the label Antar Agni is one such designer and his recent collection resonates with the idea. The fuss-free silhouettes and clean lines make them wearable by men and women. The colour palette is neutral too, with shades of blue, turquoise, off white and pine. He has the models pair sneakers with the outfits, which make them very versatile.
Quite literally translated as 'the fire within', Antar Agni started out as a menswear label. Dubey, a graduate of NIFT, made his debut at Lakme Fashion Week at the Summer/Resort 2014 show. In a market that was overcrowded with bridal wear and party clothing, he had found his niche in non-fuss menswear. It was all about comfort and not making a point five years ago too, as it is now.
Fashion however, was not Dubey's first career choice. "Growing up in a town like Gorakhpur in Uttar Pradesh, I was always inspired by structures, dimension and design. I was inclined to pursue architecture or engineering. But I realised that I am more into the creative aspect of design, so I chose to pursue fashion design," says Dubey. Dubey who is credited with introducing layering and movement to Indian men, was awarded the prestigious Woolmark award in 2018, where he blended khadi with merino wool.
Dubey also showcased his designs at the South Africa Fashion Week in October last year along with designers from other nations like Brazil, Russian and China. Dubey launched e-commerce in October 2018. "We are glad we could shake things up in the world of menswear," says Dubey who works with his wife Saumya out of a studio in Noida. "I find inspiration in almost everything around me including weddings, the people around me, the places I visit, local shops—anything and everything," he says. He considers design legends like Rei Kawakubo and Yohji Yamamoto to be influencers of his work too.
The label, Antar Agni, who according to Dubey has 30 per cent women as clients, turns five this year. Dubey says that bringing about alternative men's fashion to the forefront just happened. "It was not really a brand mission, but, we are glad to have been able to bridge the gap. He goes on to say that the very first collection, inspired by Kabul as described by Khaled Hosseini in The Kite Runner has stayed on as the signature of the brand. "The very first collections used drapes and fluidity as part of apparel and now it is an integral part of Antar Agni," he adds.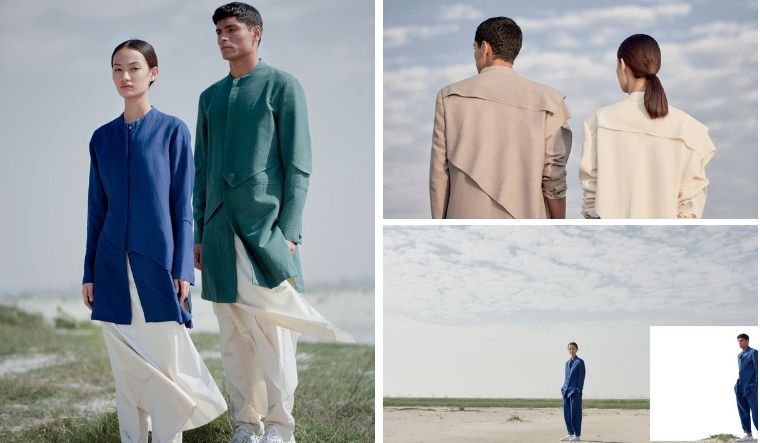 When it comes to personal style, comfort and layering is key to the designer. "Instead of being overburdened by trends, layer yourself with longer silhouettes and keep the bottom simple," he says. Talking about the very first collection, Dubey says, "I have been working on linen and zari and lycra blends, with subtle ari work. Malkha fabric has been sourced from Andhra Pradesh and we have collaborated with master weavers in clusters in Bhagalpur and Meerut." The designer even now continues working with fabrics like linen and cotton and relies on craftsmanship of weavers from Bhagalpur and Meerut.
The designer who has also dappled in furniture designing, says that the challenge in designing menswear lies "in keeping the technical tailoring intact while creating an aesthetically appealing design." The designer's clothes are already a popular choice among Bollywood stars like Ranbir Kapoor, Arjun Kapoor and Sushant Singh Rajput. And it continues to get global attention.