Avinash Pasricha is an eminent chronicler of the performing arts in India. That is perhaps well known. As a veteran photographer, he presides over an enviable oeuvre of over three lakh images of celebrated musicians, dancers, scholars and critics, including a famous black and white profile picture of M.S. Subbulakshmi in a trance, completely immersed in her music. But for Pasricha, capturing celebrities from close quarters wasn't just confined to practitioners of the arts. It included VIPs of the highest diplomatic vintage.
So at the launch of American Centre's newest photo exhibition Celebrating 70 Years of US-India Relations in New Delhi, Pasricha could only remember his immensely rewarding days as photo editor of Span magazine, now a bi-monthly ezine on India-US relations, published by the US embassy. When former American First Lady Jacqueline Kennedy came to visit India in March 1962, Pasricha recalls how he shot the cover image of the magazine—that of Kennedy and Jawaharlal Nehru on the steps of the Rashtrapati Bhavan. "I made them stop to pose for the picture," Pasricha goes back to that sepia-tinted image in his mind's eye, hinting how camera persons today do not enjoy such proximity to shoot images of important dignitaries, with photographers positioned afar with very limited time.
The exhibition which runs till August 14 showcases an impressive array of images and photographs from the archives of the US embassy and international news agencies like AP, documenting US-Indian strategic relations stretching back to the 1950s. Spread over two floors, the exhibitions spans themes across security and economic partnerships, culture, performing arts and science and technology.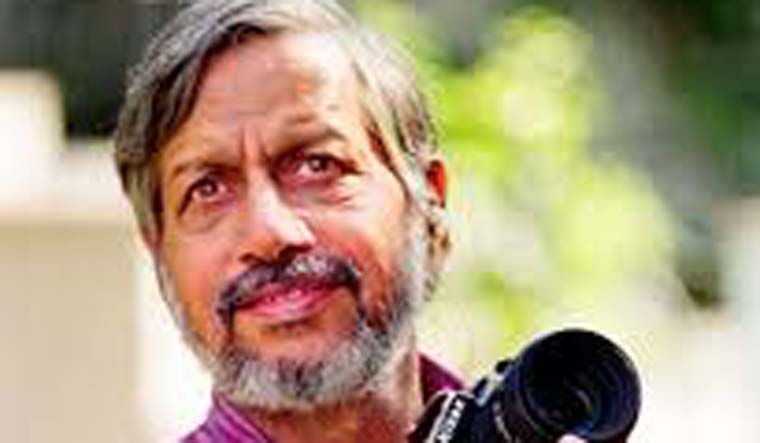 In one image there is former US president Eisenhower and India's prime minister Jawaharlal Nehru, their foreheads marked with vermilion by a village elder near Agra on December 13, 1959, while Martin Luther King Jr, removes his shoes before entering Mahatma Gandhi memorial in 1959 in another. There is even a 1930 image of Rabindranath Tagore chatting with Helen Keller at the New History Society meeting in New York.
The Facebook page of the American Centre also shared a rare black and white image from the exhibition of US Chief Justice Earl Warren laying the cornerstone of the current US embassy building in New Delhi in 1959. "This exhibition is really one of our kick-offs although we have even before this started doing activities to lead up to this anniversary.... Almost everything we've been doing this year kind of has this 70-year marker," says Sarah Ziebell, US Embassy's Regional Public Engagement specialist. Ziebell wondered at the opening ceremony of the exhibition about the number of images that can be attributed to Pasricha, Span magazine's former resident photo editor.
Even Pasricha has lost count of the crucial photos he has clicked, while in the employ of the Embassy, documenting the ebbs and swells of India-US diplomatic history. He joined the American Embassy as photo lab assistant in 1957 and retired in 1997. With no formal training in photography, Pasricha was largely self-taught although he did grow up watching the scrupulous care with which his father executed portraits in his photo studio in Janpath in the 1940s. "My job at the photo lab was to select and source the pictures and get these multiple prints made for the media/press section which handed it out for printing in the newspapers. That was where I was discovered as a good photographer as well as photo editor," says Pasricha who joined Span magazine as photo editor in 1960 at the height of "anti-communist, anti-Soviet atmosphere" and at a time when there were hardly any high-quality pictorial magazines in the country.
Prodded further, he will give you anecdotal accounts of the many American presidents he has covered—Jimmy Carter, Nixon, et al.
On the opening day of the exhibition, Pasricha was among the audience watching a collaborative dance recital between American dancer and academic Nyama McCarthy-Brown and Bharatanatyam exponent Tanya Saxena. Asked about his views on how the India-US relations have evolved, Pasricha chose to point out what really matters: "They are both important democracies. They are both important to each other. That relationship cannot go haywire at all. It has to remain and carry on", he said, perhaps echoing how cultural and artistic exchanges blur boundaries and notions of who leads whom.