Since the funeral of her daughter, Vasanthakumari has retreated into the darkness of her room, rarely venturing outside. Despite persistent pleas by family members and relatives, she skips meals and refuses to switch on the lights in her room. She and her husband, K.G. Mohandas, suffered the biggest tragedy of their lives on May 10, when their daughter, Dr Vandana Mohandas, was killed by a patient she was attending to at the government-run taluk hospital at Kottarakkara, in Kerala's Kollam district.
It was Vasanthakumari's dream to see her daughter become a doctor. And, Vandana, who did her MBBS at Azeezia Medical College in Kollam, was so close to getting a registration to practise and fulfill that dream. But the systemic failure to prevent violence against health care workers culminated in the young doctor's death at the hands of a violent man.
Vandana joined the MBBS course in 2016. She was doing her house surgency with her junior (2017) batch. The 2017 batch was the first regular batch in Kerala that was required to do three months of community medicine posting in district or taluk hospitals as part of their 12-month compulsory rotating medical internship (CMRI)―which is required to become a registered doctor. Vandana was fulfilling this requirement when she was attacked by S. Sandeep, a 42-year-old school teacher.
On that fateful day, Vandana and another house surgeon, Dr Muhammad Shebin, were assisting the duty doctor in the casualty section. At around 4:30am, the police brought an injured Sandeep to the hospital. As he was being treated, Sandeep turned violent, and went on a stabbing spree with a pair of scissors he took from the nursing room. He stabbed Vandana multiple times inside the observation room. According to the forensics report, she suffered 17 injuries, including four deep cuts in the body. Unfortunately, the police failed to anticipate the attack or to stop it.
Vandana's tragedy shook the entire state's conscience, and led to vehement protest from the medical community―not the first time, though―about the violence they face and the lack of security at their workplace. The Kerala Government Medical Officers' Association (KGMOA), the Indian Medical Association (IMA), the Kerala Medical Post Graduate Association (KMPGA) and the Kerala House Surgeons Association went on a flash strike.
At the protest site of the KMPGA in front of the secretariat in Thiruvananthapuram, THE WEEK met Dr Merry Francis Kallely, a neurosurgery resident at the Thiruvananthapuram Government Medical College, who shared the story of an attack she faced. The 31-year-old was kicked on her abdomen by a bystander a few months ago. "I was on ICU duty that day," she said. "A 49-year-old patient with brain tumour, who was operated on by doctors in the neurosurgery department, died. I was not part of the team that did the surgery, but I went to communicate the patient's death to her husband. But then he kicked me. I filed a complaint and an FIR was registered. But then the public and the media said he was in pain because of the death of his wife. So far, nothing has happened in this case."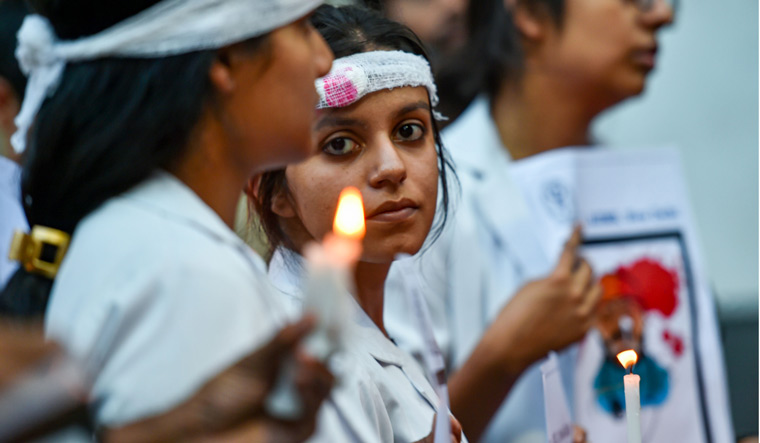 According to the IMA, in the last three years alone, doctors faced around 200 attacks in Kerala, and none of the perpetrators was convicted. In March, Dr Sulphi Noohu, president of the Kerala chapter of the IMA, said the rising attacks on health care workers would soon result in a death. "One person will be murdered soon! It could be me. It could be anyone. A health worker will be killed in Kerala," he wrote on Facebook. And, on May 10, that prediction became a shocking reality.
A 2015 study by the IMA showed that 75 per cent of the doctors in India have faced some kind of violence at their workplace, with 12 per cent being physical attacks. The study found that escorts of patients committed nearly 70 per cent of such acts, and almost half of such violence was reported from intensive care units or post-surgery units. And, the death of a relative was the most common trigger.
For Dr L.K. Tiwari, a former civil surgeon at Panna district hospital in Madhya Pradesh, the memories of getting mobbed and slapped and later cyber shamed for the death of a patient is still afresh. It happened in September 2022 when he had to rush to the hospital after being informed about the victim of a major road accident. By the time the patient was brought to the hospital, he was dead. But a crowd, including the relatives of the victim, started abusing the medical staff, alleging negligence. Amid the ruckus, one person slapped Tiwari, and the video of it went viral on social media. Angered over the abuse and assault, doctors of the district hospital went on an indefinite strike. An FIR was registered three days later, but a counter FIR, too, was filed under the SC/ST (Prevention of Atrocities) Act against five doctors, including Tiwari, for allegedly abusing the victims' relatives.
Tiwari, who is now posted as chief medical and health officer at Satna district hospital, told THE WEEK that although an FIR was registered, a compromise with the accused was reached after the case went to court.
Dr Madhav Hasani, president of the Madhya Pradesh Medical Officers' Association, explained why such compromises are reached and why such cases were underreported. "The person who is assaulted feels that if they go ahead with the complaint, they might be made to feel like a culprit [as in the case of Tiwari] and are often forced to withdraw the complaint," he said. "So the doctors prefer a compromise. After all, they have to work in the public sphere to earn their livelihood."
There is no uniform law in the country to protect health care workers from violence at their workplace. In June 2019, the country saw massive protests by doctors after two junior doctors at Kolkata's NRS Medical College were attacked. Two months later, a 73-year-old doctor in Assam's Jorhat district was lynched by a mob accusing the doctor of medical negligence in the death of a plantation worker. All these prompted the Union ministry of health and family welfare to propose the Healthcare Service Personnel and Clinical Establishments (Prohibition of Violence and Damage to Property) Bill, 2019, which was intended to criminalise violence against health care personnel.
However, the bill did not become an Act as the Union home ministry opposed the proposal, saying that a separate law covering medical professionals could not be considered. The ministry reasoned that the enactment of a special law to deal with violence against members of a specific profession was not required since existing provisions of the Indian Penal Code were sufficient to deal with it. However, in April 2020, with the growing threat of Covid-19, the government came up with the Epidemic Diseases (Amendment) Ordinance, to include protections for health care personnel.
In February this year, Union Health Minister Mansukh L. Mandaviya confirmed in Parliament that the Union government would not enact any separate legislation to prohibit violence against health care professionals. "Since law and order is a state subject, state/Union territory governments also take appropriate steps to protect health care professionals/institutions under provisions in the Indian Penal Code/Code of Criminal Procedure," he said.
Currently, 25 states and Union territories have laws penalising violence against health care workers. In most of these states, violence against health care workers is a cognisable and non-bailable offence with a fine of Rs50,000 and three years of imprisonment. But doctors and experts from several states have confirmed that these laws are not being implemented properly. Also, these laws predominantly emphasise punitive measures rather than provide comprehensive protection for health care establishments.
The Kerala Healthcare Service Persons and Healthcare Service Institutions (Prevention of Violence and Damage to Property) Act, 2012, was in place in the state. On paper, it offered protection to registered and provisionally registered medical practitioners, registered nurses, medical students, nursing students and paramedical staff working in health care institutions.
"However, this Act was absolutely toothless," said Noohu. "That is why we demanded an amendment to this Act or a new Act. It has been before the government for quite some time. The government had agreed to implement our recommendations. But the process was going at a slow pace. They did not feel the urgency."
Finally, a young doctor had to pay the price with her life for the government to understand the urgency. On May 17, a week after Vandana's death, the Kerala government approved an ordinance to amend the law. The new ordinance will extend the protection under the law to the paramedical students and staff, security guards, managerial staff, ambulance drivers, helpers posted in health care institutions and health workers notified in the official gazette from time to time. Under the ordinance, anyone found guilty of causing grievous bodily harm to any health care worker or professional would be punished with imprisonment ranging from one year to seven years and a fine up to 05 lakh. Verbal attacks will also be brought under penal provisions.
A major demand from the health care community is to raise the security on hospital premises. "There should be 24x7 posting of police personnel. Currently, some not-so-fit personnel are posted at hospitals as a mere formality. They just sit in the room provided to them and appear only when the incident has already occurred. The system should be that as soon as emergency or critical cases enter the hospital and the care providers rush out with stretchers, the police should immediately appear on the scene and control the situation as emotions tend to run high in such cases," said Tiwari.
After Vandana's death, the Kerala government has decided to strengthen the security systems by dividing hospitals into multiple categories. Police outposts will be established in medical colleges, district hospitals, general hospitals and women's and children's hospitals, which come under the first category. Full police surveillance will be ensured in other hospitals as well. The decision has also been taken to establish closed-circuit cameras in all hospitals, ensure proper surveillance and conduct a security audit every six months in all hospitals.
"We demand that security should be provided by ex-servicemen under 50. There should be postings from the Central Industrial Security Force," said Noohu. He said the IMA was thinking of forming a security force of its own. "It is not to make them armed bouncers. The hospital is a special kind of place. So, there should be a two-way approach. They should be able to do crisis management," he said.
The new ordinance by the Kerala government envisages the setting up of fast-track courts to ensure quick trial and conviction within one year in cases involving violence against health care workers. An officer of inspector rank or above will investigate the cases, and the investigation should be completed within 60 days from the day the FIR is registered.
Shreya Shrivastava, a senior resident fellow with Vidhi Centre for Legal Policy, who had studied violence against health care workers, however, said there were deeper issues that could not be effectively resolved through criminal punishments alone. "According to the theory of criminal law and deterrence, punishment serves its purpose when individuals consciously consider the consequences of their actions, leading to deterrence. However, when examining violence against health care professionals and the circumstances under which relatives of patients initiate such acts, it becomes crucial to comprehend the context," she said. "Often, these incidents are triggered by strong emotions, such as the loss of a patient or unexpected and prolonged waiting time. In such situations, individuals may not have the opportunity to premeditate their actions or contemplate the repercussions. Therefore, relying solely on criminal punishments may not be the best approach."
Shrivastava called for holistic safeguards for health care professionals, encompassing aspects such as occupational health and safety regulations, employer obligations, post-incident interventions, insurance coverage and compensation.
Shrivastava also called for deeper structural changes. She said all stakeholders must acknowledge the "trust deficit" between doctors and patients, which were exacerbated by various factors. "This deficit exists not only in private health care, but also in the public sector, where patient grievances often go unresolved," she said. "Additionally, during the pandemic, exorbitant bills were imposed on patients for ICU costs, ventilators and medications, further contributing to the erosion of trust. In some cases, doctors and hospitals have affiliations with pharmaceutical companies, which adds to the complexities. Consequently, patients respond in a manner influenced by all these factors."
To tackle this problem, the first measure that should be taken is the introduction of provisions that promote transparency and accountability among health care providers. By doing so, a significant portion of the trust deficit can be addressed. Second, health care establishments should have greater obligations towards their employees, particularly doctors who bear the brunt of patient aggression. Implementing routine assessments of incidents, establishing internal grievance redressal processes, ensuring accessible management and facilitating open communication channels between doctors and patients are essential."
Another area of concern is the medical education sector which ignores how crucial effective communication is, especially during crises. "Currently, the curriculum does not adequately address these aspects. Enhancing communication skills within the medical curriculum can contribute significantly to reducing the trust deficit," said Shrivastava.
KMPGA president Dr Ruwise E.A., however, said it was important to look at the overburdened house surgeons and postgraduate residents. "The National Medical Commission says that PG scholars have to work 60 hours per week. But most of us work anywhere between 90 to 120 hours a week. After working 48 to 60 hours straight, one may not even have the capacity to speak patiently," he said. "Such work schedule is also the reason why so much violence happens in hospitals. And, we face different types of people, from drunks to drug addicts. How much tolerance should we be showing?"
Dr Suresh T.N., who heads the KGMOA, said the doctor-patient ratio in India was severely inadequate, resulting in an overwhelming burden on doctors. "The permanent solution is to reduce the doctor-patient ratio and actively work towards overcoming the shortage of medical professionals."
Shrivastava said it was crucial to prioritise health care, as its neglect had been evident across different governments. "Allocating sufficient budgetary resources towards health care is essential. There is a need for greater determination and political will to make health care a top priority."
―With inputs from Sravani Sarkar