When he opened Noma, chef René Redzepi gave it ten years before he moved on. That was in 2003. Now, as the Copenhagen restaurant—named the world's "best" multiple times and credited with revolutionising Nordic food—approaches its 20th birthday, with a new book to boot, the 44-year-old has no plans to walk away.
"I've often asked myself why I was so adamant in saying ten years," he tells me over Zoom from the Noma test kitchen (which, from where I'm sitting, looks like a glass Portakabin being buffeted by the Danish winter weather). "My feeling was that after ten years you had to tear down the fortress you'd built. But I'm very happy right now. Twenty years in, we're in the best place we've ever been—without a doubt. Including myself."
Many chefs go through what in cringeworthy modern parlance might be called a "journey", and Redzepi is no exception. It has been a decade since he first spoke about his temper in the kitchen, calling himself a "beast". In 2015 he wrote an article in which he admitted: "I've been a bully for a large part of my career."
That must have been hard to face, I venture. Redzepi shakes his head, his hair falling over one eye. "It wasn't hard at all, because I was doing it every day," he says. "When I came home at night I looked in the mirror and said to myself: 'Why are these insignificant incidents in the kitchen disasters to you? It doesn't make any sense.' I would tell myself: 'Tomorrow, I'm not going to do it'. And then I'd go back, and within an hour I would be furious. Those are some of the worst times of my life."
Angry, self-loathing chefs are having a cultural moment, Ralph Fiennes playing one in The Menu. That film's depiction of a destination restaurant where privileged diners come for the ultimate tasting menu has echoes of Noma. Fiennes's description of his character as someone who "wants the power and the control, but at a deeper level… despises himself for it" could almost have been applied to Redzepi, from the sound of it. Although thankfully the Dane resolved his issues in a different way.
He has, he tells me, had "many, many, many, many hours of therapy" to deal with the wellspring of his anger—something it has taken years to pin down. "There's a very specific moment, which I can't talk about because it's way too traumatic, when I started asking: 'Where does all this anger come from?'" he says. "Finding that out was the hardest thing I've ever done. It's something I'm still processing. Typically it comes from your childhood, and when I found that out, that's when I could start really letting go of the anger and fear."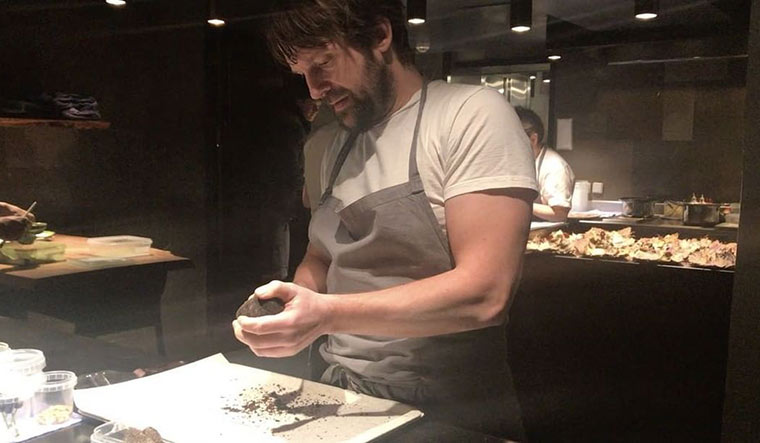 His temper, he insists, was limited to "shouting and screaming". "I never hit anyone, but we were in a very small kitchen. So I probably bumped into people in a way where it was, like, 'Come on, hurry up.' It's hard not to be a little physical when you're running around."
Was he scared that he might cross that line if he didn't deal with his anger? "Yes, I probably was," he replies. "It's an intense industry. I know everyone will have read it many times, but it is so much pressure, you guys have no idea. It's just a machine that churns out young people. It's not easy to fix, and it's going to take a long time. We need much better management skills and teaching—that just doesn't exist. But it has changed quite a lot, I'm happy to say, in the 30 years since I started."
Redzepi and his twin brother, Kenneth, were raised by a Macedonian-Albanian father, who moved to Denmark in the 1970s and worked as a taxi driver, greengrocer and dishwasher to provide for his family, and a Danish mother, a cleaner. Childhood summers were spent foraging in rural Macedonia, but in Copenhagen Redzepi began to supplement the family income aged 11, delivering newspapers, beer and cigarettes.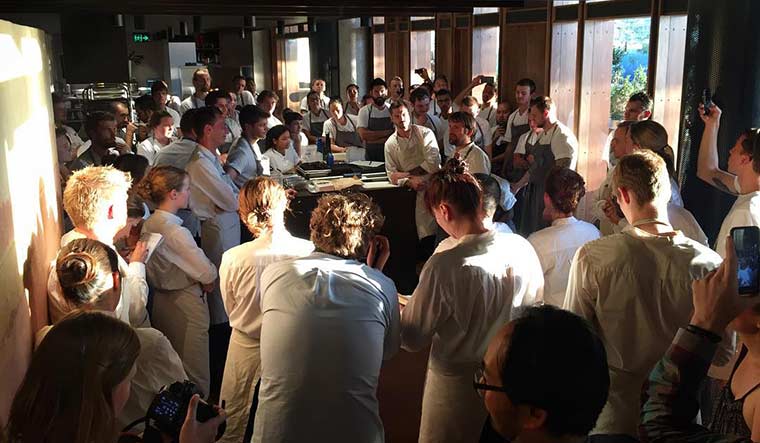 He struggled to focus at school and left aged 15, following a friend to cookery classes on a whim and spending the next decade climbing the culinary ladder, with stints at El Bulli in Spain and the French Laundry in California, before being offered the head chef role at a new eatery in the Danish capital. If you were being lazy, you might say the rest is history. In fact, the rest is the result of his legendary 80-hour working weeks, leaving limited time to spend with his wife, Nadine, and three daughters, Arwen, 14, Genta, 11, and Ro, 7.
"Maybe it's not 80 hours every week now, but it's very damn close," he says. "It's hard for me to have a day where I'm not working. Mondays are what I call a half day—I might come in at 11am and leave at 5pm. And then on Sundays, there might be two or three hours of work to do. I also leave early once a week, between 6pm and 7pm."
That's not early, I say.
"It is very early to me." Redzepi laughs, taking a bite of the dark rye bread and ham he has been eating while we talk. "Early enough to actually have dinner with my family anyway." It helps that Nadine works at Noma. It's where the couple met in 2005, when Redzepi was head chef and she was a 19-year-old student who had stepped in to cover a friend's waitressing shift. Despite a rule (still in existence) that banned dating among staff, love blossomed.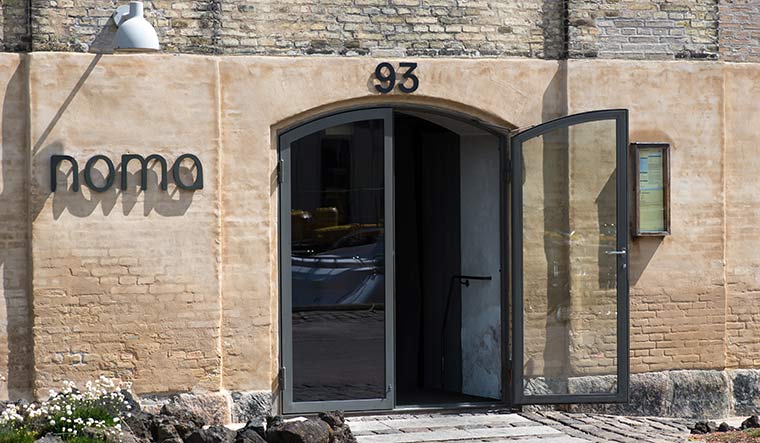 "When I first saw her it was like an angel walking down the stairs. That's really how I felt," Redzepi tells me. Very romantic—but would he have thought twice about starting the relationship in this post-#MeToo era? "Of course, you would think even harder now whether it's something that you're serious about," he says. "The imbalance between me being the boss and her being an hourly employee—could they feel pressured? I'm sure that would make me think differently today. Back then, I was blinded by love so I didn't even consider it."
The family is soon leaving on a month-long holiday to Mexico, their first break together since Covid, during which Noma pivoted to selling burgers to locals who queued around the block. And Redzepi makes time for an annual walking holiday with his closest friend and Noma co-founder, Mads Refslund, during which they stay in people's homes or hostels, and eat simple meals and chocolate bars.
"Hiking is my passion. I've walked the Camino de Santiago twice, the Shikoku 88 in Japan twice and the Caucasus mountains of Georgia," he says. "You can vacuum your mind of clutter. You switch off your phone and ground yourself by just walking. A lot of people say, 'Well, I don't have time,' and I'm, like, 'I don't have time either!' But it's a part of your longevity plan. You make the time. I just cancel everything—doesn't matter what it is, just cancel it."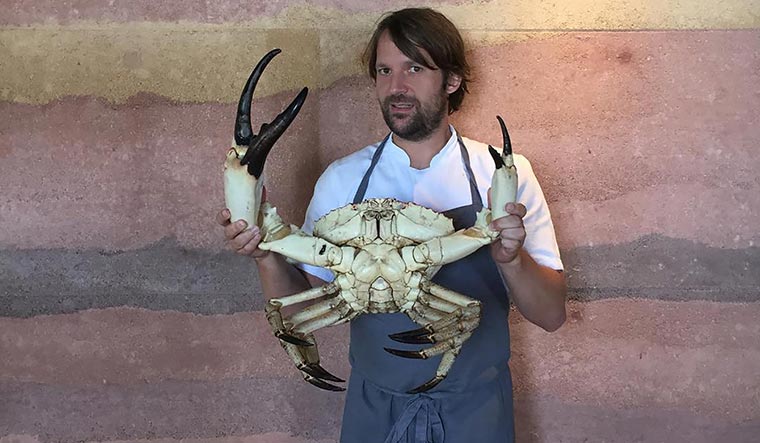 This "longevity plan", it turns out, is rather calculated. "I am trying to plan for the long run," he says, sipping lemon balm tea. "I have stuff I do for myself—workouts, hiking, vacations. I meditate every day. I would like to do what I'm doing until I'm 75 and stay motivated."
That desire is what meant that, in 2017 and at the height of its powers, Redzepi closed Noma, reopening it a year later on a new site near the hippie enclave of Christiania, with a dining structure limited to a seafood season, game season and vegetable season. It paid off, and Noma was named the world's best restaurant in 2021, having not held the title since 2014. The new menu is reflected in his latest book, Noma 2.0: Vegetable, Forest, Ocean. Redzepi tells me that it is intended to showcase the team's work—a good job, since home cooks are likely to be intimidated by the lack of quantities on some recipes, while others demand industrial measures (5kg of sushi rice, anyone)?
In the acknowledgements he name checks each member of the team, including Stu, one of several chefs from the north of England to have cooked in Redzepi's kitchen and whom he credits with his love of a Sunday roast. "Those potatoes cooked in beef fat? The best in the world," he enthuses. "I've also learnt a little bit about your culture—watching a game at the weekend, and drinking pints. British people and Danish people are fairly similar."
I'm starting to think that Redzepi may be a secret anglophile. During our interview his dog bounds into view—a border collie, no less. Then there's his friendship with the British artist David Shrigley, whose whimsical illustrations feature in the book, with slogans such as "The new you is contained inside the old you" and "Release the negative gases". "I started following his work 15 years ago after I went to a gallery and bought a print," Redzepi says. "Then I asked if he would do one specially for Noma. I love his view of the world. They are words to live by. I'm very inspired by people who can keep doing what they're doing for a long time and stay relevant."
He won't divulge the names of his other famous friends or diners, other than admitting that Raymond Blanc is coming to the restaurant in a few days' time, about which he is "excited and quite nervous". Did he have any of the Danish football team in, before the World Cup? Redzepi pauses. "No, but actually, we tried to get the Danish manager [Kasper Hjulmand] to give us a management session," he replies. "Denmark is doing really well. There's an incredible togetherness. He's a leader who is clearly doing something to inspire this group of great footballers. I find that very inspiring—that the right team energy can really make a difference. He wants to come and do it, but he's just a little busy right now."
As is Redzepi, planning Noma's next pop-up in Kyoto in the spring. He waves his phone in front of a flipchart, on which are scrawled 30 ideas (I can only make out the word "squid") that must be turned into 20 dishes for a package that will cost €775 per person (around Rs78,000). And he's already planning to tear down the Noma 2.0 fortress.
"We have a couple of years here, and then we're going to have a big change," he says. "When Covid happened, it was like a thunderclap at night—you can see everything clearly for a second. So, early on in the pandemic, we started some planning that will be put into effect over the next 18 months to two years. We could just keep raising the prices, but we need to do something different to actually get where we need to be."
Redzepi seems satisfied that he is almost where he needs to be too. "I feel better now than when I was 35," he says. "I'm healthier. I'm the same weight as when I was 18. And I never shout any more—I can honestly say that. That's a done deal for me."