Bhagwan Badole has the physical appearance of a six year old. He is actually 14 and gets uncomfortable when his age is discussed. A resident of Rehtiyawadi in the Jhirniya block of Khargone district, Madhya Pradesh, Bhagwan was irregular in school and reluctant to socialise till recently. He felt he was made fun of for his height. His poor health―he gets severe pain and breathing complications―kept him mostly at home.
His elder brother Kanu, 16, has a similar issue. The poor Barela tribe family, still recovering from the death of Bhagwan's father, Rain Singh, four years ago, was too caught up in earning a living to focus on the health of the children.
Kanu, despite his poor health, has gone with his mother, Sabli Bai, and elder brother Bharat, 20, to Pune to work as labourers. Kanu cannot do any physical work, but he wanted to be with his mother. "Kanu and Bhagwan would remain sick a lot," Dharmendra Badole, the eldest brother, told THE WEEK. "We would regularly take them to hospital and get blood transfusion done at least once a year, though we did not know what the disease was."
Things changed a few months ago. Under a screening drive by the NGO Synergy Sansthan, Bhagwan and Kanu were diagnosed with sickle cell anaemia (SCA), the most common and most severe of the group of genetic blood-related disorders called sickle cell diseases (SCD).
SCA is widely prevalent in India, especially among disadvantaged groups like the tribals and the scheduled caste communities. There are some other forms of sickle cell diseases, but they are rarer and milder.
"Following the diagnosis, Kanu and Bhagwan were given family and individual counselling," said Synergy Sansthan volunteer Sunita Rathod. "Their treatment was initiated and they are now better. They regularly take the medicines that we and the government hospital provide and we follow up on them regularly." The NGO has taken up an intervention on sickle cell anaemia in Jhirniya block with support of SBI Foundation and the district administration.
"I feel better now and I try to ignore comments on my appearance," said Bhagwan. "I want to study and be able to support myself and my family."
Dharmendra, who is a sickle cell carrier but healthy, said that though they did not know it, their father might have had the disease as he, too, had similar problems as Kanu and Bhagwan. He was scrawny, though not short-statured, and died when he was just over 40.
Kanu and Bhagwan are among the more fortunate ones. "Mostly, because of a lack of awareness, adequate data and planned government intervention, the disease has continued unabated in different parts of the country," said Vimal Jat of Synergy Sansthan. "This has caused a significant population to live painful and shortened lives, and has entailed a huge economic burden that few of them can afford."
However, he hopes for a change now that the Union government has announced a mission to eliminate sickle cell anaemia by 2047. In her budget speech, Finance Minister Nirmala Sitharaman said: "It (the mission) will entail awareness creation, universal screening of seven crore people in tribal areas (most affected) and counselling through collaborative efforts of Central ministries and state governments."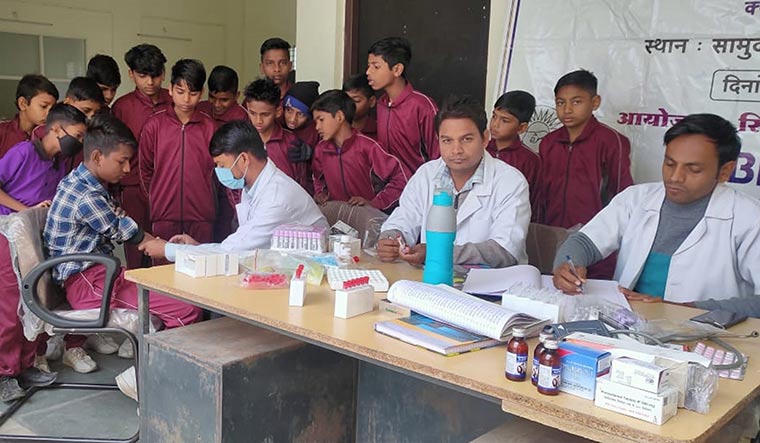 Health Minister Mansukh Mandaviya said after the budget speech: "The government will take up the eradication of sickle cell anaemia in a mission mode and conduct massive screening for early detection of cases. Going forward, the government will also issue cards after screening to (positive) tribal persons below 40 and also provide pre-marital counselling to make them aware of the effects of marrying another sickle cell anaemia patient and giving birth."
The Union health ministry, in collaboration with the ministry of tribal affairs and states, has prepared a roadmap to screen the seven crore people under the age of 40 in 200 districts (in 17 states). The screening will be done using the rapid "point of care" histological test, for which a person will just have to give a blood sample, said Mandaviya.
What is SCA?
"SCA is a genetic disease caused by a point mutation of the beta-globin expressing gene... that gives rise to a type of haemoglobin named Haemoglobin Sickle (HbS). This mutation deforms the disc-shaped red blood corpuscles into sickle-shaped cells," read a note on the website of the Council of Scientific and Industrial Research-Indian Institute of Integrative Medicine. "The sickle-shaped cells lose flexibility with reduced oxygen carrying capacity and induce dehydration in the cells. Individuals suffering from sickle cell disease show symptoms such as body pain, clotting, dyspnea (shortness of breath), anaemia, jaundice, pneumonia and repeated infection. Their lifespan is usually reduced to 42 to 48 years, with 50 per cent of children dying before five. A major cause of premature mortality in sickle cell disease patients is infection. The disease management is usually symptomatic and hydroxyurea is the major therapeutic agent (medicine) available for treatment. Hence, early and affordable detection, treatment as well as preventive measures are important in managing this disease."
A 'Handbook on Sickle Cell Disease' by the Sickle Cell Institute, Chhattisgarh, said, "Abnormal beta globin genes from both mother and father are required to be inherited in offspring to cause SCD. If a person has only one abnormal gene inherited either from mother or father, it is referred to as sickle cell trait (carrier) and is usually asymptomatic. However, they can pass the abnormal beta globin gene to their progeny (children)."
Lack of data
There is little holistic data available on the extent of the disease in India, let alone state-level data. A December 2018 study called 'The spatial epidemiology of sickle-cell anaemia in India', published in Nature, said, "The global burden of SCA is increasing with the annual number of SCA newborns expected to increase from around 300,000 to more than 400,000 between 2010 and 2050. India has been ranked the second worst affected country in terms of predicted SCA births, with 42,016 babies estimated to be born with SCA in 2010."
It further noted that, "Scheduled populations (ST and SC) show carrier frequencies ranging from 1 to 40 per cent. Carrier frequencies up to 12 per cent have also been reported in non-scheduled groups, although frequencies of less than 5 per cent are more commonly observed."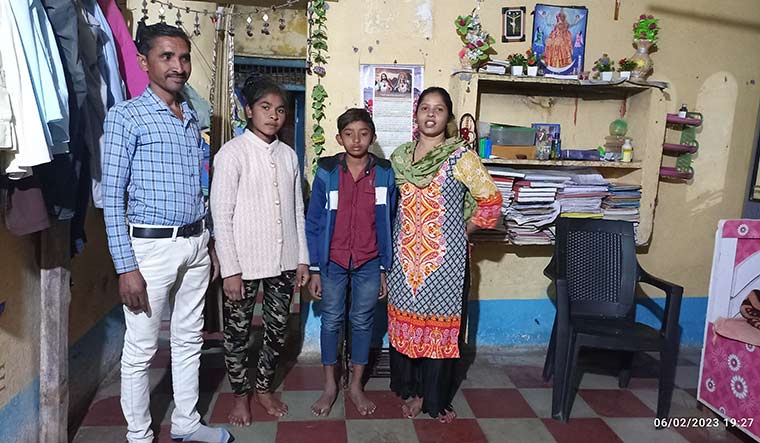 The highest frequency of the disease has been found in the belt stretching through central India from south-eastern Gujarat to south-western Odisha.
The paper said the scheduled population is more vulnerable to the disease because of genetic mutation to safeguard these groups from malaria, high rate of endogamy (marriage within community and inbreeding) and "evolutionary exclusion of the sickle cell gene in non-scheduled groups by beta-thalassaemia (another blood disorder) causing gene".
According to the ministry of tribal affairs (MoTA) website, 1 in 86 births in the tribal population has sickle cell disease.
Pilot project in Madhya Pradesh
Madhya Pradesh, with the highest tribal population in the country (1.53 crore in the 2011 census), is considered to have the highest burden of disease.
A May 2015 research paper Sickle cell disease in tribal populations of India in ICMR's Indian Journal of Medical Research quoted a 2006 study of the National Institute of Research in Tribal Health, Jabalpur, to say that 27 of the then 45 districts of the state fell in the 'sickle cell belt'. It further cautioned: "About 3,358 newborn babies with sickle cell disease are expected to be added every year and about 13,432 pregnancies are at risk annually."
Considering that the data was quite old, the state health department decided to undertake fresh screening of the tribals. "In November 2021, a pilot project (in the presence of Prime Minister Narendra Modi) was launched in the tribal-dominated Alirajpur and Jhabua districts with an aim to screen about nine lakh people in the two districts," said Priyanka Das, mission director of the National Health Mission in Madhya Pradesh.
Of the 9,93,114 persons screened, 18,866 (1.89 per cent) were detected as carriers and 1,506 (0.15 per cent) were found to have SCA, Union Minister of State for Health Bharati Pravin Pawar said in a recent reply in the Lok Sabha.
In Synergy Sansthan's screening in Jhirniya of Khargone district in 2022, it was found that 430 (12 per cent) of 3,601 persons screened were carriers and 24 (0.6 per cent) had SCA.
Das said that the state government has decided to expand the project to all 89 tribal blocks in the state. "The diagnosed people will be given pre-marriage counselling and cards that will have a graphic illustration of their sickle cell status, making it easy for the illiterate to make marital matches," she said.
Das added that the state has facilities for symptomatic treatment and blood transfusion, and that the screening will help solve the earlier problem of poor detection. The Union budget announcement would help the state get budgetary support and as the Centre has endorsed the Madhya Pradesh project, she said, other states could soon have their own.
Prevention is the solution
"There is basically no cure apart from symptomatic management using folic acid, painkillers and hydroxyurea drug and, in acute cases, blood transfusion is recommended," said Jhirniya block medical officer Dr Sunil Chouhan. "These facilities are provided free of cost by the government." Newer interventions like bone-marrow transplants are hardly affordable for a majority of the patients.
Thus, the focus is on prevention. And for this, say experts, it is important to know the sickle cell status of individuals and give them pre-marital counselling.
The availability of sickle cell/genetic status cards, planned through the Centre's SCA mission, will help prevent detrimental matches. The SCI Chhattisgarh has even developed a unique 'sickle kundli' in Hindi and English, which advises on whether two persons with specific sickle cell status should marry or not.
Though handing out the cards might be the only way to curb the disease, there are concerns regarding ostracisation that the card-holders might face. "There is little knowledge about the disease and the way it spreads, so the labelling of people might cause big problems for them. The need therefore is to carry out a universal awareness programme on SCA and handle the issue sensitively," Jat said.
The Chhattisgarh government has also started a drive to check the sickle cell status of all schoolchildren. "The attempt is to identify persons with the genetic condition and counsel them," Chhattisgarh Health Minister T.S. Singhdeo told THE WEEK. "So, we have started a drive to test all students till class 12, mainly those in the 16 to 18 age group."
He added that the government is planning to set up an advanced sickle cell research centre and the existing SCIC would be scaled up to the national level. "The chief minister (Bhupesh Baghel) is also keen on this and we are in the process of identifying the land for this," he said. "The work will start soon. We have also sensitised doctors and paramedical staff to remove the hesitation to use hydroxyurea, which was earlier considered a cancer drug. Studies have shown that it is very useful and reduces the need of blood transfusion to half and, in some cases, to as low as 10 per cent."
No one probably understands the importance of prevention better than Sunita Badole, an ASHA (accredited social health activist) in Kalikundi, Khargone. A daughter of two carriers, Sunita, 31, and two of her sisters are carriers, too. Their youngest brother Deepak Bhabre, 30, has SCA, and her elder brother, who she now thinks was also a patient, died when he was 14. Two of her cousins also have SCA. Her son, Rohit, 12, is also a carrier and, though normally healthy, is a little prone to illness. Her daughter Neha, 15, and her husband are unaffected.
"Most of our land was sold off because of my brother's illness and the financial condition of my maiden family is still precarious as Deepak requires repeated hospitalisation," said Sunita. "Earlier, we blamed things on destiny, but after I connected with Synergy Sansthan, I understood the complete implication of sickle cell disease and now I am determined to create as much awareness in my area as possible. We have to ensure that wrong marital matches do not happen and the next generation is spared of the distress."