The Siversky Donets River divides two warring nations, separating southwestern Russia from eastern Ukraine. It meanders its way from the Central Russian Upland, north of Belgorod, flows through Ukraine's Luhansk and Donetsk Oblasts―Russia's initial targets in its 'special military operation' that began on February 24, 2022―and returns to its origin country. In the early months of the war, Russian soldiers had tried to cross the river several times but were stopped by Ukrainian forces. And so, the river continued to act as a natural boundary. Perhaps, that is why four children in Pryvilla, a town on the banks of the river in the Lysychansk municipality of Luhansk Oblast, were out playing even as the threat of a Russian attack loomed. Sadly, rivers do not wall up, and the children got caught in the shell firing that ensued when Russian forces crossed the river between June 28 and June 30 last year.
The Pirogov First Volunteer Mobile Hospital (PFVMH), a Ukrainian nonprofit of civilian health care professionals, was immediately notified and an evacuation team was dispatched to Pryvilla to transport the children―two boys and two girls. By the time the team arrived though, the boys had succumbed to their injuries. The older of the two girls, aged 12, showed remarkable bravery in leading her younger sister to a cellar. But in the process, the girls suffered severe injuries.
The PFVMH team acted swiftly to transfer the girls to a field hospital in Bakhmut, 55km from Lysychansk. The older girl was proclaimed dead on arrival. The younger girl's condition, meanwhile, was rapidly deteriorating, and the field hospital was ill-equipped to provide the advanced trauma care she desperately needed. So, the PFVMH made a daring decision to transfer her to Mechnikov Hospital in Dnipro, a renowned medical institution dating back to 1798. That meant traversing 200km of war-hit areas.
"We have seen many ambulances and extraction vehicles that were shot and destroyed by Russian anti-tank missiles, automatic guns and rifles," Gennadiy Druzenko, cofounder of PFVMH, tells THE WEEK. "The Russians do not adhere to the rules set by the Geneva Convention and other international agreements that protect medics. So vehicles carrying medics on the frontline have to avoid putting the red cross, which is typically a symbol of protection in the battlefield or war zone. Instead, we had to camouflage our vehicles using green colours to make them less visible."
Despite the risks involved, the PFVMH transferred the girl to Dnipro without significant delay, and the girl survived, miraculously. "They told us that we had achieved the impossible," says Druzenko, pride showing in his voice. "The girl's survival became one of the most significant emotional triumphs for our entire team."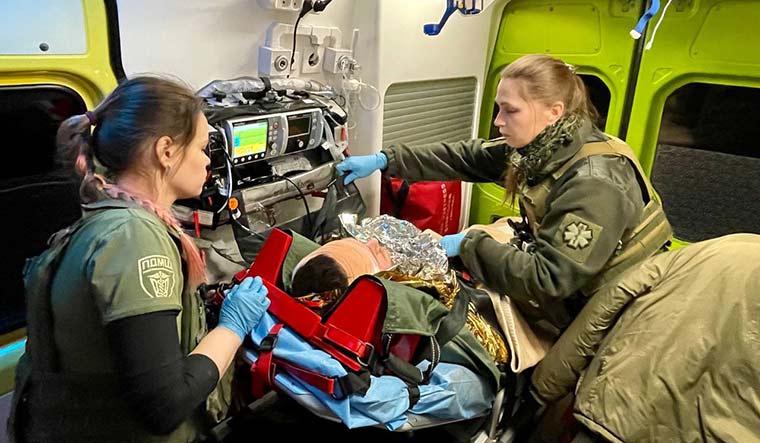 PFVMH was founded in 2014 after the outbreak of the civil war in the Donbas region of eastern Ukraine, during which armed Russia-backed separatists seized Ukrainian government buildings and declared independence. PFVMH provided medical aid in conflict zones, operating its mobile hospital at 49 locations in Donetsk and Luhansk Oblasts and treating over 56,000 patients. It attracted nearly 500 skilled medics, paramedics and support staff from diverse backgrounds. When the pandemic struck, PFVMH scaled down its activities in the conflict zone, with volunteers returning to their respective hospitals as Covid warriors. But it remained prepared to respond to emergencies. With the onset of the Russian invasion, PFVMH resumed its critical operations.
PFVMH is arguably the most effective civilian initiative working on the frontline to ensure medical care for both combatants and civilians within the 'golden hour'―the critical 60-minute window from the time of injury for a patient to receive definitive care. Its evacuation team comprises an emergency care medic or an anaesthesiologist, a nurse and a driver, with additional security personnel in high-risk areas. The team has treated more than 23,000 people in the last one and a half years.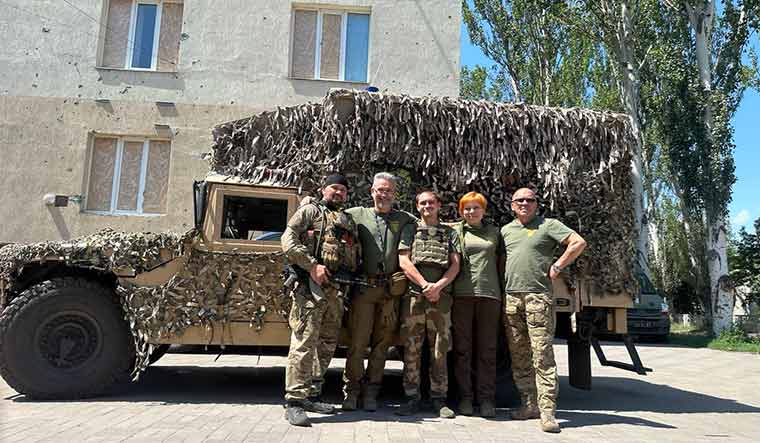 The PFVMH delivers its service in the different stages of pre-hospital care. "We have pass-over points near the battlefield, where we extract wounded soldiers and transfer them to stabilisation points," says Druzenko, who was a constitutional lawyer before becoming a volunteer frontline medic. "At these stabilisation points, we have a forward surgery group, which deals with heavily wounded cases. After that, we transport the wounded to rear hospitals, and we also work alongside military medics at the stabilisation points. Our frontline team consists of around 40 to 50 medics, plus technical personnel, including drivers, technicians, bodyguards, cooks and cleaners."
While it lacks the social protection and guarantees from the government that combatants receive, PFVMH ensures thorough training for its medics before deploying them on the frontline, holding regular monthly training sessions in Kyiv. Doctors volunteering with PFVMH receive Tactical Combat Casualty Care training, which teaches evidence-based, life-saving techniques for trauma care on the battlefield. They are provided with body armour, helmets and individual first-aid kits.
"The Ukrainian army entrusts us with the extraction of its wounded soldiers, knowing that our professional medics have the best chance of delivering them safely to hospitals," says Druzenko. He recalls saving a wounded soldier in Sloviansk, Donetsk region, during a heavy battle. "His heart stopped four times," he says. "Each time, we managed to revive him, and he regained consciousness. Later, we realised it was his birthday that day. So, it was like a second birthday for him on his birthday."
The exact number of combatants killed or injured―both from the Russian side and the Ukrainian side―is still unknown. But it is estimated that at least a lakh soldiers from both sides have been killed or injured so far. The number of civilian casualties is also uncertain, but the Office of the UN High Commissioner for Human Rights documented 26,015 civilian casualties between February 24, 2022, and July 30, 2023, including 9,369 killed and 16,646 injured. Nevertheless, the OHCHR acknowledges that the actual civilian casualty figures are likely higher, as some reports are still pending corroboration in locations like Russia-occupied Mariupol in Donetsk and Lysychansk, Popasna and Sievierodonetsk in Luhanska. Donetsk, Kharkivska and Luhanska oblasts in eastern Ukraine, Kyivska in north-central Ukraine and Khersonska in southern Ukraine had the highest number of civilian casualties, with the numbers peaking in March and April 2022.
However, when considering morbidity and mortality caused by war, one has to look beyond what happens on the frontline.
What will you take with you while fleeing a war?
"In the initial phase of the war, there was a higher incidence of trauma in the civilian areas, but this has decreased over time," says Dr Santhosh Kumar, an Indian war surgeon who was medical director of Project HOPE at Ukraine Emergency Response for a year. "The majority of morbidity now arises from non-communicable and communicable diseases." This shift is attributed to the significant internal displacement that occurred in Ukraine since the war began. It is estimated that at least 6 million Ukrainians are internally displaced, and over 8 million Ukrainian refugees have been registered across Europe since the start of the war. "As people migrate, the ones with more resources tend to move to cities and rent places to live. However, as the war continues, many lose their resources and end up in suburbs, villages and eventually uninhabitable places," observes Kumar. "They lose access to essential services such as health care, electricity and water. This lack of access to health care has serious consequences." For example, individuals with chronic conditions like hypertension or cardiovascular diseases may not be able to reach health centres or clinics to obtain their medication owing to transport difficulties. Consequently, they stop taking their medicines, leading to health complications and even death. "The situation is particularly concerning for pregnant women, as they may have no access to proper facilities for delivery, leading to increased maternal and infant mortality," he adds.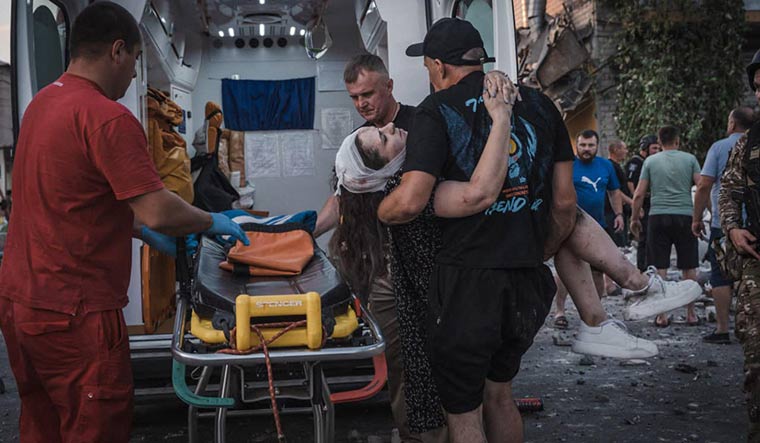 Having worked in conflict zones in more than 45 countries, Kumar found the Russia-Ukraine war to be a unique experience. What he saw in Ukraine left him devastated, yes, but also deeply reflective. He recounts an instance involving an internally displaced woman from Kherson in southern Ukraine. During the evacuation from Kherson, a bridge served as the final point of embarkation for those fleeing, where Kumar and his team conducted medical checks for those being transported. That is where he met this elderly lady carrying a bag with toys. Intrigued, he inquired about it. She told him that she had hesitated to leave the city when her daughter and granddaughter had left three months earlier. However, as the war escalated, she decided to leave.
"Before leaving Kherson, the old lady asked her grandchild what she wanted to take from the house, and the little one chose her doll and teddy bear," says Kumar. "And so, this grandmother brought only those toys with her, leaving behind all her other belongings, including valuables and clothing." That interaction made Kumar wonder what he would choose to take with him in a similar situation.
Kumar emphasises that internally displaced people are highly vulnerable to disease outbreaks like typhoid and cholera. As they move from villages to forested areas, water resources become scarce, and with the increased population in these locations, water sources can get contaminated. For instance, Pervomaisk, a city in Mykolaiv Oblast, saw an outbreak, caused by faecal contamination of the water source owing to the lack of proper toilets.
Furthermore, bombing or missile attacks impacted critical infrastructure like power stations and water purification centres, leading to prolonged water shortages lasting up to four days. This compelled people to seek alternative, though contaminated, water sources. The harsh winter conditions also made it difficult to boil water without electricity, exacerbating the challenge of accessing clean water.
The destruction of Ukrainian health care facilities worsened the situation in many places. A report published by Physicians for Human Rights this February observed that during the first weeks of the war, there were constant and daily attacks on Ukraine's health care system. "For 35 days, Ukraine's health care system was damaged every single day," it read. "Assaults were particularly intense in February and March. During the first two weeks of the invasion, an average of four to five hospitals and clinics were attacked daily. Attacks continued throughout the year, with 235 attacks on health care overall in March and an average of 47 attacks each month from April through December 2022."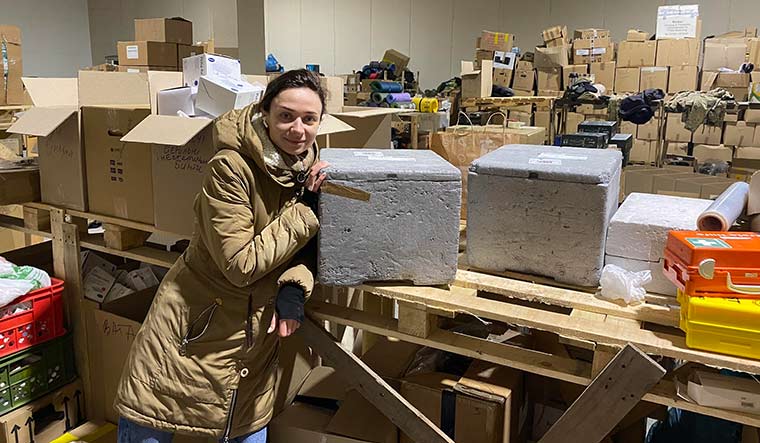 Kumar, who has been to almost all major conflict zones since 2005, notes that he witnessed this pattern of hospitals being targeted in various war zones. He explains that in many places, hospitals are viewed as valuable assets for the enemy to repair and reinforce their combatants. As a result, targeting hospitals becomes advantageous, as it hinders the enemy's ability to repair and send their fighters back to the field.
To address the issue of limited access to health care for civilians, which was exacerbated by the destruction of hospitals, humanitarian programmes like Project HOPE employed several approaches in Ukraine. Kumar highlights the use of mobile medical units (MMUs) equipped with doctors, nurses, essential medicines and some lab equipment. These units travel to remote areas, providing people with much-needed medical care and essential drugs. "For pregnancies, regular checks and ultrasounds were conducted to ensure comprehensive maternal health care," he says.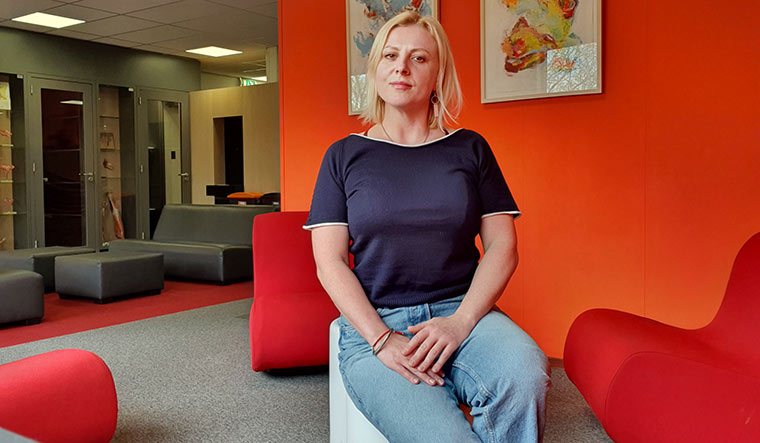 Since March 2022, Project HOPE's MMUs have provided more than 2,54,000 medical consultations, supporting over 350 existing health care facilities. It also employs "surge capacity improvement" strategy, which, explains Kumar, involves providing additional doctors to hospitals and sub-centres, enhancing facilities, setting up gynaecological rooms and ensuring a steady supply of essential drugs. It also offers training opportunities to improve the skills of health care providers.
Trauma care in a war zone clearly differs from one in peaceful areas. While about 95 per cent of trauma cases in peaceful areas are related to road accidents, most injuries during a war are caused by bullets, barrier sticks, sharp objects, explosions and related to burns. Kumar points out that the health community often mistakenly tries to treat war-related injuries using the same approach as road accidents, but it requires different training, equipment, facilities and management systems.
Kumar now leads a trauma training programme in Ukraine offered by the Harvard Humanitarian Initiative (HHI). Initially, the programme trained the doctors directly, but concerns arose about its sustainability after the HHI's departure. To address this, the idea of training universities and establishing dedicated training centres within them was proposed. This way, knowledge and skills can continue to be passed on even after the team leaves.
According to Kumar, only a few dedicated teaching institutes worldwide focus on handling war trauma. "Considering the significant funds invested in destruction and warfare, the resources allocated to address these medical challenges seem comparatively minuscule," he says. "We envision these institutes to cater to diverse audiences, from civilians to doctors, with universities serving as centres for the training." The courses include Advanced Trauma Life Support (ATLS), vascular surgeries, orthopaedics with external fixation, dental surgery, abdominal surgery and ultrasound-guided nerve blocks exclusively for doctors. There are also courses like trauma nursing fundamentals for nurses and Stop the Bleed, which is open to laymen.
"For instance, a doctor may not necessarily need expertise in performing a full bypass surgery, but it is crucial for them to possess specialised knowledge in certain aspects of vascular surgery," explains Kumar. "Similarly, in orthopaedic surgery, they may not require proficiency in procedures like pelvic internal fixation or total replacements, but familiarity with external fixators and splinting is essential." The training programme also covers organising MMUs, surge capacity management, drug transport, rapid assessments, trauma care system establishment and field hospital setup. "These are novel concepts that even mature societies find challenging to grasp," he adds.
Undoubtedly, a specialised training programme for managing wartime situations will yield diverse advantages in delivering services. Moreover, there have been numerous instances demonstrating the dedication of Ukrainian health care professionals, who have willingly taken on roles that go beyond their regular responsibilities.
Could you prescribe a dose of tender loving care with the medicines, please?
Dr Oleksandra Shchebet, a young Ukrainian neurologist who had a private practice in Kyiv, is an example. She was among those who initially did not believe that the Ukraine-Russia tensions would escalate into a full-scale war. However, when war came knocking, she sought refuge in Lutsk, her native town, where she had relatives.
In a gruelling journey, she, along with her relatives, including her grandmother and a three-year-old nephew, drove almost 24 hours without sleep to reach Lutsk, which is close to Poland and the Czech Republic. Once there, the family found an apartment on rent, but Shchebet refused to remain idle. She worked in a warehouse for hours, receiving, sorting and redistributing food and medical supplies to frontline areas in Ukraine. During the initial phase, Ukrainians faced a severe shortage of medications due to panic buying and delivery restrictions. Shchebet played a pivotal role as a key contact person for doctors across different parts of Ukraine, arranging specific medicines from Poland or the Czech Republic to address this urgent need. "In Lutsk, our storage, capable of holding over 500 pallets, became a central point for sorting supplies before dispatching them to regions in need," she says. "With postal services non-operational, our volunteers took on the risky task of delivering supplies by car to different regions." Among the medical supplies from neighbouring countries, Shchebet discovered emotional letters filled with wishes for speedy recovery and good health of the people of Ukraine. In one package from Poland containing medicines to prevent haemorrhaging, there was a heartfelt letter stating, "I wish you won't need this. Come back home, and alive." Moved by such sentiments, she reciprocated the same spirit while sending medications to patients in war-battered zones.
"While sending medications and food supplies to internally displaced people from the eastern parts of the country, who were now living in shelters, I provided detailed personalised prescription on how to take them properly," she recalls. "To my surprise, people expressed their heartfelt gratitude not for the food or medical supplies but for these instructions. They felt a strong connection, even though we had never met. One woman even contacted me to say that reading my prescription made her feel cared for and understood on a personal level. This experience touched me deeply because it allowed me to show people that I genuinely care, even amid challenging circumstances."
From the early stages of the war, Shchebet has been providing online consultations as well. In the absence of a national digital health platform for messaging and video consultations, most people reached out to Shchebet for help through Facebook. She responded to their needs by assisting with texts, voice messages and video consultations.
Shchebet recounts that she handled many heartbreaking cases then. "Once a girl texted me saying that her nonagenarian grandma was ill," she says. "The girl told me, 'We are in a shelter right now, it's bombing outside. Grandma's unconscious. What should I do?'" She was out of Kyiv, somewhere close to the east; emergency services couldn't reach her there due to the bombing.
So, Shchebet asked her about her grandmother's symptoms. "I recognised it was an acute stroke," she says. "It was devastating because I was not in a position to help her physically. So, what I did was give psychological support to the girl. I kept talking to her over the phone, convincing her that her grandma doesn't feel any pain, that she was just in a deep sleep and all that stuff. Unfortunately, the old lady passed away within the next 12 hours, but that girl later wrote to me and thanked me, even though psychological support was the only thing I could give her at the time."
Shchebet is also trained as a Gestalt therapist (looking at the whole picture more than just as a sum of the parts) and psychotherapist. Over her 15-year practice, she sought additional education on treating patients experiencing acute stress and post-traumatic stress disorder (PTSD), especially after the onset of the war in Ukraine in 2014, which brought an influx of internally displaced individuals to Kyiv. Although she doesn't possess a psychotherapy license, the specialised training equipped her with essential skills to communicate effectively with these individuals.
Interestingly, the evening before the war began last year, she was attending a conference on mental health in the post-Covid period, not knowing that she would soon be dealing with the war's impact on mental health. Initially, she encountered cases of anxiety and acute stress as people were disturbed and unsure what to do. As time passed, she started seeing an increase in depression cases. PTSD began to emerge later, as it often develops over time.
Currently stationed in the United States as clinical research coordinator at Nova Southeastern University, Florida, Shchebet continues to offer online services, addressing mental health and neurological challenges caused by the war in Ukraine. She notes that many people now complain about sleep disturbances due to frequent air raids occurring mostly at night.
"People are experiencing nightmares and lack of energy during the day, leading to difficulties with concentration and memory," says Shchebet. "Children also suffer, mentioning reduced energy for outdoor play due to safety concerns. They reveal experiencing headaches and back pain, as they have to remain indoors most of the time. Additionally, high levels of anxiety and depression contribute to headaches. Interestingly, I have observed an increase in chronic headaches, surpassing pre-war levels. Many individuals who never had headaches before now claim to experience them almost daily. Addressing this issue has become a priority in our efforts."
Olga Gershuni, a Netherlands-based Ukrainian public health scientist and programme director of nursing and mental health initiatives at the nonprofit Health Tech Without Borders (HTWB) in Ukraine, stresses that mental health concerns cover a broad range and are frequently overlooked until they manifest and become overwhelming for individuals. She highlights the different ways people cope with stress and traumatic circumstances. "For example, those who have witnessed traumatic events without being physically attacked may face different mental health issues compared to those directly involved in combat or returning home to find their families gone," says Gershuni. "Amputation trauma can also profoundly impact individuals, and children displaced and separated from their families face unique challenges."
Can a country torn by war house a 'safe place'?
Olena Lutsenko, a psychologist and art therapist based in Kyiv, primarily focuses on working with women, children and adolescents. "Women found themselves in a situation where all the responsibility for raising children fell on their shoulders, as their husbands went to the frontline," she says. "Prolonged stress and psycho-emotional overstrain led to physical exhaustion, sleep disorders, lack of self-confidence, lowered self-esteem, increased aggressiveness and the development of guilt." Meanwhile, children and adolescents do not have the personal resources and experience of problem-solving that adults do, she explains. "Because of war, they become even more dependent on their parents, who have to take excessive care of them and literally save their lives," she says. "This is especially true for teenagers, who, due to the constant threat of danger, have almost lost the ability to move freely and spend time with their peers as they did before the war. Of course, such restrictions worsen their emotional state and hinder the development of their communication skills."
Art therapy techniques, which encompass providing psychological support through creative mediums such as drawing, painting, visualisation, dance, expressive writing, drama and music, are generally considered to have minimal contraindications. However, according to Lutsenko, specialists in this field have encountered several challenges in their work since the outbreak of the full-scale war.
"We faced obstacles in using familiar methods and exercises, such as those centered around creating a 'safe place'," she recalls. "In Ukraine, the concept of safety had been physically erased due to the conflict, making it exceedingly difficult to establish a new sense of security within a short timeframe. Another concern is the risk associated with engaging in visualisation exercises with closed eyes, as it could lead to a loss of control and management over the therapeutic process. The third issue revolves around the potential danger of re-traumatisation through the use of metaphors that might prove unsuccessful and distressing during a wartime setting."
So, art therapists like Lutsenko worked innovatively on the techniques in order to make them effective for contemporary Ukraine. "At each session, we adopted breathing exercises to stabilise the emotional state [of participants]," says Lutsenko. "Instead of an unattainable 'safe place', we create places of 'strength and recovery'."
Prior to launching support groups for children and internally displaced individuals, the All-Ukrainian Art Therapy Association, led by art therapist Olena Voznesenska, initiated an open emotional support group for adults. Commencing in early March 2022, this endeavour extended for nearly a month and saw participation from educators, psychologists and art therapists. This session proved pivotal in the development of new art therapy techniques tailored to conditions affected by war. "We found ourselves simultaneously as both participants and researchers," says Lutsenko.
Lutsenko underscores that these innovative methods greatly aided individuals in expressing their inner experiences even without relying on words. She recalls a session with teenagers, where she asked them to fashion a landscape using plasticine. "In the course of the exercise, a 14-year-old girl crafted two mountains adjacent to each other and a third mountain separately, after which tears welled up in her eyes," she says. "To restore her emotional equilibrium, we employed a technique known as the 'butterfly hug'. Subsequently, the girl disclosed her feelings. She conveyed her concerns and longing for her father, who had been stationed on the frontlines for a year. Through this metaphorical expression, she was able to articulate her struggle and process her emotions."
Lutsenko also recalls numerous remarkable occurrences while working with children. She recounts an incident involving a girl who had fled a Russia-occupied region along with her mother. "Although she had attended classes for a month and a half, she had fallen silent," says Lutsenko. "However, during an art therapy session conducted in collaboration with Brian McCarty, an American artist and photographer known for his work with children from war-torn areas, she began speaking. She voiced her longing for her home and her fervent desire to return there as swiftly as possible. She even says, 'Record my story and let the entire world hear it.'"
The experiences gained and the practical techniques honed during the initial year of the conflict were documented by Lutsenko and her colleagues from the All-Ukrainian Art Therapy Association, ultimately culminating in the publication titled 'Art Therapy for Children in Times of War'.
Gershuni emphasises that Ukraine is going through a phase where healers, especially mental health professionals, also need support to cope with symptoms of burnout and exhaustion. So, HTWB launched the 'Helping Healers Heal' or the 3H programme. "With numerous atrocities taking place in Ukraine, a significant number of health care providers had left, creating a gap in mental health support," explained Gershuni. "To address this, we invited psychologists and experts in psychiatry from the US to conduct webinars, focusing on addressing mental health issues caused by war. Our primary focus was on guiding Ukrainian psychologists and mental health providers in treating their clients and dealing with the challenges they faced. However, it soon became evident that these professionals needed support themselves, leading us to initiate a mental health support programme specifically for them."
Gershuni's team with Geeks Without Frontiers, an NGO, took significant action to address the shortage of medics by providing fully equipped containers for training young nurses, midwives and medical assistants. These containers served as classrooms, equipped with laptops, tables, chairs and a generator for uninterrupted study sessions. This simple yet crucial initiative allowed students to continue their education and contribute to the much-needed health care workforce in the country during war.
Gershuni and Shchebet also played a major role in the development of a medical chatbot released by HTWB. "We created this chatbot to help teach critical medical skills to frontline combat medics, clinicians and first responders when treating and transporting war casualties," says HTWB founder Jarone Lee.
Kumar emphasises that in addition to trauma care expertise, medics working in frontline field hospitals must possess an understanding of war mechanics, including the trajectories of projectiles and artillery. "They need to know how far bullets can reach and which type of protection is more effective in different scenarios," he says. "Knowledge about mine clearance is also essential, as these areas often have minefields that must be safely navigated. Operating in such environments demands discipline to avoid crossing dangerous lines. There is much to learn and understand to ensure effective and safe operations in these challenging circumstances."
Should healers take sides in a war?
Global humanitarian projects like Project HOPE and volunteer medics such as Kumar adhere to a strict policy of not taking sides while providing aid in war zones. Therefore, their services are exclusively dedicated to civilians and not combatants.
However, PFVMH's values are different, as the organisation has a clear allegiance to Ukraine. In the early days of the war, a hyper-nationalistic outburst from Druzenko on the channel Ukraine-24 caused a major controversy. He stated that he had instructed his doctors to "castrate" Russian prisoners of war. The statement received international condemnation, and Druzenko apologised the same day. "It was under immense emotional strain [that] I made that regrettable statement," he tells THE WEEK. "I was shocked by the brutality of the Russian soldiers invading the suburbs of Kyiv, our ambulances were facing constant challenges and we were barely getting one or two hours of sleep per day. At that time, my wife [Svitlana Druzenko, a paediatric traumatologist], who leads our medical team on the frontline, and I received extremely brutal letters, emails and messages. And, I made an emotional outburst. I never ordered my team to carry out any such actions, and my statement was not true."
That controversial episode, however, prompted Druzenko to place even greater emphasis on how his medics behave when encountering Russian prisoners of war. "We conducted an examination, and I am proud to say that our medics treated them adhering to international standards for handling prisoners of war, despite the horrors Russians had brought upon our land," he says. He mentioned that his team treated a Russian prisoner of war just two months ago near Donetsk.
There is a saying that crisis is a great teacher. Professionals like Gershuni and Druzenko attest that the war has caused the Ukrainian medical field to adapt, innovate and evolve. "In May, I attended a nursing conference in the western part of Ukraine, that focused on clinical medicine during the war, and psychological and physical rehabilitation," recalled Gershuni. "One striking observation was how exceptionally well-trained Ukrainian health care professionals were. Their experience in dealing with extreme trauma makes them highly valuable in training others. Many have had experience working from field hospitals or tents, under challenging conditions."
War also taught them to innovate and collaborate. "The war environment provided doctors with a wider scope for manoeuvring and taking risks," says Druzenko. "We learned to utilise sophisticated equipment creatively, like the MOVES CLC (closed loop communication) reanimation unit, originally designed for NATO special forces, which we used efficiently on stabilisation points, even impressing the manufacturers. This level of innovation and collaboration reminds me of the flourishing of medicine and the emergence of famous Ukrainian doctors like Alexander Shalimov after World War II. I believe that after the war, Ukraine's medical field will thrive, given the right legal framework, as we will have hundreds, if not thousands, of doctors with unique experiences and expertise."