On the southern edge of the British embassy in Tehran lies the Tehran War Cemetery, with remnants of a time and lives gone by. Row after row of tombstones commemorate the valour of 500 plus soldiers, including Indians, who fought the two World Wars. One of them bears an inscription: 'And all our calm is in that balm; not lost but gone before.' The words, borrowed from English writer Caroline Elizabeth Norton's poem, aptly describe Feroze Bapooji Chenai, a doctor from the erstwhile Hyderabad state. According to the records of the Commonwealth War Graves Commission, 30-year-old Chenai died in 1919 while serving in the Indian Medical Service.
Chenai has another tombstone in Isfahan in central Iran, where generations of a family remember him for trying to save a kin from typhoid. It is said that Hyderabad's design was inspired by Isfahan. During Mohammed Quli Qutb Shah's reign (1580-1612), Hyderabad was built as a new city to decongest Golkonda and replace it as the capital. From a mere 7.7sqkm, it grew into a metropolis of 875sqkm, what is today Greater Hyderabad. Between the monumental Charminar in the old city and the futuristic HITEC City in the west, more than 10 million people live here. And, it is through these people, from various ethnicities and nationalities, that you understand the city's history and diversity―its cosmopolitanism evident in its 24 assembly constituencies, which will go to polls in December.
Chenai's family in Hyderabad lives in the Sindhi Colony, which, as the name suggests, was once a large settlement of Sindhis. A gateway to Secunderabad―Hyderabad's twin city―it also had Parsis staying here in elegant bungalows. One such bungalow belonged to Shapoor Toorkey, grandson of Chenai's brother. Today, it has made way for apartments. Toorkey's flat is quite spacious―the balcony itself is the size of an average 2BHK flat. Sitting close to a century-old roller desk, Toorkey recalls a cousin's visit to Iran, where she met the family that is preserving Chenai's legacy in Isfahan. "He saved the lives of many locals at that time," says Toorkey. In 2018, Cobra Beer founder Lord Karan Bilimoria, cousin of Toorkey's wife, mentioned Chenai during a debate in the House of Lords. Bilimoria referred to the portrait of Chenai in the fire temple in Secunderabad, one of the three places of worship in Hyderabad for the nearly 1,200 Zoroastrians in Telangana.
But Chenai is not the only Parsi par excellence. There is Khan Bahadur Taraporewala, economic adviser to Mir Osman Ali Khan, the last nizam. Legend has it that Taraporewala preferred being tortured than reveal secrets to the Indian army that had marched into the state soon after independence. Then there is Param Vir Chakra awardee Lt Col Ardeshir Burzorji Tarapore, who died in the 1965 war but not before blowing up Pakistani tanks.
Black-and-white family portraits, taken by the nizam's court photographer Raja Lala Deen Dayal, adorn Toorkey's wall. Toorkey's grandfather was the first mint master for the nizam. His father was part of the inaugural faculty at the elite Jagirdar's College. Now called the Hyderabad Public School, the 100-year-old institution in Begumpet boasts an enviable list of alumni, from Microsoft CEO Satya Nadella and Adobe CEO Shantanu Narayan to Andhra Pradesh Chief Minister Y.S. Jagan Mohan Reddy, former chief minister N. Kiran Kumar Reddy and Hyderabad MP Asaduddin Owaisi.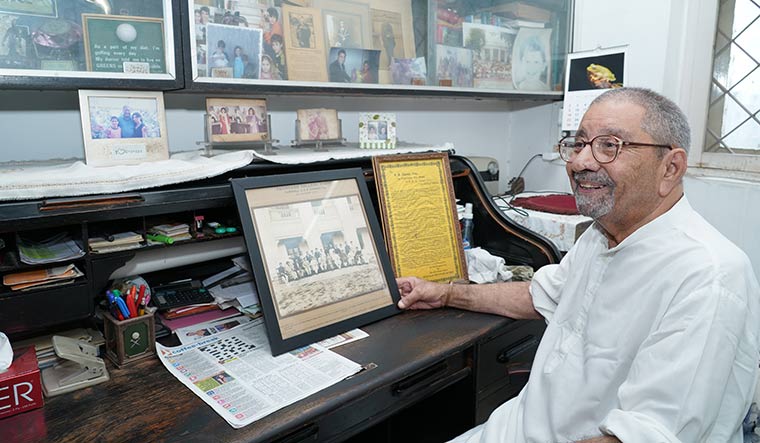 Talking of politicians, among the first set of Rajya Sabha MPs representing Hyderabad in 1952 was a Parsi statesman, Dinshaw D. Italia, who previously served as defence and railway adviser to the nizam. His grandson Omim Maneckshaw Debara lived in a colonial bungalow. Dressed in the traditional Parsi attire, he sat besides a lamp, a cherished item from his parent's wedding. An advocate of heritage conservation, he had filed 30 public interest litigations. The retired engineer even moved the court to halt the renovation of the camp office-cum-residence of Telangana Chief Minister K. Chandrashekar Rao, as it involved demolishing a part of the IAS officers' club, a heritage structure. He lost the case, but won the one closest to his heart. "During Covid-19, the Telangana government claimed that all hospitals were full," said Debara, 77. "I went to court against two private hospitals that were allotted land at a cheap price long ago. There was a condition that they allocate 15 per cent of beds to the poor, which had not been followed even after 40 years. I won that case, and the government passed an order to fulfil that condition." A few days after THE WEEK met him, Debara died.
Less than a kilometre from Debara's house is an iconic site on Bank Street in Koti. It is here that Hyderabad's oldest bar, Rustom Fram, stood. The Parsis, with their enterprising spirit, took to distilling spirits. Started in the mid-1880s, the century-old R.P. Rustom Fram shut shop, initially following prohibition order and later because of excise laws. Another liquid elixir that found its way from Iran, through the Shia Muslims in this case, was the Irani chai―a key stimulant at any intellectual discussion or left party meet in Hyderabad.
Debara lived in Parsi Gali, an enclave of identical bungalows located in Abids, a commercial hub. The area, too, has an Iranian connection. Isfahan-born Albert Abid of Armenian ancestry was a valet to the sixth nizam Mahboob Ali Pasha, who never repeated his clothes, not even socks (clearly, sustainability was not in vogue then!). An astute Abid later opened a store to suit European sensibilities in the 1880s-1890s. Abid was not the only Armenian in the land of nizams. In Uppuguda, 3km from Charminar, is a cemetery with 20 graves belonging to Armenian traders who came here during Qutb Shahi's rule four centuries ago.
THE STORY OF modern Hyderabad would be incomplete without the British. As part of an arrangement with the nizam in the 19th century, the British were allotted a cantonment in Secunderabad. Soon, the Garrison club, now the Secunderabad club, came up for the British employed in different services. Till date, the club is considered to be one of the finest in the country.
The British way of life is kept alive by the small Anglo-Indian community―there are about 50,000 Anglo-Indians in Hyderabad. The community is in despair after the Narendra Modi government scrapped reservation for Anglo-Indians in the Lok Sabha and the state assemblies in 2019. "Anglo-Indians were service-oriented and contributed a lot to the Indian society, especially in the fields of medical service and teaching," said Christine Lazarus, a two-time MLA in united Andhra Pradesh. "Modi wants to finish off our identity."
While Lazarus and her community are trying to figure a way out of this political logjam, residents of Secunderabad are stuck in traffic jams. A large part of Secunderabad continues to be Cantonment area, which falls under the defence ministry. For years, military personnel closed the city's arterial roads citing security reasons, which led to increased traffic snarls. After much negotiation, the roads were open to public. Now, the state government is planning two new road projects from Paradise junction.
"But we need 150 acres to execute it, of which 120 acres is defence land," says Bharat Rashtra Samithi leader Rajashekar Reddy. "We wrote many letters to the ministry, but there has been no response. If these projects are completed, vehicular traffic will be smooth and it will also develop the north part of this city."
BUT THERE WAS no such friction when the Marwaris came to old Hyderabad. The Nizams welcomed them, and they set up shops that have now become iconic. In Afzal Gunj, for instance, there is Munnalal Dawasaaz, which has been selling ayurveda and herbal products since 1844. In neighbouring Begum Bazar is the mansion where former president Zakir Husain was born; it now lies in ruins. Some of these areas come under the Goshamahal assembly constituency, represented by T. Raja Singh, MLA, who was suspended for hate speech. The BJP has been winning the constituency since 2014.
Here, the political fight is largely between the All India Majlis-e-Ittehadul Muslimeen (AIMIM) and the BJP. At the AIMIM's office―Darussalam―its seven legislators and lone MP, Asaduddin Owaisi, regularly meet people, who come with issues related to ration cards, domestic disputes, civic issues, and even for Tirupati darshan letters. "The party constitution was drafted in such a way that it wanted to work for not only Muslims but also other minorities and weaker sections, like the scheduled castes," says AIMIM's former legislator Syed Aminul Hasan Jafri. He points out that in the 1959 Hyderabad municipal polls―the AIMIM's first ever election―it fielded two candidates, a Hindu and a Muslim. "The party gave Hyderabad three dalit mayors," said Jafri. "Even in the assembly polls, dalits get tickets."
A majority of the 24 MLAs from Hyderabad are from the ruling BRS. Apart from the AIMIM's seven legislators, the BJP has one MLA, the Congress none. Though the AIMIM has never had a formal alliance, it has maintained friendly ties with the BRS and the Congress. And, the BJP is using that to target both the AIMIM and the BRS.
"The chief minister says that the AIMIM is a friendly party. Then why does he put up candidates against it?" asks BJP leader N. Ramchander Rao. "The AIMIM has seven seats, of which three have 50 per cent Hindu voters. The BRS is dividing the Hindu votes for AIMIM's advantage. We want to tell people that the BRS is biased against Hindus." The BJP is also using the dispute over the Bhagyalaksmi temple abutting the Charminar for its campaign.
TO THE SOUTH of Charminar is Barkas, a miniature version of Yemen. Barkas is derived from the word Barracks, and guards from Yemen who served in the nizam's army used to live here. Today, their descendants―more than a lakh― continue to preserve the Arab culture. Many of them are wrestlers, and men in lungi, vest and a headgear are a common sight here.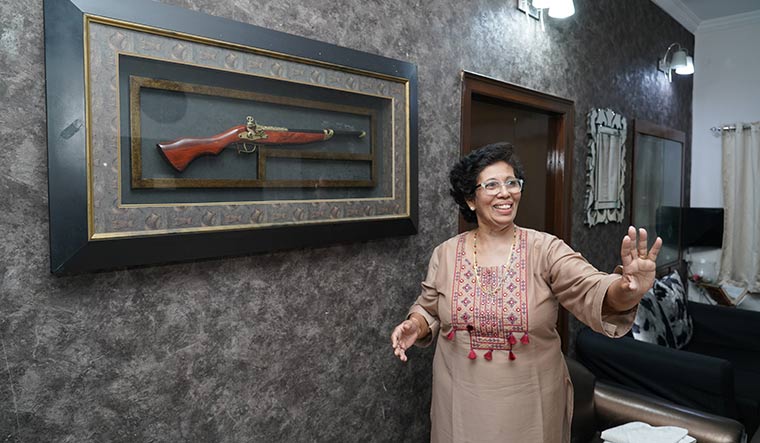 The Mandi cuisine and Harees (sweet dish) travelled to other parts of Hyderabad from here. Hyderabadis swear that once you have the Barkas guava, no other fruit will taste as sweet. At one point in time, every house here used to grow fruits and sell it in the local market. Grand mansions and modest houses coexist in narrow lanes that cannot even accommodate a car. There are horse stables, too, as people are passionate riders. These days, many youngsters from the area are employed in the Middle East, which has significantly improved the living conditions here.
BARKAS HAS A connection to the A.C. (African Cavalry) Guards, where descendants of Africans who served in the nizam's army live. Most of them belong to the Siddhi community, an ethnic group from Ethiopia and surrounding areas such as Zanzibar. Mohammad Bin Omar Bin Khalifa is one of the few residents here of Yemeni origin. Like other families in Barkas, his paternal lineage traces back to the Hadhramaut region of Yemen. His mother is Somalian.
A former professional hockey player, he is among the few from his community to venture into politics. He contested the Greater Hyderabad Municipal Corporation elections in 2009 on a ticket from actor Chiranjeevi's Praja Rajyam Party. He claimed that another party asked him to stay away from the polls, and that his campaign team was compromised. "Jagan is the best leader of our generation," says Khalifa, who has also worked with Jagan's sister Y.S. Sharmila.
He has a black-and-white photo of a Siddhi posing with former prime minister Jawaharlal Nehru after a Marfa performance. "We were told that he enjoyed the performance and couldn't hold himself back from swaying to the music," says Khalifa. As elsewhere, traditions are dying here, too. "All the elders who knew our history have died," says a Siddhi youngster. "There is nobody alive to talk about it. You can only read about it on the internet."
Many Siddhis look African, but their heart is Hyderabadi. Take, for instance, the burly, 6-ft tall Sajjad bin Mahmood aka Laddoo from Banjara Hills. His forefathers came from Sudan. "The moment people see me they ask me whether I am an African," he says. "When I talk in the local language, they are surprised." He was part of the security ring at a recent public meeting of Rahul Gandhi and was also a bouncer at Congress state president A. Revanth Reddy's walkathon. He is married to a Hyderabadi Muslim. "I am a pakka Hyderabadi and I like my biryani," he says. "Right from what I eat to the way I talk, there is not much of Africa left in me."
THE NIZAMS HAVE long ceased to be rulers, but they are an integral part of Hyderabad. Mir Osman Ali Khan, the seventh and last recognised nizam, briefly held the position of Rajpramukh after Hyderabad's merger with India. His grandson Mukkaram Jah died early this year in Turkey and was buried at the Mecca Masjid in Hyderabad's old city. Following his demise, a faction of the family acknowledged his son Azmet Jah, a Hollywood cinematographer, as the ninth nizam. But, a few days later, another section anointed Raunaq Yar Khan as the new nizam. Raunaq traces his lineage to the daughter of the sixth nizam. He owns 80 acres in Jubilee Hills, which, by his own estimate, is worth more than the annual budget of the Delhi corporation. It is another story that the legal challenges may hinder its commercial use.
Raunaq insisted on meeting atop a hill in his property instead of his residence, which has been converted into a hall for events. The view at the top shows a Hyderabad in contrast. On one side is the Moula Ali hill, with the tomb of Maha Laqa Bai, a courtesan of the second nizam, at its foothill. On the other side are the soaring towers of a rapidly changing Hyderabad, propelled by the IT boom.
Raunaq, dressed in a red sherwani, pulls up in a car that he says is 15 years old. "As you can see, I am a simple man," he says. "I don't even have security." Raunaq, a bachelor known for his parties and appearances at social events, insists he is not the ninth nizam, as it is constitutionally invalid. The title is only used within his family which will help him voice their cause. So, what does he seek? He wants the properties of the first seven nizams to be redistributed among the royal descendants, who now number around 5,000, with many living in deplorable conditions. Does he intend to support any political party in the upcoming elections? "If any party wants me to campaign, then I don't mind," he says. "However, they should assist us in some manner to reclaim our rightful share of assets."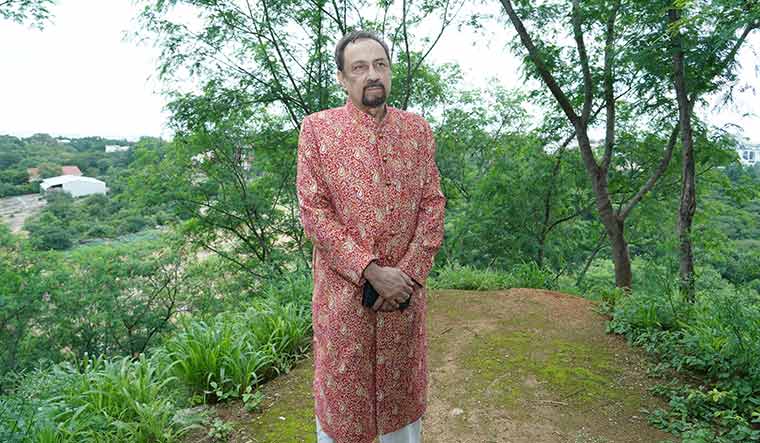 The posh Jubilee Hills is not only home to erstwhile royals but present-day royalty, too―film stars and politicians. With lush greenery and distinctive rock formations, the region is hot property. And, saving this unique landscape from the realty sector is Frauke Quader, a German.
Quader, founder of the Save the Rocks Society, lives in a house that is also her office, though it looks more like a retreat. She is unhappy with the way successive governments have permitted the removal of rocks from various locations. "We identified 25 spectacular rock formations and requested the government to save them from development," she says. "But the government doesn't listen to us. We hope there is better planning to preserve these rocks."
Quader, however, managed to persuade the government to preserve the rocky landscape surrounding Durgam Cheruvu, a lake that connects Jubilee Hills with the IT corridor of Madhapur via a cable bridge. During the Qutb Shahi rule, Durgam Cheruvu used to supply drinking water to the Golkonda fort through a concealed channel. That is how the city within its walls survived even as Aurangzeb tried to blast his way through the fort during his south India campaign.
The IT corridor of Madhapur, Kondapur and Gachibowli falls under the Serilingampally assembly constituency represented by BRS MLA Arekapudi Gandhi. "From slums to high-end gated communities, small shops to multinational IT companies, all are located here," he says. "The profile of my voter varies from a software engineer to a worker in a company. During Covid, people form other states, especially north India, saw how hard we worked to make them comfortable. Even they are with us this time."
His constituency also has a large population of Andhra settlers. Gandhi, who was a businessman, has Andhra roots. In 2014, Gandhi was with the TDP and won with the highest margin, reflecting the local Andhra community's anti-bifurcation sentiment. However, in the subsequent election, Gandhi joined the BRS and won comfortably.
In the vicinity is the northwestern suburb of Hyderabad, which is renowned for its asceticism, rooted not in religious principles but in ideology. In Pragathi Nagar, it was blasphemous to operate liquor outlets or tobacco shops. The residents religiously followed the plastic ban and kept the streets clean. Pragathi Nagar was established by the CPI(M)-led trade union of Allwyn factory, which used to manufacture refrigerators. The communists claim credit for transforming a hilly barren land into a full-fledged residential colony that won the ISO 9001:2000 standard rating. This area now provides affordable housing to IT employees.
However, the lakes in and around Pragathi Nagar are falling prey to encroachments. Amber Cheruvu is a Qutb Shahi era tank, which is part of chain-linked lakes and tanks that ultimately empty into the Hussain Sagar lake. A movement to protect the lake has gathered momentum.
The heart-shaped Hussain Sagar, another marvel of the Qutb Shahis, has a deep emotional connect with the citizens. If the lake is all about the heart, then the grand Secretariat across its banks embodies the government's mind.
The electoral battle of 2023 will be a battle of hearts and minds that will determine the future of Hyderabad.