On a vast tract of reddish yellow land dotted by small pits and heaps of rocky soil, 72-year-old Puran Patel is hard at work. The sun is merciless at Pati Bajariya, about 10km from Panna town in Madhya Pradesh. Puran, clad in a short white dhoti, with a yellow t-shirt slung over his right shoulder, repeatedly shakes a sieve full of pebbly soil.
It is only when his name is called out twice or thrice does his concentration break, and he reluctantly agrees to a short conversation. After all, taking a break means losing precious minutes that could be used to find a diamond that might change his life forever.
Given his advanced age, it is surprising to see Puran doing the tough work of digging a pit, separating the rocky alluvium layer that looks promising, breaking it into smaller fragments, washing off the soil in a metal sieve, separating the pebbles spreading them out to dry and then sifting through the spread minutely, hoping to spot that life-changing glitter.
But for Puran it is a labour of love―a divine one. Having completed his duties towards his wife, two sons and two daughters, he moved to an ashram near his home seven or eight years ago. But he now wants to go to Rameshwaram on a pilgrimage. As he was short of money, he decided to try out his luck in Panna―the diamond bowl of India.
Thus Puran left his village, which is about 100km away, and came to Panna alone, carrying just a hoe, some dry rations and Rs200 in cash. "I had heard about the diamond fields of Panna very early in my life, but I never felt like coming here, as I was involved with farming and my family. Now I have come here because of a divine push. I am certain that I will get a diamond good enough to sponsor my Rameshwaram visit," said Puran. Like many resource-strapped hunters, he has built a temporary shack near his small mining claim leased from the government. He cooks basic meals himself and spends all day looking for diamonds.
About 20km away, 11-year-old Pawan Kushwaha comes running down the rocky sloping banks of the Runj river, carrying a small bamboo basket. He is helping his mother and grandmother look for diamonds. The family came here after they heard that dam construction work had thrown up mines of 'diamond-bearing' alluvium.
A student of class six at a private school at Khajuraho, Pawan said he had taken a three-day leave of absence to join his family's quest. Does he know how to find diamonds? "I can easily learn by looking at what others are doing. If we are lucky, we will get the diamond in an hour, let alone three days," said Pawan.
Puran and Pawan are among the numerous diamond hunters who descend on the diamond bearing areas in Panna, about 450km from Bhopal from various parts of north India. The National Mineral Development Corporation (NMDC) stopped mining in January 2020, after its forest clearance expired. Following a recent order of the Supreme Court, it is likely to restart in July.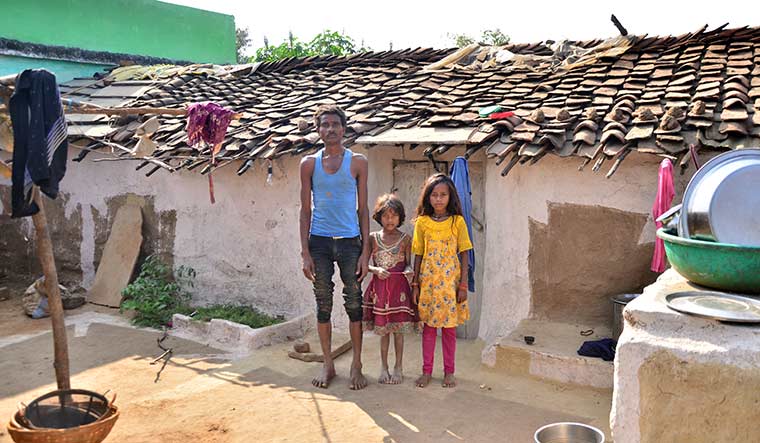 Presently, artisanal-scale shallow-pit mining (ASM), facilitated by the Madhya Pradesh directorate of geology and mining, is the only source for indigenous diamonds in India. ASM refers to mining by individuals, groups, families or cooperatives with minimal or no mechanisation. The sector is usually highly labour-intensive and does not require much investment.
The Panna diamonds have not made a buzz in India or abroad because the stones are of 'average' quality, but that does not stop the rush. Ravi Patel, the Panna district diamond officer, said the best stones found in the district usually fell in the 'G' grade on a D-Z scale of the Gemological Institute of America (GIA) colour-scale. According to the GIA scale, 'D' (colourless) grade diamonds are the highest valued while 'Z' (light coloured) are of the lowest value. The 'G' grade diamonds of Panna are considered just average. But a stone worth lakhs of rupees or even above a crore of rupees is found once in a while. It is such finds, which receive big publicity, that lure in the miners.
Despite searching for years spending a lot of money and labour, most hunters remain empty-handed. Yet, a majority of them are unable to give up. "I feel as if I am ill if I do not go to my small diamond mine the first thing in the morning," said 63-year-old Prakash Kumar alias Kakku Sharma. "The addiction is just like alcoholism; despite grave losses financially and health-wise, one cannot simply give up. You will understand the level of my addiction when I say that I have not married because of this."
Kakku, a resident of Janakpur on the outskirts of Panna town, has been hunting diamonds since 1978, but has not got much to show for his efforts. He got some very small stones initially that pushed him to keep looking and he got a 4.0 carat diamond about 20 years ago. Enthused, he kept on the hunt till he and his two partners were rewarded with a 12.58 carat diamond in 2018. It fetched around Rs46 lakh, and Kakku spent a part of his share―of around Rs15 lakh―on repairing his ancestral house. He reinvested the rest in more mines. In the past two years, Kakku and his partners have spent around Rs12 lakh, without much luck.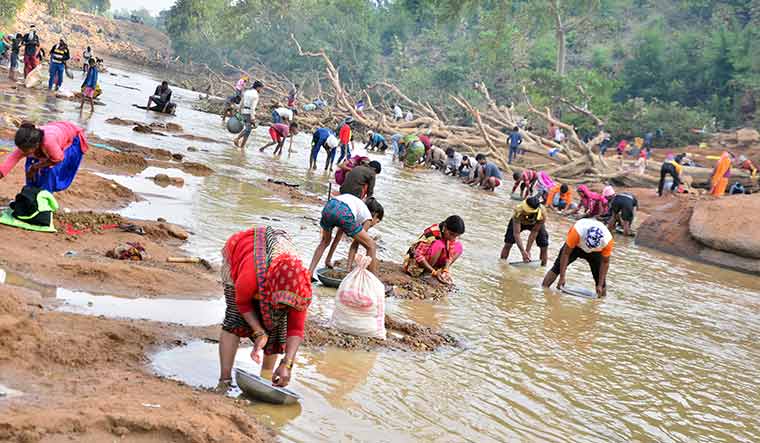 "It does not matter. We will keep looking. Maybe tomorrow I will get a big one," said Kakku, who stays with his brother's family. Though Kakku might be a carefree man because of the lack of any pressing domestic responsibilities, another avid diamond hunter, Sitaram Ahirwar of Bajariya village, does not have any such luxury. The 47-year-old landless man, who sustains a family of seven by farming on leased land on a shared basis and doing manual labour part time, became a diamond hunter at the age of 15.
When he was 19, Sitaram and his partners got a 7.5 carat stone that fetched Rs40,000. A young bachelor then, he spent his share of Rs12,000 on the expenses related to his nephew's birth. He has not had any luck since then. "My marriage seems to have changed my luck for the worse," he said. Yet what keeps him going? "Well it is him (pointing towards the sky) who gives and takes everything. So I keep hunting with faith in him," he said. Rajesh Gond, 32, of Kalyanpur, too, is in a similar situation. A landless tribal, he works as a labourer for other diamond hunters. He has also taken small mines on lease, but in the past nine years, he has not got anything. Rajesh and his wife, Shakuntala, wake up every day at 4am and dig for diamonds in their own plot till around 8am. They then go to work as daily labourers for other bigger hunters. Despite facing extreme poverty, Rajesh does not even have a ration card. But he is not ready to give up.
It is probably the good fortune of people like Pratap Singh Rana and his wife, Meena, of Sector 49, Noida, that keeps many of these diamond seekers going. Rana, a building contractor, heard of the Panna diamonds from his worker Manoj Das who hails from the diamond-bearing Bargarhi village. They invested in a mine on private land in October 2021, but got nothing. In January 2022, they leased another one in Meena's name and luck turned for the couple. They landed seven diamonds of various sizes during the past few months―the biggest among them being a 9.64 carat stone, estimated to be worth Rs50 lakh.
Rana has deposited the stones with the district diamond office, but because of the low bids by traders in the auction held in October, he is yet to get any money. "I have already spent about Rs40 lakh. I hope it gets a good price at the next auction," said Rana. "By the luck of your (THE WEEK reporter) arrival, I found a diamond today, just a while ago. Though it is a small one, it has broken the dry patch of the past few weeks as our last diamond was in September," said Rana.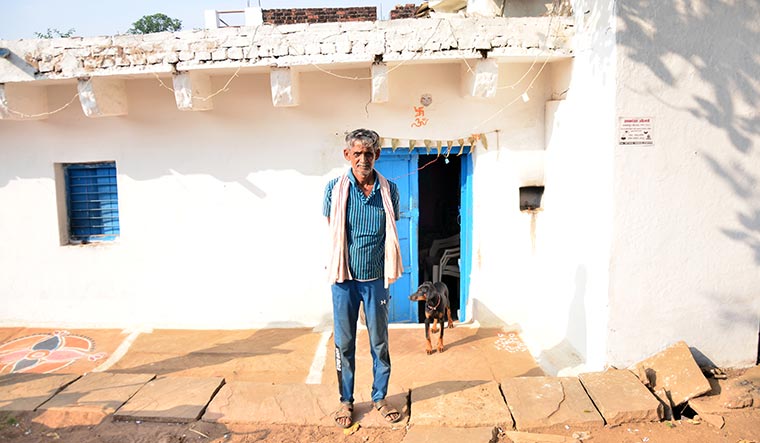 A small stone glitters as a nose pin on the pretty face of Priya Majumdar, the 16-year-old daughter of Prakash Majumdar, resident of Jaruapur village in the buffer zone of the Panna Tiger Reserve. Prakash, who belongs to a poor Bengali refugee family, has got as many as nine diamonds during the past three years, the biggest of them being a 7.74 carat stone in 2020.
Prakash started off as a supervisor at the stone mines of Panna more than 20 years ago, earning barely Rs1,000 a month. He slowly rose up the ranks and became a partner with his employer in brick kilns. Three years ago, he decided to try his luck with diamond mines and hit pay dirt. "I earned about Rs50 lakh in these three years by investing around Rs20 lakh," said Prakash, who was elected sarpanch of Jaruapur last July. Though he built a spacious house in the village a few years ago, he has not demolished the small, dilapidated house where he grew up. "This old house keeps me and my children grounded despite our recent good luck," he said.
Since the end of the rainy season of 2022, Panna has faced an unusual diamond rush near the dam under construction on the Runj River near Ajaigarh. It has put the focus squarely on the shallow-pit artisanal-level diamond mining in Panna once again. The dam work started in the diamond bearing belt in 2020 and with a huge quantity of excavated alluvium available, locals had been visiting the site to hunt for diamonds, but the lockdown of 2020 and 2021 kept things under control. After the 2022 monsoon, the site suddenly reported a huge influx of people.
"Normally, poor people from the area, who migrate to other states for work, return for the farming season during monsoon and stay back till the winter farming season. With the lockdown restrictions gone, hordes of locals have descended on the dam site after monsoon farming work. It has now reached a level that a law and order situation could arise any time," said Ravi Pathak of the NGO Prithvi Trust.
Pathak said several people got diamonds, but since mining was illegal, people sold most of the diamonds found there illegally in the open market. "But a few who wanted publicity deposited the diamonds at the district diamond office, claiming that those were found on leased mine plots. Media reported the matter and it attracted more diamond hunters," said Pathak.
THE WEEK team found a veritable human settlement thriving at the spot. Pawan Kushwaha and his family live in temporary shacks. Under the harsh sun, members of the family strain the sand for bigger gravelly fragments, then dry them out and sift through the mix for diamonds. Temporary shops selling daily essentials have come up along with those selling snacks and tea and cheap meals. The most thriving business seems to be that of selling jugaad sieves made on the spot by punching holes into big aluminium vessels. While proper sieves cost Rs450, the makeshift sieves are sold for just Rs80.
Krishnakumar Sahu and his two brothers have put up a traditional snack and sweet shop at the site. Sahu had his shop in Ajaigarh town, about 12km away, but since most local people moved to the Runj site in search of diamonds, he decided to follow his customers.
Since diamond hunting is illegal in the area, forest officials are trying to evict the people―some have even ventured into nearby protected forests. Divisional forest officer Punit Sonkar said the issue was becoming a cause of concern. In a recent meeting he had with Mineral Resources Minister Brijendra Pratap Singh, it was decided that a joint action of the district administration, forest and police departments with the help of local village forest committees (VFCs) will be initiated to evict the people engaged in illegal activity.
"The entire area was under the jurisdiction of the forest department but the dam site was handed over to the water resources department. Much of the area where the diamond hunt is currently happening is in a submergence area and if valuable resources like diamonds are taken out of there and deposited with the government in a legal manner, it is actually a helpful thing," said Sonkar. "But people venture into the surrounding forest areas, thereby posing a threat to wildlife. They themselves are under threat from animals."
Sonkar also pointed out that the huge influx of outsiders is disrupting the law and order in the area. "Recently, one of our officers and his team were mobbed during an inspection visit. Therefore, it is important to regulate the flow of people there. We are thinking of putting up barriers and introducing a pass system for locals," he said.
Two days after THE WEEK visited the area, the district administration and forest department evicted people and removed temporary infrastructure put up by them. Sonkar said with coordinated action by various government departments, most encroachers had been driven out. "Section 144 has been announced in the area by the district administration and a 10-member team of forest department has been permanently posted to keep an eye on the situation," said the DFO. However, even if the situation improves temporarily, the government will find it difficult to stem the persistent illegal buying and selling of diamonds.
The diamond officer, Ravi Patel, said people who got the diamonds tended to sell them in the open market, despite getting very low prices. This causes huge losses in royalty to the government. "The government process takes some time for the sale and for money to come, despite us holding quarterly auctions. We do not sell the diamonds if the bids come in low and people have to wait. To improve the situation we are thinking of introducing monthly auctions soon," he said.
The officer said efforts were on to digitise the entire auction and payment process. At present, traders make security deposits before auction through bank challans, and the finders are paid through cheques. Digitisation could speed things up.
Ravi Patel said it was difficult to monitor all illegal activity as the district diamond office had just two field staff against a sanctioned strength of nine. Earlier, there was also a provision for 27 'sepoys' to monitor illegal mining. In their absence local people regularly dig up areas that are not on lease and pass off the diamonds found there as those from legally leased claim.
A diamond trader from Surat, who was in Panna, told THE WEEK that often the seller and buyer found it easy to operate out of the government system. "People are in a hurry to sell off what they find because of economic requirements and safety issues. Most of them do not have the expertise to know the value of their find. So it depends on whether the seller is cleverer or the buyer. Whoever is cleverer manages to hog the profit," he said.
Despite being famous for its diamonds, Panna is one of the backward districts in Madhya Pradesh, performing poorly on income and human development indices. Malnutrition and anaemia are common, while the people engaged in diamond and stone mining work are getting afflicted by long-term lung diseases like silicosis.
The Prithvi Trust, which conducted a survey on silicosis in 40 villages in Panna block, found as many as 163 cases of silicosis. Government figures based on a 2017 survey is just 26. "There have been constant deaths and many are suffering badly, putting families in further economic jeopardy," said Pathak. People have been demanding proper surveys to identify patients, provide free diagnostic and treatment facilities and due compensation."