CONRAD SANGMA LOVES to be surrounded by people, but he is not a mass leader like his father, former Lok Sabha speaker P.A. Sangma, was. A foodie who loves to play guitar, Conrad has business degrees from Philadelphia and London, and a CEO-like style of functioning as chief minister. Gentle and serious-minded, he did raise his voice once during my interview with him. "Just shut up; don't disturb," he shouted, when people who had gathered outside his home clamoured for his attention.
Excerpts from the interview:
Q/ You ran a minority government that lasted five years. How was it?
A/ Meghalaya always had a fractured mandate since 1972. It was very difficult to run my government, but we managed somehow. The credit goes to my entire team.
Q/ You won't give credit to the BJP, your coalition partner?
A/ Of course, the credit is for the coalition team. But we maintain the mandate. After the 2018 election, I said, "Forget it, we will work together." And we got everyone to fulfil tasks.
Q/ Did you face any problem with the BJP?
A/ Never. I have always believed that when you are leading a team, you need to carry along everybody. I always consult everyone while making decisions. I decentralise power a lot. I never interfere in the work of a minister. I deal with officers the same way, but I admit it is a great challenge to do that department-wise. Another important thing is to carry along the civil society and religious organisations. We took them on board.
Q/ You are not a rooted politician like your father. You studied abroad.
A/ I never learned politics, but politics was in my blood. You will be surprised to learn that I started at the age of 12. I used to give speeches with my father. I followed him and tried to copy him. When I contested the first election, he asked me not to be disheartened if I lost. I did lose the election, but I realised what politics was all about, thanks to my dad.
Q/ What did you learn?
A/ I learned that you needed to be grounded to build relationships with people, and that you should maintain those relationships even during difficult times. I have been using the same mobile number for the last 18 years. People call me even at 2am. Small things matter; accessibility is important in political life.
Q/ Your tenure as chief minister has got mixed reactions. What are the three most important successes you have had?
A/ There are so many. But first, we managed to create a sense that the state can actually move forward. The old saying was that idhar kuch nahin hota (nothing happens here). But the continuous push from the team created momentum in governance. Five years ago, no one could have thought that Meghalaya could win a United Nations award for e-governance. We are now the top state in India in start-up businesses. We have received three successive bonuses for completing projects in the Jal Jeevan Mission.
Q/ But there is criticism that social disharmony, once subdued, has again come to the fore.
A/ I don't think it was subdued. There was much more disharmony in the past; only, it did not come out on social media. The big picture is that the overall law-and-order situation has improved drastically. Insurgency, extortion, deaths related to crimes have all gone down.
Q/ But there have been unrest and killings by militants. Strong administrative measures could have prevented protests and subsequent curfews.
A/ People don't realise that a lot of things that could have happened did not happen. The internal security matter was taken seriously, and many things were stopped at the right time. I am not justifying things. We will ensure that such incidents do not happen.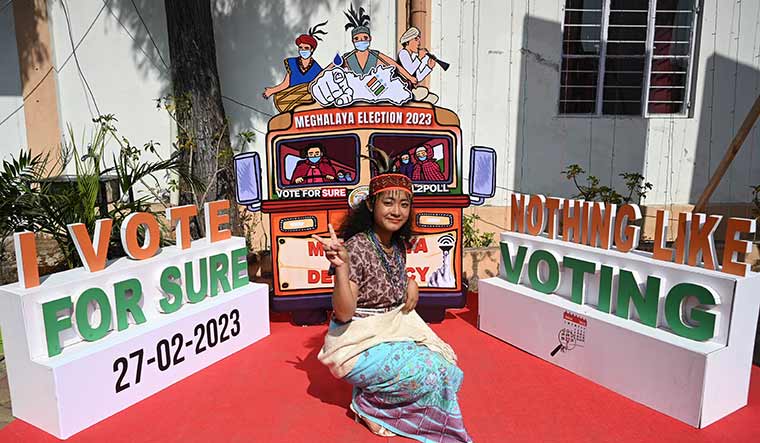 Q/ The Khasis are demanding the implementation of inner line permits.
A/ This is a tribal-dominated state and we have customary laws. Identity is a major issue here. So it is natural that there is such a demand.
Q/ But if ILP covers the entire northeast, where would investments come?
A/ We have to do things accordingly and not misuse it. Bengalis, Maharashtrians, Biharis―all want to preserve their identities. ILP gives a small sense of protection to tribals and the state as a whole. The demand for it became stronger after the Citizenship (Amendment) Act was passed.
Q/ Some people call you a ruthless politician who is in a hurry.
A/ No, I am not in a hurry. Why do you say that?
Q/ Because you spread your party across the northeast in such a short time.
A/ It would be unfair to compare me with P.A. Sangma. The situation is different; so are the times. I am not in a hurry, I only work hard. Ruthless is a very tough word. But I am very serious about my people and my party. I take decisions keeping my state and my country in mind.
Q/ While campaigning in Manipur, you said the BJP wanted to finish you off. And you had a kind of rivalry with Assam Chief Minister Himanta Biswa Sarma over border issues.
A/ I have deep respect for Sarma. So far as electoral politics is concerned, we have a plan and strategy. The BJP also said so many things against me. They have their own strategy. I always tell my coalition partners that it is unfair to go for seat-sharing because we have different ideologies. Let people decide which ideology to choose.
Q/ How do you see the rise of Mamata Banerjee?
A/ I have a deep sense of respect for her because the kind of respect she gave to P.A. Sangma. But it would not be easy for the Trinamool Congress to be accepted here. Politics in the northeast is very difficult. A party here does not grow just because a few people have joined it. See what happened in Manipur a few years ago. The Trinamool had seven MLAs there, but all of them deserted the party and joined the BJP.
Q/ But your opponent here is a former chief minister. And the Trinamool has managed to break the Congress.
A/ Two of them (Trinamool MLAs) have already joined us. More will join us after the elections.
Q/ Do you expect the BJP to fish in these troubled waters?
A/ Of course, they will. And I don't think it is wrong. If I were in their position, I would have done the same.
Q/ Mukul Sangma has alleged that your party is profiting from illegal coal mining.
A/ During his time [as chief minister], coal mining was banned. But according to the Supreme Court, 1.3 lakh tonnes of coal was transported out during his time. In our time, Coal India Ltd auctioned the coal, and there was no impropriety.
Q/ Why don't you let the CBI investigate?
A/ Is everything for the CBI to handle? It will create a bad precedent.
Q/ What is your party's stance in Tripura?
A/ We had a plan for Tripura. But Tipra Motha has now moved in, and Pradyot Debbarma is doing well. So this time, it is not feasible [to make an entry]. In Nagaland, however, we are a commendable force.
Q/ Tura has given three chief ministers, but it lags in development.
A/ Development is not about CMs. It depends on the system. The chief minister can only be a guide. Bureaucracy and departments would have to take the development work forward.
But I can say that ten years ago, the Garo Hills region was extremely bad. Today, Tura has a different look. Five years ago, the government's expenditure in the state was just Rs9,000 crore. Today, it has doubled to almost Rs18,000 crore. But I cannot discriminate between regions; I am taking all regions together.
Q/ Your father once told me an interesting story. When he was chief minister, he went to Delhi and met a Union minister. The minister told him that he understood that Meghalaya shared a boundary with Tibet and Myanmar.
A/ Yes, I know. Even today, some people ask me how Manipur is doing. I have to correct them and say it is not Manipur but Meghalaya. But there are very few people like that today. In the past five years, the idea about the northeast has changed a lot. The credit for it goes to Prime Minister Narendra Modi, who has put a sense of confidence into everybody in the northeast. Things have changed a lot under him.