The British called Shillong, the capital of Meghalaya, the Scotland of the East. Thanks to the cosmopolitan culture they left behind, the guitar is a mark of tradition here, and English is the state's official language.
A lot has changed since the British rule, but some things remain the same. On January 26, when mainland India was celebrating Republic Day, Shillong had few signs of nationalism on display. Chief Minister Conrad Sangma gave the banquet at the Raj Bhavan a miss; he was at his residence in Tura, some 350km away.
Meghalaya will go to the polls on February 27, but the state is not yet in the grip of campaign fever. There are no huge rallies or sloganeering. People go about their business as usual. With tourists flocking to Cherrapunji and Mawsynram, the general mood is upbeat.
Tura is at the foot of the Garo Hills. The road to the town gives no sign that polls are round the corner. "This is not West Bengal, Bihar or Uttar Pradesh, where you will see rallies and slogans. Here churches determine how political parties function. They don't interfere in any political activity, but they also don't allow celebrating politics," said G.K. Marak, who works at a church in Tura.
Marak belongs to the Garo tribe, one of three prominent tribes in Meghalaya. The others are Khasi and Jaintia tribes. The rest of the population includes people of smaller tribes, and Bengalis, Sikhs, Marawaris, Biharis and Gujaratis.
Tribals fear that they are losing their identity. This has led to a growing demand that Meghalaya implement the 'inner line permit' system, which makes it mandatory for non-residents to obtain a permit before entering the state. Currently, Mizoram, Arunachal Pradesh and Nagaland have it, and the Union government extended it to Manipur in December 2019. This has ignited hopes that it would be extended to Meghalaya as well.
The Khasi tribe, which dominates the state's eastern part, has made inner line permits a major poll issue. "Our tribe is at risk," said Donald Thaba, general secretary of the Khasi Students' Union. "Shillong and adjoining areas are witnessing an influx of foreigners and people from mainland India. Locals are unable to find jobs."
The Trinamool Congress has replaced the Congress as the state's principal opposition party. Taking on the ruling coalition of the National People's Party (NPP) and the BJP is Mukul Sangma, former chief minister who quit the Congress and joined the Trinamool in 2021. Interestingly, both Mukul and Conrad are residents of Tura. Conrad is the son of P.A. Sangma, former Lok Sabha speaker and chief minister.
Despite being home to the chief minister and the opposition leader, Tura remains underdeveloped. The town has no big hotels, and the eateries, parks, theatres and shopping centres are modest. The only remarkable structure is a 9,000-seat football stadium named after P.A. Sangma and inaugurated last year. "It's big, and ready to organise international events," said a member of the chief minister's office.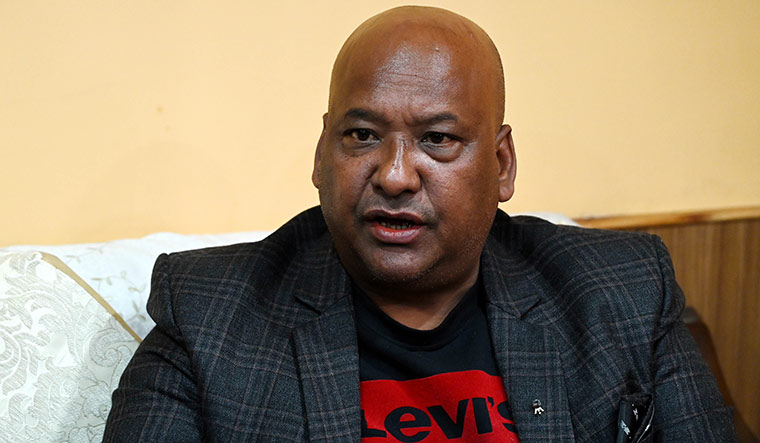 The residence of the chief minister is on the slope of a hill. A newly built mansion, it is surrounded by battalion offices of the Border Security Force and the Central Reserve Police Force. It has marble-covered walls, an elevator, a terrace lawn that serves as an entry to the house, and exterior stairs that lead to a ground-floor drawing room and a separate office-cum-visitor area.
A graduate of the Wharton School, Conrad holds a master's in business management from Imperial College, London. He seems all business as he comes out of the house wearing a jacket and holding a cup of black coffee. Around 70 people are waiting for him in the visitor area, their concerns ranging from laws and customs to livelihood and family disputes. Large tea machines, stacks of cups and bowls of biscuits have been arranged. There is also a buffet breakfast―rice, dal, vegetable curry and pork. The chief minister seemed to have found a sophisticated alternative to addressing noisy poll rallies.
Visitors take turns to meet Conrad and lodge their complaints. He listens to them patiently, taking care not to give false promises. "I can only give assurances that I can keep," he says. "There are plenty of personal problems, which people can solve themselves or with the help of their community. I can only guide them."
Mohammad Jameel, an NPP worker in Tura, wants Conrad to visit the area where he lives and allocate funds for the construction of a much-needed road. "I know that once it has been brought to his notice, he would do it. He means business," says Jameel.
Muslims have a good presence in the Garo Hills. Will they support the Trinamool like they do in West Bengal? "Not at all," says Jameel. "The hills will vote for Conrad Sangma. He is accessible and he does not differentiate between people. We don't need the Trinamool here."
A number of Muslim women and children are also present. So are elderly people, some of whom have been supporters since the time when P.A. Sangma was Meghalaya's tallest leader. "The son is like the father―suave and gentle, and fluent in Bengali, Khasi, Garo and even Hindi," says Abdul Kareem, an elderly resident of Tura. "So there can be no choice other than Conrad. Let Mamata Banerjee work for Bengal and not bother about Meghalaya."
But Mukul Sangma, a doctor by training, is up for a fight. He has levelled allegations of corruption against Conrad, saying his government had failed to stop rampant illegal mining in the Garo Hills. Mamata herself kicked off the Trinamool campaign last month by addressing a public meeting in Tura.
But, can the Trinamool really make an impact? "It would be extremely difficult," says Ashok Singh, a travel operator in Shillong. "She is targeting Bengali, Sikh, Bihari and Marwari votes. She also expects Khasi votes, as the tribe was earlier driven out of Bangladesh. But that vote bank is already with the BJP, the Congress and some other small parties."
The Trinamool has also raised the issue of rising communal tensions. When Mukul was chief minister from 2010 to 2018, he had dealt with issues decisively. Critics say Conrad's "softer touch" has resulted in radicals becoming more active.
The political strategy firm I-PAC is supporting the Trinamool's membership drive to add young and first-time voters. Volunteers drawn from Bengali, Sikh and Khasi communities have been going door to door, making promises that each woman in a family would receive Rs1,000 month if the party comes to power.
Khushi Randhawa, a first-year undergraduate who was hurt during the attack on Sikhs in Shillong in 2021, said Mamata had become a symbol of unity. "I grew up during a time of peace and happiness, and I never saw an ethnic clash in Shillong―until the attack on the Sikh community by a dominant community here. Goons attacked our home, and I had to take shelter at our gurdwara. I stayed there for seven days," says Khushi.
According to her, the state government did not take action against the rioters till the Sikhs hit the streets, with people from Punjab and Delhi also joining them. "This government must go," says Khushi.
Snigdha Das, a class 12 student, said she joined the Trinamool because Meghalaya needed "a person who would unite all communities". "The situation here is not good; it resembles a volcano. So I have joined the Trinamool campaign in Shillong," says Snigdha.
Much like in the last elections, there are no pre-poll alliances between parties. Since 1972, no party in the state has won a majority on its own. Chances are slim that this time would be any different.
Does that mean the Congress and the Trinamool Congress could come together after the polls? Congress MP Vincent Pala says such an alliance cannot be ruled out.
While it is certain that the chief minister would be from the Garo Hills, it would be the results from the Khasi and Jaintia regions that would decide the winning party. The BJP, which had won just two seats last time, is confident of putting up a good show in the two regions. "In the past 10 years, Meghalaya has seen what development means," says state BJP president Ernest Mawrie. "So we will definitely win more than double the seats we won last time."