As much as overexcited broadcasters would like you to believe so, India taking on Pakistan in a cricket match is not war. Ask the Afghans. They know war.
They started playing cricket because of war.
When the Soviets invaded Afghanistan in December 1979, thousands of Afghans fled, many on donkeys, to neighbouring Pakistan. It was in the refugee camps of Peshawar that the boys first heard of this new game called cricket. (There are records of British soldiers playing the sport in Kabul, but it didn't stick as it would in many colonies.) The boys would start playing with sticks for bats and rolled-up plastic bags for balls. The odd tennis ball was a godsend.
A few years later, the country that gave them refuge would win the World Cup. It was a moment of joy for Imran Khan's "cornered tigers", but also for the proud Pashtuns. Though divided by a border, a lot of south Afghanistan and north-west Pakistan lies in the historical region of Pashtunistan.
It was from these camps that a rock of Afghanistan cricket would emerge. Mohammad Nabi's family moved to Pakistan in the 1980s. They were relatively well off, and started businesses and families there. Nabi was born in Peshawar and played cricket in the camps. "I used to hide from my parents and play cricket in school," he told the UN refugee agency in an interview. "There was no future then in cricket; now we are a proper country with a real team."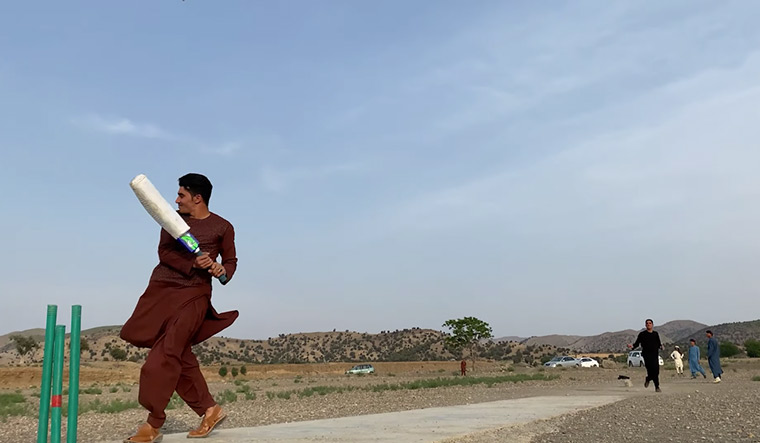 The family, like many others, returned to Afghanistan once the Taliban regime fell in 2001. "It felt strange when I first came back," he said in the same interview. "The war had spared nothing; everything was broken. But now, buildings have been rebuilt, roads repaired, markets reopened. We have cricket grounds and proper academies; earlier we had nothing."
The all-rounder has been part of the Afghanistan story from day one. A former captain, the 38-year-old has seen his team go from the fringes of international cricket to Test status.
Having played in several T20 leagues, the elder statesman has grown in stature around the cricketing world. Former England batter Kevin Pietersen calls him 'President'; he said in jest that Nabi could one day hold that office.
Given Afghanistan's political history, no bets are off. The situation in Kabul is grim. The Taliban returned to power after the US withdrew its troops from the country in 2021. The fundamentalist group had originally banned the sport, but softened its stance somewhat―the no-contact sport with full-length kits fell within its notions of morality. Also, cricket is perhaps the biggest success story of Afghanistan, with its players becoming heroes to the nation. This was a group of men who could not be suppressed.
The women, of course, are not allowed to play. And this has turned off quite a few folks in cricket and beyond. In January, Australia refused to play a series against Afghanistan in the UAE because of the ban. Some Afghan fans are even boycotting the World Cup because it is the Taliban's team that is playing.
Notably, Nabi moved his family to Ajman in 2021, though he did not specify whether the Taliban's return factored into his decision. As it is, the UAE will host Afghanistan's home game for the next four years as political tensions back home have meant that international teams are reluctant to visit and even give visas to the Afghans. The team had previously trained in Pakistan and made Noida their base, but tensions were never this high.
Add to this the recent earthquakes that killed more than two thousand people in western Afghanistan, and the country is looking to cricket more than ever for moments of joy. One of these moments came on October 15, when the Afghans defeated reigning world champions England by 69 runs in Delhi.
The celebrations were muted back home, what with the Taliban watching, but Afghans cheered on within their homes and online.
Nabi, as always, was key in that win, but it was the young brigade that did the most damage. Especially off-spinner Mujeeb Ur Rahman, who foxed the English batters en route to three wickets. "Now that youngsters are coming through, we work even harder," Nabi told a newspaper. "They should think that we have reached this position because of the hard work we have put in. We keep narrating our stories of struggle to the youngsters."
One of these youngsters is Rahmanullah Gurbaz, the wicketkeeper-batter who smashed 80 off 57 against England. "I am just running with the Afghan flag in the [Delhi] metro," Gurbaz's childhood friend Haseebullah Siddiqi told The Indian Express. "We are singing songs. This is a very emotional moment for the entire Afghan community in Delhi and those who are living abroad.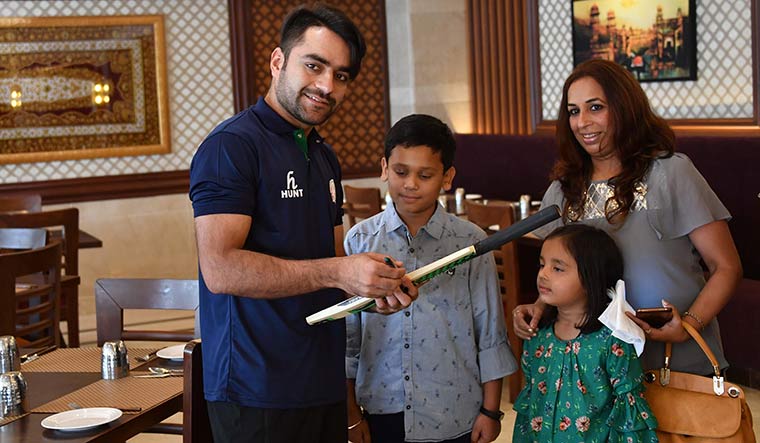 "[Gurbaz] kept telling me that he wanted to score a century and dedicate it to the people of Herat. He would just scroll through all the photos and videos of the earthquake. That is why he got so emotional after getting out. He wanted to hit a century and there was a planned celebration as well. I guess we'll have to wait for another match."
In a country known to produce quality spinners, the aggressive opener offers much promise. The 21-year-old from the southeastern province of Khost is from a generation that might have experienced relatively less political upheaval, but he did have other problems. His family was against him picking up a bat. In a documentary put out by the Afghanistan Cricket Board two years ago, Gurbaz tells the story of how he skipped classes to play matches. "I worked as a daily-wage labourer under the contractor who was building our home," he said, plucking blades of grass beside a stream near home. "I told him to not tell anyone and I did not tell my family. All I wanted was some money to buy cricket equipment."
He was scolded that day, and many a time before and after, but he did not give up on his dream. As a child, he was a football lover, but when he saw the reception former Afghanistan cricketers Nawroz Mangal and Noor Ali Zadran got in his hometown, he, too, dreamt of a similar welcome. He is on his way to getting there, if he hasn't already. Having scored a century on ODI debut against Ireland and then a scintillating 151 against a full-strength Pakistan, Gurbaz has shown skills and nerve that surpass those of the early Afghan cricketers.
He has also joined the ever-growing group of Afghan nomads who play in different T20 leagues across oceans―he plays for Kolkata Knight Riders in the IPL.
All the travel, though, has not taken the village boy out of him. "I love my country more than myself," he said in the documentary. "I will not give up my village for any seven-star hotel."
But relentless cricket means he is rarely home. It's a curse several of these T20 superstars face, especially Afghanistan cricket's most famous son―Rashid Khan. When he does go home to Nangarhar, a three-hour drive to the east of Kabul, his nephews burst firecrackers and garland him. "It feels like I'm getting married," he said on the YouTube show Breakfast with Champions. His nephews then ask him to pay for the arrangements. They also keep him up all night, recounting stories of his on-field exploits and pestering him for pizza. Even when he is playing in some league on another continent, they call him on WhatsApp, asking him to convince their mothers to let them have pizza.
Family is everything to Rashid. He has 10 siblings, and he holds them close. As a child, he wouldn't be allowed to leave home alone―given the country's politics, anything could happen. This only made him cling on to his family even more.
After the England match, the champion leg-spinner had said, "We don't have these kinds of wins and that kind of situation back home in Afghanistan where people could celebrate. I think cricket is the only source which gives them a lot of happiness and a lot of good memories."
The cricketers still play under the black, red and green flag, which the Taliban doesn't approve, and have repeatedly asked everyone to keep politics out of the game. They are doing what they can to put smiles on faces back home, and they would hope that the legacy they are creating outlives the turmoil Afghanistan finds itself in.
From Nabi to Rashid to Gurbaz, you can trace the story of Afghanistan cricket. And as long as boys back home keep following in their footsteps and slay more giants, Kabul could hear more gunshots. This time in celebration.