A never-say-die attitude. This is what Kapil Dev believes he brought to the Indian team that won the 1983 World Cup. He embodied that attitude when he walked out to bat, with India floundering at 9/4 in the World Cup match against Zimbabwe. His world-record-breaking, unbeaten 175 was, unfortunately, not caught on TV camera. A humble Kapil says it was simply his responsibility at the time and that he does not believe in talking about it too much.
But, then, that is the thing about being Kapil Dev. When you are one of the greatest all-rounders of all time (the only player with 400 wickets and 5,000 runs in Test cricket), your legacy does the talking. As India go into another World Cup as one of the favourites, 40 years after drawing first blood in 1983, Kapil sat down for a freewheeling interview with THE WEEK in Bengaluru. The youngest captain, at 24, to win the ODI cricket World Cup, he recounts the memories and the dynamics of the now legendary team he led. He also speaks his mind on current Indian cricketers, the IPL, the BCCI and India's chances at the 2023 World Cup. Edited excerpts:
It is 40 years since you lifted the ODI World Cup and we are now heading to another World Cup. What was the mood like in 1983?
In the beginning, it was very simple: chill, let's play. And once we started winning matches, the thought process changed. In cricket, once you start believing you can do it, things change. I don't blame my team [for not believing], because we had never won anything. But, before the World Cup, in the series against the West Indies, we showed we can actually play ODIs (India beat West Indies in an ODI for the first time). Before that we neither had the attitude nor the mindset. Because we learnt traditional cricket. In one-day cricket, you have to get the runs, and I think that win in the West Indies gave us a boost. And the first win at Old Trafford in the 1983 World Cup changed the attitude.
There were still a few people who were unsure. Once we beat Zimbabwe, the mindset changed. Only three matches were left after that, and the entire team started believing we can win from any situation. That was more important.
Q/ Sunil Gavaskar mentioned that two things that contributed to the World Cup win were a young captain in Kapil, who really brought energy to the team, and Cheeka's (Krishnamachari Srikkanth) energy on the field after each wicket.
I would say character. If you have 11 Sunil Gavaskars, 11 Sachin Tendulkars or 11 Rahul Dravids, it is not going to help the team because they are so deep into their cricket. If everybody is like that, then it is difficult to make the dressing room a lighter place. In our team, we had character.
You need a Srikkanth, you need a Harbhajan Singh, you need a Yuvraj Singh. God was kind, and we had Sandeep Patil, we had Sunil Gavaskar, who was totally different, we had Srikkanth. If you want to get Srikkanth out, don't talk to him, don't let anybody talk to him. He wants to talk; he wants to unwind. It's a very simple thing. Ajay Jadeja was also like that; he always talked to the wicketkeeper, to the umpire. With somebody like Sachin Tendulkar, Rahul Dravid or Sunil Gavaskar, you talk to them [to get under their skin]. With Javed Miandad, don't talk to him. If he tries to say something, ignore him; he will get frustrated. In cricket it's very, very important to have a character.
Q/ It is very interesting, but what was Kapil Dev's character?
My character [has to do with] where I came from. I would say, 'never give up'. I am not trying to boast, but that was the attitude. Even if only 10 runs remain, never give up. And that was what I brought into the team. You don't have to tell Sunil Gavaskar or Dilip Vengsarkar how to play―they know that better than me. But, sometimes, our character came out of that regional thing; you know, they were from Bombay, Delhi, from the south. I think that was more difficult for me at that time because, one, Bombay dominated for 40 years with their method of play. Coming out of that shelter, or umbrella that they created among themselves, was very difficult. And rightly so, they dominated the Ranji Trophy because they had a method. But that method was good enough for Test cricket, not for T20s or ODIs. Our people, coming from smaller towns, had that ruthless approach. And the biggest thing was that it was a break between Hindi and English. Cricket was played by English-speaking people [in urban centres like Bombay or Madras] and people who come from, say, a suburb, are more earthy, rude and hard.
In sports, things were changing; you don't have to be polite; you don't have to be a Mahatma Gandhi in cricket. Even though our culture was like that [being polite], change was taking place. Once you started achieving [success], cricket went to the smaller towns and that's how the change took place. A Zaheer Khan coming from [near] Aurangabad, Harbhajan coming from Jalandhar and [Javagal] Srinath coming from Mysore. So, when regional people come in, their personalities also come in.
Q/ Did you have a problem handling that?
If you are not biased, there is no problem. I came from a place where I had no cricketer friend. So, to me, everybody was just the same. It took time for us to tell the Bombay cricketer that there was much more [than the way he played]. I think once the Bombay people understood, they started believing. It wasn't easy for them, because they had grown up [with this way], and they had taught everybody in India that this was the way to play cricket. Suddenly, other people come out, M.S. Dhoni, Harbhajan, Zaheer or Yuvraj, with this different approach. I think that really made Indian cricket what we are today. And, I always say, don't forget the Bombay method because they still had their experience, and their understanding of the game was far better than that of anybody else.
Q/ Does that still reflect in the selection process today?
I haven't gone to the dressing room for 20 years, so it's unwise for me to comment on that. What's good about the young players is that they are very confident. The negative part is that they think they know everything. They think they don't have to seek advice from anyone. An experienced person can always help, even if he has not played the modern game.
Q/ I was waiting at the Bombay airport when you called me and said, 'Why do you want to come all the way to Delhi from Kochi? I am coming to Bangalore, which is closer to you.' We don't expect that from a present-day cricketer. Why is there this attitude shift?
Sometimes, when too much money comes, arrogance comes. These cricketers, they feel they know everything. That's the difference. I would say there are so many cricketers who need help. When Sunil Gavaskar is there, why can't you talk? Why should there be ego? They feel they are good enough. Maybe they are good enough, but extra help from somebody, who has seen 50 seasons of cricket, won't hurt. He knows which side the grass grows and where the sun comes out from.
Q/ When do you think the shift happened? Before or after the IPL?
I think IPL was the big change. Look, change only comes when money also comes. I always feel money is very good; it gives you confidence. At this stage, the cricket board has the responsibility to look after them. They come from humble backgrounds; sometimes, when you get too much money, you get spoiled. Everybody can't handle that. You need guidance; the cricket board today can hire people and give them classes.
Q/ When you talk about the BCCI, we all feel that veteran cricketers should be a part of it.
Not everyone. The board has to pick and choose the right people.
Q/ Do we have the right board now?
I don't know. When you perform as good as that, it's the right board, nothing wrong. But the right board also needs to improve. If I show you the fixture I have seen today, India is playing 11 matches and the amount of travelling they have to do... who made that fixture? Now, how can I look after my team when they are playing in India? You are going to Dharamshala, then to Bengaluru, to Kolkata… playing in nine different places. Somebody asked me, and I said, 'If I were the board president, I would have a chartered flight for my team.' I want them to give their best performance on the field. These are the things the board has to do.
Q/ Also, like you said earlier, the board should consist of people who can make sure that these guys are grounded.
I would like to agree with you, but all 11 players are not of the same mind.
Q/ Could this be part of the National Cricket Academy? Or the under-19 programme?
They have to groom players to be good citizens also. What happened between Gautam Gambhir and Virat Kohli in the IPL, it was painful for me. My two most important people―Virat Kohli, one of the top batters in the world; Gambhir is now member of Parliament―how can they behave in such a manner? But sportsmen do lose their mind, from Pelé to Don Bradman to all people.
Q/ I was telling Ayaz about the time India was touring South Africa. We had this young pacer from Karnataka called David Johnson. Everyone was getting excited about him, but you said go with experience. David Johnson played the first match, leaked runs and never played for India again. So, leading up to this World Cup, how do we go about it?
First you have to pick the team and then you can talk about this one method―don't depend on one player. That's the philosophy I had. If you are playing a team game, one or two players are important, but they are not the only ones in this team. Everybody should be important, because if you don't believe that, and the other team members don't believe that, then they feel neglected, which is where we fail sometimes.
Q/ Are you saying the team should have more experienced players right now?
No, go with whatever team you make, but play as a unit. You are playing nine matches and everybody has to do their best. Yes, in football, we say there are three-four people who score the maximum goals, but it's not that the midfielders or defenders never score.
In the WTC final in England, if you look at the Australians and our bowlers, when you see a pitch map, we bowled more short balls than they did. What is the experience? The people who were sitting out and watching, they should have intervened. You had taken Mohammed Siraj. Is short-pitched ball the only ball? You may pick up a few wickets, but he was banging it in. You are a better bowler than that. Pitch it up. See how many LBWs they got and how many we got.
Q/ Are you saying we are not analysing the game like England or Australia?
I mean, fine, but sometimes the youth doesn't believe in taking wickets, but in breaking the other person's head. That's what youth is.
Q/ Josh hai.
Josh hai, but josh, if used in a positive way, will be the best thing.
Q/ But that's the thing, right. Ravi Shastri was telling me in a recent interview that the seniors were ready to be phased out in white-ball cricket. In the context of the World Cup, do you play K.L. Rahul or go with someone like a Yashasvi Jaiswal or a Sanju Samson?
It is about the kind of team you are making; combination is more important. You can say Samson or Rahul. No. Who fits in at that moment is more important; form is more important than anything.
Q/ Form and combination.
That's why I said combination first. How can a Rahul Dravid be a wicket-keeper for India? At that time that was the best combination they got to make sure Rahul also played.
Q/ In a World Cup, in such a pressure-cooker situation, can youth flourish?
Youth is the only important thing you require. The ruthless approach youth will bring in. The mature people will not bring it. You want to tell me that Virat Kohli can't hit the way Ishan Kishan can? You want to tell me he is a better player? But there, you need a youth to be ruthless. Kohli could have played the same role 10-15 years back; today he will take 10 balls and then go on.
Q/ Playing at home in the World Cup, there will be humongous pressure. How do you see the mental aspect? We haven't won an ICC tournament in 10 years.
Doesn't matter. We are still playing well. It's not like winning trophies is everything, but we are reaching the final, the semifinals, we are there, but you have to cross the final hurdle to win.
Q/ Do we need a sports psychologist?
I think these are technical things that have started coming in. Nobody is better than your senior player if they are guiding you properly. Too many cooks spoil the broth. Whom do you want to listen to? Captain? Manager? Have fewer people.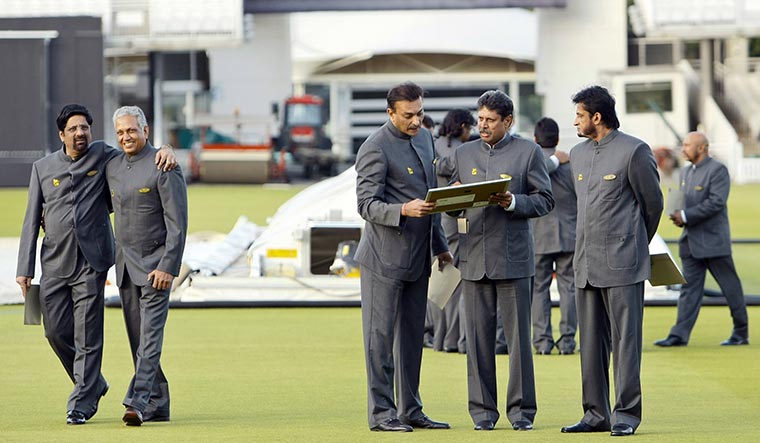 Q/ Do young fast bowlers reach out to you for help?
No, they don't. I learnt one thing from Sunil Gavaskar. He said, "Never give advice till they need advice; till they ask for it."
Q/ And that's something they don't do.
If I go there and give them advice, they might not want it. When I was playing, sometimes I used to get so irritated when I see, at lunchtime, a senior cricketer coming into the dressing room. Ye aa gaya, ab free baat bhi nahi kar sakte (He has come, so now we can't even talk freely). So, I decided that when I stop playing, I will never go to the dressing room. That's not my space.
Q/ Everyone thought Hardik Pandya would be the next bowling all-rounder after Kapil Dev. Ravi Shastri says his body can't cope with Test cricket.
Why? I respect his statement, but why?
Q/ Probably he meant the breakdowns he has had.
Nobody has had more breakdowns than Dennis Lillee. So, I don't believe that. Human body can come back from any corner, come back into top condition. If you say Hardik Pandya―who is such a great athlete, looks so good―has to work hard on his body, he has to work hard. His body can't take it? I can understand if that big West Indian off-spinner's [Rakheem Cornwall] body can't take it. But, over a period of time, his body can also do it if he starts working towards that.
Q/ You have a fantastic ODI record and an equally fantastic Test record. Why do you think people are not giving enough importance to Tests?
Reduce the money in one-dayers and T20s, and increase the money in Test matches. You put so much extra money into Test matches, and I want to see how many people will say no to it. I would like to be proved wrong.
Q/ A corollary question to this, a little diversion, is about Bazball. What is your reading of the situation?
I like [the ongoing] Australia-England series. They are not ready to go for the draw; they want to entertain people and that's a responsibility of the cricketers and cricket boards. Look, if I have to play the last day and save the Test match, I will make sure the approach will change. But if I have 290 or 310 to chase, my first thought should be to secure a win. If by the last one hour I know we can't win, then I will try to make sure we draw.
Q/ And that's how you saved the follow-on, with the four sixes you hit against England's Eddie Hemmings in 1990.
These type of things happen in everybody's life, not mine alone. I would say the approach has to change. As Don Bradman said, and I would vouch for that, after getting 30, 40 or 50 runs, if any top player plays a maiden over, they must be joking.
Q/ Do you think there's too much drama surrounding India-Pakistan matches? Do you really feel the pressure?
What is pressure? Pressure doesn't come when you're facing the ball. It starts building up when your waiter gives you coffee and says, "Pakistan se nahi haarna (don't lose to Pakistan)". So that's how the build-up takes place.
Q/ Are you friendly with any of the Pakistani cricketers, like Javed Miandad or Imran Khan?
I don't meet my own team members because I'm doing my own thing. I will ask you a similar question―are you in touch with all your school friends?
Q/ Not all.
Because we have drifted away or have our own life. How can I meet Imran Khan? He was the prime minister.
Q/ Have you spoken to him after he became prime minister?
He has gone into a different phase. I would like to meet him, but does he have so much free time? So many people studied or spent time with Prime Minister Narendra Modi. Does he have time for everybody? No.
Q/ So, do you agree with Ravichandran Ashwin's statement that now teammates are more colleagues than friends?
Over a period of time, they become friends also. After you spend 15 years on the field together, then when anything happens, you talk to them. Sunny was my colleague, today he is my friend―anything happens I just pick up the phone. Like Jimmy [Mohinder Amarnath] was my senior, Madan Lal, too, but I spent 15 years with them and if something happens, say my daughter is getting married, I would ask them to be there if they have time.
Q/ You mentioned Madan Lal. I want to talk about that catch. Madan Lal bowls, Viv Richards has a mighty swing, and you take a great catch that turned the game on its head at Lord's. You were so cool that you didn't jump up in joy after you caught it. What bothered you was someone from the crowd had come and scratched your back.
With today's cricketers―I laugh at this sometimes―when somebody takes a wicket, they pump so hard it feels like oil will come out of the ground. Relax. I used to say, don't even throw the ball up, you will displace your shoulder. But they are jumping and pumping, like when Siraj took a wicket he was like [shows aggressive celebration]. Your job is to take a wicket. I recall an incident when Harbhajan was bowling. Bishan Singh Bedi and I were on television. Harbhajan takes a wicket, and the whole team is after him. He was running around like a headless chicken. So, I told Bishan paaji, you know, if you plan something very extraordinary and it happens, you want to be happy. But every time he takes a wicket, he runs and the whole team is running after him. He said, 'Harbhajan can't believe he has taken a wicket' [laughs]. That is his sense of humour. Look, your job is to get a hundred, so you lift the bat… but after making a hundred, you are throwing the bat and jumping. Hello, that's why you were picked in the team.
Q/ Picked in the team to get a hundred, yes. But to get 175 against Zimbabwe in that kind of a situation….
That was my responsibility at the time. I have gotten zeros also, but at that moment I stood up, God was kind, and I made it a day for everybody. So, I feel proud about that, but that doesn't mean you want to talk about that all the time.
Q/ But when you walked out, four down for nine, what was your thought?
If things happen so fast, you don't get time to think. Storytellers will say, this is happening, that is happening. Me, I don't remember.
Q/ Is there a role for you in Indian cricket, because you're not just a World Cup-winning captain, but your experience, humility and the maturity that you bring to the table also count?
Humility is a totally different story because sometimes I think, why can't I be like John McEnroe? Why can't McEnroe be like me, totally quiet and calm? Why can't everybody be like Sunil Gavaskar―when he was given out, he would quietly come back. Why can't everybody be like Sourav Ganguly, who doesn't believe he is out ever. You know, that's how people are.
Q/ Humility is one thing, but I am talking about the way they handle themselves off the cricket field.
That is the cricket board's job. If they think I'm good enough, or they think Sunil or Dilip or other people are, that's their job to hire us. It's not for us to go there.

Q/ Two prominent cricketers have led the BCCI―Ganguly and Binny. Do you think that has made a big impact?
It's a good trend, but I think these cricketers also understand what they have to do. Sometimes you don't have to be a cricketer to be a great administrator, you are looking for great people to come into the administration, people who can do the job. You need politicians, you need businessmen and you need cricketers, too. Why businessmen? To handle Rs50,000 crore or Rs1,00,000 crore worth of business, you need businessmen to understand that. Why politicians? You need a politician to ensure that cricket will run properly. I want to see how a cricket tour will take place without a politician being involved. It will take three months to pass through the sports ministry or finance ministry or something.
Q/ Who is your favourite to win the World Cup?
Your heart says India has a chance, but it looks like it is not so easy because you need a stroke of luck, you need no injuries, you need a lot of things at that moment. Let us first make it to the top four.
Q/ One step at a time.
Yeah, think about that only. Sunil Gavaskar says, "You can't make a hundred in two overs." So, make 20, 30, 50, 70, 80, then you start winning matches slowly and come into the semifinals. Then you need a stroke of luck also. But in the semifinals, [if] your top player gets injured, your team is shattered. Look at what happened to Jasprit Bumrah.
Q/ Kapil Dev never had these breakdowns.
God is kind. It's not like I never got injured, but I think today they are playing 10 months a year so I give the benefit of the doubt to them. But everybody has to look after themselves. The IPL is a great thing, but it can spoil them, too. Because with a little bit of injury, you will play the IPL, but with a little bit of injury, you will not play for India. You will take a break. And most important, the cricket board has to understand how much cricket they should play. That is the bottom line. If, today, you have the resources, the money, but not three years' calendar or five years' calendar, then something is wrong with the cricket board. I can understand, 30 years ago, you needed more money and you call the West Indies [or someone else]. You don't need more money now; you need better cricket. You are finishing the IPL three days before a Test match. Planning should be done at least three years in advance, five years in advance. That's why I admire Australia.
Q/ Everyone is waiting for the next Kapil Dev.
Why do you want a Kapil Dev? With one Kapil Dev you can't win a World Cup. You need a team. But you will always find someone better than me.
Q/ We still haven't found one.
We haven't found another Don Bradman. You don't look for that. You make a team. You see this young tennis player come out (Carlos Alcaraz), what a player. We thought after Sunil Gavaskar nobody will come close to him. But Sachin did everything with so much ease. And after Sachin, we asked, will we get another? Virat Kohli is sitting there, better average, better score, better fitness. So, the next generation is always better. We have to invest and make sure we treat them properly.
Q/ But if you're looking at a fast-bowling all-rounder, who have we got? Probably Hardik to a certain extent.
It's too much hard work today. You have T20s, you have ODIs, you have Tests, you have other cricket also, and you have commercials [laughs]. I was avoiding saying the last one. In our time, there was only cricket. It is not an easy job to be an all-rounder, it's not an easy job to play all types of cricket. But some people can play. I thought Irfan Pathan was very close to doing that, but he faded away very fast. Why? Same with Hardik Pandya. I like to say that he can do those things; why are we trying to cover that up? He will have to work hard.
Also we are not counting Ravindra Jadeja or Ashwin as all-rounders. What brilliant all-rounders they are. You have a Dhoni as an all-rounder who averages over 50 with the bat in ODIs. What a keeper and what a captain. So why don't we say, when do we get the next Dhoni?
Q/ You've played against the great West Indies teams of Clive Lloyd and Viv Richards. Now you see them struggling to stay afloat.
The cricket board or the ICC has to look after them, same way the ICC looked after Pakistan. If you can't play in Pakistan, you play in Dubai. Try to give them cricket. I feel more sorry for Pakistan. They're on the same track. In a few years, if they have no local cricket, what will happen to their cricket? We lose the West Indies; we start losing Pakistan. To a great extent, Pakistan still has passion for the game. As for the West Indies, they have to look after their cricket.
Q/ Even South Africa, because the players are few. So, it's India, Australia, England…. Youngsters in the West Indies are all going to America for athletics, basketball….
The ICC can play a bigger role. I'll give you an example, not a similar thing, but you will get an idea about the authorities who are looking after the sport. How come tennis people are keeping grass surfaces in play? Why have hockey people not kept grass hockey alive? [Grass] is the most important thing in terms of dribbling, art. If you are giving so much to T20, you are killing Test cricket. In hockey, it was such a treat to see the dribbling; artistic players used to be there in India, Pakistan, Malaysia. They killed it. So, don't kill Test cricket.