OVER THE PAST few years, Odisha has become India's hockey hub. The state recently hosted the World Cup for the second consecutive time, with another world-class stadium in Rourkela.
Not only has the Naveen Patnaik government modernised cities and towns, but it has also focused on building modern sports infrastructure across the state.
One of the drivers of this growth is R. Vineel Krishna, commissioner cum secretary of the Odisha government's sports department, and special secretary to Patnaik. In an interview with THE WEEK, Krishna gives an insight into the plans, execution and upkeep of the infrastructure being developed. Excerpts:
Q/ How did the experience of hosting the 2018 World Cup help this time round?
A/ In 2018, we were organising a world-level event for the first time. Not only the sports department, but all the others involved, like Hockey India, learned from the experience. We could set some benchmarks then, and we tried to set higher standards this time. That is why you will see a grander level of organisation and involvement throughout the state.
Q/ The new Rourkela stadium is a world-class facility. How challenging is it to maintain?
A/ The same question was asked about the Kalinga Stadium during the last World Cup. But in the past four years, it has hosted many events. The same will apply to Rourkela. The FIH (International Hockey Federation) is keen on organising more events there. We look at it not as our stadium, but as a stadium for the federation as well.
Q/ Are you then not too dependent on FIH/HI to get more events?
A/ We have to be dependent for international events, but state championships, coaching camps... will be divided between Kalinga and Rourkela. Kalinga will be our high-performance centre where our state-level teams and hostel are. Rourkela will be used for coaching. HI is also keen on hosting more championships there.
Q/ The problem with big stadiums is the maintenance cost. It is a big drain on government resources. How will you deal with that?
A/ It is definitely challenging, but if we need to have [high] standards in our stadiums, we need to have that (spending). We have engaged professional agencies for the upkeep of the stadiums. Luckily, our government, under Chief Minister Naveen Patnaik's leadership, has been very supportive. The sports department budget has increased over the past four years. This year has probably seen the biggest jump―it used to around Rs300 crore; it is now almost Rs1,300 crore to Rs1,500 crore.
It is not only about hockey. We have projects worth Rs2,500 crore going on across the state. We are spending close to Rs900 crore to build 90 indoor stadiums/multipurpose halls. So, funds are not much of a concern.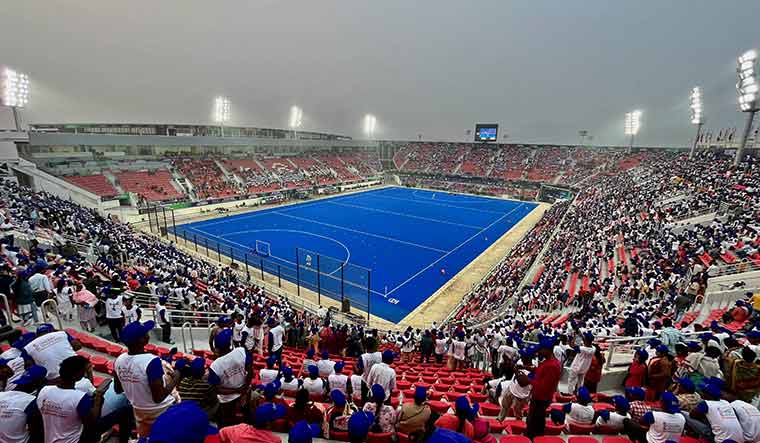 Q/ What would be the main challenge vis-a-vis this infrastructure development after the World Cup?
A/ Getting the kids to come out and play. That is definitely the main challenge we face because there are not enough certified coaches. Sports is not the main priority and does not attract the best of society. The usual tendency is to focus on academics. This is going to be a challenge for many years and there are no easy answers. We are trying to see how we can upgrade coaching knowledge. For example, in hockey, there are HI and FIH coaching courses. We are trying to make as many coaches upgrade their knowledge and go up the ladder.
Q/ The Kalinga complex will soon include facilities for badminton, indoor athletics and swimming. How would you utilise such amenities optimally?
A/ In the next two to three years, [it will be about] inaugurating and operationalising stuff. We are expanding the Abhinav Bindra Targeting Performance centre (opened in 2019). We also have our sports science centre―India's largest―which the Abhinav Bindra Foundation will run.
Q/ What made the state government go for such a large-scale development of the sports science centre?
A/ We have to look at sports science in a big manner because, at the international level, that is going to make the difference. Unless we start adopting it in a big manner, we can go to international events, but will not get medals.
Q/ But elite athletes have access to these facilities in Sports Authority of India centres.
A/ Sports science needs to be adopted at a very early level. Here, right from the sub-junior level, they are being trained in these methods. It is a big task because the coaching culture is not used to these latest, scientific methods.
Q/ How will you make your coaches adapt to this big change?
A/ That is the big challenge. A huge behavioural change is required. We are trying.... You need to keep pushing them all the time. They see only when results come; they do not want to try new methods before that. We are also not happy with the way they adapt to technology. They have been using traditional methods for a long time. See what happens at the international level and what our grassroots or mid-level coaches teach. Hockey has moved beyond old methods.
Q/ What does your experience of hosting the World Cup tell you about where you stand in terms of organisation?
A/ The response from the crowd this time has been amazing. It shows that hockey can be a very popular sport. Rourkela was full right through; even the non-India matches were nearly full.
Q/ Worldwide, it is believed that if one keeps the stadiums compact and capacity small, they are easier to maintain. Why then did you go for high capacity of around 20,000 in Rourkela?
A/ Getting a 5,000-strong crowd is a big deal in the Netherlands, but here, 5,000 people would be fighting outside the stadium to get in. The reason we went for bigger capacity in Rourkela is that we cannot manage with 10,000. It is a major hockey centre; MLAs from Jharkhand come to watch matches in Rourkela.
Q/ Are you happy with the way the World Cup went?
A/ We are getting great feedback from teams and spectators. Overall, we are quite satisfied with the way this edition has gone.