When Dubai puts on a show, this magnetic destination doesn't just shine―it dazzles and blinds. I did not remove my shades even once during a short break in the trippy desert destination, that reminds me of New York on steroids! The energy! The glam factor! The food! It was an intergenerational vacay.
I was accompanied by my daughter and two granddaughters. It was the bachchalog's premier visit and I did not want to prep them. Their only association with Dubai was as one big shopping hangout, the destination with the biggest candy store in the region, at a mall the size of a township, where one could watch sharks languidly swimming in a ginormous aquarium. That's it. Hmmm… you ain't seen nuthin' yet, kiddos, I said to myself, as we drove to the swanky, centrally located Habtoor Palace Dubai, and they excitedly spotted the Burj Khalifa shimmering in the heat haze. Aah―the mirage that's the most recognisable symbol of Dubai! Seductive, enchanting, elusive―like the never ending dance of the seven veils―the more Dubai reveals, the more it conceals!
I have been a regular visitor to Dubai for over 40 years. Each visit has been an eye-opener on multiple fronts. That's the thing about Dubai―like the sand dunes that change shapes and contours non-stop, Dubai (just 35 square kilometres of staggering energy) is in a constant state of alteration, modification and modernisation. Much like a priceless couture garment that is never entirely finished. I have seen Dubai through various phases and each one threw up an unexplored facet that left me aching for more. The old creek I knew so well, no longer exists. So many familiar landmarks have been replaced by glittering, glass-fronted towers. Dubai is ambition and aspiration in overdrive, as Indians flock to indulge and exploit business opportunities, now that Dubai is once again seen as a kingdom of gold. The financial slump and housing crash in 2009, which seriously dented its burnished image, is barely remembered by those who braved it, stayed on and are rejoicing over its spectacular comeback.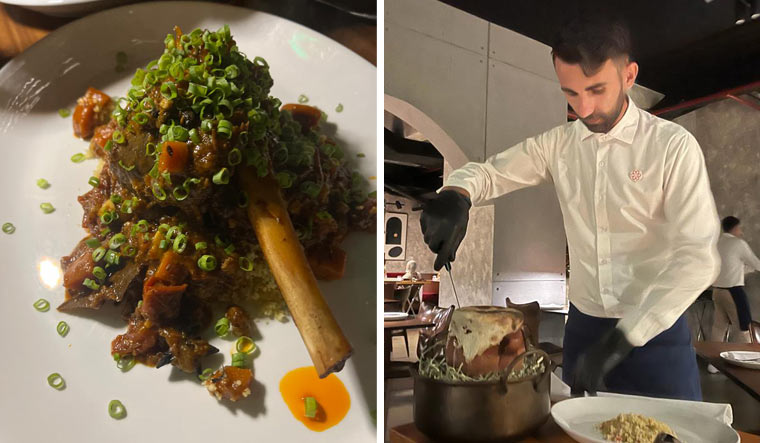 I cannot think of any other destination on earth where wealth and money are as nakedly visible. If you have it, Dubai's the place to flaunt it―minus embarrassment or fear! No boring questions asked about source of wealth and other tedious biz details. This is the biggest attraction for super rich Indians buying magnificent villas in Dubai, and commuting regularly to enjoy Dubai's many bounties. Interestingly enough, several regulars I spoke to, mentioned how Dubai has smoothly overtaken their old haunts―London, Paris, New York―all thanks to its proximity to India. A three-hour flight from Mumbai, takes you to a parallel universe―as dizzying and distracting as AYA―the 40,000 square foot space where one is immersed in a high-tech sound, light and graphics show celebrating 12 zones of the universe. Apart from an easy commute, Dubai is seen as a safe place for families―something that can no longer be said about London, where our richie rich have been getting routinely mugged in broad daylight.
It is the surprise element in Dubai that never ceases to impress me. Jaded global devotees of the high life echo my sentiments when they exclaim how delighted they are each time a new top end Michelin star restaurant throws open its gilded doors in Dubai, which is rapidly becoming the gourmet capital of the world, with―hold your breath―14 restaurants earning their stars and stripes in the highly competitive eating out market. We were lucky enough to enjoy a few superlative food experiences ourselves, starting with a champagne, oysters, scallops and bouillabaisse Sunday brunch at the French themed BQ Kitchen in our hotel, complete with an accordionist who played La Vie en Rose beautifully, transporting us instantly to Montmartre.
From Paris to Istanbul was a hop, step and a jump as the next night we managed to score a coveted table in a small, far from fancy place run by three brothers―that explains its name―the Orfali Bros Bistro. Celebrity chef Mohamad Orfali presides with complete authority as fans of his cuisine patiently line up for a table. Innovative Middle Eastern flavours were dancing on my tongue, as the articulate chef narrated stories about his mother, aunts and grandmother. The winners for me were the caviar bomb and the Wagyu cheeseburger―the best ever!
Since I am not much of a shopper, I focused on food! Food to me is far more sensual than any designer handbag. In between gluttony, we managed two wonderful excursions, which, had my grandchildren not been with me, I would have skipped. The View, with its incomparable vistas, is a must see landmark, with an observation deck located at 240m, and offering a 360-degree panorama of Palm Jumeirah, besides the Dubai Skyline and Arabian Gulf. We were there along with a large group of well-heeled Japanese tourists who forgot their Celine handbags long enough to marvel at the architectural feat in the reclaimed waters, where international celebs anchor their yachts and smoothly glide into their extravagant villas.
That's the thing about today's Dubai―it is seriously sexy. I mean when Queen Bey Beyonce shows up to perform at the newly opened, glittering showpiece, The Atlantis, can it get any hotter? We managed a quick, informal lunch at Wavehouse, on its sister property―the original Atlantis―which still attracts hordes of tourists who spend the entire day at glitzy luxury boutiques dotting the massive property, when not sampling gourmet delights at multiple, big ticket restaurants, some of which offer easy access to the beach. It was crazy to negotiate the human traffic along the hotel's massive corridors, but I guess the old mantra never changes―When In Dubai, indulge.
I am not sure when I'll be back―though a Christmas break sounds tempting. I definitely have to revisit two superb restaurants, I couldn't really do sufficient justice to (lack of time and appetite)―Tan Cha and 11 Woodfire. Tan Cha describes its palate-tingling cuisine as "forward thinking,'' which it most certainly is. Chinese mythology moulds itself seamlessly into the mysterious ambience, as the chef sends out course after course of delicately flavoured, highly unexpected dishes from pickled plum tomatoes to aromatic duck pancakes that arrive dramatically, with great ceremony on an illuminated wooden tray. The perfectly braised scallops and desserts that are almost too pretty to eat, made this a special occasion, worth a revisit. Ditto for the highly rated 11 Woodfire, a one Michelin Star restaurant located in a villa on Jumeirah Beach Road. Superchef Akmal Anuar sure knows his cuts and meats, and serves the perfect grills to discerning diners who don't mind paying top buck for the pleasure of biting into a succulent leg of lamb, or the melt-in-the-mouth Wagyu steak.
There's nothing sexier than great food. For me, adventurous, beautifully presented cuisines are worth travelling the seven seas to sample. With Dubai positioning itself as the place to enjoy gastronomy at its best, it is no wonder that snob culinary brands are opening their first overseas outposts in Dubai. Like the famed Italian restaurant Il Pastaio from Los Angeles, which offers an authentic experience right here in our hood. And for the times one feels nostalgic for a touch of India―there's always time for a quick stopover at the well-located Taj Downtown, with a young, enthusiastic chef eager to showcase his repertoire at the chic but casual Meda Tapas+ Bar, where we enjoyed superbly crafted salads and pasta. I am saving up my appetite to go back and try the offerings at the Bombay Brasserie, where executive chef Vikas Malhotra oversees his team and impresses diners looking for the genuine modern desi khaana.
Dubai has always intrigued me. Today, it is unrecognisable from my first glimpse four decades ago, when there were no high rises reaching up to the clouds and beyond, hardly any note worthy restaurants, and just a few luxury hotels that mainly attracted the expats working in Dubai. Look at the transformation today! In the past, Indians were looked down on and treated like second- or third-class visitors. The very Indians who made up the labour force and built the city we now ooh and aah over were shunned by locals. What a sea change there has been. Well-heeled Indian tourists―even those who go for just a weekend and spend lavishly―add to the 18.42 lakh annual numbers. The visas on arrival facility has contributed to the boom. Educated professionals and business people are being welcomed with open arms and the cherished Golden Visa.
Dubai and Gurugram share more in common than we realise―ostentatious, flashy living. Who says the good life comes cheap? Dubai with its many attractions, like the Green Planet, is out to prove a point to the world―what a place does not have, it can always create. Dubai remains a futuristic, hedonistic destination that is constantly reinventing itself, and is on a permanent rejuvenation plan to look gorgeous. If there was something like Botox for cities in search of aesthetic perfection and order―perhaps it is Dubai that holds the secret and can rightfully claim to be forever young, forever sexy!