ON MARCH 7, Sultan Al Neyadi was busy harvesting tomatoes. Only that he is not at some organic farm in Dubai or in his vegetable garden. The Emirati is at the International Space Station (ISS). He is the first Arab to travel to space on a long-haul mission. He is not the first Arab space traveller though―Prince Sultan bin Salman Al Saud, a former Royal Saudi Air Force pilot, is said to be the first Arab and Muslim in space. He flew as a payload specialist on a seven-day international mission in June 1985. In 1987, Syrian air force officer Muhammed Faris flew to the Mir orbital space station as a research cosmonaut. In 2019, Hazza Al Mansouri, a fighter pilot of the United Arab Emirates, embarked on a seven-day mission―the UAE's first―to the ISS.
The Arabs are taking great pride in their fourth 'najmonaut' ('najma'in Arabic means star). Al Neyadi will spend six months at the ISS. He is part of the four-member SpaceX Crew-6, which arrived at the ISS on March 2 in the Crew Dragon Endeavour vehicle. The initial launch was rescheduled from February 27 owing to a technical glitch. The Crew-6 members include Stephen Bowen and Woody Hoburg of NASA and Andrey Fedyaev of Roscosmos. With them, the ISS now has 11 residents, seven of whom had arrived earlier in two separate crews.
The ISS is an orbiting laboratory 400km above the earth. At 28,000km/hr, it takes only 90 minutes to orbit the earth. In 24 hours, it completes 16 orbits of the earth, which is why ISS residents witness 16 sunrises and sunsets in the said period. The ISS consists of five space agencies―NASA (US), Roscosmos (Russia), JAXA (Japan), ESA (Europe) and CSA (Canada). It is almost as big as an American football field―357ft, end to end. There are internet-enabled laptops on the ISS, and astronauts can make voice or video calls to their loved ones. It has six sleeping quarters, two bathrooms, a gym, and a 360-degree view bay window called the Cupola.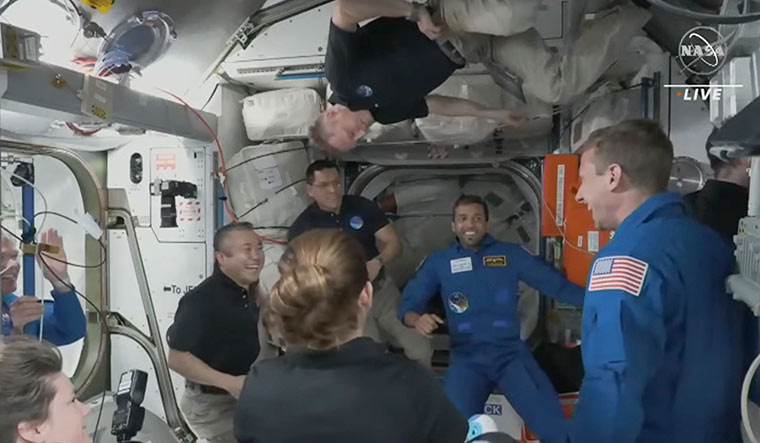 In a NASA podcast prior to his space travel, Al Neyadi had said that all astronauts run towards the Cupola to see Earth. "I want to go there with a camera," he said. "I want to capture that moment of looking back toward Earth. I want to see everything. I want to see home―the UAE, Al Ain, my hometown. I want to see the places that I visited and liked, where I studied, for example, in the UK and Australia. The oceans, forests, mountains are all on the list. Seeing Earth and the magnificent view, that layer of atmosphere that is protecting everything that we know, I think it is a really profound experience." On March 8, he tweeted a photo of himself against the backdrop of the cupola. "The dream has come true and now we dream bigger," he tweeted in Arabic and English.
During his first address on board, Al Neyadi spoke in Arabic, and the ground control in Houston greeted him on board with Ahlan wa Sahlan (welcome in Arabic). "I can't be happier than this, I mean, seeing all friends in space, gathering as a big family―this is the essence of space exploration," he said. He underlined the point that "the UAE is taking great steps towards pushing the boundaries of science and exploration by cooperating with space-faring nations in seeking new endeavours in space". The UAE now is the 11th country in the world to send an astronaut on a long-haul space mission. Its moon mission is already in orbit; the Rashid Rover is expected to land on the lunar surface on April 25. It also launched its Mars mission―Hope Probe―in 2020. The UAE wants more of its 'najmonauts' in space, and therefore the Mohammed Bin Rashid Space Centre is planning interactive sessions between Al Neyadi and school students. As part of its community outreach programme, 13 live calls and 10 ham radio calls have been announced. Videos taken from space will also be telecast in schools.
Al Neyadi will spend the holy month of Ramadan, expected to begin by March 22, in space. While religious leaders said that it is not mandatory for astronauts to fast, Al Neyadi said he would and that he would also share dates with the crew members.
Hopefully, he would not have to harvest tomatoes while fasting. Some of the tomatoes he harvested recently must have gone into a tasty, tangy salad for the crew; a part of it would also be used for the (Veg-05) botany study, which is working towards developing a system to produce fresh food in space. Another experiment that the crew is working on is studying the impact of microgravity on astronauts. "One day people will go to the Moon and Mars. We have to understand the effects of microgravity on our bodies," he told UAE's Vice President, Prime Minister and Dubai Ruler Sheikh Mohammed bin Rashid Al Maktoum in an Earth-to-space call on March 7. "We monitor the impact and the effects of space on our bodies so we can avoid this in the future."
The UAE clearly has its sights set high.