 It seemed business as usual at the All India Championship Dog Show in Mysuru. Around 400 breeds, from different parts of the state and the country, were being showcased. When some of the dogs could not stomach the heat, the owners ushered them to their cars and switched on the air conditioner.
Yes, most dogs here were special. One, more so.
Sitting quietly, away from the hustle and the bustle, was Sankarappa Poojari, 58. He had travelled all the way from Siggeri village in north Karnataka with Ranadheera, his beloved six-year-old Mudhol hound, a breed that has its origin in north Karnataka. These dogs, with dangling ears and wide jaws, are known for their hunting and surveillance skills. They can orient themselves in hot conditions and race long distances.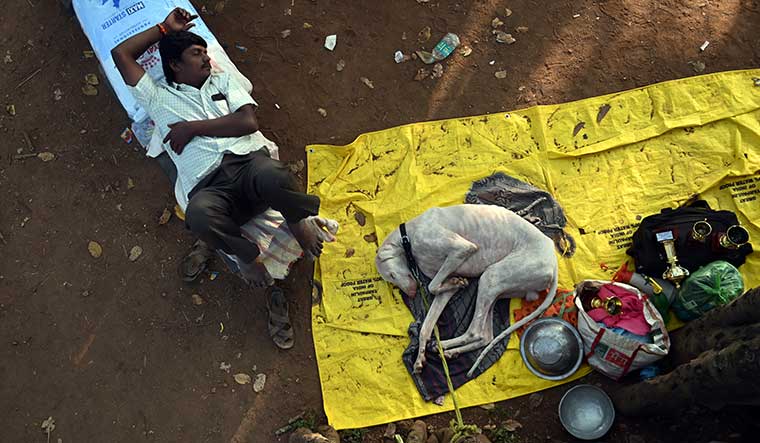 Today, Ranadheera needed to stay sharper. Poojari poured water on the hound to keep him cool. Tied to a banyan tree it looked annoyed with some of his exotic rivals sauntering around. With his long tail and tall build, Ranadheera stood out at the show. With his weathered complexion and rugged dhoti, Poojari, too, was conspicuous. When he walked with Ranadheera towards the ring, the owner received a special applause. Winning a medal for Ranadheera was important for Poojari. The offspring of champion dogs bring good money. So less privileged dog owners like him pool money, hire a bus, and travel long distances to shows across the country.
The hounds are now being used by the Special Protection Group, the Army, the Air Force and the Central Armed Police Forces. When Rana, a German Shepherd of the Karnataka forest force, passed away in August, the force was on the lookout for an indigenous breed. And it turned towards Mudhol hounds. Soon, two Mudhol pups were picked up from the Canine Research and Information Centre (CRIC) in Timmapur village in Mudhol taluk of Bagalkot district.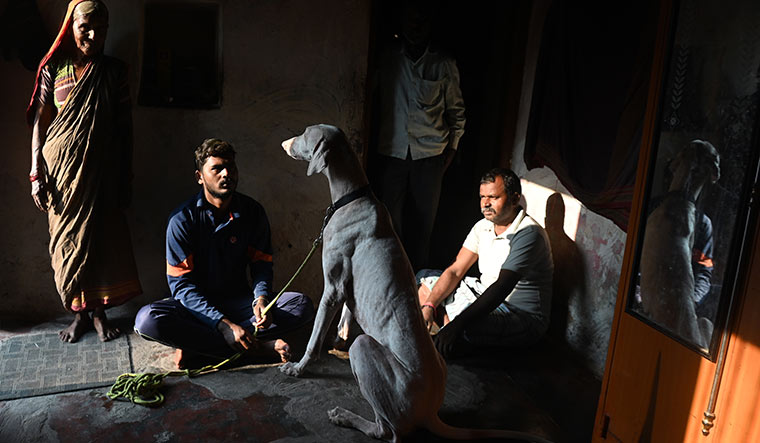 CRIC, which has helped revive the Mudhol hounds, is a part of the Karnataka Veterinary, Animal and Fisheries Sciences University.
It periodically delivers pups to government agencies and security forces. Training, depending on where the dogs are headed, would last six months to two years. Most Mudhol hounds can serve at least seven years and live up to 15 years.
For several farmers of Bagalkot, the Mudhol hounds are the only source of livelihood. It helps that they can withstand extreme conditions with minimal food. In fact, they can survive on millets and goat milk―also the staple of the villagers.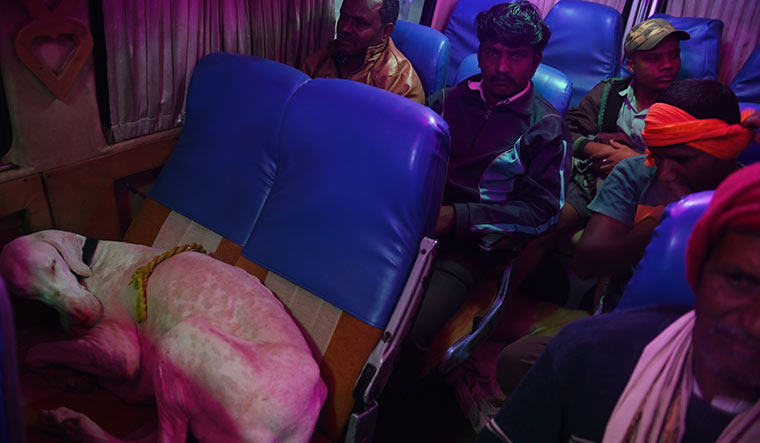 Malojirao Ghorpade, the last king of Mudhol, recognised the uniqueness of the dogs and, being an avid hunter, he bred the best hounds in Mudhol with the greyhounds from Central Asia. On a visit to England, Ghorpade presented a few of these dogs to King George V, who dubbed them the Mudhol hounds. In recent times, two vets from Karnataka―Dr B.C. Ramakrishna and Dr D.T. Jayaramaiah―have helped revive the declining population of the hounds, and spread awareness about them. And since 1990, both vets have had a hard time persuading villagers to give up hunting and start breeding the hounds.
Poojari, meanwhile, has returned to his village. As he herded his goats into the neighbouring jungle, Ranadheera accompanied him. Mudhol hounds are fiercely loyal to their owners and Ranadheera is no exception. Today, Ranadheera has company―Hunter, Raju, Rakhya―are the other Mudhol hounds in the locality. Some 500 families in Bagalkot own 800 dogs between them. "Since hunting is banned we do not engage in it anymore," says Mahantesh Chauhan, Raju's owner.
Villagers like him recently got good news from the government. Chief Minister Basavaraj Bommai, in his budget speech, announced a grant of Rs5 crore to develop the hounds. No wonder Ranadheera's strides seem to have got quicker.