Israel's first prime minister David Ben-Gurion was an admirer of Mahatma Gandhi and his nonviolent approach to attain freedom. He practised yoga and embraced Gandhian philosophy to the extent possible. Today, Gandhi's portrait hangs in his bedroom at his home (where he died) in Sde Boker in Israel as his country leaps into the future, with Prime Minister Benjamin Netanyahu preparing a roadmap for the next 30 years of India-Israel ties. Both countries established full diplomatic relations in 1992, and the friendship has changed into a pragmatic strategic partnership under Prime Minister Narendra Modi.
Speaking to THE WEEK, Israeli ambassador Naor Gilon said that under new minilaterals and trilaterals, both countries are trying to reinvent themselves and rise together by overcoming the paralysed world order. Excerpts from the interview:
Q/ Do you think political ties between Modi and Netanyahu are at an all-time high? How do their mindsets match?
A/ I think it is true. Foreign policy is also very personal. Leaders are usually lonely people. They cannot be friends with too many, because people are looking towards them as leaders. So, they either stick to old friends or the chemistry has to be so strong that they forge new bonds. There are some historic pictures of Modi and Netanyahu standing in the Mediterranean Sea in 2017, which speak volumes of their friendship….
Both are of the same age and have a right-to-centre ideology. They are practical people who have been leaders for many years…. All these factors make it easy for them to communicate and share a good chemistry. We have upgraded our relationship to a strategic partnership and today we find ourselves working together in every possible field. The intimacy between the two systems is so high that it enables us to work in trust and in a comfortable atmosphere.
Q/ Besides defence, which of Israel's strengths can India harness today? 
A/ Today, there are 90 unicorns with an international appeal based out of Israel. Creating world-class unicorns in a small market is a huge achievement unique to us. Israel is an expensive country, but we make technology that is worth the price. Since we are not an upscaling country, we do not do business to customer, where the costs are variable. We are like an island, as relations with our neighbours are limited. We believe in exports and follow a business-to-business model, which I think is the strength of Israel that can be tapped into by India.
Q/ With Netanyahu and Israeli Foreign Minister Eli Cohen expected in India this year, what is next on the agenda?
A/ We have reached a sweet spot in our relations today as we celebrate 30 years of full diplomatic relations. But the challenge now is to bring more value to the relations in the next 30 years. The world is evolving and so are India and Israel. To think that what we had can sustain us in future would be foolhardy, so we have to be creative and look at fields for future cooperation. We are trying to predict areas where both countries can have a qualitative edge and we are playing to our combined strengths in fields like quantum computers, artificial intelligence and deep tech where there are very few players…. We are also trying to maintain a lot of people-to-people contact because I feel that is the core of the relationship.
Q/ Bilateral trade has increased and diversified, but there is no Free Trade Agreement (FTA) still. Are you hopeful?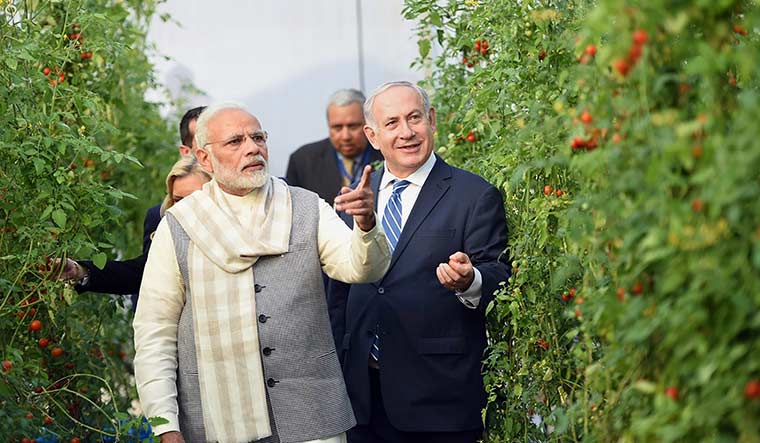 A/ Israel's trade with India has seen a massive jump from around $5 billion in pre-Covid times to over $10 billion today as per the 2022 figures released in India. This is an extraordinary jump, and defence trade isn't included in it. It is a good opportunity to go for FTA. But I know it is not easy as the market size is different, both countries want conflicting things from each other, but our teams are working together to resolve it. Indian and Israeli teams are in parallel negotiations with other countries as well. But I feel there is hope and if the prime ministers intervene, it will make the working-level focus harder on the practical aspects.
The economy minister may visit India this year, even as some more agreements are in the cards. We are in the stages of signing an agreement on increasing the number of structured workers in Israel to take care of their rights and offer incentives. There are more than 20,000 caregivers from India besides construction workers. We are also looking at bolstering ties in the field of education.
Q/ The Adani Group's acquisition of Haifa port has added a new logistics dimension to the economic partnership. How unique is this partnership?
A/ In the last few years, countries have become more aware of their strategic assets and conscious about whom they give its control to. The fact that Adani is holding one of them speaks volumes of the trust between our systems and countries. Haifa port is a tremendous strategic asset and it was deposited in the hands of an Indian company after a full assessment done by the government.
It is the biggest Indian investment in Israel so far and I think since Adani won the purchase and paid upfront the entire sum for the winning tender, there have been noises around it. But ports are their bread and butter and they know how to run their business. As far as we are concerned, the Haifa port is not as good as it should have been. And, when it comes to business performance, I believe the Adani group has the capacity, wish and the need to make Haifa the port it should be. More importantly, it is a signal of trust between the two countries that they can deposit in each other's hands their most sensitive infrastructure.
Q/ India-Russia defence partnership remains strong despite growing ties with Israel. Is there a clash of interest?
A/ I think Israel is not a competitor to Russian equipment because they sell platforms like ships, planes, aircraft. We are a small country and we see no logic in manufacturing big things. On the other hand, we produce high-end technology to go along with it. For example, a Russian Sukhoi can have the best defences―missiles, radars and other avionics―from Israel. There are countries that build similar systems, but we are agile and practise ingenuity unlike others. So our qualitative edge will stay. Even with Make in India, some countries see [it] as a challenge but I see it as an opportunity….
Q/ How do you see the normalisation of ties with Arab countries?
A/ The Abraham Accords and the I2U2 are game-changers. For many years, many countries, including India, raised the Palestinian issue to say that they would not work with Israel. In fact, India was probably the pioneer, leading the camp here, before the de-hyphenation policy that says that even as the issue of Palestine remains, we have to deal with Israel if it is in our interest and brings benefit to our population. They are not tying the two issues together anymore. It is a pragmatic and smart policy and this approach reflects in the I2U2 where India, the UAE, the United States have joined hands with Israel…. This is a welcome change, especially since the trilateral with the UAE is important because of the strong presence of India in the UAE and the economic potential to go forward by combining government powers with the private sector. In February, a meeting took place in the UAE where the business delegations felt there was a need to implement the project fast.
Q/ Why do you think multilaterals have given way to minilaterals and trilaterals between countries?
A/ The multilaterals are paralysed today. Once you have two strong countries opposing each other in whatever they do, we are back in the Cold War era where it is a zero-sum game. Whatever the United States will say, Russia will oppose and it is a deadlock. Then there is China in the game. Very few multilaterals are working like the conference of the parties on climate change, but mostly things are stuck. Then we have the minilaterals where like-minded states are coming together to work closely like the I2U2, which will benefit citizens, regions and the world by taking up various projects which are also environment-friendly. We are hoping to do more trilaterals with India and other countries.
Q/ Israel is one of the three poles of west Asia region. How do you see regional security shaping up today?
A/ Israel is the only country standing up to Iran the most in the region. I think most of the other countries being Sunni majority have a lot of fear about what might happen with growing Shia power as Iran is trying to build itself as a nuclear power. If you see, Iran is there in most places where there is instability, either because they were instrumental in destabilising those regions or their hope is to restablise them on their own terms. They are there in Iraq, Middle East, Syria where they came in strongly; enjoy de facto control in Lebanon by backing the Hezbollah; they are in Yemen with the Houthis and in the Sinai peninsular bordering Egypt. It is the fear of Iran that has also pushed these countries closer to Israel. 
Q/ Are there differences within Israel on the Russia-Ukraine war? 
A/ Israel has a very strong diaspora of Jews living in both Ukraine and Russia. Since we are a country of immigrants, we also have many Jews who immigrated to Israel. Anyone who speaks Russian is considered a Russian in Israel, whether he comes from Ukraine, Georgia or Morocco. We have many families in Israel where one is Russian and another Ukranian. It is not an irregular thing because they come from the same region and share the same culture and language. So, yes there are people who think differently about the Russian-Ukraine ordeal. Israel is cautious in its approach because we have our own interests and also the fact that Jews are living in both countries. 
The Russian presence in Syria with the military is important at a time when Israel is trying to prevent Iran from trying to build a stronghold there. We want to deconflict the situation with the help of Russia. Our calculations are wide and we have given a huge amount of humanitarian assistance to Ukraine. It has been an important part of our strategy since the beginning when our foreign minister visited Ukraine. We are trying to be open-minded and pragmatic. That is why then prime minister Naftali Bennett tried to moderate in the beginning when there was a wish for it. But what is happening there is very complicated. It is not a simple conflict. 
Q/ How do you see the threat from Iran building its nuclear capability? Are you prepared? 
A/ Is anyone ever prepared to have a problem? When any country analyses its military defence strategy with another country, it looks at two things—capability and intention. When we look at Iran, the intention of using nuclear weapons has been stated more than once. Iran's former president Akbar Hashemi Rafsanjani had said one bomb can wipe out whole of Israel and we understand what kind of bombs he meant. There are many leaders who have spoken similar things a number of times. To add to this, they are enriching uranium to about 84 per cent, which is very close to weapons grade. We have said it more than once that it is unacceptable. We do not want to see a nuclear Iran. Whether there is any hope from the world or we have to take action ourselves is the big question being asked in Israel again and again.