It has been five months since Manish Malhotra had announced that he had moved lock, stock and sewing machines to a mammoth new space. His new headquarters, a 40,000 sq.ft atelier spread over four floors, is undeniably a massive achievement. But Malhotra has barely invited anyone over to see it. There was no launch party or a press lunch. In typical Malhotra style, he just got down to business as usual.
"I am not a show-off," Malhotra, nearly 57, replied when I asked him why. It took me weeks of pleading, prodding and even an occasional stomping of feet to get him to show me around.
The giant glass and chrome building stands tall in Bandra's Guru Nanak Road, just an ordinary street that leads you to the station, almost as an homage to the worker bees Mumbai is famous for. It overlooks the Bandra Talao, a manmade paddle lake that offers a small breather for the city that does not sleep.
Malhotra, easily India's most famous fashion designer and a blue-chip Bollywood A-lister, calls himself an ordinary "worker" even after 33 years of being in the business. This year has unarguably been his busiest one yet. He opened the headquarters, dressed up two movie star brides for their weddings, announced he is directing a film, started a production studio of his own, launched a jewellery line, designed 1,300 costumes for the Nita Mukesh Ambani Cultural Centre's The Great Indian Musical: Civilisation to Nation, and was announced as the chosen Indian designer for the newly privatised Air India. That would possibly be the workload of 10 designers, or more. When does Malhotra sleep?
"I barely sleep. I believe in one philosophy: a busy man makes time for everything. If I've made a commitment to a task, I will ensure I complete it. Since I was five or six years old, my life has been all about cinema and all about clothes. I enjoy working, my life is limited to work. I don't waste time wondering what others are doing, my energy is focused on my work alone," he says.
Malhotra, handsomer than most leading men, has built a career in fashion on the sheer dint of hard work. He started out as a model, then a costume stylist. He launched a fashion boutique, Reverie, with Yash and Avanti Birla in the mid 1990s. Soon, he moved on to Sheetal Design Studio. He started his own label making only saris and tunics 18 years ago, giving it to his brother and sister-in-law to manage. He is most famous as the celebrity stylist to some of the most photographed stars and films. But he says his work in styling is only five per cent of his time. The other 95 per cent is dedicated to fashion.
When we are meeting here, Malhotra has had his personal chef from home come to the office to give us the most magnificent lunch. The plated dishes see a paneer makhani roll, diced eggplant, skewered lady finger, and avocado in a potato nest, all cooked Indian-style but to be eaten with silverware. The meal befits a five-star hotel, and there are just the two of us here.
The building is a Reliance Brands property, and the fashion conglomerate runs an office on the ground floor. The next four floors are for the Manish Malhotra fashion label, one floor each for an embroidery atelier, a stock room, a design, styling and ecommerce floor, and the top floor for Malhotra's office, a client's trial room (complete with a makeup studio filled with beauty products from the 'Manish Malhotra' line), and the marketing and finance offices. There are close to 400 people who work for Malhotra in this building alone.
The atelier is designed by the international design firm Space Matrix. It follows an open-door policy, which means several meeting rooms are not enclosed, while some rooms merge into others by just opening sliding doors.
"I am not a person who thinks that the heads of departments need to be in their cabins, that's just old school. I like to speak to my interns, I love young minds. This is why we sell, this is how you stick around for decades," he says of his success. He is right, Malhotra has designed for every decade's leading lady right from Sridevi and Madhuri Dixit to Urmila Matondkar, Manisha Koirala, Karisma Kapoor and Kajol, to Kareena Kapoor, Preity Zinta and Rani Mukerji to Deepika Padukone, Alia Bhatt and Anushka Sharma. "Please don't forget Ananya Panday and Janhvi Kapoor, and of course now Suhana Khan and Khushi Kapoor, too," he laughs.
Malhotra says he is big on recycling paper, and that the office is plastic free. Moreover much of his fabric waste is upcycled into his premium ready-to-wear label, Diffuse.
An entire wall is dedicated to Bhanu Athaiya's original sketches. Athaiya, a gifted contemporary of M.F. Husain and F.N. Souza, was India's first costume stylist. She had even won an academy award for her work for Richard Attenborough's Gandhi. "I was a huge fan. I had met her and invited her for my shows, too," Malhotra says.
The designer felt he needed an all-in-one headquarters as he needed a space to get his work more organised. "A lot of designers who don't live in Mumbai have one atelier to go to. I live in Bandra, I have an office in Pali Hill. I have workshops in Andheri and Goregaon. My marketing team was somewhere else. It was all too much, I had literally set up a workshop in my car," he laughs. "For any brand to be a big business, you need to be in one space."
Manish Malhotra was among the first labels Reliance Brands put their money into. Malhotra is not willing to divulge the financials but says it was a cash plus funding deal. "I have huge respect for Reliance as a company. I have worked closely with Nita Ambani as well as Isha, and their vision is extraordinary. I have heartfelt respect for them. When other companies had approached me, I wasn't ready. I was okay being alone. But when Reliance made their offer, it was my respect for them that made me agree," he admits. "That said, money has the power to build your business. More than the money, I appreciate the structure their investment has given me. For someone who hasn't studied business or design, for whom everything was instinct-based, this was an important step for the company to grow. The creatives are still with me."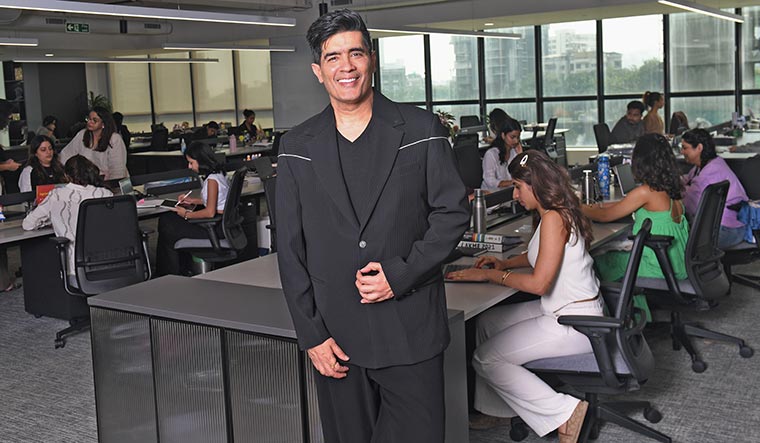 Malhotra has obviously scaled his production. He has also built a 30,000 sq.ft atelier in Noida. He is soon opening a 5,000 sq.ft store at the Dubai Mall.
Dubai is crazy about Bollywood and Malhotra. "I have been in Dubai since 2005 and I work a lot in the Middle East. The new store isn't just an Indian store of saris and wedding wear, but will have a lot more tunics and jackets and western wear. It's all Indian embroideries speaking a global language, it's a modern India," he smiles.
Few know how Malhotra was shortlisted by Air India to design its uniforms. "They spoke to a few designers including me, and gave us a brief. Our samples moved to the second round, and eventually we got selected," he admits. Malhotra says he has enjoyed the collaboration as he got to study the history of the airline, formerly India's national carrier.
There has been a lot of speculation on the internet of whether Malhotra would retain the sari uniform or switch over to something more modern. "I needed to keep in mind that primarily it is a uniform and its concern had to be utility first. It needed to be work-friendly and comfortable. We had a lot of discussions with the flight attendants and the ground staff, ultimately the people who will be wearing them. Their inputs were the most important to me," he avers. "I will have to say this is a research and a collaborative exercise."
Malhotra admits to a non-disclosure agreement with the airline which will only allow him to discuss or disclose the look in December or January.
Speaking of saris, Malhotra is best known for the saris his heroines wear. The last to join the very long list of chiffon-clad beauties is Bhatt in her latest film Rocky Aur Rani Kii Prem Kahaani. Bhatt's vivid chiffons and deep-cut blouses are Malhotra's signature; Bhatt's saris in this film have become a template for the young Indian sari-wearer today. What was director Karan Johar's brief to him? "It was very straightforward, he really wanted it to be only saris, nothing else. It is great that the look has caught on. I see people wearing more ombre and shaded saris all of a sudden. I adore a sari, whether a handloom or a crepe. And I adore colour that brightens up the wearer's face," Malhotra says.
Ironically, both his movie star brides this year―Kiara Advani and Parineeti Chopra―wore muted tones for their respective weddings. "Kiara-Sidharth's (Malhotra) wedding was very special to me as we did the entire wedding. They are such a good-looking and private couple. Would you believe the north-Indian Punjabi family had a non-alcoholic baraat? They were all about the rituals. After that, I did Alanna Panday's wedding which was white on white. Parineeti was so different from Kiara's. She wanted to do tone on tone, keep it simple and fuss-free. She didn't want too much texturing or embroidery. Celebrities like to have a look that makes it seem like it's the first time the audience is seeing it, it needs that 'wow' factor. We achieved that with the jewellery I designed for them," Malhotra says.
His most challenging new 'vertical' is probably film production and direction. In September this year, he announced his Stage 5 Productions. "It has taken me seven years to set this up and we are already working on three films. We have just finished one film," he says, referring to the Tisca Chopra-directed Train from Chhapraula. "I wanted to start a company that supports young writers and directors, those who don't get backing from the big studios. I wanted to have a boutique film company," he says. Malhotra, who has sat in script sessions for several films to create their looks, must have a great sense of story-telling. "For me, the biggest relaxation is to watch a film in a movie theatre."
The bound script of the Meena Kumari biopic is sitting on his desk. "I will be directing two films under the Dharma Productions banner. This will be one of them," he offers.
Any advice from his best friend, ace producer and director, Karan Johar? "Yeah, he said production was a whole new ball game. A brand new monster," he laughs.