It was 2009. 'Walking on Broken Das' had just hit the comedy circuit, and India was warming up to Vir Das and his standup routine involving sex, alcohol and James Bond jokes. "We could never ever have an Indian Bond," Das would say, "because it is impossible to have an Indian man wear a tuxedo without looking like a waiter."
Das, lean and clean-shaven, would open his gig by introducing himself. "A lot of people come for the show and they don't really know what my name is," he would say. "They know my work, but they don't know who I am. Some think I might be Russell Peters!"
In three years, though, he no longer had to fear about people mistaking him for the Canadian-Indian comic. In 2012, leading theatre producer Ashvin Gidwani presented 'History of India―Vir-itten', written and performed by Das. The show's banners and tickets had pictures of Das wearing a black tuxedo and standing with folded hands. He had finally arrived. His jokes not just evoked laughter, but tears of laughter as well.
But that was not good enough for Das. He had to up his ante, and stir the audience. So his shows began addressing issues that were both cerebral and contentious―like racism (2017), homophobia (2018) and religion (2019). Das's evolution as a comedian became apparent.
"So, white people," he told a New York City audience in 2017, "I submit to you that we Indians, Pakistanis, Bangladeshis, Nepalis and Sri Lankans all look the same. The only difference between me and the Pakistani person is increased musical quality and decreased life expectancy."
In 2021, a six-minute video of a performance in Washington, DC―titled 'I come from Two Indias'―made Das's evolution complete. "I come from an India where we worship women in the day and gang-rape them at night," he said. "I come from an India where we bleed blue every time we play green, but every time we lose to green we turn orange all of a sudden."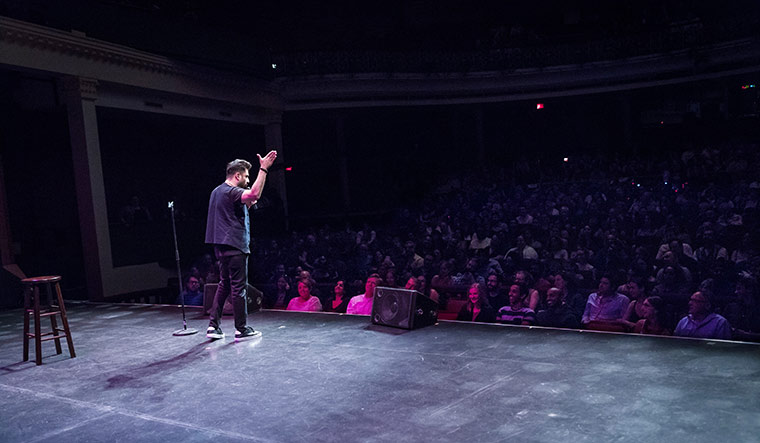 The video became a sensation on social media, and Vir Das became a household name. He had shaken the system and stood up to authority. It also made some people uncomfortable. Das was made to issue a statement urging them to "chill and take things lightly".
"I don't care if comedians are getting slapped," he said once. "You tell Indian comics that a comedian got slapped, and we don't ask, 'By who?' We ask: 'With what―sedition, defamation, hurting sentiments?' You see, cases hurt more than faces. You thought your right hand hurts? You should try the right wing."
A vanilla image will just not do for Das. To him, fame is "when everybody knows you and dislikes you".
Today, Das not just a comic, but also an actor, writer, director, show-runner and self-confessed "idiot". "Life's good; I'm employed," he says. "I have been fortunate in that standup comedy as a profession evolved and got a very loyal audience that craved authenticity. Every time I did anything that was slightly fake or marketed or very performative, the audience didn't gravitate to it and every time I did something that was real and honest, they rewarded it tremendously. Eighty per cent of my audience is between ages 18 and 25, and this is a lovely audience, which I have waited a really long time for. This audience is redefining what it means to have stardom, or fake stardom."
Das's comedy has one single motto―to question the system unapologetically. He is angry, not grumpy; satirical, not derisive; upbeat, not whiny. His monologues feel like conversations, with the audience appearing to be a part of the act. He often talks to them, questions them and cracks jokes at their expense. No two Das sessions will ever feel the same, but they all demand attention.
Das has now reached a point where world tours are a piece of cake. As he speaks to THE WEEK, he is preparing for his third world tour―'Mind Fool'―that begins this month and has shows in 33 countries.
But even today in India, he says, it remains a challenge to find success as an English standup comic. "The job of the comedian is to discuss the milieu. I think because of social media, the milieu has as loud a voice as the performer for the first time ever, and you kind of have to honour that voice and recognise that you have been very privileged," he says.
Das also says there has never been a better time to be a comedian. "The more volatile the milieu is, the more the comedy. I have a simple rule: whatever the climate is, I am writing a joke about it. You will never find me complaining about it; you will never find me screaming about it. You will only find me joking about it."
But what happens when the jokes feel repetitive and unoriginal? His sharpest critics say he is an "unintelligent" comedian, but Das maintains that the "best thing one can call me is stupid". "Nothing you say about me can be worse than the things I have said about myself on stage," he says.
Das the interviewee is nothing like Das the comic. He is serious, introspective, thoughtful and self-deprecating. He reflects on why he did not taste much success as an actor, and the lessons he learnt from past failures such as Go Goa Gone and Mumbai Salsa. He is now looking at reinventing himself for the screen.
"You don't know what an actor is like when they are not on camera. But a standup comedian is very accessible, so you know them and their lives," says Das. "When you pick an acting project, it has to be a real departure from who you are―for it to be interesting to the audience. So my next three or four acting projects are kind of the opposite of who I am. One is a very evil person, one is not an urban person at all. One is an action film, and I have never done straight-up action or been very violent before. I am doing the most exciting acting work I have ever done."
He is also enjoying wearing many other hats. "Recently, I got to create a project, act in it, co-direct a few episodes and be a show-runner as well. I just didn't know enough to do that earlier, but now with experience, some very interesting choices are in front of me."
As a rule-breaking comic, Das also seems to be in line for bagging a lasting place for himself in pop-culture lore. "My wife once said that I was born a generation early. She said, 'The reason your shows are selling out right now is that you were born for this generation, but you were born the generation before it,'" says Das. "I hope that 20 years after I am dead, something will happen in the world and you can quote me about it, and that will be my job done."
It has certainly been a rewarding job so far. With a net worth of more than Rs100 crore, says Wikipedia, Das is the richest comedian in India. He laughs when asked about it. "In a world that includes Kapil Sharma and Zakir Khan, I am by no means the richest comedian in India, especially as an English comic."
The upside of being rich and famous, Das has found out, is that he can afford to travel light. During the Mind Fool tour, he will not be carrying check-in luggage. "One is successful enough when the audience shows up no matter what one is wearing," he says with a chuckle.
Last year, when he was nominated for an International Emmy Award for his Netflix special Vir Das: For India, Das did not know what to wear on the red carpet. "I knew nothing about fashion, so I offered a chance to a brand-new fashion designer to dress me up for it," he says. The designer, Pradeep Bhat, was a third-year student at the National Institute of Fashion Technology in Kangra, Himachal Pradesh.
For Mindfool, Das has followed a bigger version of the same plan―pay 15 new designers for their work, and return the clothes later. "That will give them a platform," he says, "and give me a lot of happiness."