When Rahul Mishra presented his eighth fashion show at the Paris Haute Couture Week on July 3—he has previously shown 12 times at the Paris Fashion Week—visitors witnessed something unique: Two Indian embroiderers, Afzalbhai and Noore Alam, sitting by the runway with their needlework stands, stitching glorious colours into the cloth.
Craft has been Mishra's mainstay ever since he launched his label in 2006 and then again, after an academic stint in Milan in 2009. He has been vocal time and again about the importance of craftsmen to the Indian arts and fashion, and most certainly its semi-organised rural economy. In an earlier interview he told me, "Luxury is not consumption, luxury is participation." Mishra, 43, is the only designer to initiate and advocate 'reverse migration', where he encourages artisans living in cramped city shanties to return home to their villages, and pays them an urban salary so that they can build rural economies. His Gandhian approach to fashion seems impractical to every other designer, and yet Mishra goes to Paris season after season on his own penny.
His new collection—'We, The People'—was born last year when he read that India would soon overtake China to become the most populous nation in the world. "We learned in every social science class that overpopulation was a bad thing. But our people are our biggest strength, or can be turned into our biggest strength," he says with a smile. "I feel my label is as democratic and inclusive as my nation is. It is by the people, for the people and of the people."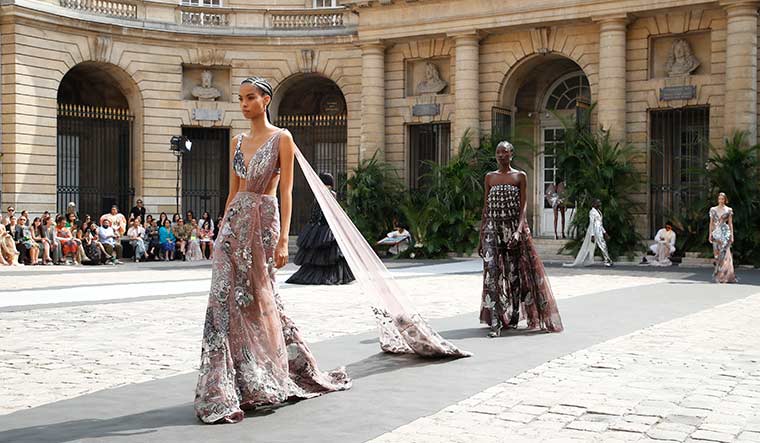 The collection is a human study of artisans at work. "I became interested in how they sit, their gestures, their ergonomics," he says. "In how a tailor looks at things, and how an embroiderer looks at them. They are almost meditative in their 'work'. These ideas became beautiful things in my mind. In the 'Rahul Mishra universe', god is the craftsman, because he is the creator. Us designers, we only imagine things." Details on the clothes show faces of his artisans—someone is made out to be a DJ, another a rockstar.
"These are all our insider jokes from the atelier. There is much humour going around the room," he says.
Mishra is on a train from Paris to London as we speak. His wife and business partner Divya, whom he affectionately calls "the boss", is checking out London as a new market for the label. Afzalbhai and Alam are still in Paris, where paid interns are taking them around tourist destinations. The Mishras constantly ensure their craftsmen guests have had their meals on time and have not missed an Uber.
Afzalbhai's daughter Nazneen has secured admission in a British university. "Everyone in India has a common dream—that their child will study abroad," says Mishra. "These are not elite dreams, if artisans can become entrepreneurs, they can realise their dreams too." Afzalbhai embroidered Mishra's Woolmark Prize-winning collection in 2014 gratis. "He said pay me when the money comes," Mishra reminisces. "He helped me get started." Alam was his first employee at his Noida studio.
I loved that Mishra showed a white lehenga as a showstopper in Paris this season. His famous Zendaya sari—which the celebrated American actor wore to the opening of the Nita Mukesh Ambani Cultural Centre in Mumbai in April—showed up here, too, in an ivory avatar. "I dream of the day when an Indian silhouette becomes a global must-have," Mishra says. "Everything that is global now began from being something regional. We can still be us and still be modern. Western women can wear the lehenga as a crop top, a circle skirt and a veil. When an Indian designer says their clothes are 'international', they do themselves a disservice. I want my clothes to smell of India. My soundtrack was regional, too, featuring A.R. Rahman and Ustad Nusrat Fateh Ali Khan."
Mishra, now an expert, believes the India story has taken Europe by storm. "I feel the 'Made in India' label commands much respect now. We would be among the top five countries to have this respect," he says. "Dior has acknowledged India so graciously with their Mumbai show. I am collaborating with a British brand soon. Three years ago this would have been unthinkable. We are on the cusp of a golden period."
Mishra is thrilled that his show was presented at the Monnaie de Paris—a giant neoclassical building in the chic Latin Quarter of the city, which once hosted a retrospective of sculptor Subodh Gupta.
Mishra funds his own shows here, and each season costs him between Rs3 crore and Rs4 crore. "It is a business for me," he says. "Haute couture or even fashion week in Paris is the greatest branding exercise one can do. It is also a beautiful intellectual exercise. When you show alongside important names, it empowers you and your team. I get a lot of private clients and can generate work for my craftsmen. And it also brought about an investment from Reliance."
That brings us to the much touted investment by Reliance. "The 'Rahul Mishra' brand is independent. The joint venture with Reliance is for a new ready-to-wear brand. The label will be launched in September and its name will be announced shortly. We are creating something very beautiful and it will have a strong presence in the ready-to-wear market. The JV will also assist in growing my couture label as we are going to jointly run the retail," he explains. "The beauty of this collaboration is that it has given me a lot of confidence and created a beautiful support system."