A plucky lady cop, Anjali Bhaati (Sonakshi Sinha), leads an investigation into the murders of 27 young women across Rajasthan in Amazon Prime Video's latest crime drama, Dahaad. Back home, her mother regularly presses her to get married. One night, when she brings photographs of prospective grooms, Bhaati, in turn, shows her horrific images of the battered women whose deaths she is investigating. That puts an end to all discussions of marriage.
At work, she faces constant jibes about her caste. Once, she is prevented from entering a minister's house because he thinks her caste is a bad omen. She barges in and shames the minister in front of her full force. Tasked with leading the investigation, Bhaati observes a pattern: the women are all dressed in bridal wear and found dead inside public toilets, foaming at the mouth. It appears that a serial killer lures poor and emotionally vulnerable girls into marriage and then makes them consume a contraceptive pill laced with cyanide in a hotel room.
This forms the central narrative of Dahaad, created by Zoya Akhtar and Reema Kagti, in which the duo once again pulls off what they do best: flesh out a story around a strong-willed, feisty and rebellious woman who knows her mind and makes her own rules. Take the previous films which they co-wrote—the light-hearted Zindagi Na Milegi Dobara (2011), the neo-noir Talaash (2012) or the disruptive Gully Boy (2019). All of them feature strong and fiery leading ladies, be it Katrina Kaif as an underwater diver, Rani Mukerji as the wife who established an identity for herself outside marriage, or Alia Bhatt as the young and possessive girlfriend.
But in Dahaad, it is different. Bhaati's character has been one of a kind, and the duo took months to flesh her out, especially since the question could easily be asked why they chose a woman as their protagonist. But the nuances of the story could only have been brought out by a woman, they feel, because then there are layers of social commentary in the themes explored, whether it is gender discrimination, sexism, independence and confinement, or so much more. Kagti and Akhtar never had a doubt that they wanted Sinha to play Bhaati. The suggestion came from Ritesh Sidhwani, whose Excel Entertainment is a co-producer. "Ritesh, Zoya and I were chatting, and he suggested her name," says Kagti. "We immediately called her and she met us that evening itself, when we gave her a small narration. We later sent the material to her, and about 12 to 18 hours later, she was onboard. Her brief was to highlight the stark lack of privilege that exists in various sections of society, and bring it to the more socially and economically evolved classes in India." The dependance and helplessness in a person's life because of this lack of privilege, observes the filmmaker, is heartbreaking. "It is this heartbreak that Sonakshi brings alive onscreen as a cop who is daring and vulnerable at the same time," she says.
Akhtar and Kagti wanted to contrast Bhaati with the other women in the show, including the 27 victims and their mothers. "Because that really brought out the point we were trying to make, that if any of these 27 women had any agency they would probably have lived like Bhaati, and not as a victim," say the duo.
One difference in Dahaad is that, unlike in their earlier projects, the men in this show are not merely foils to bring out the women's strength. In the earlier projects, the pair's stories have occasionally tended to be lopsided, with male characters who are wimps or male chauvinists. Not so in Dahaad. All the three main male characters are fighting battles of their own. There is her boss, Devilal Singh (Gulshan Devaiah), and her senior, Parghi (Sohum Shah), both of whom are shown to be equally professional and level-headed. And then there is the notorious psychopath, Anand Swarnakar (Vijay Varma). His casteist and sexist slurs only serve to empower Bhaati, and drive her to finally reclaim her "lower caste" identity. Even if the end was a bit abrupt, it was profound. "We chose to keep it that way, because somewhere we wanted her to own her own reality," say Kagti and Akhtar. "Throughout the show she had to deal with a certain amount of discrimination and she always fights it."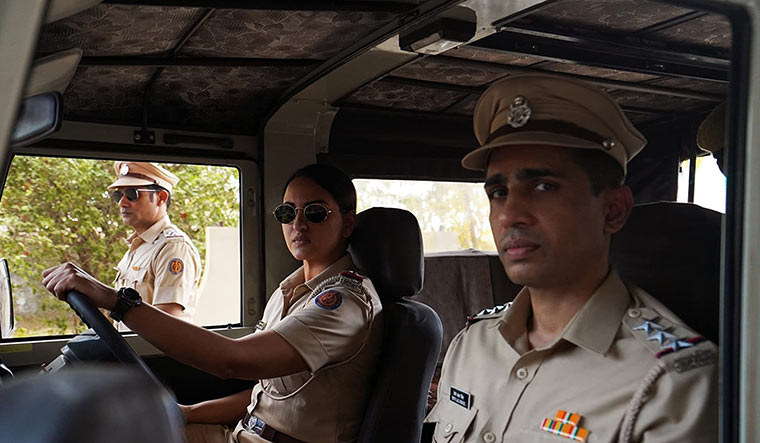 Another aspect is the layering of the drama with underlying messages, be it Devilal talking to his son about the discourse around sex, or arguing with his wife to let his daughter travel alone to Delhi. Then again, when Bhaati lectures a local goon on the abolition of caste discrimination, it sends a strong message about our society. "We try to do that in each of our projects, be it a message on family structure in Dil Dhadakne Do (2015) or a message on class issues in Gully Boy," says Akhtar. "So there is always something you want to layer your work with."
The duo—who started their production banner, Tiger Baby Films, in 2015—are both avid watchers of crime dramas and documentaries. They spend a long time building the story before they get into the screenplay. This is their first crime procedural, written along with Ruchika Oberoi, and co-produced with others, including Excel, owned by Sidhwani and Farhan Akhtar. Now, the women are looking at going solo with their upcoming film, Archies, featuring star kids Suhana Khan (daughter of Shah Rukh Khan), Khushi Kapoor (daughter of Sridevi) and Agastya Nanda (grandson of Amitabh Bachchan). Season 2 of Made in Heaven will soon be out, after years of postponement. Then there is also the Farhan Akhtar directorial Jee Le Zaraa—starring Alia Bhatt, Priyanka Chopra and Katrina Kaif—which Kagti and Akhtar have jointly penned. With such a dazzling array, success is a foregone conclusion, and their only competition is themselves.