didn't become a French painter or a European one. I remained an Indian painter through the years. That was always in my heart and I am very glad that I was able to come back here again."
The opening of the Indian modernist painter Sayed Haider Raza's retrospective last month at The Centre Pompidou, Paris, was a homecoming for the celebrated artist. Raza is the only Indian artist that has been shown at this prestigious venue. Born in Babaria, Madhya Pradesh, in 1922, Raza returned home to die and be buried alongside his father in Mandla, in 2016, months before his 94th birthday.
The retrospective at The Centre Pompidou comprised 91 paintings and 86 documents; the vast expanse of Raza's oeuvre was experienced. The exhibition began with the watercolours he did at the Sir J.J. College of Art, Mumbai, in 1940s, to the works executed in Paris―from 1950 to 2010, and finally the works done on his return to his beloved homeland―from 2010 to his death in 2016.
Raza never gave up his Indian nationality, and for the 60 years of his life that he spent living in Paris his links with the country of his birth, his love for the spirituality and the deep connection he felt, never faltered.
Raza said he learnt how to paint from France but what to paint from India. His early works in France were large cityscapes and later, in Paris, he started painting inscapes. A man of faith, Raza was a devout Muslim. After his marriage to artist Janine Mongillat he made it a point to respect his wife's faith–Christianity―and went regularly to the church, Rue de Charonne, where Mongillat was baptised. Raza was accepted as a painter of the Parisian school, and it gave him recognition, audience and buyers. The creative companionship of his wife gave more confidence to Raza and many elements of the Parisian school were absorbed by Raza.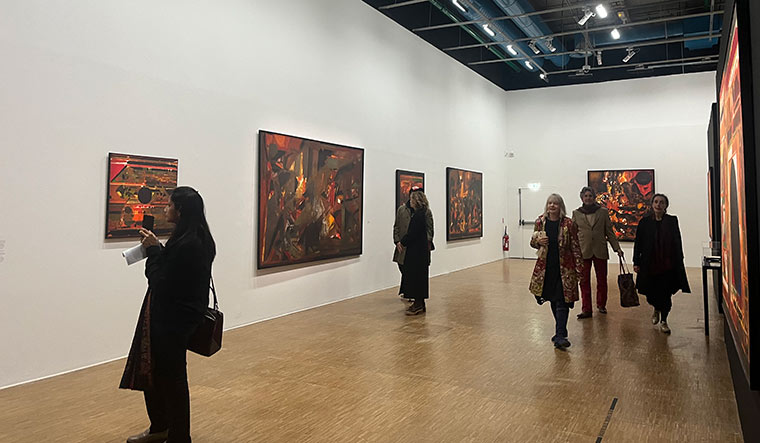 But Raza was constantly drawn to the landscapes of his homeland, particularly, Rajasthan, which he loved. The names of the artworks acquired specific Indian names―from Zameen to Saurashstra, Ankuram, Tarpan, and Shanti Bindu, to name a few.
On July 14, 2015, Raza was bestowed with the Ordre nationale de la Légion d'honneur, the highest French order of merit. "Though I was born in India and now happy to be back here, I have spent two-thirds of my life in France. France gave me for six decades a home, heart, and sustenance…. France provided me with an evocative ambience, inspiring confidence, in creativity and imagination, openness to ideas and innovation," said Raza then.
His friend for many years, and now the managing trustee of The Raza Foundation, Ashok Vajpeyi, the man behind the exhibition 'Raza in Paris', in his catalogue essay, refers to the painting 'Maa' carrying a line of poem that was 'Motherland living far away in self chosen exile'. The Hindi and Sanskrit words used in some of the paintings are gentle reminders rooted in the soil of Raza's motherland.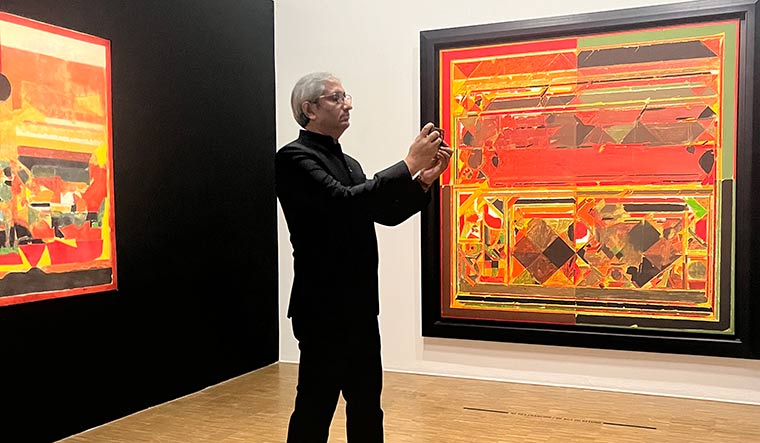 As Raza's close friend of 40 years, Vajpeyi said, "This is a homage to my friend. I did his first public exhibition at Bharat Bhawan, Bhopal, and the first major retrospective in his karmabhoomi Paris."
In the catalog accompanying the exhibition at The Centre Pompidou, French art historian Laurent Le Bon, said, "The mid 1950s marked a turning point in Raza's practice of painting as he abandoned gouache for oils, and painted only landscapes. He was avowedly changing course towards abstraction accumulating oils on canvas, in a manner in vogue at the time."
Raza's art was neither religious nor ritualistic. His studio in Paris exemplified Raza's holistic, organic and spiritual thinking. His eclectic collection of objet d'art ranged from the numerous bronze statues of Lord Ganesha to a smooth shaligram, a Jain miniature painting, a copy of the Quran and Gandhi's book on the Gita, the statuette of an erotic yakshi to a Rajput miniature painting hanging on one of his walls.
The exhibition at The Centre Pompidou was set up in a series of specific events. Soon after the well-attended opening on February 14, there was a parallel event, a small and intimate exhibition at the Musee Guimet where a small collection painted by Raza, centering around Mandalas, hung side by side with the thangkas of Himalayan art. An in-depth seminar around the works of Raza took place in the Petit Salle at The Centre Pompidou, where scholars, art historians and museum curators spoke about the artistic oeuvre of Raza.
The French ambassador to India, Emmanuel Lenain, who was present at the opening and released the catalogue along with Vajpeyi and Bon, said that the Raza show was a continuing cultural bridge between India and France.
―Pande is an academic, author and curator.