In early 2021, a group of women gathered at a park in Mumbai's Andheri East for a cypher―a gathering of rappers and beat-boxers to spontaneously make music. The cypher was coordinated over WhatsApp by rappers HashtagPreeti (Preeti N. Sutar) and Krantinaari (Ashwini Hiremath), who were frustrated over the lack of recognition and space for female rappers in India. The cypher led to the formation of Wild Wild Women, India's first all-female hip-hop collective.
Over the last two years, Wild Wild Women have carved out a space for themselves in the country's flourishing hip-hop scene with their hard-hitting lyrics and brilliant flow, use of multiple languages, and themes exploring a range of issues from mental health to women empowerment and prejudices in a patriarchal society.
The collective currently has five rappers―HashtagPreeti, Krantinaari, MC Mahila (Shruti Raut), JQueen (Jacqulin Lucas) and Pratika (Pratika E. Prabhune). Two break-dancers, FlowRaw (Deepa Singh) and MGK (Mugdha Dabholkar), and an artist, Gauri Dabholkar, who does graffiti and live art during shows, complete the ensemble.
Along with their hip-hop avatars via Wild Wild Women, some of them have other jobs, too. HashtagPreeti is a jewellery designer and Krantinaari, a former Microsoft employee, is a consultant and also does mural designs.
"We come from different backgrounds and have different music [preferences]," says Pratika. "So, the kind of stuff that we write also differs. But, the beauty [of our crew] is the diversity. All of us bring something to the table."
It was on international women's day in 2021 that the crew brought out its first single, 'I Do It For Hip Hop'. It encapsulates their struggles, the inevitability of their coming together and the organic nature of their creative processes. "Finding my place, or where I fit, the misfit who digs riffs, filling my ears with lit sh*t to fix this...." raps Pratika in the track.
A big challenge the rappers faced was explaining what they were doing to their families. "Initially, my parents did not know that I was into music or that there was something called rap; they had no clue," says HashtagPreeti. "There was no musical background and the gap was too big for them to understand. But later, they realised: 'Ok, there is something that she is doing and it is called rap'. The change happened when they saw me on TV or on YouTube. When they saw that people were appreciating our work and that I was earning money, they started accepting and understanding. It was a slow process."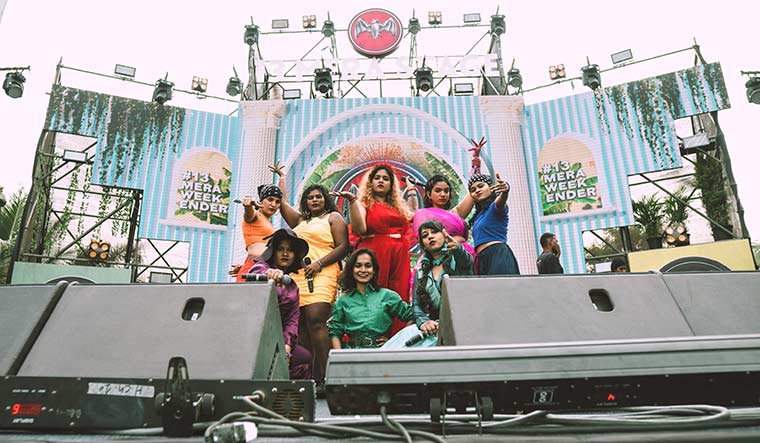 JQueen says that a performance by Wild Wild Women at her sister's wedding changed her family's perspective towards what she was doing. "I used to tell my mom and dad that I love to rap and had performed for them at home," she says. "But, they always told me to think of it as a hobby and not a full-time job. They advised me to get a 9-to-5 job. So, I was like 'Why are these people doubting my ability?'." Then came the wedding and the crew decided to accompany Jqueen.
"I told my dad that my friends were coming and that we were planning to perform," says JQueen. "We went on stage. We were wearing saris, lehengas, ghagras and all. I am sure that people were expecting us to dance or something. We had to manage with just two mics. But, the moment MC Mahila started rapping, people were awestruck. Soon, we saw all the guests grooving and vibing. And, when the performance was done, my mom came and hugged all my girls and kissed them on their cheeks. I am sure she was proud of me that night. After that performance, my family started believing in me." JQueen is now into music full time.
The group's second single, 'Game Flip', speaks about "how women are turning the tables and flipping the game, be it through their music, or in life". Produced by Pratika, the song challenges the notion that women cannot be independent and do not have the capacity or skill of men. The track experimented with a style that was "something between breakbeat and funk with afro percussion influences at a slowed down tempo". Another song, 'Uddu Azad' speaks of women wanting to "break free from the shackles" put on them.
Apart from their original work, crew members have also been featured in the works of other rappers. For instance, the song 'Cypher for Equality' by rapper Tracy De Sá, released on February 21, features Pratika, HashtagPreeti and MC Mahila.
The crew says it had to work really hard to break the glass ceiling and get some gigs. "Initially, people did not view us seriously," says Krantinaari. "They were like... we are going to get married… or date someone in the scene and get distracted." She adds that the crew found it hard to find an audience, too. "Who is our audience?" she asks. "These boys collectively have one answer... only one opinion... and if one guy hates us, the entire boy-community hates us. And, the seats were empty. No one was paying attention to what we were saying." But slowly, things started to change, and the crew started finding stages and floors in different cities.
The group has to content with chauvinistic and misogynistic comments regularly. Krantinaari says that men, especially those from the hip-hop scene, need to understand that there is "another dimension―women's dimension, from where things look different".
Right now, big stages or money are not the primary concern of the Wild Wild Women. "We are working on [our] music," says Krantinaari. "These things that are happening to us, like getting a stage, getting a platform or being invited to different cities, all these things are happening organically. Our full focus is on music. Because we do not want [a scenario] where the boys can say that we are not musically profound yet. We do not want any of those professional backlashes. So as women in music, it is our responsibility to be so thorough that no one can knock our work."