The soul is restless, what is the torment of one heart If the heart itself is a flame, then what is the mere burning of love?
―Kaifi Azmi
As Javed Akhtar and Shabana Azmi―poetry's power couple―take the stage at the Jaipur Literature Festival, there is hushed silence. But one smile from them is enough to loosen loud whoops and claps from the audience. It is interesting to note that the crowd is mostly made up of college students and young professionals. Their rockstar status among the youth might perhaps indicate that India still has space for both the Jay-Zs and the Rumis of the world. Indian poetry is still alive and kicking, and men with lip piercings and arm tattoos are reciting ghazals to their girlfriends. Which begs the question, how romantic is Javed to his lady love?
"You know, women keep asking me that," said Shabana. "They think I am so lucky to have a poet for a husband. But the truth is that there is not a single romantic bone in my husband's body."
To which, Javed replied, "Well, you don't see a trapeze artist at a circus perform acrobatics at home, do you?"
There is nothing as hip as a husband ribbing his wife in front of hundreds of people and the audience lapped it up. Romance was a fitting subject to discuss as it featured majorly in the books they were releasing at the festival―Dhanak and Daaera―companion volumes of poetry by their respective fathers. The poems in Dhanak (rainbow) were written by Javed's father, Jan Nisar Akhtar, and chosen by Shabana, while the poems in Daaera (circle) have been written by Shabana's father, Kaifi Azmi, and chosen by Javed. Akhtar and Azmi were romantic poets and revolutionaries. They were part of the Progressive Writers Association and both Javed and Shabana reminisced about growing up with the writers of the association, which included names like Krishan Chander, Ismat Chughtai, Sardar Jafri and Rahi Masoom Raza. "What is it if not sheer good luck that I had the close company of these great writers and poets since my childhood and boyhood years," writes Javed in his introduction to Daaera. "In my youth, I asked them countless questions about literature, language and life, and they, like indulgent elders, gifted me the keys to countless locked doors."
One might say that the Jaipur Literature Festival has aged well. Now in its 16th edition, the festival is like the woman who might have grown slightly weathered around the edges, but still manages to attract a retinue of admirers. There was William Dalrymple, of course, who might write about the past, but was very much present at the festival. His hearty guffaw could be heard from a mile away, belying the notion that historians are crusty old fuddy-duddies in ill-fitting suits and half-moon glasses. The highlight this time was the 2021 Nobel prize winner Abdulrazak Gurnah who delivered the keynote address. When asked about how he kept himself humble after receiving the Nobel, he quipped, "It's not that hard actually. Because people around you always reassure you about how stupid you look or how badly dressed you are." There were many other heavyweights, too, like Pulitzer-winner Caroline Elkins, Booker-winner Marlon James and the usual suspects. After all, what is a literary festival without Shashi Tharoor?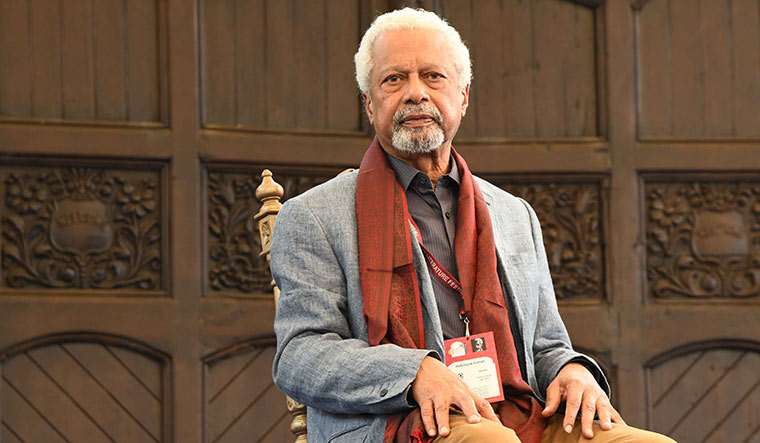 The mood was jovial, with youngsters in ripped jeans and kitten heels lounging around on the lawns taking photos of each other, seemingly not caring about the state of Indian democracy, how Europeans saw India before the age of exploration, the future of education or the many other topics that were being discussed at the various sessions. Then there were the intellectuals, who spoke a different language altogether that included words like "iconoclasm", "mendicant" and "polemics". Finally, there was the press, shamelessly stockpiling the packets of bourbon biscuits that were being handed out in the media lounge. Even the food was authentic, with dishes whose names sounded like lyrics from old black-and-white movies. After four days of it, however, frequenting the stalls selling Belgian waffles and hot chocolate did not feel like you had sold out on your Indian heritage.
But more authentic than the food was the poetry, simply because there is nothing like poetry to universalise a personal experience and make you feel included in another's feelings and thoughts. Near the end of each day was the poetry hour, when such renowned poets as Makarand R. Paranjape, Jerry Pinto, Frank Baes, K. Satchidanandan and Meena Kandasamy recited from their collections. Kandasamy read from her latest work, Tirukkural: The Book of Desire, her translation of the ancient Tamil poet and philospher, Tiruvalluvar.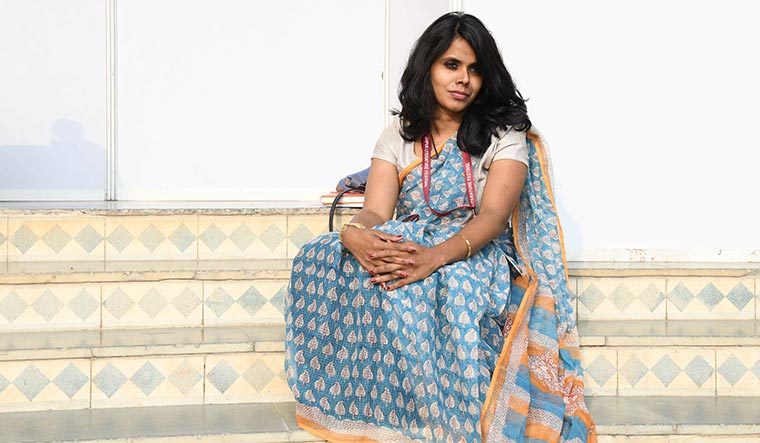 According to her, the Tirukkural is as relevant today as it was centuries ago. "This is something you can read to your lover in bed," she said. "But it is also something that you can tweet. The couplets are very tech-savvy. There is one which goes: 'A little stolen glance is so much more than so much sex.' Like this you can tweet."
If Moin Mir (who proved that everyone with movie star looks did not want to become a movie star) elaborated on the wonders of sufism, Indian-American scholar Nikki-Guninder Kaur Singh expounded on Sikh poetry, specifically Guru Nanak's writings in the Guru Granth Sahib. "Even as it incorporates sufism and the Hindu bhagats, the Guru Granth Sahib is sheer poetry," she said. "The hymns on [the Mughal invader] Babur, for example, are some of the most powerful war poetry. You can almost hear the crackle of the flames in which women committed sati and the veils of Muslim women being ripped apart. The swords clashing, the guns going off…. He records all that in his poetry."
But along with religion, romance and revolt, there was space for satire, too. Frank Baes narrated a poem on waking up one day as a DJ. Satchidanandan rapped to a poem on walking.
Walk, walk, walk together
Walk with the questions, yet to find an answer….
Walk with the last leaf of a felled tree
Walk with the consonants of a proscribed poem
Walk with the blood from a stabbed wound
And as you walked away from the festival, into a night sky clamouring with the call of circling hawks, the sound of poetry resonated in your heart, even as the verses faded from your mind.