MANIPUR, SANALEIBAK (the land of gold), is not an easy place to get to. Either you fly into Imphal or you take one of the long and winding roads through the hills surrounding the Imphal valley before arriving tired and exhausted in the capital city. The aptly named Asian Highway 1 cuts right through the state, connecting Moreh town, at the border with Myanmar past Imphal, with Mao, at the border with Nagaland. There is also a railway line under construction, featuring some great engineering marvels as it meanders its way from Jiribam at the border with Assam through Tamenglong and Noney districts to Imphal. Old highways are undergoing reconstruction and new roads are being cut through the mountains in multiple parts, crisscrossing the state from north to south and east to west. As the child of an ever-enthusiastic engineer who travelled across the state and retired as chief engineer of the public works department, and as a trustee of a development foundation active in 14 of 16 districts in Manipur, I have had the experience of seeing various parts of the state through the decades. The pace of infrastructure development has never been so great as I see now!
Optimism was in the air as a colleague and I spoke about the last-mile integrated agriculture and health care work we were undertaking in rural Manipur at the recent C20 Conclave on Sustainable and Resilient Communities in Gangtok, Sikkim. Selected as one of 28 examples to share with the G20 crowd, we presented a strong case and highlighted the need for more development work in this remote corner of the world called Manipur. It was with the same optimism that we attended a meeting with NABARD in Imphal, on May 3, with participants from four different ethnic groups exploring how we could do more development work together. Little did we know what was coming our way.
The first time I felt something was not right was when, early in the evening, a friend forwarded a government notice that mobile data would be disconnected in a couple of hours because of civil unrest emanating from Churachandpur district. Taken by surprise, my immediate reaction was to finish a few emails I had been working on and send them off. Not long after, I heard noises in the streets adjacent to the house and sounds of people ringing the lamp posts. In our locality, this was a call for people to come out of their homes. A protest crowd was forming in retaliation to attacks on their kin. Though shocked and confused, I decided to check on the residents we had in the MaolKeki Foundation building providing affordable and high-quality accommodation to people coming from all across Manipur, India and abroad. We switched off the lights and locked the gates tight, and I headed for the roof from where I saw things unfold, reminding me of scenes from Hollywood war movies rather than my own, generally peaceful, backyard.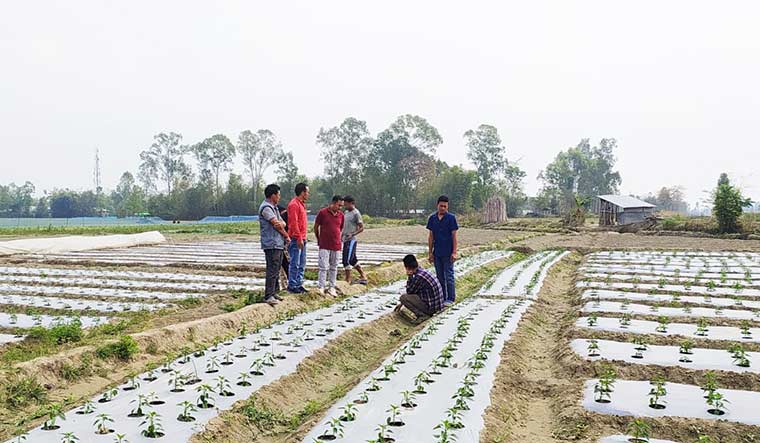 Manipur is a beautiful state but it is a complex one. With 30 or so ethnic groups calling the state home, Manipur has Hindus, Christians, Muslims, followers of Sanamahism and a small percentage of Jews, identified as one of the 10 lost tribes of Israel. Manipuri is the officially recognised state language but there are a multitude of ethnic dialects, some so different from each other that people often communicate in English, Hindi or Manipuri as the lingua franca. I have always been amazed at how such a small population, representing 0.2 per cent of the Indian population, living in an isolated part of the world developed so many distinct ethnicities, languages and a unique script. This in itself merits a detailed research, as developing a language and a script, a civilisation would have needed a long period of peace, food security and intellectual pursuits.
The complexity in the state is compounded by external factors such as the influx of a large number of people escaping the unrest in Myanmar, policies that have shifted the equilibrium over decades, leading to an overpopulated valley, disparities in access to land and government jobs, and many looking at alternative, more lucrative means of income such as poppy cultivation. Deforestation for poppy cultivation also leads to soil degradation resulting in the inability of the hills to retain water, silting of the rivers and lakes and water shortage during the dry months. The outbreak in ethnic clashes, planned or otherwise, is a manifestation of years of resentment amongst the population exacerbated by the involvement of militant organisations and the unregulated use of social media outlets by those bent on pouring more fuel to this fire. The consequence is a paralysed state, resulting in huge personal and commercial losses, unfounded fear, social tension and a generation of children who will continue to be affected lifelong by the trauma of what they have just gone through. As many have done, one could blame all this on the failure of the state machinery, but I believe it also calls for reflection on whether we as individuals have done our best to build stronger ties amongst the communities, to develop our state and people as one, to share the limited resources we have to the benefit of everyone and to our collective advantage.
The work of the foundation has taken me to some of the innermost parts of the state, both in the valley and in the hills, and I have seen the hardships caused by lack of access to education, lack of access to health care and lack of proper roads, electricity and water. Yet, I have been hugely encouraged by the people we have interacted with―the agri-entrepreneurs who want to build businesses that can drive socioeconomic development in their respective districts; the men and women who went out of their way to help us when we have been stuck in the mud, literally, or found ourselves with a flat tire in the middle of nowhere; and the young boys and girls we have given lifts to who speak of their aspirations to become an engineer, a teacher, a nurse, an entrepreneur and so on. Quite a few have also benefited from the various scholarships we have in place. They are our future, our collective future, and we must start to reconcile for their sake. Manipur cannot burn forever and we must put out the fire that has been started, one flame at a time.
There is a lot of anger and hate at the moment. I pray that we will be able to forgive and rebuild, lest an eye for an eye makes us all blind. Reconciliatory dialogues cannot start at the edge of a sword or the barrel of a gun but around the table in a truthful and trust-based environment where we lay out the issues and resolve them cooperatively. Whether it be development in the hills, classification of Meiteis as a scheduled tribe, forest preservation, care for migrants and internally displaced persons, or better infrastructure throughout the state, I pray that we can do so unitedly, with the active participation of our leaders and through constitutionally available means. I hope we can bring back the pride in being a Manipuri!
A Manipuri based in Basel, Dr Gurumayum is a trustee of the MaolKeki Foundation and a recipient of the Pravasi Bharatiya Samman. contact@maolkekifoundation.org.