Indian Army generals, it seems, are partial to well-written books. And, General Manoj Mukund Naravane (retired) is no exception. His keen interest in books is only rivalled by his fondness for golf. As he walks around the well-manicured lawn of his unmarked residence inside New Delhi's military campus, Naravane talks of his action-packed tenure as Army chief between December 2019 and April 2022. His tenure saw the sudden escalation of border tensions with China that led to the June 2020 Galwan incident and subsequently to a massive rebalancing of forces. He was also in the thick of the ceasefire pact with Pakistan and had to deal with an invisible enemy―Covid. Post retirement, Naravane is reading a lot more than before, speaking at events related to the military and strategic affairs besides attending to matters familial. Excerpts from a freewheeling interview:
Q/There is the spectre of a two-front war and you have spoken about the lack of a National Security Strategy, which has hampered Indian military's theaterisation effort. In this backdrop, what are our primary threats and challenges?
A/It is obvious that we face threats both on our western and northern borders because of the unsettled nature of the boundary. Now while the threats are constant, their priority keeps changing based on many factors, including the global environment, the relationship with the government or leadership in power on the other side, the economic situation and so on. It is a dynamic affair, and accordingly the country's military strategy keeps changing.
But, over the years, the threat from Pakistan has reduced while it has increased from the Chinese. It is in this backdrop that the recent rebalancing and reorientation of forces from the western front to the northern front has been carried out. It should be a signal to Pakistan that we have no extraterritorial ambitions, and therefore they should shed their support to terrorism and terror groups and work towards normalising relations with India….
In a similar vein, it should serve as a clear reminder to China that a military solution to the boundary question is not possible. Adventurism is off the table. It should, therefore, serve as a catalyst to a peaceful resumption of dialogue to resolve the boundary issue. Settlement of the boundary problem can be Xi's most lasting legacy by far.
Q/In that context, were we caught by surprise by the Chinese action in 2020?
A/When things unfold, there is a surprise at the strategic level and a surprise on the day that an action happens. There was no strategic surprise. We knew that military exercises were happening. But nobody could foretell that a particular action would be carried out on a particular day. That is the first mover advantage. So yes, a little bit of surprise [was there].
But look at it the other way. There was some surprise at the local level, when the two forces were positioned far apart. But the action we took to occupy the Kailash ranges (on August 29-30, 2020) happened when we were already deployed eyeball-to-eyeball and at a high state of alertness. So, I would say that we surprised them more than they surprised us. That we could take this action right under their noses and yet be successful, [the] full credit goes to the units and formations [that] executed this operation.
Q/With General Bipin Rawat's sudden and tragic demise, it was a given that you would be the next Chief of Defence Staff (CDS). Was it your opposition to the theaterisation effort as it were and disagreement with the Agnipath recruitment scheme that affected your chances?
A/I didn't question the wisdom, experience, sagacity or competence of the government and the powers that be when they appointed me as the chief [of the Army]. So why should I do so now? (smiles)
Q/But did it catch you by surprise?
A/It's all water down the river Ganges… time to move on. At the end of the day, it does not matter what rank you retired at, but the reputation that you retired with.
Q/During the confrontation with China, could and should the Americans have done more?
A/Such confrontations between Chinese and Indian soldiers― fisticuffs and brawls―have been happening for some time…. It is not something new that required intervention.
Q/But people didn't die then.
A/Over the years, each side tries to do better than the last time. So, the Chinese started violating all protocols. The patrol strengths are limited by various agreements; you are not supposed to bring in more than that. There is a procedure to deal with unexpected face-offs. For example, when patrols spot each other, the patrols are to halt, and only the patrol leader and one escort are supposed to come forward, meet, resolve the issue at hand and then head back. The moment you have two bodies of troops coming close to each other and one hothead among them says or does something provocative, the situation flares up and then the whole thing goes out of control and casualties can happen.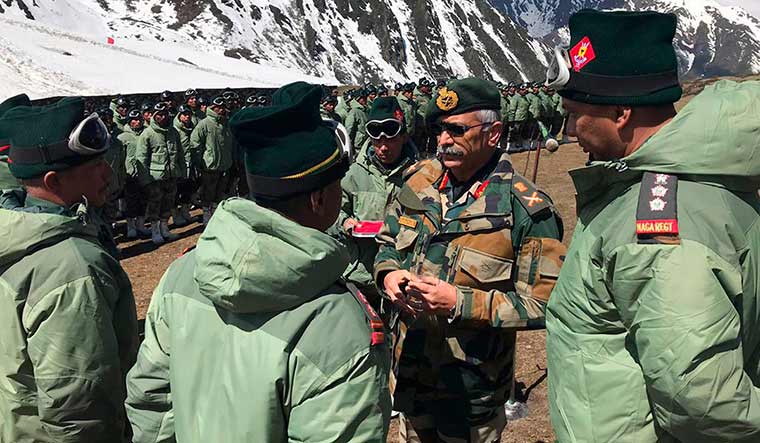 But that is a lesson, I think, China has learnt―not to do these provocative actions because then they will also suffer casualties and losses. And in the recent incident in Yangtse in Arunachal Pradesh (December 9, 2022), they have again suffered a lot of injuries. So obviously next year, they will come with some new ideas, like more force. Therefore, it is a kind of escalation year on year. That year-on-year escalation resulted in the Galwan incident.
Q/And, the attitude of Americans?
A/We have well-wishers in the international community and they all condemned the action by China. And they gave us whatever help it was possible for them to give. But we all have to realise that at the end of the day, you have to fight your own battles. Nobody is going to come and fight for you. Even in the Russia-Ukraine conflict, nobody is sending troops to Ukraine. In that sense, there is no disappointment.
Q/The war in Ukraine has demolished several beliefs, including the one that all modern wars will be short, intense and decisive. Many also say the war has sounded the death knell for slow-moving platforms like tanks and helicopters. But then again, there is talk on the critical role German-made Leopard tanks can play in Ukraine's favour. How do you read this situation?
A/The tank vs anti-tank debate is an age-old one. The whole list of lessons learnt from the Russia-Ukraine campaign will only emerge once the dust settles, since at present, there is a lot of propaganda and information warfare….
But several lessons emerge straightaway. First, wars can happen anytime, because wars are a result of miscalculation and misreading the opponent's motives. Second, the duration cannot be predicted. It can be short and intense; it can be long and (attritional). We have to be prepared for the long run. And to be prepared for a protracted war, you have to be prepared mentally and physically. The resourcefulness and resilience of the population is just as important because that is what will finally decide the outcome….
Then comes in the role of the industrial ecosystem of the nation and the capability that needs to be built up, so that we are not dependent on anyone else. Our own industry should be able to contribute to the war effort. In that context, the 'atmanirbharta' policy is very relevant and important….
India's belief in the fact that modern wars will be short and intense is rooted in the Bangladesh War for Liberation in 1971, which we completed in 14 days. But now events have proved otherwise. But we have to have some planning parameter. At present, we maintain war reserve stocks for about two months or so. But if it (the war) is likely to exceed beyond that, the industry has to step in. We need to invest in scalable production lines and robust supply chains.
But if we believe that a war will be for one year, to stock up for one year's worth of everything under the sun is not a good idea and a very wasteful one at that. Rather than stocking up, it is better to be able to ramp up production as and when required. Take the case of ammunition, you not only have to produce the ammunition, you also have to store it, which can be a problem. It requires large tracts of land and a sizeable number of storages custom-built for ammunition. It has to be maintained and guarded against sabotage and accidents. While theoretically possible, it is not practical. So, there has to be a balance.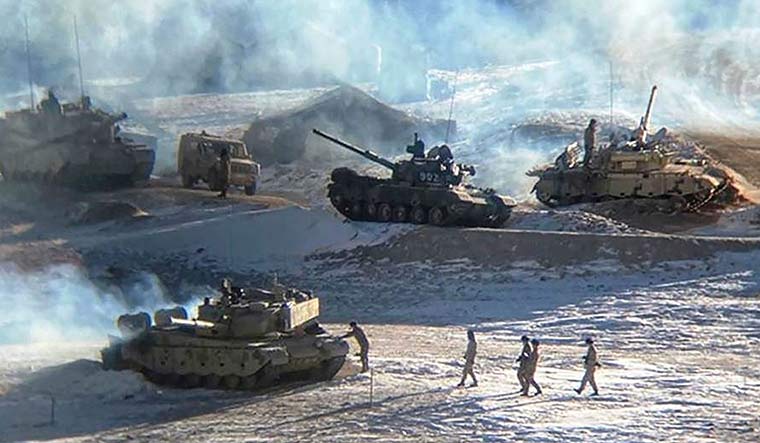 Q/A military industrial complex is also taking firm root in India, led by a spate of innovations. Military industrial complexes are also called necessary evils. Do they need a direction?
A/We kept the civil industrial complex out of the defence arena for a very long time, which was the monopoly of the defence public sector undertakings. Now that they have stepped into the ring, it has made a big difference in the way we have been able to modernise more rapidly. We are guiding them already. We are telling them that too many companies should not be investing in similar technologies and research and development (R&D). They should collaborate to bring down costs. We have been advising them not to have unbridled competition among themselves.
Q/So, are you suggesting the consortium approach?
A/Three-four companies, not 20, should develop a particular platform. At the last DefExpo held in Gandhinagar in October 2022, every alternate booth was of drones and counter-drone systems. At the end of the day, only one company will get the contract. The money that others used to do the R&D, prototype building and testing will only get wasted. It is better that they group together and form consortiums. Also, when one consortium gets the contract, three or four companies benefit.
Q/There is another dimension of the military industrial complex, that of being able to influence public policy.
A/But that view presupposes that the military industrial complex has such a big voice or that the ruling dispensation is so beholden to them that it cannot take its own decisions. It is a little premature to subscribe to that view in the Indian context. It may be a contributory factor but not a causative one, even in other more developed countries.
Q/We have a vast weapon and platforms arsenal of mixed origin―American, Russian and French. How big is the challenge of integrating these systems?
A/Integration is possible, but it will be a mix-and-match affair and will never be as good as the original. So that challenge and drop in performance will always be there vis-a-vis having a platform where everything is from one source. This problem of integrating equipment and platforms will automatically get resolved with the 'atmanirbhar bharat' effort.
The plethora of weapons systems that we have of differing origins is actually a fallout of our L-1 (lowest bidder) system. That is the first thing that must go. Today I want to buy something, say an aircraft, for which one particular country is L-1. Tomorrow, for another aircraft, another country is L-1. We end up buying equipment of mixed parentage, and then get embroiled in integration issues. Firstly, we should decide our preferred platform and then stick to that. The sheer variety of the equipment (source) should be brought down because a variety of equipment only increases the backend work.
Q/What is the alternative to the L-1 system?
A/Decide the cost upfront or fix the upper limit, the minimum inescapable specifications required, and then bonus points if any company betters the specifications and numbers. That way, we will get more bang for the buck. This is a proposal that we had floated during my tenure and is being discussed hopefully. We are calling it the E-1 system, E standing for expenditure. Whether it passes muster or not, let us see, as there will always be vested interests. We have set the ball rolling. It will have long-term implications in making the industry more competitive and spurring innovation.
Q/We have a US-led Indo-Pacific Strategy and the Quad, which are largely naval constructs. But on our borders with Pakistan and China, we are seemingly going about it alone. How does one marry the naval and land constructs?
A/You cannot see national security in isolation. There is threat from land, sea and air; there is threat to energy, food, health, climate and environment. Everything goes to make national security, and concurrently, too. Within that paradigm, as far as the military is concerned, there will be a land threat and there will be a maritime threat, with an air threat common to both. We cannot look at it in isolation. Which gets priority will depend on which threat is more. At the moment, the land threat is more, and therefore it gets priority.
Q/Modern technology is changing at a dizzying pace. Hypersonics, for instance, seems to be an unstoppable platform at the moment. Is there any thinking on these in the Indian establishment?
A/We are abreast of technology and our Defence Research and Development Organisation has already made a few prototypes. Testing has already been done of the simpler models, both of hypersonic missiles and counter platforms. We are not lagging behind as far as R&D is concerned. Soon we will have something of our own.
Q/You served as India's defence attaché in Myanmar. In pursuance of the 'neighbourhood first' policy, how successful are we?
A/After one year of the coup in Myanmar, there is no sign of the emergency getting lifted. As far as Myanmar is concerned, I would like to put two aspects in perspective. One is the Myanmar government and the other is the Myanmar army, also called the Tatmadaw. They are one and the same at the moment. But as an Army and since we share borders, we cannot disassociate ourselves and stop talking to the Myanmar army, because that is a functional requirement. At the ground level, we have to have good functional relationships with all our friendly neighbours. Who is in power in that country and their internal situation and our country's response lies in the domain of the ministry of external affairs. Similarly, with the other countries in our immediate neighbourhood, military diplomacy is paying very good dividends.
Q/The relationship between the Indian military and the bureaucracy in South Block is said to be an uneasy one. What has your experience been like?
A/It is not necessary that two opinions are bad. You need different opinions to reach at better solutions. The political, bureaucratic and military establishments need to understand each other's perspectives because we are all working to serve the best interest of our country. We are one team. This relationship has to be nurtured in a continuous manner. It is not a one-off thing.
With the formulation of the Department of Military Affairs with the CDS being the secretary, it is one step towards having a more synergetic approach within the ministry of defence. It will also help if there are military-civilian postings at alternate levels in the defence ministry. The CDS is a uniformed officer, his additional secretary should be from the bureaucracy. The defence secretary is a civilian, his additional secretary should be from the uniformed services. Joint secretaries can be from both the uniformed services and the bureaucracy. Then automatically all different viewpoints can find convergence.
Q/What was the high point and low point of your tenure as Army chief?
A/Before I answer that question, I would like to clarify that a low point is something personal, whereas a high point is a collective success. The low point would be, of course, the casualties that we suffered in the Galwan Valley skirmish. It was a big loss. Casualties are a fact of army life and we have been carrying out operations all the time and have lost men before. But to lose 20 men in one action, including Colonel [B. Santosh] Babu, who was the commanding officer, was a defining moment.
The high point would be, in continuation of the Galwan incident, the splendid action by the troops on the ground in turning the tables on the Chinese and by pre-empting and countering their action by occupying the Kailash ranges and the other heights. That was definitely something one can be proud of. The sheer unexpectedness of the response caught the People's Liberation Army by surprise. The Chinese never thought we would have the audacity to do that….
Taking the Kailash range heights is why we could force them to go back. We were able to equalise the situation, which was always in their favour. That is why the Chinese forces had to go back after dismantling bunkers and other positions. For them it was a major setback and a big loss of face.
Q/You had also served as inspector general of Assam Rifles. Do you think Armed Forces (Special Powers) Act has helped?
A/AFSPA only gives us police powers to carry out internal security duties at par with what the police have. These powers are not always with the Army. But AFSPA is a result of a series of events. When the law-and-order situation in a particular area has gone beyond the control of the local administration, the area is declared a 'disturbed area'. Now, to bring the situation under control you have called in the Army. When the Army is called in, it has to be empowered and given legal protection to carry out its duties. And that legal protection is given through the medium of AFSPA. You cannot say that we want the Army, but we don't want AFSPA. In the discharge of these duties, mistakes happen, are taken cognisance of, and if found mala fide dealt with seriously. The Army has zero-tolerance for human rights violations.