IN THE LATEST series of Congress video ads, the final slide stands out. The ad concludes with the slogan 'Maarpu Kaavali, Congress Raavali,' which loosely translates to 'Change is needed, and the Congress has to come (to power).' Accompanying this slogan is a visual featuring two faces―Telangana Congress president A. Revanth Reddy and Congress Legislative Party leader Bhatti Vikramarka.
It is uncommon for the Congress to project a chief minister candidate before an election, but speculation is rife that if the Congress wins, one of these two would take that seat. Here is a look at both of their journeys:
Bhatti Vikramarka
For the Congress, Bhatti ticks all the boxes of a potential chief minister candidate. He is a dalit from the Mala community, has a degree from Hyderabad Central University, is an experienced hand who served as deputy speaker, whip, and assembly floor leader, and, most importantly, enjoys a non-controversial image.
Once a director of Andhra Bank, a nominated post, Bhatti went on to become an MLC, before winning the assembly elections three times from Madhira (2009, 2014, and 2018). Mallu Anantharamulu, his eldest brother, was undivided Andhra Pradesh's Congress president. The middle brother, Mallu Ravi, was an MP. This, however, does not take away from the way he has positioned himself as a strong dalit leader.
In a way, Bhatti is from the Y.S. Rajasekhara Reddy school. It was the former chief minister of undivided Andhra Pradesh who backed Bhatti; the Congress wanted a credible dalit face to take on upper-caste leaders in his district of Khammam. And, even after YSR's death, Bhatti's political career kept flourishing.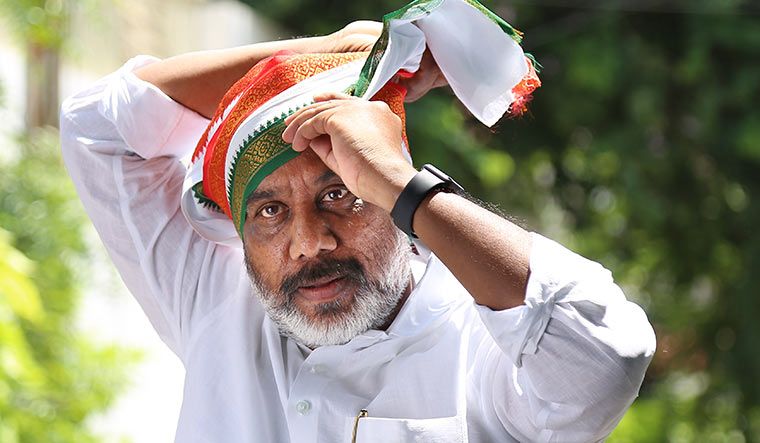 His attire, a traditional dhoti and light shirt, is not merely a sartorial choice. It was YSR's preferred outfit and, more importantly, people close to Bhatti say it helps him connect with the farmers of his constituency, who dress similarly. Bhatti once used to wear kurtas and pants, but has now completely switched.
The biggest boost to his political career was his 100-day walkathon or people's march, where he walked more than 1,300km across Telangana. This march was meant to understand people's issues and get closer to them; it bolstered his image as a senior leader in the state.
Not many outside the Madhira constituency are aware that his biggest political asset is in his own house―his wife. Nandini Mallu is a Gujarati who has mastered Telugu and continues to engage herself in social service, holding the constituency together when he is not around.
In 2018, while he was the CLP leader, around a dozen MLAs jumped ship to join the BRS; he could not stop the exodus. However, he enjoys a good rapport with the Congress high command, which seems to have a favourable impression of him. At recent meetings, he has been seated next to Rahul Gandhi, who has acknowledged and appreciated his work. Backed by senior leaders and a powerful section of the high command, Bhatti is not just the most visible dalit face, but also a formidable contender for the chief minister's post.
A. Revanth Reddy
Revanth Reddy stands as a unique leader within the Congress, embodying the changing winds and culture of the party. He joined the party only six years ago and has swiftly risen to become the state unit's working president, MP and, currently, Telangana Congress president.
Known for his assertiveness, Reddy does not mince words, even when criticising members of his own party. He also does not shy away from singing praises of his former mentor, N. Chandrababu Naidu, and the Telugu Desam Party; he was a two-time TDP MLA.
Reddy has been accused of encouraging his own coterie within the party and promoting leaders who have come in from the TDP. However, he enjoys a mass following, especially among the youth, and has the image of a rebel taking on Chief Minister K. Chandrashekar Rao, his son, K.T. Rama Rao, and other family members. He has made several controversial statements in the past, directing attacks at KCR. He has also gone to jail while trying to expose the alleged wrongdoings of BRS party leaders; this was seen by some as a political manoeuvre that forced the high command to take notice of his work and present him with the state president's post. Filing a nomination against KCR in Kamareddy constituency has further strengthened this portrayal.
Reddy does not exactly work like old-timers in the Congress. In a way, he is a lone wolf. He has a huge network and a team that handles his multiple social media pages and WhatsApp groups with participants from across the districts. This has helped him brand himself as a pan-Telangana leader.
He also has the advantage of hailing from the influential Reddy community, considered to be the backbone of the Congress since independence. Though he had a fallout with senior Congress leaders, firefighting by the high command helped douse the flames.
Reddy is known to be a shrewd politician who is adept at lobbying; he understands the importance of having the financial support needed for the party to fight. The recent induction of powerful and wealthy leaders like M. Hanumanth Rao, Rajagopal Reddy and Vivek Venkatswamy confirms this.
Regarding the current campaign, Reddy is in high demand; several leaders want him to be their star campaigner. As a result, his schedule is chock-a-block―he has a diary filled with public meetings and rallies until November 30.
What Reddy immediately has to worry about, though, is that the BRS is trying its best once again to defeat him in his traditional seat, Kodangal, which he lost in 2018. It was a major setback for Reddy. A few months later, however, he won the Malkajgiri parliamentary seat.
There is a section within the Congress that feels that Reddy has all the traits and accomplishments to be the chief minister, despite him having no administrative experience.