Beti, you come to the chief minister's residence in Jaipur. We will have a chat there over a cup of tea. Don't get disheartened," said Rajasthan Chief Minister Ashok Gehlot as a teenaged girl in Alwar struggled with a faulty sound system to get her views across to him over videoconferencing. The occasion was the launch of Gehlot's flagship 'Rajasthan Mission 2030' on August 23. Gehlot was interacting with college students, a majority of them girls, from different parts of the state via videoconferencing from Jaipur's Birla Auditorium. He was seeking suggestions on what to include in the Mission 2030 document.
The chief minister had only just resumed his public outreach activities; he had fractured the toes of both his feet. He spoke like a doting elder to the girls, encouraging them to speak up and asking them questions about their studies and families. He noted down their suggestions himself. When a girl from Udaipur suggested that her college should start offering postgraduate courses, he promised her it would be done and did so that very day.
Over the past several months, Gehlot has had many such interactions―with students, farmers, women, businessmen―as part of a massive public outreach exercise based on his government's welfare schemes. That August 23 evening, Gehlot laughed off a question from THE WEEK on whether the Mission 2030 initiative―the stated aim of which is to find ways to make Rajasthan the most developed state by 2030―was also meant to convey to his opponents, both within and outside the Congress, that he was here to stay. But it was clear then as it is clear now that the 72-year-old leader intends to stay on. He is putting his best foot forward as he attempts to do what he has failed to do in his previous two stints at the helm―win the Assembly election as an incumbent.
The magician-turned-politician is hoping that the relentless flurry of welfare measures and promises unleashed by him will do the trick and halt the revolving door politics of the state.
As he enters the final lap of the hectic public outreach he embarked on several months ago, Gehlot, in an exclusive interview with THE WEEK, says these elections will be fought on the issue of social security and while the Congress has its schemes and seven guarantees to talk about, the BJP has no issue. Excerpts:
Q/ Rajasthan has had a track record of voting out the incumbent. Can your government buck the trend?
It is not true that no government has ever got a second consecutive term in Rajasthan. The Congress won five consecutive elections from 1951 to 1972. Again, the Congress won in 1980 and in 1985. The BJP also won two consecutive elections in 1990 and 1993. So there is no rule that a government cannot repeat. You will find out on December 3.
Q/ The 2018 election was a close contest, with the Congress reaching only the halfway mark (100 of 200 seats). How many seats do you expect the party to win this time?
We are doing much better than in 2018. The reason for this is primarily that the kind of schemes we have launched are unprecedented and have not been seen in any other state in the country. This is a trend-setting election in more than one way.
Q/ Your government has made a big push for welfare schemes, and it is unprecedented in many ways―from free electricity to free health care to free rations and much more. How big a factor will this be for the voters of Rajasthan?
This is what this election is about―social security. We have a vision of social security that goes beyond anything ever seen in India. Our seven guarantees for this election are taking the vision forward. These seven guarantees―be it an annual honorarium for women, LPG cylinders at Rs500, free laptop or tablet for students of government colleges, Rs15 lakh insurance cover for natural calamities, purchase of cow dung at Rs2 per kilogramme, English medium education in every school or a legal guarantee for old pension scheme―are the main issues in this election.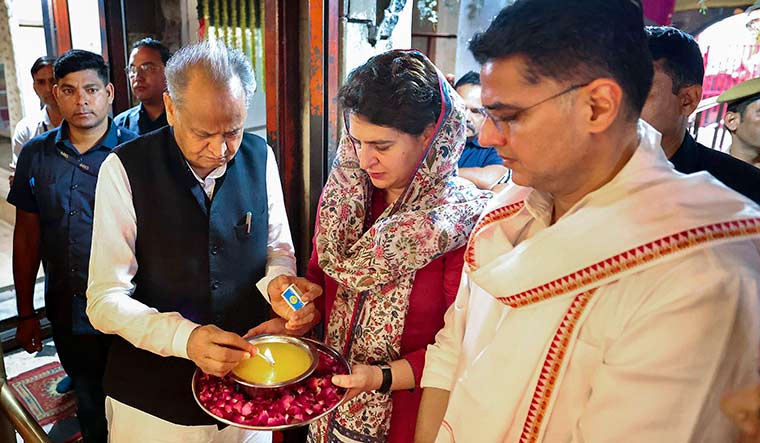 Q/ Your opponents describe them as freebies or revdis. Questions are also raised about the impact of the schemes on the state's finances.
The state's finances are today in a better shape than what I got in 2018. Don't take my word for it. Do your own research. As for the freebies and revdis charge, it is insulting to the people of Rajasthan to call them 'freeloaders'. They will give a befitting reply to this charge with their votes.
Q/ The Chiranjeevi Swasthya Bima Yojana and the Right to Health law are being projected as major health care initiatives of the government. What about the need to develop public health infrastructure?
We have started more medical colleges, hospitals and primary health care centres every year than what the BJP did in their previous five-year rule. Just look at the data. Our government, in the past five years, has opened 60 new medical colleges. During our tenure, 95 district and sub-district hospitals have been built compared with the BJP's number of zero. The difference is quite stark indeed.
Q/ Political observers say the decision to form 19 new districts was taken with an eye on elections.
In a democracy, the government delivers what the people want. It is a government for the people. The people felt that they have to travel too far to get access to administration, and the increase in population also needs deepening of district administration. And since we heard their complaints and created 19 new districts, naturally they will take this into account while casting their votes.
Q/ In the schemes launched in Rajasthan, are there indications of what the Congress's narrative will be for the Lok Sabha elections in 2024?
The schemes launched by the Rajasthan government―as also those by the Congress governments in Chhattisgarh and Karnataka―tell you what the Congress ideology is. This is not about one Vidhan Sabha election or one Lok Sabha election. We are the party of Mahatma Gandhi. We work for the poor and the downtrodden. If you look at the vision of Sonia Gandhi and Rahul Gandhi, from MNREGA to food security, our ideology is 'Congress ka haath aam aadmi ke saath [The Congress stands with the common man]'.
Q/ You have spoken about the Congress's 'Mission 156'. Could you elaborate on that?
We are going to win 156 seats minimum this time.
Q/ When you launched Rajasthan Mission 2030, was it also meant as a message to your detractors both within and outside the party that you are not going anywhere?
The idea of Mission 2030 is to chart a roadmap for the progress of Rajasthan. I felt that between election cycles, the need for a roadmap for the future is often neglected. I wanted public participation in planning a vision for the future to make Rajasthan India's No 1 state.
Q/ You have said that the chief minister's chair is not letting go of you. Do you mean to say that you will continue to be the chief minister if the Congress wins Rajasthan?
The Congress high command will decide that. I am just a humble Congress worker. What I meant by that statement is that I am not enamoured with power.
Q/ The Congress has declared that it is going into these elections with a collective leadership, that there is no CM face.
Of course, we are all together and fighting collectively. Look at the BJP, what a divided house it is!
Q/ How do you view the impact of Prime Minister Narendra Modi's campaign in Rajasthan?
Has it turned the election into a Modi vs Gehlot contest? This election is seven guarantees of the Congress versus lack of vision of the BJP. The BJP is unable to explain why people should vote for it. We are saying we have seven guarantees for the people that we are sincere about fulfilling.
Q/ The BJP is devoid of a CM face, with former Chief Minister Vasundhara Raje pushed to the sidelines. How does that change the election scenario for the Congress?
The BJP in Rajasthan is leaderless, visionless, issue-less.
Q/ Your government has been criticised by the BJP for the paper leaks that have taken place and they have also alleged political complicity in the leaks.
Paper leaks are not a new phenomenon. Even during the BJP's time, the High Court pointed out leaks, and still no exams were scrapped back then. What is different now is our swift action. The moment we saw trouble, we did not just sit on our hands and point fingers like other parties. In fact, in Uttar Pradesh, due to the fear of paper leaks, no agency is ready to conduct the exams.
Our government was the quickest to respond to this by filing a chargesheet and making timely arrests even if that meant nabbing high-profile individuals. We have made the strictest of laws. Recognition of involved institutions, too, has been revoked and government officials have been dismissed from their duties. Remember, in the past five years, we have transparently handed out jobs to three lakh individuals. And when we have had to, we have made the tough calls, like cancelling exams, because we are here for the youth. We are here for justice and fairness.
Q/ The BJP also accuses you of indulging in appeasement of minorities. Incidents such as the beheading in Udaipur have been taken up by them.
All their fake accusations will get a reply on December 3, when results will show that the people have voted for seven guarantees.
Q/ You have said that you believe in forgive and forget. After all the bitter remarks that have been exchanged between you and your former deputy Sachin Pilot, can there be a working relationship between the two of you?
There are always differences in a family but it is important to resolve differences amicably. I am glad we have been able to do that.
Q/ Your rivals say that whenever you have been chief minister, the party has lost.
I will reply to this on December 3.
Q/ Do you have any regrets that you had to drop out of the election for the post of Congress president? Would you rather have become Congress president than continue as chief minister?
I do what the party decides.
Q/ Any concerns that the raids by the Enforcement Directorate on Congress leaders ahead of elections and the ED questioning your son Vaibhav will influence the voters?
The ED is harassing my son and my party colleagues because the BJP is losing this election. It has ED; we have seven guarantees.