India is on the move a bit faster. With Prime Minister Narendra Modi's focus on boosting infrastructure as an engine of growth, the country added more than 50,000 lane kilometres (length of each new lane built) to its highway system in the past nine years.
New expressways are being built and all-weather tunnels drilled in the Himalayas. Last year, vehicle sales set a record of 42.5 lakh units, and India overtook Japan to become the world's third largest auto market. The road to attaining the number one position in building infrastructure is being paved with ambition.
"In the next five years, Indian roads will rival America's," Nitin Gadkari, minister of road transport and highways, told THE WEEK. As Modi's man tasked with transforming the country's highway network, Gadkari takes cues from what US president John F. Kennedy said: that America's roads are not good because it is rich, America is rich because its roads are good. The statement is displayed in his Transport Bhavan office, and he repeats it often at public forums. India, he says, recently pipped China to have the world's second largest road network after the US.
Gadkari, 66, is the only minister to have held the same portfolio since Modi came to power in 2014. In fact, when Modi was holding talks for forming his first cabinet, he reportedly asked Gadkari to pick a portfolio. Gadkari apparently insisted on holding the 'less attractive' road transport and highways ministry, even though he was among the top four leaders who could be part of the powerful cabinet committee on security (comprising the prime minister and the defence, home and finance ministers).
Gadkari fell back on his core strength. When he was public works minister in the BJP-Shiv Sena government in Maharashtra from 1995 to 1999, he had set up the Maharashtra State Road Transport Corporation (MSRDC) and sought investments from industry bodies, even small ones. He did not follow the conventional route of allowing big builders bag contracts by quoting enormous sums. Gadkari's unconventional approach was so successful that he went on to build 55 flyovers and the Mumbai-Pune Expressway. He not just pioneered the public-private partnership model, but also drafted a report on building rural roads when Atal Bihari Vajpayee was prime minister.
The Mumbai-Pune Expressway was the pet project of Shiv Sena chief Bal Thackeray. When the expressway was completed, Thackeray told young Gadkari, "I like those who deliver." The reputation as a minister who delivers has stuck with him even as the Modi government completes its 10th year in power. Apart from the highways ministry, Gadkari had earlier handled shipping, Namami Gange, and micro, small and medium enterprises ministries.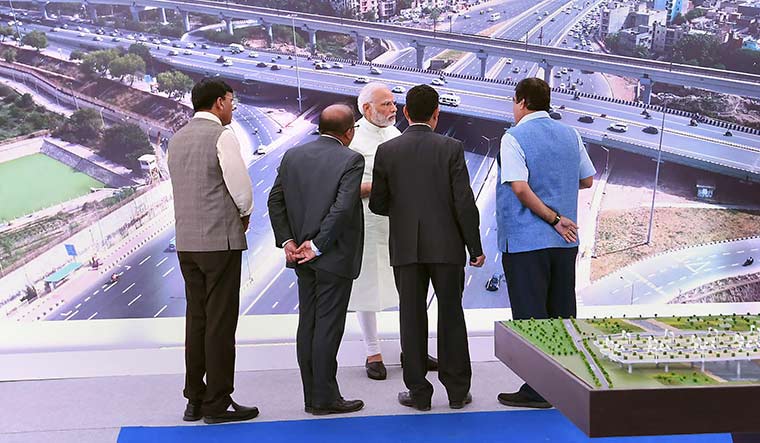 When Modi spoke individually to all his ministers after forming the government in 2014, it was known that national highways spanned just 96,000km, constituting only 2 per cent of the total road length in India. Yet, the highways carried 60 per cent of the traffic burden. A target was set: at least double the length of the highways.
Gadkari got down to the job. He held town-hall-like meetings with officials, engineers and contractors to review 300 stalled projects. "Similar problems were bunched together and a common solution found, which resulted in the ministry going to the cabinet 22 times during the first three years to get things moving," said an official.
What makes Gadkari the best performing minister in the Modi government? "We are transparent and result oriented," he told THE WEEK. "We work as a team and resolve the problem. I encourage good work. When there is inspiration for a good cause, people work."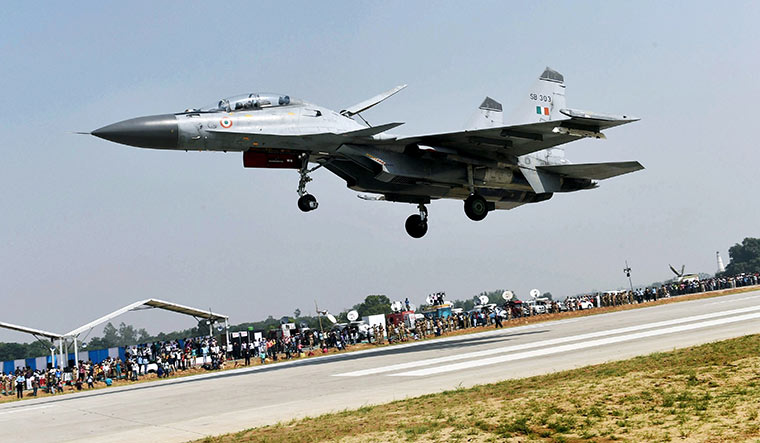 Gadkari's 2 Motilal Nehru Marg bungalow was once the office of the National Advisory Council headed by Congress leader Sonia Gandhi. Gadkari has given the building his own touch. Paintings and artworks depicting Hindu deities adorn the walls. Hanuman's is the largest picture, and bronze statues of Krishna add to the charm. Gadkari also keeps statues of RSS founder K.B. Hedgewar and Swami Vivekananda.
Gadkari knows the value of building roads. "The huge infrastructure projects implemented by the government led by Prime Minister Modi will help it retain power in 2024," he says.
Road projects are highly saleable during the polls. Highway expansions fetch good prices for landowners, generate jobs and boost the local economy. With the next round of assembly polls drawing near, both Modi and Gadkari are touring states, inaugurating new highways and announcing projects.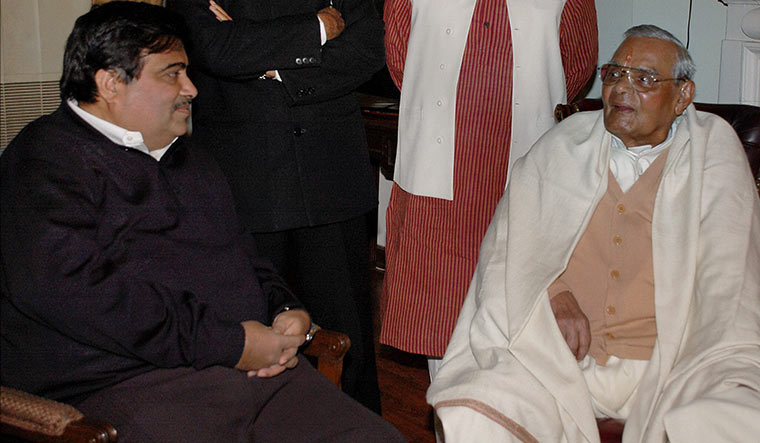 Gadkari was also the architect of the Pradhan Mantri Gram Sadak Yojana, started by the Vajpayee government. The completion of big-ticket highway projects had prompted Vajpayee to make 'India Shining' its poll campaign slogan in 2004, but the results came as a shock. Internal deliberations concluded that the BJP's development agenda had failed to click electorally because there was no emotional issue that could connect with the people. There was neither a core ideological issue in the forefront, nor welfare schemes for the people.
This may explain the Modi government's increased focus on delivering on core ideological issues―the voiding of Article 370, the construction of the Ram Temple in Ayodhya and, for the 2024 polls, the proposed enactment of a uniform civil code.
When asked whether that is the case, Gadkari avoided a direct reply. "These are all policy issues that the prime minister and the party president will decide. I am not part of that now. But I am confident that we will win the elections because of our development work, for the country, society and the poor. Under Modi ji's leadership, we will get good majority."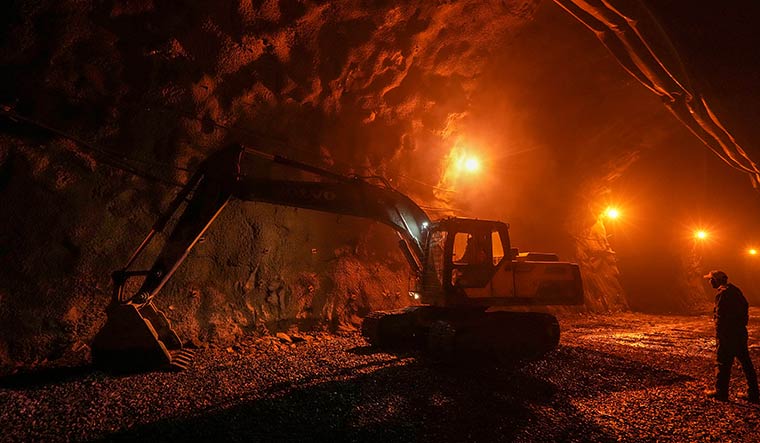 Gadkari served as BJP president from 2009 to 2013. An outsider to Delhi politics, many people initially considered him an interloper. But Gadkari left his mark, opening a good governance cell and initiating a new party culture. At one point, to prevent negative coverage of the BJP, he banned leaders from giving off-the-record briefings to journalists.
But he struggled to shake off the outsider tag as he found himself at odds with Delhi's power politics. In 2014, he contested Lok Sabha polls for the first time from Nagpur, winning handsomely. As minister, he has removed bottlenecks, pulled up officials (when the new NHAI building was inaugurated after a delay of eight years, he asked officials to hang the pictures of everyone responsible for the delay), and hit at the contractor nexus by warning them against compromising on quality. "I will throw you under the bulldozer," he is learnt to have told them.
Considered close to the RSS, Gadkari is reluctant to discuss his political ambition. "I always say that politics is an instrument for socioeconomic reforms," he says. "I want to bring as much sustainable development for the people as possible. That is my mission."
In August 2022, hinting at a churn in the party, Gadkari was dropped from the BJP's highest decision-making body, the parliamentary board. It had the effect of shutting him out from the BJP's decision-making process, but not from retaining his influence. His biggest asset is his likeability across the political spectrum. He distributes projects evenly among political opponents. Last year, during a discussion in parliament on his ministry, MPs cutting across party lines praised Gadkari. The unprecedented response prompted Lok Sabha Speaker Om Birla to call Gadkari, who was away on tour, to come to the house.
Gadkari takes care to be accessible. Every three days, he visits his constituency and meets leaders and workers from 2pm to 5 pm. With infrastructure upgrades and welfare programmes, Gadkari has nurtured Nagpur well. "My sincere work for the people is my biggest strength," he says. "This is the reason that people cutting across caste, religion, creed and gender are supporting me."
The foodie in him is still active, but he has become health conscious. So, instead of limiting choices, he has limited portion sizes.
After leaving his development mark in Maharashtra, Gadkari has been supervising innovations at the Centre. Expressways are being built at remarkable speed―30 of them have been equipped to handle the landing of Air Force planes. Vehicles have shifted to BS-VI norms, and ethanol-mixed fuel is now a reality. Flex fuel and electric vehicles appear to be the future, and Gadkari says consumers will have a choice in how to reduce the dependency on fossil fuels.
Gadkari himself uses a hydrogen car. Rice straw, grains and sugarcane are being used to produce ethanol, helping farmers recuperate costs much faster. Segregated waste is being used for laying roads, pointing to a solution on how to deal with mountains of garbage. "I will reduce the garbage mountains in Delhi. We are also running projects of more than Rs65,000 crore to decongest the national capital," says Gadkari.
He has his way of dealing with the slow-moving bureaucracy. Under him, the ministry constituted awards for engineers and contractors doing good work, and penalties for those who missed deadlines. In one such instance, a proposal to build overbridges had to pass 19 desks in the railway ministry. The resulting four-year delay had payments pending and future projects getting stalled. Gadkari swung into action. He called senior railways officials to a meeting in Transport Bhavan and told them, "My office is on the fifth floor, and I will not let you go down by taking stairs or the lift." The message hit home and the files were put on the fast track.
On an another occasion, the chairman and managing director of Bharat Heavy Electricals Ltd told Gadkari during a meeting that it would take a year for the company to manufacture a particular heavy equipment and another nine months to deliver it to the site. The process, said the CMD, was long-drawn, involving certifying the bridges along the route to be fit to handle big machinery. Gadkari made the approval process online, but an official put a rider that the ministry approval has to be sought in person. When Gadkari was informed of this, he asked that the official, who had left for home, be brought back and changes made before 9pm.
Having landed in controversies because of his outspoken ways, Gadkari has chosen his own medium to engage with the people. He addresses industry events and puts all his speeches on YouTube. The views generate revenue worth 04 lakh a month, he says. When he was MSME minister during Covid, he engaged with industry groups and assuaged their anxieties. For Gadkari, a matter of great pride is the part he played in replacing hand-pulled rickshaws with e-rickshaws. There are now three crore e-rickshaws in India.
In a recent report, the BJP-affiliated think tank Public Policy Research Centre pointed out that infrastructure is a primary catalyst for overall development. "A well-developed network of roads, railways, airports, power supply and robust market infrastructure is favourable for the growth of industries in the country. Recognising its significance, the Modi-led government has implemented various measures to improve the infrastructure sector, which is considered a key driver of economic growth. These initiatives align with the government's goal of making the Indian economy a $5 trillion economy," said the report.
As the 2024 Lok Sabha polls draw near, the BJP will rely as much on Modi's appeal as on developmental achievements across sectors. As the key minister who has delivered on his infrastructure promises, Gadkari wants to win the fight for his government. His inspiration is a Richard Nixon line that he often quotes: "A man is not finished when he is defeated. He is finished when he quits."