The serene morning at the Kumara Krupa Guest House, a heritage estate that overlooks the 18-hole golf course in the heart of Bengaluru, comes alive when Deputy Chief Minister D.K. Shivakumar strides in greeting a throng of visitors. Clad in a spotless white kurta-pyjama with a black jacket, he takes the stairs to the first floor, sternly announcing that he needs some quiet time for the exclusive interaction with THE WEEK. He asks the bulky sofa to be moved away, picks a sleek leatherette chair and sits on it for the photo-shoot. His confidence and sense of purpose are evident.
A master strategist, Shivakumar took over the reins of the Congress in Karnataka in 2020. It was at a time when the party was in tatters following a mass desertion of MLAs that led to the collapse of its coalition with the Janata Dal (Secular). The morale of the cadres was at its lowest, following constant electoral drubbings in rest of India, too. But Shivakumar, popularly known as Kanakapurada bande (Kanakapura's rock), managed to pull the party out of its desolation. He transformed the party organisation by spawning tech-savvy digital booths at the village level and went all out to take on the Modi-Shah juggernaut in the May 2023 assembly polls. The BJP was reduced to 66 seats, with the Congress winning 135 of 224 seats in the assembly. The formidable duo of Siddaramaiah and Shivakumar pulled off the impressive feat together. While Siddaramaiah became chief minister, Shivakumar was persuaded to be deputy chief minister.
As the Bengaluru development minister and water resources minister, Shivakumar shares his dream of restoring Bengaluru's glory and attracting huge investments to the city and state. Delivering each of the five guarantees (freebies) in the election manifesto is the topmost priority of the government, as is good governance, he tells THE WEEK.
He is the party's troubleshooter, but has troubles of his own—a slew of cases filed by the Income Tax department and the Enforcement Directorate accusing him of tax evasion and money laundering. Nonchalant as ever, he says he is prepared to face all the challenges. He also talks about his special bond with the Gandhi family, and of his resolve to remain loyal to the party despite the many enticements and political witch-hunt. He recalls his promise to former party president Sonia Gandhi that he will win Karnataka for the Congress. When asked whether the BJP will attempt another Operation Lotus and engineer defections of Congress MLAs, he says, "Let them recover from this defeat first." Edited excerpts:
You are credited with rebuilding the Congress in Karnataka in the last four years. You have made the transition from a mass-based party to a cadre-based party. How did you go about it?
I do not know whether you have seen the speech I made on my 'Pratigna Dina' (day of oath) as the Karnataka Congress president. That itself is a big role model for the entire country. I was not given permission to take charge because of Covid-19. At that time, villagers did not know about Zoom meetings. So I identified a place in every panchayat and every ward, and gave them two TV sets. One of them was connected to Zoom. My oath-taking ceremony was relayed on the other TV set. The oath I took here was thus communicated to them. They also took an oath on what we have to do. I promised that I will not sleep and I will not let them sleep. Ultimately, all of them stood by me. Still, I am not satisfied.
My biggest desire was that I should make every booth a digital unit. That could not be perfected. It has happened, but not fully well. Since day one, I have been telling that party is priority; do not go by individual ambition. And if you forget your roots, you will not see the fruit. The karyakartas (party cadres) are your roots. So we should see to it that we strengthen the cadres. The voice of the cadres should be the voice of the leadership. This is what I look for. And, I have had 50 per cent success; 50 per cent is yet to be done. I will try to do my best.
You mentioned that an individual is not above the party. The Congress was in a decimated position when you took over as party president. And, you are credited with rebuilding the party and delivering Karnataka to the Congress. Your comment.
When I took over the party, my Congress legislative party leader (Siddaramaiah) had resigned on moral grounds after losing all the byelections. Dinesh Gundu Rao had resigned as Karnataka Pradesh Congress Committee [KPCC] president. After I came out of Tihar jail [on bail in a money laundering case in 2019], all of them stood together—the Gandhi family reposed its faith in me; Mallikarjun Kharge, too. Shrimati Sonia Gandhi appointed me as KPCC chief on March 10. And, that day, I promised her that I would deliver Karnataka and that I would go by the high command's recommendation. On three occasions, she asked me [if I could deliver Karnataka], and said, 'I only trust you; you have to deliver.' I said, 'Come what may, I will deliver.' I also convinced Rahul Gandhi. They also supported me on candidates and whatever I said. They trusted me a lot.
The first challenge you faced in 2019 was the defection of 14 Congress MLAs. How did you handle that?
No, that was not in my control. I tried to prevent them. But I could not succeed because power played a very major role. The Central government also was involved in the operation. We never expected our own people to ditch us in that way. We were very cautious while giving out tickets this time.
Did you expect to win 135 seats? You had said in a TV interview that you expected 141 seats.
I went to Haryana, and I gave an interview after coming out of the Bharat Jodo Yatra; 136 was my number then. After that, I took it to 141. But we never expected to lose some seats, like Jayanagar. My number was 141.
Do you think it was anti-incumbency, or something against the BJP?
No, they could not deliver what they had promised. We just put five questions before them. Number one was: have they delivered on their promise. Karnataka is a state that had a big name. Not only the Congress but also statesmen like Ramakrishna Hegde, Veerendra Patil, S.M. Krishna, Siddaramaiah had worked to bring glory to Karnataka. They built Karnataka's brand name. And that was being dismantled by the BJP. After Operation Lotus, they paid crores to the MLAs, and they had to recover it. For every posting, there was a rate card. Many newspapers had reported it. Bribe was fixed for recruiting police officers, IAS officers, Karnataka Administrative Service officers, sub-inspectors. A minister was forced to resign due to the pressure from us (the Congress) after a BJP worker, who was a contractor, committed suicide over the 40 per cent commission issue. We tried to convince people that such large-scale corruption could not exist without the chief minister's knowledge. And, (in the case of police sub-inspector recruitment case), how can a sub-inspector OMR (optical mark recognition) sheet be changed? Can it be done without the knowledge of the government? Without ministers' support, this would not have gone on. A time will come when everything will be out.
It is said that you are the only person in Karnataka who can counter the BJP at its game.
It is not only me; it is a team effort. No doubt I stood strong. And I was ready to face everything. There was no choice. I had to fight this battle for survival. I knew that Karnataka would be the opening for the entire country. It was a do-or-die battle for me. Ultimately, I could do it (deliver Karnataka).
In this election, we saw a 4 to 5 per cent shift from the JD(S). Are they mainly Vokkaliga votes? Or, are they from other communities as well?
I do not want to disclose the name but one of my MLAs asked me why we had lost in my (Vokkaliga) belt in the previous election; that pricked me a lot. Ultimately, I had to appeal to the community I belong to. I said, 'Give me an opportunity; you have given everyone an opportunity. I will give you a good government.' I had a big following with the math, all the Lingayats. I believe in the Congress ideology and the Basavana ideology—that we have to take everyone together. That we did. Even Lingayats have voted for us, Vokkaligas have voted for us, OBCs have voted for us, Banjaras have voted for us, many backward classes have voted for us. That is why we got this number.
You talk about the numbers from Vokkaligas, Lingayats, backward castes, Muslims. Even women played a major role. What about the role played by the guarantee card? It is going to cost around Rs56,000 crore to fulfil those guarantees. Are you positive that it will be implemented?
One hundred per cent. We are going to implement it, come what may. We have a cabinet meeting on June 1. Arranging about Rs20,000 crore to Rs26,000 crore will not be a problem. We will work on arranging the remaining Rs30,000 crore. Whatever we have promised, we will definitely deliver. We will come out with a plan within the first week of June. We are already speaking to the officials to work out a system. For example, in your house, you may have your mother or your wife. Whom should we give [the financial assistance for homemakers]? It has to be decided whether the assistance will go to your wife or mother. We cannot distribute cash to them; we have to rely on direct benefit transfer. We have to collect their bank account information. Some officers have to be delegated to visit every house. We do not want the son to have the [woman's] account number; we want the woman to have a direct say in that. That is what we have promised.
But how will you decide who the woman leader of the house is?
That the family will decide, we will not decide. We have the voter list and know how many women are there. The family will decide who will be the leader, whether the wife or the mother. We cannot be involved in that. They will have to give their account details and phone number. We will recheck it and ask whether the details they have provided are right or wrong and then we will see to it that the money is transferred to their account.
So how long will it take to implement this?
We will implement it in a month. We will announce it and whatever delay, we will come out with a [solution].
Another thing which people are slightly confused about was that one of the promises was to give benefits to people below the poverty line. Siddaramaiah, in a speech, mentioned that this applied to you and me, meaning it was for everybody. Could you give some clarity on this?
In this guarantee scheme, some people do not want the benefits. Various officials, rich people and writers have written to us, saying they do not want it. When they do not want it, we cannot force them. We will leave the options to them.
But there are a lot of people who are neither rich nor below the poverty line—the middle class.
We do not want to bar anyone. We promised them. If they want, let them take it.
Do you think the Bharat Jodo Yatra played a role in the election victory?
Definitely. Rahul Gandhi was in Karnataka for 21 days. We worked out a system looking at the route; we looked at the state as a unit. I allotted 10 assembly segments to a day, so all the workers came, participated and saw the enthusiasm. They travelled for 200km-400km. They came to the spot. They walked with him. I also requested Rahul ji to slow down a bit. But he was on speed six. If he had brought it down a notch, the movement would have been more forceful. Still people came, stood, watched, waved, blessed. But walking and watching are different.
Right now, are you happy being the deputy chief minister?
Whether I am happy or not is not important. I will be happy when we deliver a government with good governance, when we keep our promises, when we fulfil the aspirations of the people. Individual things will disappear. The confidence that the people of Karnataka have restored in us is very, very important. We should keep [it]. I will be the happiest when all my promises have been delivered.
But the Vokkaliga community will be very upset if they do not see you as the chief minister.
Of course, it is quite natural. Blood is thicker than water. But we have to [compromise]. Sometimes politics is full of sharing and caring.
But this politics of caring and sharing has not always worked in Karnataka. You have had problems in the past.
I do not want to disclose what has been decided between the party high command and me, between Siddaramaiah and me. I will not disclose it. Ultimately, we have come to some understanding.
You rightly spoke about your contribution to the Congress victory. What was Siddaramaiah's role in this?
Siddaramaiah had been given the responsibility of touring the state. He has also contributed in a way he could. I had the party responsibility. I met all the senior officers, general secretaries, various observers from different states. They came here, they were given charge of districts, a parliamentary segment each. They were a big number—more than 150, under the leadership of Kharge ji, Randeep Surjewala and K.C. Venugopal. All of them worked together. And, it was a success story.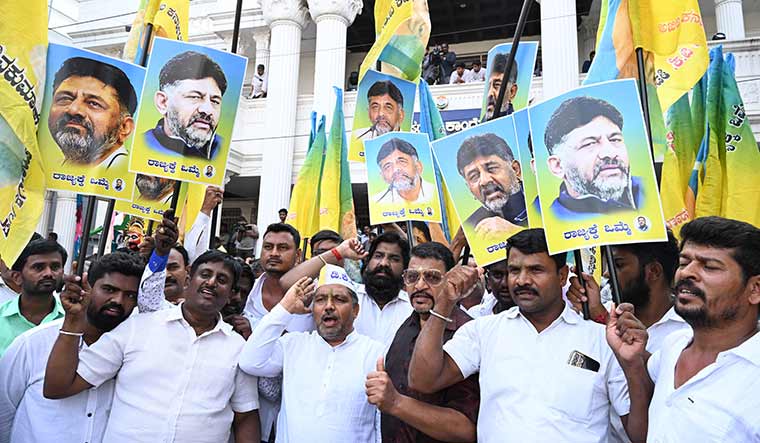 Some point out that Siddaramaiah became chief minister within eight years of joining the Congress. Do you see a bit of luck in that?
Yeah, he is definitely a lucky man.
Would you say it was just the Vokkaliga community and the Old Mysuru belt that made you the deputy chief minister? Or, is it more of a mass base thing?
It is the Congress party; it is not a community. It is the Congress and everyone [coming] together.
If you were to name three factors that worked in the Congress's favour, what would they be? One is the Vokkaliga factor—they wanted to see you as chief minister. What are the other two factors?
I do not want to go by community. They have seen the leaders. They have seen [B.S.] Yediyurappa, they have seen [Basavaraj] Bommai, they have seen [H.D.] Kumaraswamy. They have seen everyone in the opposite camp. I was with S.M. Krishna as urban development minister. I know what we have done to change Bengaluru—the metro, the airport. I was the chairman of the airport planning authority. So I know what we have transformed. I was the one who campaigned in Bengaluru city. Though our numbers are not more in Bengaluru city—three of our important leaders defected during Operation Lotus—we still campaigned and some of the numbers are good.
I do not go by community. I go by basic principles. Whatever we had, we did not want to divide society. We wanted to keep society united.
Talking of dividing society, will the Congress ban the Bajrang Dal?
If anyone tries to disturb the peace through moral policing, they cannot, as there is the law of the land. There is the Constitution here. We have to protect the Constitution. Is it right for a police officer to wear saffron and take a photograph? The image of a police officer in Karnataka is high. But this time I think even the [former] chief minister encouraged it. We asked who was destroying peace.
Why did the investors not choose to come to Uttara Kannada, Dakshina Kannada, Udupi or Shivamogga in the global investors' meet? A double-engine government was there, but why no investment came to these places? Mangaluru is a very big city, it is also a knowledge capital, cultural capital, financial capital, but why are investors not going there? Because everyone wants peace. The BJP could not give peace. They might have got the numbers.
How did the Congress gain more seats in Central Karnataka this time? Even that region is known to favour the BJP and the hindutva ideology?
We had an agenda and made a lot of assurances in the manifesto (that appealed to the voters).
Recently, a Muslim boy was thrashed for talking to a Hindu girl—something that you would not expect to see in Karnataka.
I think this [falls in the realm of] personal life and human relationships. Whatever the bond everyone has, it is not our duty to interfere. They (the BJP) never looked at the Constitution. Even at the time of the Ramayan and the Mahabharat, all communities and sections of society played a major role. Communalism never works in this modern society.
Will beef come back to Karnataka?
I do not want to get into that controversy. Let me focus on development, our promises.
What is your vision for Karnataka in the next five years?
My vision is to bring back the glory that Karnataka had; to give a corruption-free, transparent government, a government with good governance. This is our vision. Bengaluru is a top priority. If Bengaluru gets proper attention, funds will come, and the same funds can be transferred to the rural areas. This is what we are looking at.
Bengaluru needs a lot of infrastructure, and you mentioned that Rs56,000 crore is needed for the guarantee schemes. Will not the MLAs need money to develop their constituencies?
Definitely, there are a lot of opportunities. A lot of issues are there. Whatever money goes for the guarantee schemes will be distributed to each of the constituencies. It cannot be only for Bengaluru. All taxpayers have to be respected. I believe in one thing. I have never looked at employees, I look at the employer who gives hundreds of jobs. I believe that the employer should be made stronger. The government cannot give more jobs; it is the employer who has to create more jobs. We should strengthen the employers' hands. They are also part of this system. The government has given only four or five lakh jobs; the private sector has given more than 50 lakh jobs.
But is there not a lot on your plate already?
What is easy in life? Nothing. You have to struggle. Nothing is free. Hard work is a must.
During your campaign, you raised the corruption issue in the previous government and the 40 per cent commission charge. Are you going to act on that?
I have already started my job. Yesterday, I finished some preliminary meeting with the Bengaluru development officials. Today, I am meeting irrigation officials, then I will focus on the water supply and transport departments. Apart from that, I will have to take advice from various seniors of Bengaluru city. They are stakeholders. They love Bengaluru more than me. They love Karnataka more than me. They are also important players.
But will you investigate the previous government's corruption?
We have already assured the people that we will investigate.
Cases could be slapped against you, too. Do you think once you become the chief minister, Central agencies could be used to target you?
I do not want to disclose anything. You all will be shocked. Yesterday, I received a notice from someone. I do not want to disclose it. Let me face it. I know that I am truthful and I have done nothing wrong. I will face it.
It is said that most other leaders would have succumbed, had they been hounded by agencies like you were.
What would you have done? Stayed in your own house? Or, moved to a rented house? It is the bond with the Gandhi family that I shared even as a student and later as an MLA. Then, I was made a minister. Shrimati Sonia Gandhi, who was then the Congress president, came to see me in jail. She also made me the KPCC chief. I could not have betrayed her for the bond I share with the family and the love that binds me. That was the reason.
She did spend some time with you while you were in jail and talked to you. What did she tell you?
I do not want to disclose all those things.
How did your wife, Usha, deal with all this? It would have been tough for your wife and family as well.
My family has sacrificed a lot. I have not given them time, not spoken to them for months together. I have not seen my children's faces. Only she takes care of them. They are my biggest assets. For every success, the family should be strong and supportive, otherwise no one can be successful. They have played a very major role.
You are always seen as the go-to man. When Congress leaders like Vilasrao Deshmukh and Ahmed Patel had problems, you were seen as the troubleshooter. How do you handle all this?
Fortunately, I was given the opportunity during difficult times in the past. Problems arise. I am facing them every day. To gain something, you have to lose something. If I go into the details, I will go mad. Let me not discuss it.
Do you think the BJP will attempt Operation Lotus again?
Let them recover from this defeat first. The entire double engine was here. What all they could do, they have done. Ultimately, my numbers never reduced, my confidence level never reduced. Our planning did not change.