The hurdle came after the finish line.
As soon as the Congress won 135 seats to oust the BJP government in Karnataka, a turbulent truce was withdrawn. Both Siddaramaiah and D.K. Shivakumar wanted the chief minister's chair. While the state Congress president wanted a "return gift" for reviving a party that was in tatters following the mass desertions of 2019, the former chief minister pointed to the overwhelming support of the party MLAs who backed him for the job. The decision was not easy; it was not simple math.
Shivakumar argued that Siddaramaiah had already served a full term as chief minister and it was only fair to follow the tradition of making the party president chief minister. While both leaders took credit for the near 5 per cent increase in vote share, Shivakumar reasoned that his Vokkaliga community had voted for the Congress to see their own chief minister. As a counter, Siddaramaiah said he was the state's undisputed ahinda leader with the support of minorities, backward classes and dalits.
Siddaramaiah's confidants claimed that Rahul Gandhi had promised him the top job when he was in Delhi last year to invite Rahul for his 75th birthday celebrations. Siddaramaiah had told Rahul that he would not contest but only campaign if he was not the chief minister candidate. Rahul apparently gave him his word.
Strangely, Shivakumar, too, made a similar claim―he said Sonia Gandhi had promised to "reward" him if he delivered Karnataka to the party.
Soon after the results on May 13, Shivakumar broke down before the media and said he had delivered what he had promised. He then rushed to Kanakapura to thank his voters and said, "People of Ramanagara and the Old Mysuru region have given a befitting reply to those who mocked me saying that winning Kanakapura alone does not make one chief minister."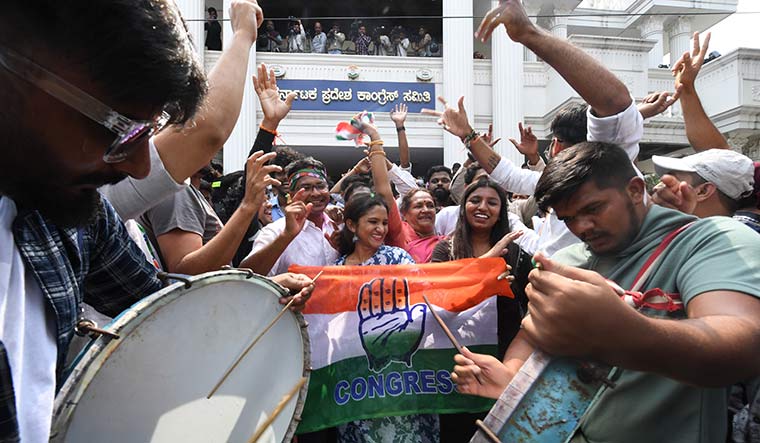 He added, "I will inform you when you need to come to Bengaluru," hinting that he would soon take oath as chief minister.
Siddaramaiah, meanwhile, was basking in the victory in Mysuru and engaged in friendly banter with his supporters and the media.
Late in the evening, when the Congress leaders finally met at the party head office, they put up a united front and shared Nandini sweets to celebrate. The sweet meet soon soured; a cold war broke out between the two contenders.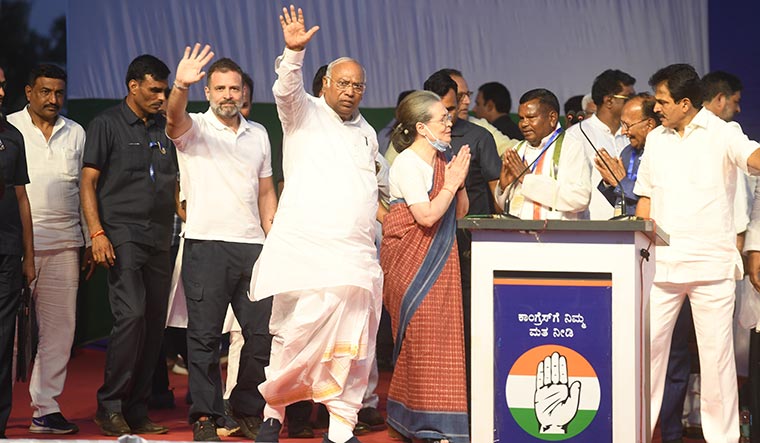 The following morning, the fighting was on the wall. Supporters on both sides put up posters congratulating their leader on becoming chief minister. Congress president Mallikarjun Kharge flew out of Bengaluru and three observers―Sushil Kumar Shinde, Jitendra Singh and Deepak Babaria―landed in the city.
Siddaramaiah quietly drove out of his Kumara Krupa Road residence in Bengaluru to a party MLA's home on Cunningham Road. An hour later, he reached Kharge's residence along with a handful of MLAs.
Shivakumar, meanwhile, drove his family to Tumakuru to pray at the Sri Kadusiddeshwara Mutt and meet his spiritual guru 'Ajjayya'. He also visited the Sree Siddaganga Mutt before reaching the hotel in Bengaluru, venue of the Congress Legislature Party meeting.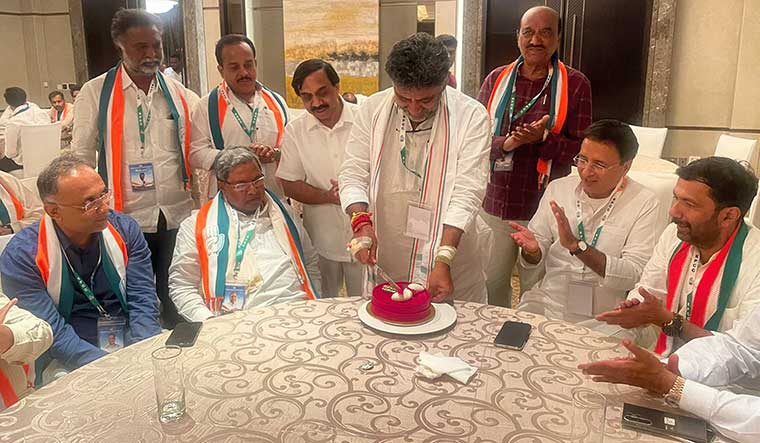 Earlier in the day, Kurubara Sangha and Vokkaligara Sangha had held news conferences, lobbying hard for Siddaramaiah and Shivakumar, respectively.
One of the powerful Vokkaliga pontiffs asked his community to remain alert. "Shivakumar has worked hard to build the party and also suffered because of his commitment to the party," he said.
A Kuruba pontiff argued that the Congress should not appoint a "tainted" person as chief minister, referring to pending cases against Shivakumar.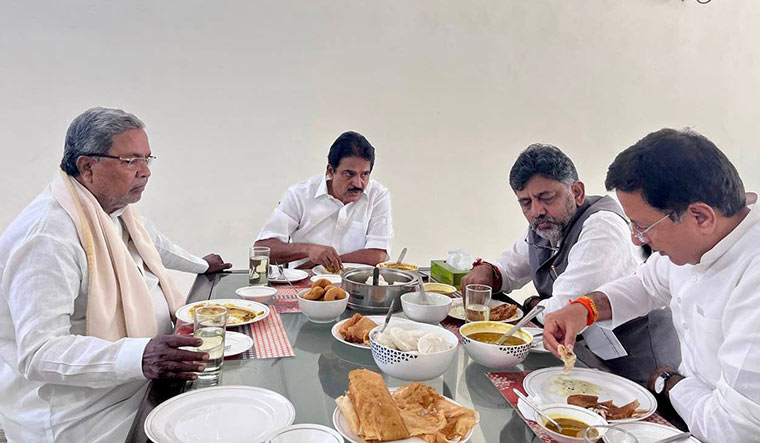 In a statement to television channels in Tumakuru, Shivakumar had said, "I was patient when Siddaramaiah was made chief minister. Now, it is his turn to be patient."
At the CLP meeting, the new MLAs unanimously passed a one-line resolution authorising Kharge to appoint the new CLP leader. However, despite the resolution, the party observers also sought the MLAs' opinion on who should be chief minister in a secret ballot. Apparently, Siddaramaiah got the support of 80 per cent of the MLAs. The meeting, which began two hours late, remained inconclusive; both contenders refused to back down.
For the cameras, though, they were buddying it up. After the meeting, the leaders gathered to celebrate Shivakumar's 62nd birthday. As he cut the cake, Siddaramaiah fed him a slice and posed for photos.
The high command sensed trouble. They wanted to avoid a repeat of Rajasthan (Ashok Gehlot versus Sachin Pilot) and Madhya Pradesh (Kamal Nath versus Jyotiraditya Scindia). Congress general secretary in charge of organisation K.C. Venugopal summoned them both to Delhi. Kharge was already there.
Before leaving for Delhi on May 15, Siddaramaiah told a news channel that he had the support of the MLAs. Sources close to Siddaramaiah said that he was confident about his claims and his original plan was to spend only that evening or the first half of the next day in Delhi before returning.
Siddaramaiah's statement irked Shivakumar. He cancelled his Delhi visit citing "stomach ache". During a press meet held at his Sadashivanagar residence, he said he might not have the support of a lot of MLAs, but, as party chief, he considered all 135 legislators his own. "I did not lose heart and fought alone, and saved the party when rebels deserted it in 2019," he said.
The next morning, Shivakumar took a flight to Delhi and a dig at Siddaramaiah. He said he was going alone. "A single man with courage is a majority," he said.
As the third party in this Karnataka equation, Kharge had to solve the matter quickly; a drawn-out fight would reflect badly on him as party president. Also, it was felt that if the discussions dragged on, the various leaders and factions could indulge in arm twisting. The central leadership did not want that.
Kharge wanted to make the decision through consultation. The basis of the discussions were the observers' report, the feedback they got from the MLAs, and the views of senior central and state leaders.
Kharge held a series of discussions, both in person and on the phone. He met the three observers on May 15. Party general secretary Randeep Surjewala and Venugopal were also present. In the absence of Shivakumar, Kharge put on hold his meeting with Siddaramaiah.
On May 16, Rahul reached Kharge's residence and reportedly told him that the MLAs' voices should be heard. Hectic discussions continued. Kharge met Shivakumar at 5:30pm and Siddaramaiah an hour later. The first meeting lasted 45 minutes; the next, 90 minutes. This was to be followed by a final round of discussions with the leadership before the announcement.
Party sources said Siddaramaiah was the frontrunner all along, given his mass appeal, the ahinda factor, his track record as an administrator, and his OBC identity.
Siddaramaiah apparently talked about the schemes he launched as chief minister and said that, with the Lok Sabha elections approaching, it was important to have a tall OBC leader at the helm―the Congress had promised a caste census and reservation for backward classes in its campaign, and these would be brought up during the national elections, too.
Shivakumar is said to have stressed on the role he played to revive the party and batted for generational change in Karnataka. He is learnt to have pointed out that with Siddaramaiah at the helm, the party had won just one seat in the 2019 Lok Sabha elections, which went to D.K. Suresh, his brother. He assured the central leaders that the party would win 20 seats in the Lok Sabha polls.
He also brought up the fact that he was always a Congressman, unlike Siddaramaiah (earlier with the Janata Dal (Secular)), and said that the former chief minister could not keep his government from falling in 2019. He even claimed that the ones who had defected to the BJP were Siddaramaiah supporters.
Sources said that the idea of rotational chief ministership also came up. Both contenders were apparently against the idea; it had not worked in Rajasthan or Chhattisgarh.
Congress leaders said the discussions also took into account the importance of accommodating three major communities―Lingayat, Vokkaliga and dalit―in the new government. The three observers had told the leadership that if these communities were not given enough space, it could backfire in the Lok Sabha elections.
The deadlock continued for the fourth day. May 17 saw hectic back and forth between 10 Janpath, where Rahul is staying, and Kharge's residence at 10 Rajaji Marg. Siddaramaiah went to 10 Janpath around 11am, leaving at 12.30pm, after which Shivakumar arrived and was joined by Suresh. Sources said that while at 10 Janpath, the two contenders also spoke to Sonia Gandhi, who was in Shimla and was scheduled to return to Delhi on May 20. Sonia apparently tried to convince Shivakumar to be part of the government, emphasising that it was important for the two leaders to be seen together before the Lok Sabha elections.
At around 1.30pm, Shivakumar went to Kharge's residence. He told Kharge that he did not want to be Siddaramaiah's deputy and insisted that he get the first go in case of rotational chief ministership. However, he was told that Siddaramaiah had to get the first chance as the MLAs were with him and the widely held perception during the elections was that he would be chief minister.
Shivakumar did not agree, and said that if he did not get the job, he would prefer to sit out and remain state party president. He even offered to be deputy if Kharge was made chief minister.
In a scenario that Shivakumar was not agreeable, there were suggestions that there would be three deputy chief ministers, one each from the Lingayat, Muslim and dalit communities. A 'draft invite' of the swearing-in ceremony also surfaced, saying that the event was scheduled for 3:30 pm on May 18. Party leaders later clarified that it was fake.
Shivakumar was said to be extremely upset with these developments and took it up with the central leadership. Sources close to him asked if these steps were meant to force his hand.
At this juncture, Surjewala rushed to address the media outside Kharge's residence and urged reporters not to speculate. Some time later, he also issued a gag order on leaders. He warned that any violation of this direction would be considered an act of indiscipline.
He also pointed out that no one had criticised the BJP when it took its time to decide chief ministers in Uttar Pradesh (2017) and Assam (2021). In the former, it took Prime Minister Narendra Modi and Home Minister Amit Shah eight days to zero in on the aggressive monk Yogi Adityanath. In Assam, the BJP needed a face to go with its hindutva agenda; it chose former Congress leader Himanta Biswa Sarma after a week.
Shivakumar spent most of the afternoon at Kharge's residence, where he also had lunch, before he left for Suresh's official residence. There, he was closeted with the MLAs supporting him before Surjewala called him for the final round of talks.
Siddaramaiah did not have any further meetings. But he changed his plans of flying back to Bengaluru around 3:30pm and stayed back. The message from the high command was that the issue was yet to be resolved. This was a clear indication that the party wanted Shivakumar to be part of the government.
Surjewala met Shivakumar around 8pm. This was the final offer―deputy chief ministership; no other deputies.
After this meeting, Surjewala reached Kharge's residence; Venugopal also joined them. Here, said sources, Rahul was brought into the loop. He had talked to his mother and conveyed her message about resolving the issue to Kharge. He passed this message on to the two main interlocutors―Venugopal and Surjewala―before they had their final talk with Siddaramaiah and Shivakumar.
Around 10:30pm, Siddaramaiah met Surjewala and Venugopal at the latter's residence. Shivakumar was then called for a meeting; he left around 1:30am.
Venugopal then told Kharge about the final outcome―Siddaramaiah as chief minister and Shivakumar his deputy―which he relayed to Sonia and Rahul on the phone. It was around 2am that the drama finally ended.
The bitterness of the negotiations gave way to smiles the morning after. The two seemed to have buried the hatchet and went for a breakfast meeting with Venugopal. An hour later, they went in the same car to Kharge's residence. A few minutes later, Kharge tweeted a photograph of all three holding hands to signal that all was well. The two also flew back to Bengaluru together in a private aircraft that Siddaramaiah was using.
Venugopal and Surjewala made the formal announcement. "The decision took time as the Congress believes in consensus and not dictatorship," said the former. "Both leaders are big assets of the Congress. Everyone has a desire to be chief minister and both leaders deserve to be one."
Insiders said that, behind closed doors, the leadership has devised a 50-50 power-sharing formula (30-month tenure to each leader) to placate Shivakumar. The Gandhi family has given him personal assurance amid apprehensions over Karnataka going the Rajasthan way. Apparently, it was after this conversation that Shivakumar softened.
When a television reporter asked him in Delhi if he was happy with the formula, he quipped, "The Congress has commitments towards the people of Karnataka. Parliament elections are also there. What to do? I bow to the AICC president and the Gandhi family. In the larger interest of the party, I agreed to the formula. Sometimes ice should break. Ultimately, we have a huge responsibility of delivering what we promised to the people."
―With inputs from Pratul Sharma