Exclusive interview/ Nita Ambani, founder and chairperson, Reliance Foundation
We are at Mumbai's newest landmark, the Nita Mukesh Ambani Cultural Centre, on a Monday evening. Preparations are in full swing for the award-winning Broadway musical―Rodgers and Hammerstein's The Sound of Music―which will begin playing early May. Ambani says this will be the first time an international Broadway production will be staged in India, and the entire team has flown down from the US and will stay for almost a month. Nita Ambani, who is personally involved with everything at the NMACC, has just held a mahurat puja ahead of the show, after which she meets us. It is 8pm on International Workers' Day, and Ambani looks radiant in a pink sari, as if her day has just begun. She is self-effacing and gregarious as she warms up for a candid conversation with THE WEEK, along with a mug of coffee.
"I don't even have any concept of what I do at this moment... between Mumbai Indians (her IPL team) and the stage puja for The Sound of Music. They (performers) were so taken in with the whole experience. They said it is better than any theatre they have performed in.... We should do anything that brings Indian art and culture into the spotlight. I talk as a mother and a grandmother. We don't want to lose all this," she says, her eyes sparkling with excitement.
The NMACC, which is a part of the larger Jio World Centre in Mumbai's plush business district of Bandra Kurla Complex, consists of the 2,000-seater Grand Theatre, the 250-seater The Studio Theatre and the 125-seater The Cube. The aim, says Ambani, is to provide an accessible space for the exhibition of Indian and international art and culture.
"I am sure that soon Indians will no longer have to fly to New York or London, to Broadway or West End, to enjoy the best of theatre. My and Mukesh's dream is to take our shows to Broadway. I think we should do our productions given that we have the skills and the talent," she says.
Ambani performed on stage at the Grand Theatre on the opening day of the NMACC (March 31). Recalling the hours she put into practice, she says, "I was practising for the NMACC opening and I used to make Aadhya, Isha's four-and-a-half month daughter, lie down on the cot thinking, let her soak in whatever she can absorb. I tell them, for me the interest (grandchildren) is more important and more precious than the principal (children)."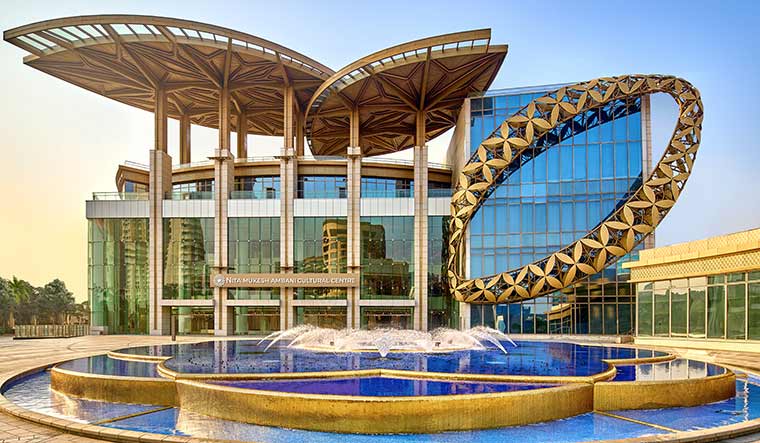 In an exclusive interview, Ambani talks about her passion for dance, sports, philanthropy and more. Excerpts:
Q/ The NMACC is going to be a game changer. How did you and your family envision and plan it, and has it come out the way you wanted?
A/ I had gone to Sydney and I saw the opera. I went for the guided tour to see not only the theatre, but also the transport and logistics, and of course all of us had gone as tourists to the Kodak theatre, which is now called Dolby. I said, 'Why can't India have something like this?' We have such a rich legacy of arts, including performing arts and visual arts in our country. That is where the dream started. I thought this is the place where I could do something for the country in the realm of the arts. It is actually a tribute to India and an ode to our heritage that we all have inherited.
I then started ideating with Mukesh about what we could do to bring the artist into the spotlight. For the opening show, most people told me to just get a Broadway production. But I was very sure that I wanted Indian artists and Indian art and that's how [the musical] Civilization to Nation was born. I roped in my friend Feroz Abbas Khan, whom I studied with in college. We used to act in college plays together and that time there was nothing for amateur artists. We really had no platform, no money or anywhere to display our talent. That is how the whole idea of The Cube and The Studio, which are incubators of talent, came about. They are very reasonably priced (tickets) and I think they are the soul of the NMACC. We worked nine years to put this together.
Q/ Do you have plans to take a similar concept to other parts of India?
A/ At this moment we are just breathing! But this is actually not in Mumbai, it is rather an ode to India. I think that is what we are seeing―people from all over the country are coming to experience this. Also, I have realised that we need smaller incubators of talent all around the country. Like the way The Cube and The Studio are doing. If I had to, I would replicate these two in smaller parts of the country. To cite an example in cricket, Mumbai Indians has scouted talent from small towns and villages―Hardik Pandya, [Jasprit] Bumrah and many of these boys came from really small towns and villages. We have Tilak Varma from the south (Hyderabad), who I am sure will play for India soon. If we can do this in cricket, we can do this for our arts and culture, too.
Also, many of our stars came from theatre. You have Naseeruddin Shah, Shah Rukh Khan and Anupam Kher, who performed at the Studio Theatre and said he hoped he had a stage when he was younger. [Writer] Javed Akhtar ji is also performing here. So, I am looking at establishing smaller hubs.
Q/ At the 'India in fashion' exhibit, a highlight at the launch of NMACC, there are originals contributed by Alexander McQueen, Dior, Saint Laurent and more. How did you convince them to get their outfits to India?
A/ They were very, very sceptical. Because first, these are museum loans. Isha thought of this idea and I told her it is a tall order. Then we got in touch with curator Hamish Bowles because we needed one person to help execute the idea. And being on the board of the MET (Metropolitan Museum of Art in New York), I realised it is not what you see outside―the aesthetics and the design―but what goes on in the back end that is very important. So, when we were making this, we realised we had to do things like get museum-quality air. Mumbai is so humid, and some of these costumes are more than 200 years old. We cannot risk that. So, the question was, how do you transport them? There was this whole transportation aisle behind. So, they come right in the trucks and don't get exposed to any of the polluted air. There was a lot of work behind the scenes. Some of the museums wanted to come here and see whether we were equipped to host this. They were pretty impressed. We also had challenges with transportation and logistics because of Covid. And everything was delayed. Even today, the US has a big problem with stock as things are not moving. So, post-Covid, when we opened up and started getting our shipment, everything was so delayed. Patrick Kinmonth designed the sets with our young designer Rooshad Shroff, an upcoming architect. We worked on an international scale, I think.
Q/ You are a trained dancer and an art enthusiast. How big a role does art play in your life?
A/ I started training for bharatanatyam at the age of six. When my father was looking for a place for the arangetram (graduation ceremony), where we go on the stage for the first time, there was no affordable platform available. So, I told him, 'Dad, don't worry about it, I'll just perform at a Matunga temple (Mumbai).' So that is where I did my arangetram. And from thereon, dance has filled my life with so much joy. My father-in-law, Mr Dhirubhai Ambani, saw me dancing. It led him to send me a proposal for Mukesh. So, dance led me to Mukesh and my family and it has led me to NMACC. Everything that I thought that a dancer and an artist would need, I put it here [at the NMACC]. The children from The Sound of Music are so excited; they say they have never seen dressing rooms like these.
Q/ What were your thoughts on the pricing of tickets?
A/ The pricing was very important for me. Just like the pricing for my hospital. I think it is so important for us to make art accessible to all Indians. Today, a group of young design students came up and said, 'Thank you for making this free for us.'
I think 50 per cent of our population is under 25. And we need to make all this affordable and accessible to them and let them decide their own future. That is what we are trying to do here at the NMACC.
Q/ Your favourite artist and why?
A/ When I was growing up, Balasaraswati was my favourite dancer. My mother used to tell me to watch her and see how disciplined she was and learn from her posture. My mother was a Gujarati folk dancer. Bhimsen Joshi, Zakir Hussain, Bismillah Khan and more... I grew up listening to all of them. That has always been my inspiration. Dance for me is my connection to divinity. It is my time for myself and all my children know that. I dance for 45 minutes every day, and my phone is switched off. It has been difficult to follow this in the past two to three years, but ever since the NMACC was launched, I have been at it every day.
Q/ One of the artists you helped become more widely known is Nasreen Mohamedi, who was born in Karachi and died in Mumbai, and whose line drawings have in recent times given her a reputation of a modern Indian master. But when you sponsored a solo show of her work at the MET Breuer in New York in 2016, she was not well known. How did you come across her work?
A/ Actually, when they were opening the MET Breuer, the MET came with a proposal of saying what would you like to look at. I was very sure that I wanted to promote Indian artists. Women have always been at the heart of everything we do at the Foundation. So, I expressed my wish that if the Reliance Foundation does have to sponsor it, we would like to sponsor Indian women artists. They came back with Nasreen, and I think it was just a fabulous opening. I think that whole journey of how we started our association with the MET is quite memorable.
Q/ In 2019, you became the first Indian trustee of the MET. How has your MET experience influenced your perception of art?
A/ First, as parents of young toddlers, we went to the MET as tourists. Every summer holiday I used to take them there and... one person thought I was actually working for the MET because he had seen me so often there with the children. I think we Indians don't have that museum-going culture yet, but when we go abroad we start visiting museums. So, it was always my thought to get the Indian community to develop that kind of culture.
When they said I could be part of the MET, it was a joyous moment because I get to see first-hand what goes behind all this. I think everything that they do is so people-centric, so visitor-centric. I think that is the takeaway. We need to make things that are accessible and affordable. We have a footfall of 5,000 to 6,000 [at the NMACC] every day. It is unimaginable we would get this kind of response. The thing is that the infrastructure opens out to people, you are not feeling congested. Those are the things I took back and I understood what it takes to mount such a big exhibition.
Q/ What can the art world in India learn from western institutions like the MET? What could be some of the best practices we could adopt to expand our relatively fledgling initiatives such as the Kochi Biennale?
A/ I think more private corporate involvement will help. Existing infrastructure could be updated, and the corporates can help in doing that. I think we have enough talent; we just need to shine the spotlight on them.
Q/ Why is design so important in our lives―in what we wear, what we build, and for the products we make?
A/ I think after seeing 'India in Fashion', you will realise how important design has been for centuries. Design has a language of its own. I have my four-and-a-half-month-old babies (daughter Isha's twins) and as soon as they start observing the world, they start taking in certain likings to certain patterns and colours. That is how design enters our subconscious. I think Indian aesthetics are the best aesthetics for design. We are soon getting Tanjore paintings here at the NMACC. I didn't realise that one person in Kashmir sits down with a shawl for seven years of his life and we just wear it and don't realise the effort that goes into it. Even for a Paithani sari, it takes a family six months to work on one sari. I think we should be proud of the aesthetics and design we have inherited as a country. In the past ten years, I have become so sensitised to our Indian weavers. Like the Kashmiri carpets didn't sell for three years during Covid. I sent the Foundation team and they (weavers) expressed their gratitude. So wherever I can, I try and wear an Indian weave to just promote it as much as I can... contributing whatever I can in my own humble way.
Q/ You are tracking the growth of the International Olympic Committee. What are the two or three most important reforms needed in the next few years?
A/ I don't think we need to look at reforms; we need to look at opportunities that India will have in the next few years. I mean we are a country of 1.4 billion. And we cannot be ignored, internationally. We should look at this as an opportunity for us to start with our grassroots programmes in India. We need to start very young. A gold medal happens after many years of dedication and that is what we need to do. We have a centre in Odisha, where Jyothi [Yarraji] became the fastest Indian women hurdler. Her mother is a housemaid and her father is a security guard. You just have to give them the means. As my father-in-law used to say, 'Give our youth the proper environment and support and they will shine.' That is what we need to do for the Olympics. We really need to start at the grassroots and introduce sports and the [related] values. Every child may not become an Olympic gold medallist, but every child can have the values of an Olympian.
Q/ Is India ready to bid for the Olympics?
A/ Why not? I think we are ready. I am 100 per cent sure that our youth will deliver given the way we are going now. Our biggest examples are France and Los Angeles, in that we don't need to build new infrastructure. And, talent in India is ample. So, we are so happy that we bid for the IOC session and that it is happening at the NMACC. We had only one vote against us; 75 votes were in favour of India. The session was held in Delhi 40 years ago and now they are coming back to India. I hope we make a good impression on them and I am sure India will do a great job by 2036. Even if we get the youth Olympics, it will change the youth of our nation. It is not only children who have to be convinced that they have talent, but it is the parents, too. The mindset of the parents must change to see that sports can also be a career. Many parents stop their children from playing games the moment they reach the board exams. But that is the time you actually need to invest in them.
Q/ Do you see this change in mindset happening after the coming of the Indian Premier League and the Indian Super League?
A/ I think what the IPL has done is that it has got sports into everyone's homes. Yashasvi Jaiswal (Rajasthan Royals) hit 124 yesterday. He comes from a very humble background. These stories go back to parents.
We have a football programme, Young Champs, for kids who come from all over India and stay with us. We had the first graduation and all of them have been absorbed by clubs. It will take time, but we need to now give it a little push. I think education and sports go hand in hand. A child learns as much on the field as he does inside the classroom.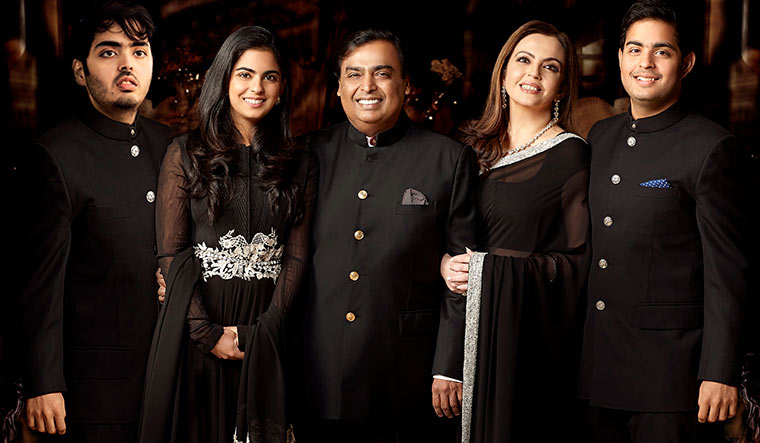 Q/ A recent Mumbai Indians match was dedicated to underprivileged girls. The participation of Indian girls in football and cricket remains low. As the owner of MI and the NGO Education and Sports for All, how do you hope to reverse this situation?
A/ We just held the women's Under-17 football World Cup in India. The Women's Premier League is quite dear to me. I realise that these girls come from various backgrounds and don't have normal shoes and have to travel for hours to go to some training facility and then wait till they get noticed. I think the Women's Premier League was an important education for me to say that sports for girls is so basic at this moment. And yet, so many of our Olympic winners have been girls.
But, to be honest, we are a cricket-obsessed nation. The IPL has encouraged other leagues to come up. We now have leagues in kabaddi, badminton, tennis, football, etc., and people are getting more exposed to various sports.
Q/ It has been a decade since the ISL started. It has no doubt fostered club loyalties and created regular income for a pool of domestic players. However, do you think it has helped Indian football as much as it was hoped?
A/ We certainly have created club loyalties for sure and unearthed a lot of new talent. We were 171 in the world rankings and now we have come to 101. We qualified twice for the Asia Cup. But again, as I said, India is obsessed with cricket. We do have Kerala, which is a very strong base for football, as are West Bengal, the northeast and Goa. We are also seeing a lot of grassroots growth in Bengaluru, Chennai and Mumbai. But ten years is a very small time. Work is in progress.
Q/ We see you at MI games often. How involved are you with the team?
A/ My heart is with the team, but now Akash kind of manages it. He has taken the team international―we have the MI UAE, MI South Africa and MI New York. I am hands on with the women's team at the moment. But whenever he needs me, I am always there. I just had a bonding session with the boys day before yesterday. They said, 'Ma'am, you have to do one every time.'
Q/ MI now owns teams in multiple leagues around the world. So do some other IPL owners. Are we heading towards an inevitable takeover of cricket by T20 leagues?
A/ I am a big follower of Test cricket. But I think the youth enjoys T20 because it is fast. T20 has also brought sports to everybody, across ages and gender. My mother, 89, travels to every state. She has not missed a single MI match. I must have missed some, but she hasn't. So I think, in that way, the IPL has been great.
Also, the kind of talent these leagues have discovered is immense. We have a Sanju Samson, Hardik and Krunal Pandya, Aditya Tare and more. Tare is the son of a fisherman. So, when you bring all these people to the mainstream, it becomes so exciting and gives everyone a livelihood. In the Jio Institute, I have introduced a two-year programme in sports management because it is such a need. Every team has to have 20 people as support staff. So imagine the employment we are creating with all these leagues in sports. We start our first batch in sports administration this July.
Q/ The Reliance Foundation works in so many areas. Tell us about the initiatives that are closest to your heart.
A/ I love going to the villages. I would encourage everybody to come spend one night in these villages. When you make that village sustainable and then move on to another village, it is the most overwhelming feeling. We have stories of women being sole breadwinners. For instance, Vajaben from Nethra village (Gujarat), who grew a whole vegetable garden and then started selling those vegetables... she was [abused] in her marriage and she fought for her rights and went on to become the president of the village association. So, rural transformation is at the heart of what the Reliance Foundation does and so is health care. We have the Reliance Foundation Hospital and we are building one more. Urban renewal is something we have done with the NMACC.
Q/ You are known as a philanthropist, educationist, businesswoman, promoter of sports, arts and culture, a teacher and a dancer. What's next for Nita Ambani?
A/ To bring the Olympics to India.
Q/ How do you multitask? Please take us through a day in your life.
A/ I think it's my mother's and father's blessings. My father was a very compassionate and gentle person who never lost his cool. So one thing I have learnt is that I never lose my cool. If I had to lose my cool, I think about my father who would say there is no need to. He used to take me to the slums and was a big animal lover. He would go to Crawford Market and bring those caged parrots and would take them to the Borivali national park and release them. We were a very middle-class family with a modest background.
I also write down a lot of notes. I literally sleep with a notepad. I have daily, weekly, monthly and yearly lists made. In the yearly list, the priority was Isha's pregnancy and NMACC. I tease Isha and her in-laws that the first words the kids are going to say will be NMACC because right through her pregnancy she was into it.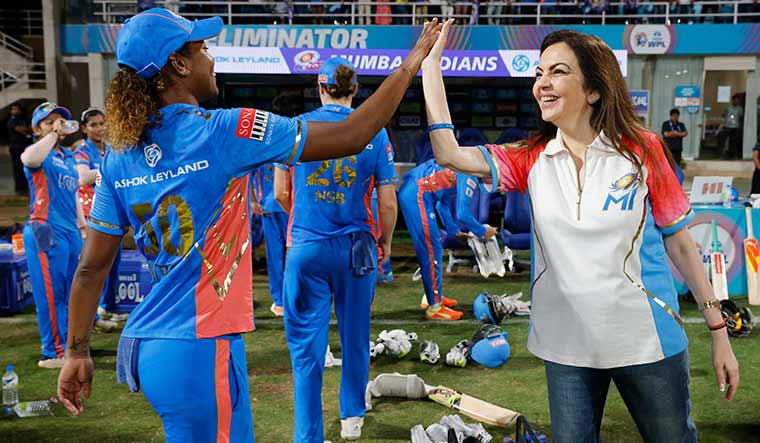 Q/ Between you and your husband, who is cooler?
A/ I'm the coolest.
Q/ How involved are you as a grandparent?
A/ Akash keeps on telling me, 'Mom, you have to remember you are not the mother.' But I am as hands-on as any grandmother would like to be, while also giving enough space to the parents to do their things. So luckily, I don't have to discipline them now, that is the parents' job. With my children, I was very conscious. My job is to give them unconditional love.
Q/ Do you want to see your children imbibing the values of humility and groundedness like you?
A/ Of course I would want my children to be very grounded. I believe children absorb what they see around them. Mukesh and I share common values because neither of us grew up in wealth. We raised our children with the middle-class values we imbibed from our parents and grandparents. I lived in a joint family and my grandfather was a French professor and worked for the Birlas. My grandmother was a Gandhian. A highly principled lady. So I think, as grandparents, we have the responsibility of transferring the values to our children, which they will learn from us.
Q/ How do you see India changing in the next few years and what role will Nita Ambani play in this change?
A/ I want to represent the youth of our country. I want to see that our children can dream and aspire to be whatever they want to be and achieve those dreams. We have so much talent in India and I think all of us collectively have the responsibility to see that they fulfil their dreams.
Q/ We all have read about how you and your husband came to be together. What does it take to keep it going strong?
A/ I think we are best friends. We share very similar values. We don't have conflicts. We have an intergenerational home. I have my mother-in-law, my mother, us, my daughters-in-law and my grandchildren all staying in the same house. [And] Mukesh and I are so alike. I think we have shared dreams for India.