Exclusive Interview/ Mallikarjun Kharge, Congress president
The crucial Karnataka assembly elections, on May 10, will set the tone for a hectic electoral season culminating in the Lok Sabha polls of 2024. That Mallikarjun Kharge, the Congress president, is from the state makes it all the more significant for him that his party defeats the ruling BJP.
In an exclusive interview at his Bengaluru home―where he made a pit stop before embarking on another election tour―Kharge spoke to THE WEEK in great detail about not just the Karnataka campaign, but also the national issues that confront him and his party. Excerpts:
Q/ The Congress has set a target of 150 [of 224] seats in Karnataka. What makes you confident of achieving this target?
A/ We want nearly 150 because, nowadays, governments with a thin margin are unstable, particularly after the BJP has come to power at the Centre. They are misusing various agencies to topple state governments. They ask MLAs to merge with their party, resign and get re-elected on their ticket. Therefore, we have set a target of 150 seats.
Q/ Is there a fear that the BJP could launch 'Operation Lotus' in Karnataka yet again?
A/ Their track record is like that. Not only Karnataka, they have done it in Maharashtra, they tried it in Rajasthan, they have done it in Manipur, in Goa. That is why, to have a stable government, it is necessary that we have these many MLAs.
Q/ This election must be especially significant for you not just because you are Congress president, but also because this is your home state.
A/ I worked here for nearly 40 years as a legislator, as an opposition leader, as a minister, as state Congress president, and then I went to Delhi as an MP. And now, fortunately, with the blessings of Madam Sonia Gandhi and other delegates, they supported me and I got elected as AICC (All India Congress Committee) president. But I alone cannot bring 150 or a majority. I believe in collective leadership unlike some others who declare 'Main akela hi bhari padta hoon sab pe (I alone am enough for everyone; in reference to Prime Minister Narendra Modi's speech in Parliament)'. That shows ego.
We should also recognise the work done by our grassroots-level workers. On the day of polling, our workers have the main role. They are our main pillars.
Q/ The BJP's election management is often talked about. How do you plan to counter that?
A/ For five years, all our leaders in the state―our Congress Legislature Party leader, state president and others―have toured entire Karnataka. But yes, I agree that we do not have muscle power or money power or the ED or the CBI. That is with the BJP, and they are misusing the institutions and threatening our people. You must have seen how Rahul Gandhi's disqualification was carried out with lightning speed, like a surgical strike.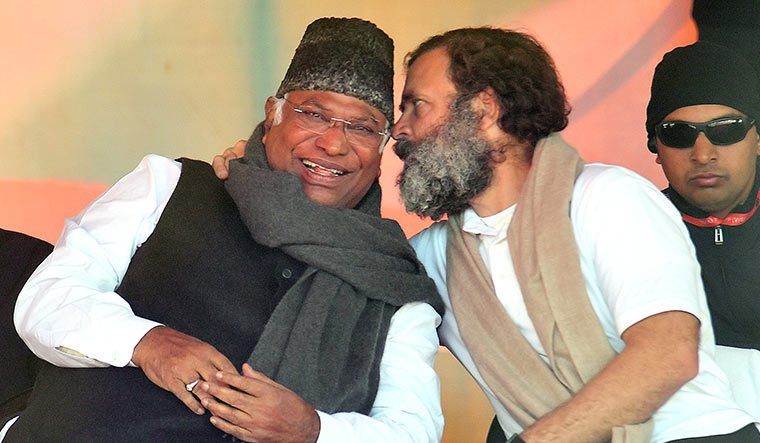 Q/ Would the disqualification of Rahul Gandhi as a Lok Sabha member be a factor for the voter in Karnataka?
A/ We do not want to talk about it much here. We will fight in the house and outside through party programmes. Here, we will fight on the issues of Karnataka, like corruption or how the government did not care about law and order or improving infrastructure or bringing in investment. Whatever we have here is because of the previous Congress governments. I saw on television that [Union Home Minister] Amit Shah was talking about bringing a metro [rail system] here. But the metro is already running in Karnataka. They talk about double-engine sarkar, but they do not release money for MNREGA (Mahatma Gandhi National Rural Employment Guarantee Act) and other programmes.
Q/ Would Prime Minister Modi's campaign make any impact?
A/ He has visited Karnataka six or seven times in the past three months. Parliament was in session, but he was inaugurating something or the other here. Every government function that the prime minister attended was paid for by the taxpayers and was converted into a campaign rally. But he will be exposed. People will see through his hollow talk. Unfortunately, he does not take questions.
Q/ The Basavaraj Bommai government changed the reservation policy, doing away with reservation for Muslims and rejigging the quota for SC/ST communities and others.
A/ As for SC/STs, you have to give reservation proportionate to population. That was pending. About quota for the minority community, their status is the same as dalits or backward class people. That is why 4 per cent quota was given by the Congress government. They snatched it. They did this to polarise [voters]. They are insulting the minorities and we are fighting for them. Definitely, when we come to power, we will give reasonable reservation to everybody who needs it, according to the rules.
Q/ What is the alternative model of governance the Congress is offering?
A/ The Congress model of governance has always emphasised on inclusive and equitable growth, industrialisation, and health and education for all. We have given four guarantees: 'Gruha Jyothi'―200 units of free electricity every month to every household, 'Gruha Lakshmi'―Rs2,000 each month to the female head of every household, 'Anna Bhagya'―10kg rice to every member of the family, every month, and 'Yuva Nidhi'―Rs3,000 for every unemployed graduate and Rs1,500 for every unemployed diploma holder every month for a period of two years. We will implement these guarantees in our first cabinet meeting.
Q/ There are many chief minister aspirants in the Congress. The focus is especially on the rivalry between Siddaramaiah and D.K. Shivakumar.
A/ Nobody is above the party. Individuals may be aspirants. Ultimately, the legislature party and the high command will decide who the chief minister should be. I congratulate both of them (Siddaramaiah and Shivakumar). They are working for the party. There are others also whose names may not be coming to the forefront. We have good teamwork.
Q/ Is there a possibility that you could become the next chief minister of Karnataka?
A/ No. I have worked for the party for 52 years. If a man, when he wanted or desired something, did not get it at the time, there is no point in coming back to it. I have gone to the Himalayas. Now, I do not want to come to Kanniyakumari. As Congress president, I am responsible for bringing the Congress to power in the state elections and eventually at the Centre in 2024.
Q/ Will this remain an unfulfilled dream then?
A/ Part unfulfilled. When I joined the party in 1969, it was because Indira Gandhi's 10-point programme and Nehruvian ideology attracted me. I became block Congress president, DCC (District Congress Committee) president, PCC (Pradesh Congress Committee) president and now AICC president. If the ideology I believe in is implemented by X or Y, that is enough for me.
Q/ So you are saying that you are above the fray?
A/ It is like [the life of] Babasaheb Ambedkar. He did not become prime minister. He was not aspiring to be cabinet minister. His sole objective was to get into the constituent assembly and fight for dalits' rights. That is my motto, too. Article 371J (granting special status to backward districts in Karnataka), which I brought, no chief minister could have done.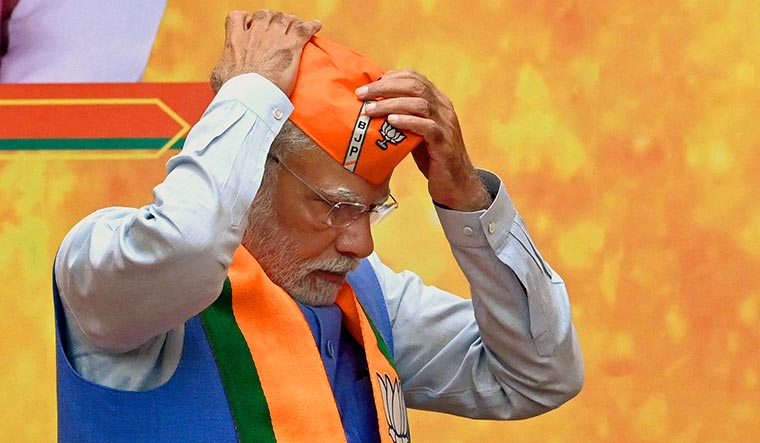 Q/ Do you feel the Karnataka elections are going to be important in terms of national politics?
A/ If the Congress wins here, its effect will definitely be all-India. The mood of the people will be known. And apart from that, also whether people want change or the same corrupt government and the politics of exploiting caste and religious sentiments.
Q/ The Bharat Jodo Yatra passed through Karnataka. In this election, are you seeing any impact of the yatra?
A/ Yes. There is tremendous impact. Rahul Gandhi's yatra united people and created awareness in the country, not only for the Congress. It awakened citizens to their rights.
The yatra had one of the longest spells in Karnataka. From the first week of last October, our leaders and cadres have been active on ground.
Q/ Has it had an impact on Rahul Gandhi's own image as a leader?
A/ Some people are determined to destroy his image. While we in the party always knew about his commitment to people's causes, and his fearlessness, what has been a revelation to the world is his resolve and endurance. He walked 4,000km at a stretch, meeting and interacting with millions of people. He brought the cadre and civil society from across the country together. He is our force unifier. The impact of the yatra has been huge. That is why the response from the BJP government also has been so huge. Every day, the BJP deploys a dozen Union ministers and chief ministers only to comment on Rahul Gandhi. These people who cannot walk even 50km criticise him and say he was born with a silver spoon.
Why does the BJP criticise only him? Because in their mind, if the image of Sonia ji or Rahul ji is damaged, the entire Congress will be finished.
Q/ Will there be part two of the Bharat Jodo Yatra soon?
A/ Yes, the second phase will be there.
Q/ The Congress says Rahul Gandhi's disqualification as MP is political vendetta. But the BJP says it is the result of a legal process.
A/ I will give you one instance from Gujarat in 2013. A case was filed against Naranbhai Kachhadiya (MP from Amreli). He slapped a dalit doctor. He was convicted by the magistrate court. His appeal was not upheld in the sessions court. He appealed in the High Court, which also rejected it, and he got punishment of three years and 10 months. Modi was kind enough to continue him as an MP. Not only that, in 2019, he was again given a ticket. So, you have one law for your man, another law for the opposition.
Rahul Gandhi is speaking the truth. You do not tolerate it. You want to finish him. He should not attend Parliament, that is your motive.
Okay, that is in the hands of law. But why did you ask him to vacate his house within 30 days? You did not ask the others, your pet people. You gave them an extension. [Even] his phone was disconnected that very day.
Q/ Any concerns that he might not be able to contest the 2024 Lok Sabha elections?
A/ The fact that he is the only person in India's history to have been sentenced to two years for defamation makes it a case of disproportionate punishment. We are confident that the honourable judges will notice this. He specifically mentioned three names. None of them filed a case.
Q/ The disqualification has brought opposition parties together. You hosted a dinner meeting for them.
A/ We want to unite all of them to save democracy, protect the Constitution and protect citizens' rights. Whoever wants to support this idea can join in. I am thankful to all the political parties. They responded well and put forth their views. We are trying to call everybody and have unity based on a common minimum programme.
Q/ Leaders like Nitish Kumar and Sharad Pawar have talked about reaching out to parties like the Bharat Rashtra Samithi, the Aam Aadmi Party and the Trinamool Congress. Can some electoral understanding be possible with these parties?
A/ I had requested Nitish Kumar (Bihar chief minister and Janata Dal (United) chairperson) to talk to some parties with whom he is comfortable. I also requested Pawar ji (Nationalist Congress Party president) to talk to some people who are comfortable with him. Suppose Mamata (West Bengal chief minister and Trinamool Congress chairperson) is comfortable with Nitish or Pawar, let them speak to her. I have also spoken to many people. We are trying our best to unite everybody.
Q/ There is a proposal about having one opposition candidate per seat against the BJP.
A/ Let us see what programmes come up in the meeting [of opposition parties] after the Karnataka elections. Then I will speak on this.
However, all likeminded parties have to agree to do so. It is largely possible. Everyone will need to pay a small price, but that price is nothing before the larger cause.
Q/ At the national level, there is this perception that Modi is still unchallenged.
A/ What percentage of the vote has he secured and what percentage has the opposition secured? He did not cross 50 per cent. He is at hardly 36 per cent.
Also, look at his conduct in Parliament. He is taking Parliament for granted and in turn taking the public for granted. He will not reply to even one question the opposition asks. It is because he knows that if he places wrong information on the floor of the house, he will be challenged unlike in his public rallies. Rahul Gandhi asked him questions, I asked him questions, what was his response? Both our questions got expunged. Finally, Rahul Gandhi is disqualified as MP. Modi is just a PR bubble that will burst one day.
Q/ In Karnataka, you have spoken about a caste census. Will that be the main plank of the Congress in the Lok Sabha elections, too?
A/ We will talk about it everywhere because a caste census will give you a better idea about forming new schemes. We will know how particular castes have fared after independence, their per capita income, how many are landless, how many are graduates, how many are employed. And then, you will have better planning for those sections.
Q/ Is the Adani issue resonating with the public?
A/ We are not raising the issue much here (Karnataka). We are concentrating on local problems.
Q/ Beyond Karnataka, would it be a major issue for you?
A/ It will, because it is about people's money being at risk. How they (the Modi government) have behaved so far (with regard to the demand for a joint parliamentary committee to investigate the Adani issue), you people have seen it. They did not even spare journalists.
Q/ How do you see the revelations made by former Jammu and Kashmir governor Satyapal Malik on the 2019 Pulwama attack?
A/ If we would have said something, they would say 'Desh drohi jaise baat kar rahe hain' (they are talking like traitors). Their own man is speaking. After all, Prime Minister Modi personally appointed him governor. Now that same person has raised questions related to national security. What Malik has said is very serious.
We stand with the government on all issues of national security, but when a person who was the constitutional authority raises some questions, the government has a duty to be accountable to the nation.
Q/ In another election-going state, Rajasthan, there is a tussle for power between Chief Minister Ashok Gehlot and his former deputy, Sachin Pilot.
A/ The Congress government in Rajasthan is doing good work. Their landmark decision to announce 19 new districts and the Right to Health Scheme are extremely popular. People have welcomed the old pension scheme.
There are some issues regarding the demand for investigation into allegations of corruption in the previous Vasundhara [Raje-led BJP] government. I am told that the allegations are being inquired into.
Q/ Are efforts being made to resolve the differences?
A/ The party is much bigger than an individual. Whatever differences there are will be settled internally. We are confident that all leaders will come together and the Congress will be re-elected.
Q/ The Congress Working Committee elections did not take place at the Raipur plenary. Political observers call it a lost opportunity.
A/ We had a proper organisational election that proves there is internal democracy in the party. In view of the current circumstances, all AICC members decided to authorise the Congress president to nominate CWC members. It is not a lost opportunity. It is an opportunity to ensure that a CWC that represents all sections of society is in place to guide the party to fight the 2024 elections.
Q/ It is proving to be a long wait for the new CWC to be formed.
A/ We will do that soon. There were important events, the Bharat Jodo Yatra, the disqualification issue and the JPC, which we were fighting for. Therefore, it got delayed. I realise that. I also feel sorry about that. But we will do it quickly after these elections.