Hazy air encircles Camp 11 in the Ukhiya subdistrict of Cox's Bazar, 400km south of Bangladesh's capital Dhaka. There is ash everywhere, covering the smouldering remains of hutments destroyed in a massive fire on March 6. A cloud of emptiness sits heavy on the inmates. Zuhura Begum's eyes reflect it: they look vacant, just like the land around her, which hosts the world largest refugee settlement. Nearly 12 lakh Rohingyas from Myanmar live here in multiple camps; everyday life remains a struggle.
"What is left?" asks Zuhura, leaning against the bamboo poles that once held her house together. Trying to console her five-month-old baby, Zuhura says she is not able to feed him. "I cannot produce any milk. The rations are not enough."
Zuhura, 24, has been surviving on rations from the World Food Programme (WFP) of the United Nations. Her family has no source of income. The fire destroyed her shelter as well. Her only remaining possessions are in a trunk that she carried with her while fleeing Myanmar―mostly documents.
A family of four gets about 10 kilograms of rice and lentils each month at the camp. But that is only for those with ration cards, which Zuhura's family does not have. "We left everything behind in Myanmar and now what little we have is also taken. This is witchcraft," she says.
Some distance away, at Camp 4, we meet 25-year-old Anwar Hasan. He thought he had lost everything when he was in his homeland―the Rakhine state of Myanmar, which is about 100km from Cox's Bazar. Nearly six years after he joined a huge wave of Rohingyas fleeing to neighbouring Bangladesh following persecution from Myanmarese authorities, he is now worried about his future.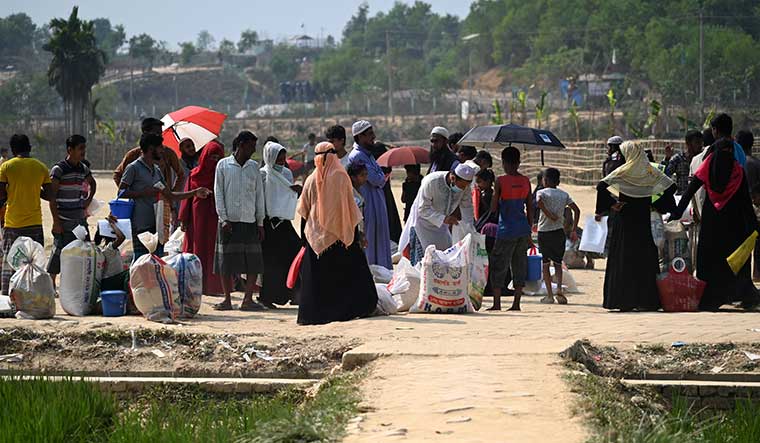 "In Rakhine, I lived near a police station and a school," his memories race back. "On the night of August 25, 2017, security forces arrested a schoolteacher. They took him to the main road and killed him for no reason, in front of many people. After seeing this, people decided to flee. It was not safe anymore."
That day continues to haunt the refugees. "The military and the police started burning down our houses," says Anwar. "One of the military officers called our local leader and asked him, 'Which one of you is a terrorist?' They kept saying that they will burn down our homes unless we identified the terrorist," says Anwar, who now works as a technical assistant for a microfinance company. "They hate us because we are Muslims."
Anwar recalls growing up in the village of Kyun Pauk Pyu Su, where he would play chinlone―Myanmarese football played with a ball made from interwoven pieces of cane. "Our school had a huge playground with a banyan tree. We would sit under its shade when it got too hot. There would be markets twice a week―on Wednesdays and Sundays. We would buy vegetables, fish and meat needed for the week," Anwar remembers. Suddenly, unhappiness sweeps his eyes. "I don't like living here. Life was a bit tough in Myanmar, but it was better. Life in the camp is merely survival."
The oppression of the Rohingyas worsened after the junta took over. Sectarian violence between the Rakhine Buddhists and the Rohingyas erupted in June 2012. "I was a student then," says Anwar. In August 2017, the Arakan Rohingya Salvation Army, a Muslim militant group, launched assaults on 30 police outposts and an army base. This triggered the brutal military crackdown, in which thousands were killed. Most Rohingyas soon fled across the border to Bangladesh.
At the camps, there are fences everywhere. And they exist in the minds of people as well. Children can be seen scavenging through the debris left by the fire. I hear a scream, "Don't go there, don't touch that! It might still be hot!"
Fear is all pervasive inside the camps. As dusk settles, Fatima Khatun, 21, trundles back home. "It is time to head inside. It is not safe for us (women) after sunset. We live in seasons of fear―of being raped, of fire, of cold during winter, of floods during the monsoon. Then there is the fear of being turned away."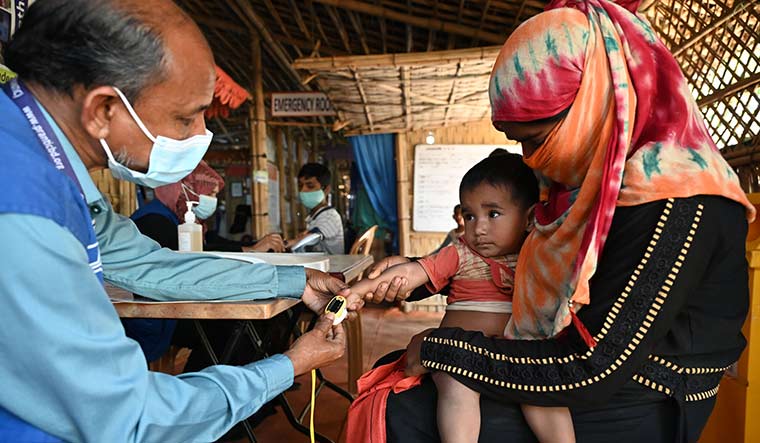 Living in squalid conditions, most refugees are hesitant to call Bangladesh home. It is only a temporary shelter for them, until they "learn to fly out", in the words of 45-year-old Hasina Begum. For the past five years, they are surviving on handouts from the WFP and support from several NGOs, spending their days in an open prison.
"What kind of lives are we leading? Our children born in the camps have nowhere to go. They have no future," says Ro Mehrouz, a 23-year-old poet. "They have not seen the inside of a proper school. They probably wouldn't know that there is life outside. As they live such a life, in such conditions―in fragile homes, surviving on rations―what kind of persons would they be when they grow up? Would they fight for bigger things like their rights, or fight for a drop of water?" asks Mehrouz.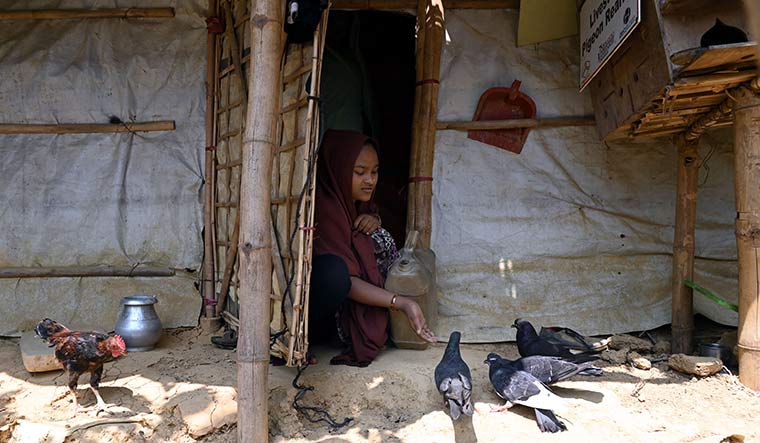 The human instinct makes many of them adjust, and even fight for themselves. At 15, when girls normally gear up for high school, Musana Ara rears pigeons for meat. The sole earning member of her family, she was given 10 pigeons by OBAT Helpers, a US-based non-profit organisation. She recently sold three pairs for about 2,100 taka (Rs1,600).

Musana spent some of it to buy clothes and gave the rest to her father. Her family consists of five people, including her parents and two brothers.
The shelters at her camp are cramped, often a family of seven or nine sharing a room. "It is difficult to prevent infectious diseases caused by overcrowding. There is lack of proper health awareness," says Dr Jonayed Hossain, a health coordinator. "Some basic facilities are available, but they are not sufficient. Patients are often referred to a hospital in the town for better treatment. The process is time consuming. We also receive a number of patients who need psychological management, but the number of specialists is limited," he says.
Hossain recalls his meeting with a victim of marital rape. "Ayesha visited us with her mother. She complained of random pain, lack of sleep and loss of appetite. When the physician asked her more questions, her eyes welled up. After a lot of cajoling and reassurance, she talked of the incident that caused it. It was a case of 'intimate partner violence'. She was referred for further treatment and counselling."
A doctor attached to OBAT Helpers says women are usually reluctant to report cases of domestic violence. "It is difficult for physicians to confirm whether a patient might have been abused," he says. Adding to the woes is gang violence. "Dozens of community leaders have come under attack and several have been killed. There are reports of sexual violence, extortion, abduction and forced marriage," says Meenakshi Ganguly, South Asia director of Human Rights Watch.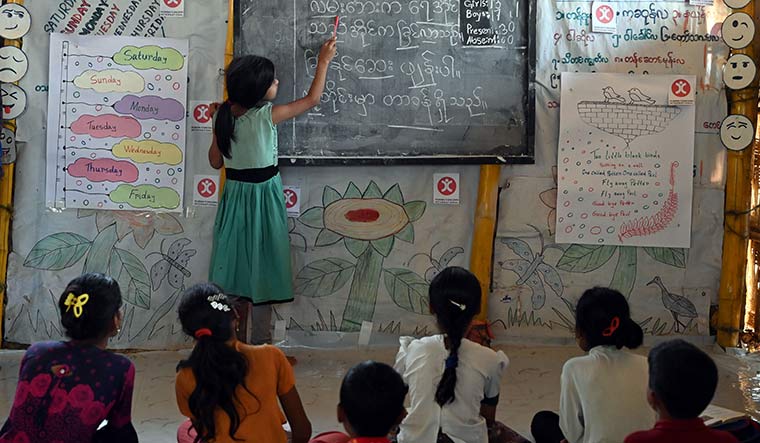 Moriam Khan, 60, who came to Bangladesh in 1991 to escape persecution, says she fears for the safety of the women in her family. "The prospect of gang violence makes me anxious. I worry that my shelter might be burned," says Moriam, who has spent more than three decades in a refugee camp. Fires have become commonplace in the camps. According to a report by the Bangladesh defence ministry, there were 222 fire incidents between January 2021 and December 2022, including 60 cases of arson.
"There is no real opportunity for education and jobs, which leaves young people vulnerable to recruitment by criminal groups. In addition, there are various factions among the Rohingyas that target each other. There are groups that engage in human trafficking and smuggling of recreational drugs," says Ganguly.
Mehrouz says the Rohingya youth do not abuse drugs. "They are made to carry drugs. Sadly, this is why drugs have become associated with the community. But law enforcement needs to understand that they only carry the drugs to survive―most of them are paid well to carry drugs. The gangs that force the youngsters should be arrested."
The main reason why many of them end up as drug traffickers is that there are no good employment opportunities or hobbies available for them. Mehrouz says the Rohingyas face a pitiful existence. "We wake up and have breakfast, depending on the rations we are given. Those who are employed will go for work―mostly as volunteers or some NGO job. They would return in the evening and go to sleep early, because there is nothing to do."
Some see a silver lining amid such purposeless existence. Khatun is grateful that she is at the camp. "Life in Rakhine was not nice. We always lived in fear." She is thankful to the Bangladeshi government for opening its doors. Khatun, who lives with her husband and two children aged four and 11 months, invites us home. Her hut is about 10sqft―a running cloth partitions the dwelling into living space and a tiny kitchen. There is an LPG stove on the floor.
"I am making dal today," she says, while her toddler plays on the floor littered with vegetable peels. "We are a family of four, but we manage." Her immediate neighbours―her parents and her in-laws―peer through the door. "They have so many questions," she says. Her toddler starts tugging at her skirt―he wants his mother's attention.
Hasina Begum, who lives at a nearby hut, fled to Bangladesh because the Myanmarese military used to beat up her son and husband. Hasina, who suffers from Hepatitis C, says she would like to work. "They teach sewing at the women's centre. I would like to earn a living," says the 45-year-old. She hopes to get her daughter married when she turns 20. Her son, Abdullah, 16, says he wants to teach at a madrasa. "I want to spread the message of Islam as I am grateful to Allah."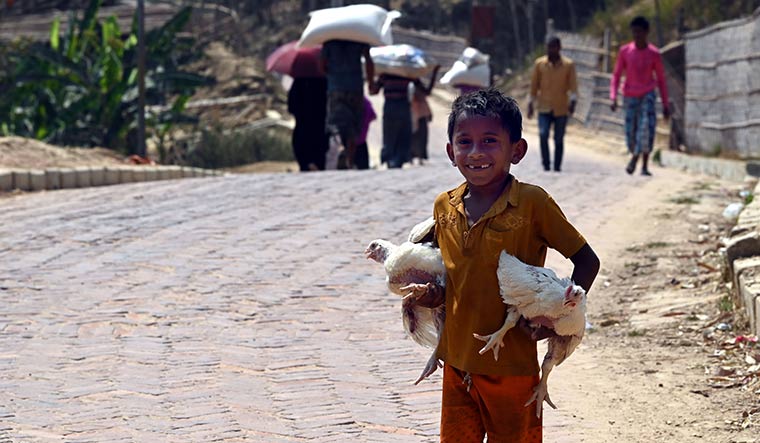 There are many more like Hasina who count their blessings amid the haze of hopelessness. Moriam Akhter, 18, who came to the camp in 2017, learnt stitching at the Rohingya Women Adolescent Empowerment Association. She wanted to learn stitching while she was in Myanmar, but restricted movement and lack of funds stopped her from doing so. When she reached Bangladesh, she heard that NGOs were providing training in stitching and she signed up.
"This is a dream come true," says Moriam. The teenager, one of five siblings, lives with her mother. All her sisters and brothers are married. "I am likely to get married in two years. My skill will help my family―it will bring in some income, irrespective of whether my husband earns. Moriam stitches children's clothes, kurtas and pants and earns up to 3,000 taka (Rs2,300) a month.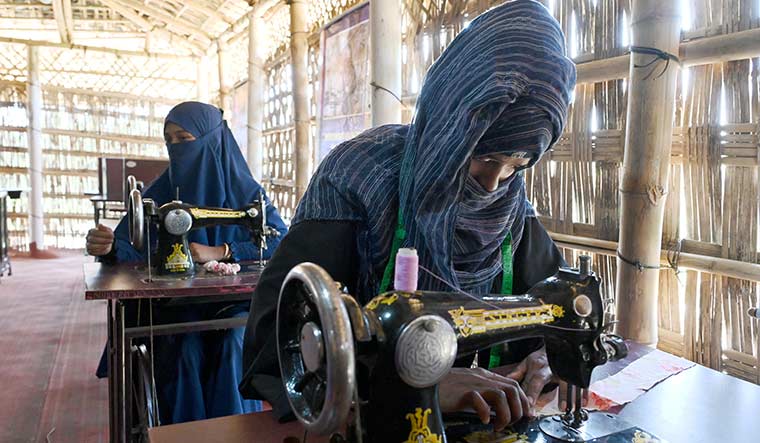 The women empowerment centre is busy―as we walk in there is the clatter of sewing machines melding with the chatter of women. There is a class in progress where girls are singing a Myanmarese song. Noor Akhter, the community leader, shows us around. "Making women aware of menstrual hygiene was a challenge," she says. "They were given sanitary napkins, shown how to use it, but they were initially reluctant."
Akhter says most families do not send their daughters to schools, creating a major problem. "Even if they do, they usually study only till class five. Sometimes, even if girls get educated, they are not allowed to work. Then there are safety concerns―especially the threat of sexual violence. But now, such instances have come down. Domestic violence, however, is on the up. Often, men do not work due to lack of opportunities. Women bring in income with the help of livestock farming or stitching and this causes tension in the family. Husbands tend to physically abuse their wives," says Akhter. Rafiqul Kader, a volunteer with the NGO Prantic, says the risk of human trafficking has grown, especially with the growing trend of migration, especially to countries like Malaysia.
We come across a makeshift school, which is actually a shelter turned into a classroom. Children between ages seven and nine are singing Myanmarese songs. Mohammed Alam, 30, has been serving as a teacher since 2018. He did some of his training in Myanmar and finished it after coming to Bangladesh. "We are teaching the Myanmarese curriculum, not Bangladeshi. We want our kids to be equipped with what might be useful once they return home," he says.
Hope refuses to fade amid the difficult life. The Bangladesh government has introduced the new Myanmar curriculum for the Rohingya children. But the biggest challenge is to find teachers with minimum qualifications. "Another challenge is the lack of space at the learning centres," says Masum Mahbub, chief operating officer of the NGO Human Concern International.
The innocence of the young still makes them dream. Nine-year-old Sajena Begum likes mathematics and English, and also Hindi movies. She wants to be a teacher when she grows up. Her schoolmate Gulam Subahan likes science, and he wants to be a doctor. There are thousands like Sajena and Gulam in the camps. They face the hazards of everyday life, yet they aspire to become someone, someday. They want to go beyond their past, beyond their fears and live in a better tomorrow.
And, they wish for a rainbow. At least for today.