Q Prime Minister Narendra Modi recently walked hand in hand with you after inaugurating the Shivamogga airport on your 80th birthday. What is your equation with him?
A Modi ji has a lot of faith in me. The whole world lauds his leadership and we see people giving him and [Union Home Minister] Amit Shah a rousing welcome everywhere [they go]. At the Shivamogga (airport) function, around one lakh people had to go back as there was not enough space to hold them. That is the extent of people's support to the party and its leadership.
Q You have retired from electoral politics, yet the BJP projects you as its main leader in Karnataka. Does it imply that the party has no one to match your popularity?
A Modi ji might be talking about me because of his affection for me. But you cannot overlook the fact that Basavaraj Bommai has done commendable work as chief minister. In fact, his decision to enhance the quota for the SC and ST communities is historic.
Q What are the BJP's prospects in the upcoming assembly elections?
A I am confident we will win 130 to 140 seats. I say this because I have toured more than 60 constituencies and everywhere there was a crowd of 15,000 to 20,000.
Q The BJP's best performance was 110 seats in 2008. Where and how will you get the rest for a majority (113)?
A I am confident that all our sitting MLAs, barring a couple, will win. We are focusing on another 35 to 40 seats across the state where we stand a good chance. That makes it 130.
Q The BJP is hoping to win seats in the Old Mysuru region, which usually sees a fight between the Congress and the Janata Dal (Secular). Will the Vokkaliga belt see a triangular fight this time?
A We did not get huge support [from the region] last time. But this time, we are concentrating on the region, especially in the Mysuru and Chamarajanagar districts. Also, many Vokkaliga leaders have joined our party and we are hopeful of winning many more seats.
Q There is speculation that the Lingayats are moving towards the Congress as they feel sidelined, especially after you stepped down as chief minister.
A I have already clarified to the various Veerashaiva-Lingayat mutt heads that I voluntarily resigned as chief minister and it was my personal decision to not contest the assembly elections. I do not plan to retire soon. I will tour the state to help the party secure a majority and, God willing, will do so next time, too.
Q The Congress says the BJP is neglecting Lingayats. The JD(S) claims the BJP plans to install a Brahmin chief minister and sideline the Lingayat leadership. Will such campaigns disturb the Lingayat vote?
A There is no truth in what the Congress is saying. The Lingayat community has backed the BJP from the beginning and nothing will change this. When they see me touring the state, the community will be convinced that it was all false propaganda by the Congress.
Q How will you pacify the Lingayats?
A It is only a matter of time before I reach out to these mutts, which are mostly in north Karnataka. The situation is already encouraging and I will focus more on the region during the election tour. I am confident it will end all apprehensions. We will focus on Mysuru and Chamarajanagar (with sizeable Lingayat population), too.
Q Have the Lingayats accepted Bommai's leadership? There is speculation that they are looking for their next leader and would support the party that gives them prominence.
A Bommai and Yediyurappa are not separate. We are two faces of the same coin. We have no difference of opinion on any issue. Wherever I find a gap (between the community and the BJP), I will rectify it. I will always be there for the community.
Q Will Modi's rally help the BJP campaign, even in a state election?
A Modi's image is unbeatable. Who are the big leaders in the Congress? Can you compare Rahul Gandhi with Modi ji? Siddaramaiah and D.K. Shivakumar might be touring here and there, but none of that will impact the elections.
Q Will the opposition's '40 per cent sarkar' jibe be an effective issue?
A These are all false allegations (the Congress alleged that BJP leaders took 40 per cent of the tender amount as bribe from contractors for government-funded projects). People know it is only an election stunt by the Congress. These charges will have no impact on the polls.
Q Will Siddaramaiah's Ahinda politics affect the BJP's outreach to the SC, ST and OBC communities?
A The Congress has done nothing to stake claim to the Ahinda vote bank. Siddaramaiah has only gone around posing as an OBC leader. What benefits did he give to the community?
Q Will the power tussle between Siddaramaiah and Shivakumar benefit the BJP?
A Both leaders are dreaming of becoming chief minister. The differences [between them] will surely help the BJP.
Q What will be your role in the 2024 Lok Sabha elections?
A The BJP holds 25 of the 28 seats and retaining all of these will be a gift we will give Modi ji. The support of the sangh parivar and the hard work of our party workers will make it happen. No other party has such a dedicated cadre.
Q What does it take to become a mass leader?
A For nearly five decades, I have been travelling the length and breadth of the state, visiting every village. I have noticed people, including women, refer to me as 'Namma Yediyurappa (our Yediyurappa)'. This is the bond I share with the common man and the popularity is a result of hard work.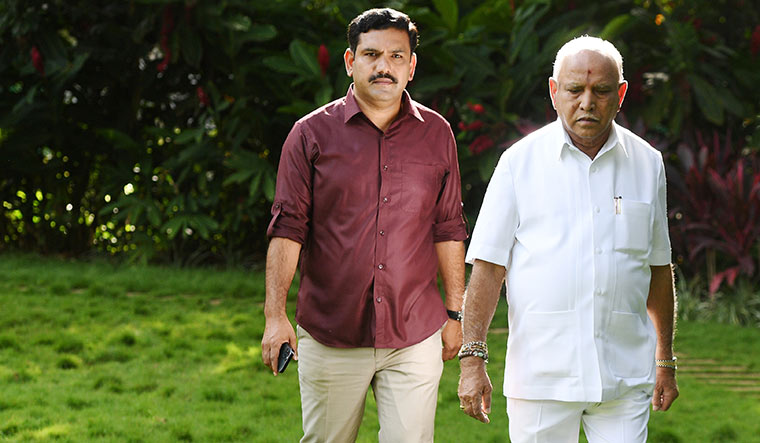 Q In your farewell speech in the assembly, you thanked the Rashtriya Swayamsevak Sangh. How has the sangh influenced your life and career?
A I am what I am today only because of the RSS. They nurtured me and are the force behind my elevation, power and position in the party. I drew my inspiration for hard work from the sangh. Success does not come easy. My discipline and commitment to work have stayed intact all these years.
Q You had to step down as chief minister and spent time in jail in an illegal mining case. You also floated your own party, the Karnataka Janata Paksha. Do you have any regrets?
A I believe quitting the BJP to build a new party was an unpardonable crime. I still regret it. Some people might have lodged false cases against me for various reasons and I have endured hardships. But it is all behind me now.
Q You are accused of doing dynastic politics. Your elder son, B.Y. Raghavendra, is an MP and you have said you will vacate the Shikaripura seat for your younger son, B.Y. Vijayendra.
A I am not contesting elections this time. So, Vijayendra will replace me. Moreover, Vijayendra is not just my son, but also vice president of the state BJP. He is very popular among the youth. I feel the respect and confidence he has earned will benefit the party. He has started focusing on Shikaripura and will not change his constituency.
Q You are seen as a leader of all communities and a moderate in a party labelled "communal". What is your definition of hindutva?
A Hindutva is misunderstood. It only means being all-inclusive. I believe all Hindus, Muslims and Christians are children of the same mother and should live in harmony. I have never discriminated against people based on their religion or caste. For instance, the Bhagyalakshmi bond scheme (01 lakh for the girl child) is for all communities and nearly 40 per cent of the beneficiaries are Muslim women.
Q How do you react to issues like the hijab and halal ban?
A The society is more aware today. People will not fall for fake propaganda and it will have no impact on society. Nobody can break the unity among the people. During the last assembly elections, the Congress tried to create differences among the Veerashaiva-Lingayat community for political gains. Ultimately, it did not succeed.
Q You brought several social welfare schemes as chief minister. Which of those make you most proud?
A I feel the Bhagyalakshmi scheme was effective. I came up with the scheme at a time when parents used to cry at the birth of a girl child. In the next few years, lakhs of families will be availing the bond on maturity.
Extending support price to milk producers or the free power to irrigation pump sets has benefited lakhs of farmers, and are still talked-about schemes.
Q There is growing apprehension that the BJP under Modi is against freebies as it believes in making people self-reliant. Karnataka has many freebie schemes. Are you in favour of these?
A The existing freebie schemes will continue as they are necessary. The Congress feels we are against freebies or pro-people schemes. I would like to ask both Siddaramaiah and D.K. Shivakumar as to what programmes they came up with when the Congress was in power. We can name at least 10 pro-people programmes of the BJP government. Even Siddaramaiah's Anna Bhagya (free rice to poor families) was given by the Modi government (during the pandemic, the Centre gave free rice to the poor all over India). The Congress promising 10kg of free rice per person is an effort to mislead people.
Q Who is your role model?
A I consider only Narendra Modi my role model. Ever since he became prime minister, we have not seen him take rest even for a single day.