Like the main dancer swaying at the festival of a local
goddess,
Like an aggressive bull jumping in the dust of the fields,
Like playing with a stick while wearing wooden slippers,
Like young boys gathering in the shade of a banyan tree,
Like eating a red jowar roti with red chilli paste,
Listen to my song. Naatu, Naatu...
On screen, brothers in arms Raju and Bheem made arrogant British men fall to their feet with their dance of rebellion. Off screen, cousins M.M. Keeravani and S.S. Rajamouli were in sync, too. Together, they and other members of their clan sculpted a film, in particular a song, that leapt across barriers of language and music to set feet tapping all over the world.
"When we first saw the song on the screen, it gave me goosebumps," said Jeevan Babu, a keyboardist who worked on RRR and who is a close associate of Keeravani. "It was as if all our hard work had paid off."
On March 12, powered by goodwill, countless TikToks and an intense PR campaign, 'Naatu Naatu' won best original song at the 95th Oscars―a first for an Indian production. "I'm on top of the world," Keeravani told reporters afterwards.
What worked for 'Naatu Naatu' could be any number of reasons: The urge to root for an underdog, the catchy tune with a repeatable chorus, the fantastic choreography, or even, as cynics might argue, the jury feeling good about themselves for being inclusive and voting for an outsider.
ALSO READ: How to do the 'Naatu Naatu' hook steps
"'Naatu Naatu' has all the flavour of a traditional Indian song," said Malayalam lyricist M.D. Rajendran, who has worked with Keeravani. "That was the reason for its success. Keeravani has delivered a truly original Indian song."
Whatever the reason, it was a proud moment for Indian cinema, especially for the Telugu industry, which has elevated mass cinema in recent years.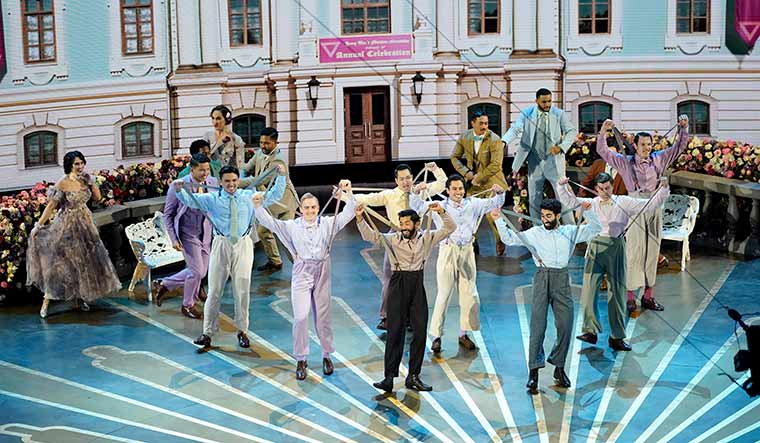 The song, a complete story in itself, shows the heroes one-upping the villains through dance. It was shot in front of the presidential palace in Ukraine. Editor A. Sreekar Prasad, who cut RRR, told THE WEEK: "Rajamouli had set it up in a way that we would get the emotion right as the song is about friendship. The idea is that he (Raju) does not want his friend to be insulted in front of everyone. When the British insult him, it becomes about the rise of the native. Many songs can be made to talk about emotions and drama, but this is one in a billion."
There is also fan service in the video, as two huge stars of Telugu cinema―Ram Charan and NTR Jr―ultimately square off in dance. "Rajamouli decided the length and number of scenes in the song while shooting," said Prasad. "He had shot more footage than a song usually has. When we were editing, Rajamouli actually told us not to worry about the length of the portions where the interaction between the heroes and the sacrifice happens (towards the end of the song, Raju falls down so that Bheem does not lose face in front of his lover). He told me to just use the rhythm of the song, which we call the track. I actually edited portions where there was no lyrics or music. It was only a beat track. Then Keeravani filled those portions with music. And those portions were extended [in the film] to get all the drama."
"For the story, it is actually a fight scene," Rajamouli told Vanity Fair as he broke down the video. "They (heroes) cannot really fist fight and blow their cover. [So] it moves into a kind of competition. You see a dance, but in effect you get the emotion of a fight."
Getting the emotion right was crucial. And it took time. Though Keeravani and his team came up with the tune quickly, they produced more than 50 versions of the song over the course of a year.
Malayalam director Viji Thampi remembered a similar episode. "In 1992, my film Soorya Manasam was released with Mammootty as the lead," he said. "He had worked with Keeravani for the Tamil movie Azhagan, and had suggested his name. At the time, Keeravani was not too well-known. A meeting was arranged in Madras to discuss the music. After listening to the situation and the story, Keeravani asked for three days to compose the tunes. Unlike the usual style of everyone staying together to compose, he preferred to work alone. We stayed back in Madras while he worked. When we returned after three days, Keeravani performed a puja and gave us 23 different tunes for the song 'Tharalitha Raavil'. He played each tune on the harmonium and sang them for us. In my experience, I have never seen a music director work with such dedication and create so many different versions of just one song."
The choreography of 'Naatu Naatu', too, followed a similar path. "I came up with 120 movements, of which 96 were filtered out, and finally three were finalised," Prem Rakshith told THE WEEK days before flying out to the US for the ceremony. "The hook step was from these, and it became a big hit."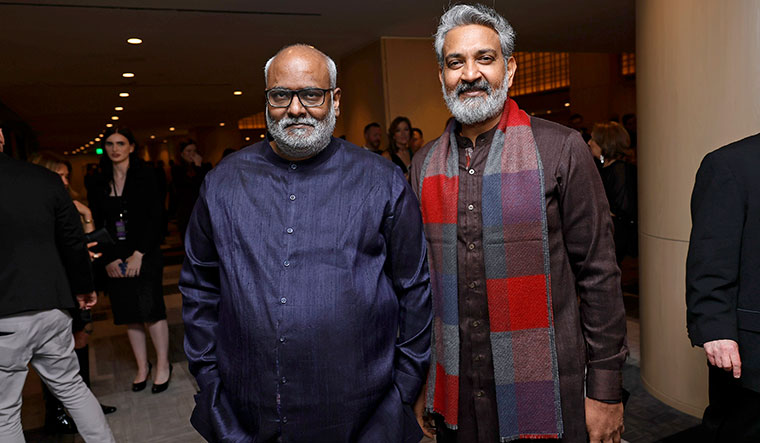 Rakshith, who had shopped for his Oscars outfit that day, has worked in about a hundred films, delivering some of the biggest hits in the Telugu industry. He has been active since 1993; Keeravani, even longer.
Known as Maragathamani in Tamil and Malayalam, and M.M. Kreem in Hindi, Keeravani has nearly 250 films to his credit. He started with Manasu Mamata in 1990, but it was Ram Gopal Varma's blockbuster Kshana Kshanam, the following year, that truly launched his career. Nearly every song in that film, starring Sridevi and Venkatesh, has great recall value.
Early in his career, Keeravani assisted revered musicians from the Telugu and Malayalam industries―K. Chakravarthy and Rajamani. In Tamil, his most popular songs came in K. Balachander's Azhagan (1991) and Vaaname Ellai (1992). Having previously worked with Ilaiyaraaja on the musical hit Pudhu Pudhu Arthangal (1989), Balachander had creative differences with the musician. So, when he wanted to begin Azhagan, which was centred on music and dance, Balachander brought in Maragathamani. 'Sangeetha Swarangal Ezhey Kanakka', the most popular number in Azhagan, was unique in that it seamlessly blended in with the Doordarshan title music.
Mahesh Bhatt's Criminal, starring Nagarjuna, introduced Keeravani to Hindi audiences. 'Tu mile' was an instant hit, and this was when Keeravani and Bhatt became close. When the latter set out to make Zakhm, based on his own life, in the late 1990s, he signed up Keeravani. Bhatt counts 'Gali Mein Chand Nikla' from the movie as one of his favourites. They worked on several projects and, a few years ago, Bhatt flew down to Hyderabad to be on a talk show honouring Keeravani. "He is a special man," Bhatt had said. "He is a national treasure. He is the man who came closest to my unuttered emotions as a filmmaker."
In a career spanning more than three decades, Keeravani delivered some of the biggest hits in Telugu music while working with ace directors such as K. Raghavendra Rao and Ram Gopal Varma. Rajamouli has used him for all his movies, including the Baahubali franchise.
"Keeravani is someone who excels in melody," said Malayalam lyricist Kaithapram Damodaran Nampoothiri. "After writing the songs for Soorya Manasam (1992), Keeravani himself sang the tracks.... I wrote the lyrics for the tune and rhythm that he sang to us in a studio at AVM. Although he had difficulty understanding some of the Malayalam words, he got the Sanskrit words as Telugu also includes many Sanskrit words. Filmmaker Bharathan is also a great admirer of melody and it is possible that he called on Keeravani to work in Devaragam due to his appreciation of Keeravani's compositions."
An expert violinist, the 61-year-old is also a master keyboardist; he sings and, at times, improvises lyrics. "For the song 'Ya Ya Ya Yadava' (Devaragam), he wanted to keep the 'Ya Ya Ya' bit," said Rajendran. "The director wanted Malayalam words there, but Keeravani insisted on keeping the expression, saying that the girl was teasing her lover. So, he had that sense of lyrics. The emotions through the expression. He has got all the qualities of a singer, lyricist and musician. This trinity is hard to find. He was still in his early years and could have sung all the songs himself. But, he paved the way for others."
Unlike popular composers, Keeravani has no fancy home studio. For him, music can be born any time, anywhere, as long as he is in the right mood. "He is the fastest composer I have worked with," said Jeevan. "Working with him is like a picnic. He extracts work out of you like a good doctor administers an injection without pain."
Sources said that, while filming RRR, the pandemic-induced lockdown drove the team to Rajamouli's farmhouse in Nalgonda, about 150km from Hyderabad. Here, a temporary studio was set up for Keeravani. When outdoor shoots were held in remote areas, Rajamouli was not able to physically attend music discussions. Hence, a caravan was transformed into a studio and was parked near the shooting location. Whenever Rajamouli found time, he joined Keeravani and tracked the progress of the music.
Their discussions were not limited to songs. Keeravani is a stickler for what he thinks is a good script. In fact, during story discussions, especially for Rajamouli's films, Keeravani inspects the script and provides inputs. Only if he is convinced of the story and the director does he commit to a project. He reportedly rejected seven or eight films last year.
One man he does approve of is NTR Jr. (Bheem in RRR), with whom he has worked for about two decades. He even dedicated one of his songs to the actor after he was told that it was the latter's favourite. Since then, Keeravani only sings 'Raalipoye Puvva', from Matru Devo Bhava (1993), with the actor's permission.
NTR Jr was just out of his teens when he first worked with Keeravani. And, like him, Keeravani has helped nurture the young talent as a judge on talent shows on television. At home, he coached his son, Kaala Bhairava, to be a singer. He co-sang 'Naatu Naatu' and also performed it live at the Oscars.
Keeravani and Rajamouli are part of a big joint family (see graphics) that is different compared with other, more glamourous Telugu industry families, say insiders. Every Sunday, 15 to 20 members of the family meet at one of their houses―most of them stay in flats―to play cards, joke around and gossip. Keeravani, who likes his humour subtle, is a regular at these meetings.
"He is a versatile musician dedicated to his work," his cousin M.M. Srilekha, also a music director, told THE WEEK. "At the same time, you can always see him being jovial in the studios. While composing music, a word or two strikes him and he builds on it. You can never see him being arrogant or full of pride. "As a family, we feel blessed with the recognition we are getting. I can say that it is God's miracle that, despite not being trained professionally for a long time, there are many musicians in the family. My father was spiritual and Keeravani follows him. Just like my father, he also observes lent by blindfolding himself for three days."
The family's talent speaks for itself. Once, in the 1990s, the family of around 20, along with Keeravani's core team, went to the Mookambika temple in Udupi, Karnataka. Each of them was given a specific task. Rajamouli, then in his 20s, was told to take photos. He apparently did a stellar job, offering a glimpse into his future.
In a way, the Keeravani-Rajamouli family could be India's answer to the Coppolas or the Shearers―a family that has Oscar winners and nominees across generations. "I feel very happy that he got the Oscar," writer and Rajya Sabha member Vijayendra Prasad, who is Rajamouli's father and Keeravani's uncle, told THE WEEK. "We feel fortunate as three generations of our family worked on RRR, including me. The Oscar award was a moment of pride for the Indian movie industry. It has opened a window to the western world and we can now look at it as a market. I have seen Keeravani grow. He was a shy boy. He was just four or five when he expressed interest in learning the violin and he was encouraged to learn the art."
The family originally hails from Kovvur, near Rajahmundry in Andhra Pradesh, but later moved to Amareshwara Camp near the Tungabhadra in Karnataka and bought 300 acres to farm. Keeravani's father, Shiva Shakti Datta, along with Vijayendra Prasad, had cultivated another dream. They moved to Chennai to try their luck in the cinema industry. Once there, money ran out. They had to sell their land bit by bit to finance their ambition.
Under the screen name 'Datta brothers', they started selling stories to Telugu producers. Keeravani started assisting the top musicians of the time, and slowly built a name for himself. He brought stability to the family and Rajamouli later brought international fame.
Soft-spoken, simple and modest, Keeravani is known to maintain relationships, personal and professional. "Human relations are very important to him," said Geminiee Rao, a percussionist and longtime musical assistant to Keeravani. "He cares for his family and professional contacts and does not abandon relationships. He remains untouched by all the success that comes his way."
Thampi, who has not worked with Keeravani since the 1990s, said: "He has a strong work ethic and remains dedicated to his craft. Even today, we maintain a strong connection and communicate via WhatsApp. He is someone who values relationships and works hard to maintain them."
Keeravani has many labels: intellectual, deep thinker, eccentric, loner and spiritual. A devotee of Lord Shiva, he regularly visits Srisailam and Mantralayam in Andhra Pradesh. He has also released devotional albums, including Siva Basava in Kannada and Om Namah Shivaya in Telugu.
"Bharathan first met him at AVM while working on another project," said Rajendran. "Having seen him once, he got the sense that this man had talent. Keeravani had a harmonium that had pictures of Mother Mary of Velankanni and Mookambika Devi. He was pious and humble, which was a rarity in the film field. Wearing saffron robes and with ash on his forehead, he looked like a sanyasi with a harmonium. But, a sanyasi who creates wonderful romantic songs."
Also a voracious reader, Keeravani enjoys his novels and has now moved to ebooks. A tech nut, he keeps up with all the latest trends in the industry. "Back when he was an assistant to Chakravarthy, he got himself a portable keyboard," said Telugu producer B.V.S.N. Prasad, an old friend. "Till then, a range of instruments were used to create music. He is usually far ahead in terms of technology."
The one thing apart form music that can hold his attention all day, said a relative, is food. The Telugu industry has many stories about Keeravani's love for "anything that tastes good". Once, a director suggested he go on a diet and prescribed a light south Indian snack―a type of dosa called pesarattu, made from green gram flour―to avoid gaining weight. The only problem was that Keeravani liked it so much that he started bingeing on it, nullifying any weight-loss ambitions.
Another story is of him sitting with a producer friend for a meeting. As they talked, someone brought in ice cream. The flavour caught his fancy and the rest of the day was spent with dollops of the stuff.
Keeravani also has an interesting hobby―he documents his everyday life. Since 1979, he has written down every tiny detail of a day's happenings in his personal diary. Today, he digitally records the details, covering both his personal and professional tracks. He has three or four backups of various moments of his life, which he does not want to lose at any cost.
March 12, for sure, will be a special entry.
―With inputs from Nirmal Jovial and Lakshmi Subramanian