Edwin Joubert Van Ingen had a misleading surname and a truly extraordinary life. He was not from Ingen, Netherlands, as the name implied; he was born in Mysore, in an affluent family, in 1912. He was simply Joubert to his friends.
He fought in World War II, was captured by the Japanese in Burma, and found himself among the internees who built the bridge on the river Kwai in Thailand. After the war, he returned to Mysore, joined the family business and moved to a bungalow his parents had built at Nazarbad, a pleasant but fortified place that had several important government offices. The bungalow was named Bissal Munti, or "sunny hillock", after the lay of the land.
Joubert quickly put the war behind him. With his two brothers, he expanded the family business of making animal trophies and became a renowned taxidermist himself. He hunted, feasted and raced horses, and became one of the co-founders of the Mysore Race Club. His family fortune was built on big-game hunting, but naturalists grudgingly respected him for his extensive knowledge of the wild.
He loved company, but remained a bachelor all his life. And it was a long life; he outlived all of his siblings and most of his friends. He finally died in his sleep on March 12, 2013, around four months before his 101st birthday.
Joubert was known to be a methodical man. But he made a number of strange decisions in the years before his death. As he became ill, he sold off property worth hundreds of crores―Bissal Munti, a taxidermy workshop adjacent to it, and a 236-acre plantation in Kerala's Wayanad district―at unusually low prices.
Bissal Munti was bought by a friend, a reputable horse trainer in Bangalore named Michael Eshwar. They had known each other since 2002. After buying the bungalow in 2005, Eshwar moved in with his wife and two children.
Joubert lived with them under their care. He adopted one of the children, gifting him a private collection of more than 70 animal trophies. It was a priceless collection, aesthetically and historically. It not just reflected the finest work of 'Van Ingen & Van Ingen', the trademark of Joubert's family-run taxidermy business, but also represented an era when trigger-happy British officers, European aristocrats and Indian maharajas plundered the wealth of jungles in a race to decorate their walls.
Joubert's collection came with sheets of meticulous notes. They had information on who shot the animal, where it was killed, and how the body was converted into a trophy. This registry of crimes and craftsmanship occupied many shelves in Bissal Munti―records of tens of thousands of animals that Van Ingen & Van Ingen had made into mounts before it closed down in the 1990s. The Eshwars became their new custodians.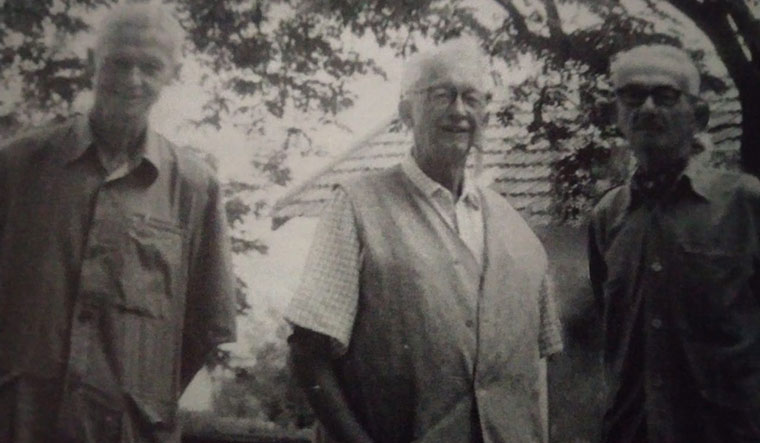 Eshwar said Joubert did not just throw away his fortune. He had no living relatives he liked apparently, except for a nephew called Michael Van Ingen, who was in his eighties and visited his uncle once a week. "My uncle was a tough guy and very disciplined as he was influenced by his prisoner experience during the war," Michael Van Ingen told a journalist in 2016. "He was careful with money, and not interested in women."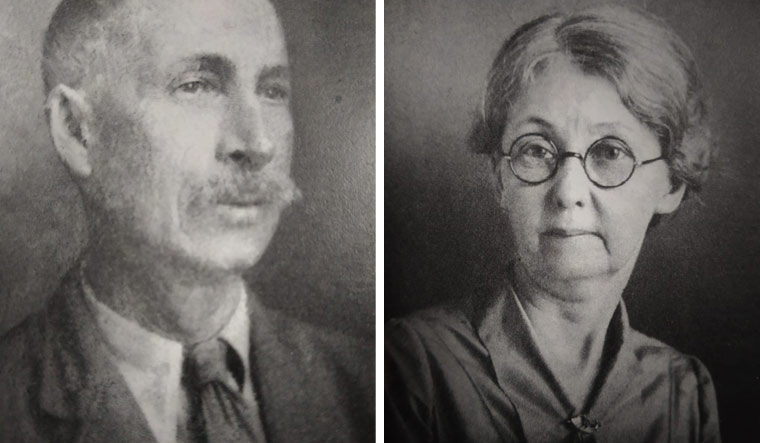 Joubert apparently trusted Eshwar with taking care of him and his legacy. "I was the right man at the right time," Eshwar, 56, told THE WEEK. "He set a price for Bissal Munti, and I found it attractive and affordable. I sold the property I had near Nandi Hills, Bangalore, and bought the bungalow."
The sale did not affect Joubert's routine. He would wake up at 4am, warm up and circle Bissal Munti for an hour, have breakfast, and stick to the day's itinerary. He did it till he became bedridden in 2012. "He was the most cordial man," said Eshwar, "and he was very good to me and my family. We took good care of him throughout."
Joubert was not religious, but he took last communion. The Rev Devakumar of the Church of South India was in charge of the parish at the time. "I had never seen him in church," the reverend said, "but some parishioners told me that the Van Ingens were members. So I went to Bissal Munti. He was in his bed and couldn't speak. The cot had been shifted to a verandah, and there were four-five people beside him. I gave him communion. This was some months before he died."
With Joubert's death, Eshwar's troubles began. It turned out that Joubert had lodged a police complaint against him two weeks earlier. "I remember him walking into the police station with three of his friends," said G.N. Mohan, who was inspector at Nazarbad police station at the time. "He said Eshwar was trying to cheat him out of his assets, and that he needed help. We spoke for more than an hour, and his complaint was recorded in the station's general diary."
A fierce legal battle thus began. As Joubert was being buried, the police registered a first information report charging Eshwar under sections 403 (dishonest misappropriation of property), 409 (criminal breach of trust), 420 (cheating and dishonestly inducing delivery of property) and 464 (making a false document) of the Indian Penal Code. The police said Joubert's grandniece Matilda "Tilly" Gifford of Glasgow, Scotland had accused Eshwar of harassing and defrauding him of family property.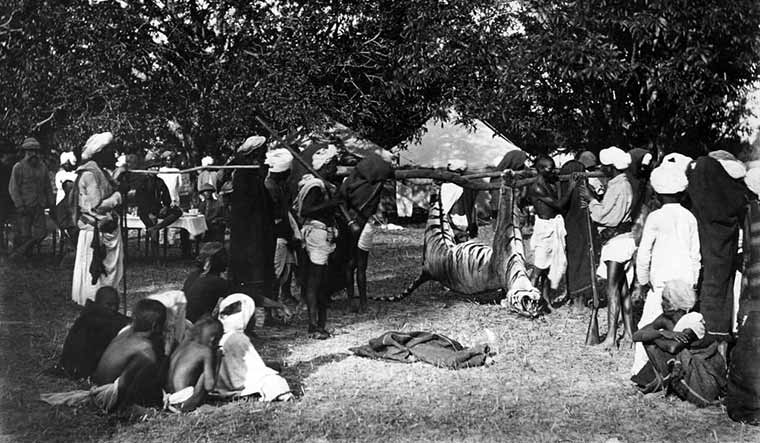 "My grandmother, Rosamond, was the only sister of the Van Ingen brothers," Gifford told THE WEEK. "As the youngest of the siblings, she and Joubert were very close. My grandmother was sent to England as a teenager, which was quite sad but also a common thing in those times. But she and Joubert remained close, talking on phone and writing letters every week. They were in different places but they were very connected."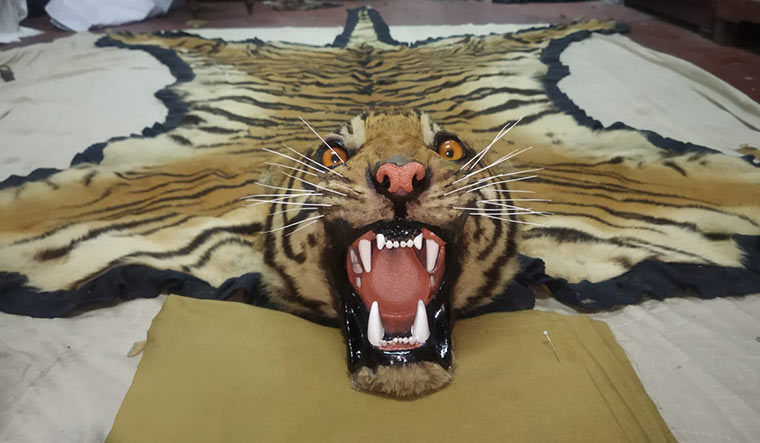 Gifford said she was 16 when she first met Joubert in Mysore. "He was an amazing character. All his life was like clockwork. He would have breakfast exactly the same time, he had lunch the same time. There were no variables, as he had mostly himself to look after," she said. "He was very warm, and he always involved me in everything―walking the dogs, going together in the jeep, sitting together in the evenings. After that, I would visit him once every year or two."
According to Gifford, Eshwar gradually cut Joubert off from friends and relatives and forged documents to take control of the assets. She said Joubert was too ill when he realised what Eshwar had done. "Eshwar created a very nasty situation, and I want him to be accountable for it," she said.
Eshwar alleged that he was framed by the police at the behest of politicians and bureaucrats who wanted to lay their hands on the estate. The FIR, he said, was completely fabricated; Joubert could not even get out of bed, let alone walk to the station. The police said Eshwar was a land shark and that the FIR was not fabricated; the issue, if anything, was the delay in acting on Joubert's complaint.
As the case dragged on, the Enforcement Directorate opened its own investigation after it was found that Joubert was not an Indian citizen. The RBI started looking into the matter as well, since the transfer of assets of a foreign national in India called for scrutiny under the Foreign Exchange Management Act.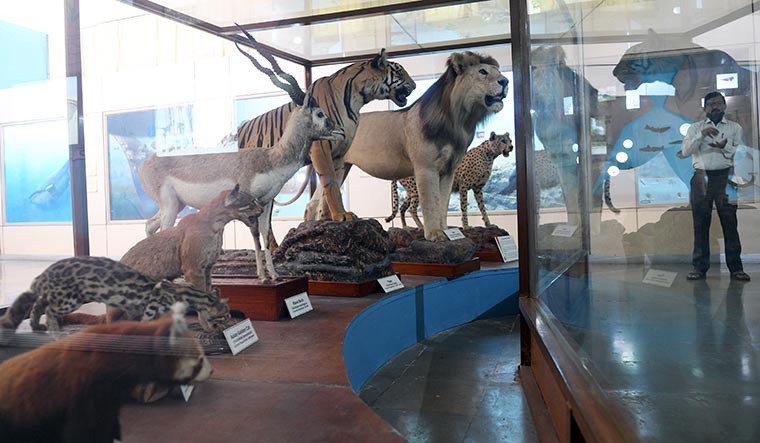 In August 2017, the case reached the Supreme Court. Eshwar wanted the charges against him dropped, but the police wanted to continue the investigation. A three-judge bench noted that the probe had been hampered by "serious procedural lapses" and numerous errors of "omission and commission". It ordered the Karnataka Police's criminal investigation department, which had by then taken over the case, to file a report in 60 days.
"[The CID inquiry] indicates a large volume of material facts surrounding the lodging of the FIR," said the court, "and its authenticity needs to be investigated."
The truth, said the judges, must be unravelled.
THE DEAD AND THE BURIED
There is truth, and then there is the 'Indian truth'. In the Indian truth, said V.S. Naipaul, "too much that is overwhelming has been left out; too much has been taken for granted."
Popular stories about Joubert's family and their legacy in Mysore existed mostly as Indian truths. Naipaul himself iterated a few when he visited the trophy room of the Mysore palace in the late 1980s. Among the dozens of hunting souvenirs in the room, he wrote in A Million Mutinies Now, was "the towering neck and head of a startled-looking giraffe… killed in Africa, and stuffed in Mysore". There was also "the lower, curving half of an elephant's trunk, made rigid and converted into an ash-tray or ash-bin, with an iron grille at the top for stubbing out cigarettes and cigars".
Naipaul wrote that they were the work of "one of the world's most accomplished taxidermists". In truth, there was not one but four such taxidermists in Mysore. Two of them were still alive; Joubert and his elder brother.
In Mysore, it was taken for granted that the Van Ingens were originally traders from the Netherlands. The clan was certainly of Dutch descent, but its Indian branch could trace its roots only to Galle, Ceylon, of the early 1800s.
Galle was a favourite port of call of British explorers who hunted elephants for sport. The sport helped settlers clear forests and plant coffee. Some sportsmen became wildly successful. An army major shot 1,500 elephants in four years―roughly, an elephant a day―before he was decorated and shipped back to England.
The Van Ingens left Galle for Bangalore in the early 1800s. Bangalore had by then become a garrison town. The British had secured control over Mysore State by eliminating a feared rival, Tipu Sultan, in 1799, and installed a five-year-old boy of the Wadiyar dynasty as the new king. For the service, the British charged one-fourth of state revenues as 'annual subsidy'.
British India was on an expansion spree. As historian David Gilmour wrote, the wars against Tipu and other enemies brought Britain "such extensive new territories in southern, western and north-central India that, by the time of Queen Victoria's accession (1837), the East India Company ruled nearly half of the Indian subcontinent and exercised indirect control over much of the rest through treaties with native rulers."
It was a stunning military achievement. There were only 36,000 British troops in the whole of India―roughly one foreigner for every six Indians fighting on their side. Vast stretches of land were conquered simply by setting Indians against Indians.
That strategy underwent a severe test in 1857, when Indian troops revolted and the British realised that they needed a safer troop ratio. The necessary surge in British strength was going on in 1865, when Eugene Melville, the first Van Ingen who would go on to become famous in India, was born in Bangalore. The town had by then become a sought-after destination; its combination of mild climate, western civilities, liberal women and superior rum held a certain allure.
There were abundant opportunities for 'sport' as well. Mysore State had vast forests and large swathes of hilly shrubland―which, as one writer put it, acted as a sylvan Petri dish for wildlife. A early British gazetteer in Mysore had counted "70 mammals, 332 birds, 35 reptiles, 42 fish and 49 insects", before breathlessly declaring that "nothing less than a separate treatise, and that a voluminous one, could do justice to the marvellous wealth of the animal kingdom in a province under the tropics marked by so many varied natural features as Mysore."
The statement was no advertisement for game hunting, but sportsmen nevertheless took it as one. From the jungles of Mysore began a steady flow of carcasses to villages―deer, bear, bison and boar, and monkey, muntjac, crocodile, gaur and panther. Feasts were held, fur and fat collected, fancy boots and jackets made. To preserve memories of their glorious shikars, the shikaris gradually fostered a cottage industry―taxidermy.
Eugene moved to Mysore city to become a taxidermist in the early 1890s. Family records say he joined the workshop of the finest professionals of the time, the Theobald brothers.
The brothers ran a fledgling operation. They employed local labourers to skin the animal, cut away all the flesh, scrape the bones clean, scoop out brains and eyeballs, extract teeth, wash the skull, and bleach, boil and paint body parts as required. A good taxidermist also needed to be a competent chemist to handle preservatives as varied as salt and pickle, ash and alum, and acid and arsenical soap. The Theobalds did rather well.
Or perhaps too well. By the 1890s, the brothers were struggling to meet the growing demand for expertly crafted trophies. They were also facing a supply-side problem―the increasing unwieldiness of manikins, or the rough figure used in stuffing the trophy. A lot of material went into making a good manikin for a mammal of average size―wood, sawdust, gum, glass, cloth, plaster of Paris, metal rods, grilles, wires and screws. The result was an expensive trophy that was both heavy and fragile, and difficult to ship.
A solution was discovered over time―papier-mâché, or paper pulp obtained by boiling paper to which glue, and sometimes cloth, is added. Cheap, light-weight and non-flammable, papier-mâché is easily mouldable and surprisingly strong when dried. In short, an ideal composite material that reduces not just the equipment and effort that go into taxidermy, but the time and costs as well.
In Mysore, the advent of papier-mâché seems to have had the effect of finishing off the Theobalds and heralding the rise of Eugene Van Ingen. From what can be gathered from historical records, Eugene started out on his own as a taxidermist around the time the Theobalds began using papier-mâché. They claimed they had patented the system, but later lost a legal dispute with Eugene over the matter. The Theobalds shut shop soon after Eugene quit and began making better-quality trophies.
In 1896, the government museum in Mysore provided a telling evidence of Eugene's newfound prominence as a taxidermist. In its annual report for that year, the museum said, "A number of decayed specimens [in the natural history wing] have been removed to make room for more worthy ones. In time, it is hoped to entirely remove the badly mounted exhibits, and have them replaced by the specimens of a competent taxidermist such as Mr Van Ingen. The museum official who is supposed to do this work is incompetent to undertake anything beyond cleaning and the merest rudiments of taxidermy, when it comes to anything larger than a crow." The museum said it had purchased 139 new specimens, "the finest from Mr Van Ingen", including bear and black panther, fox and peacock, and tiger and rhinoceros.
Eugene was apparently so in demand that he could afford to refuse even the most important government work. An orangutang had died in the palace gardens in 1898, and Eugene was asked to make a specimen of it. "Mr Van Ingen was to have set up the specimen," reported the museum's report for the year, "but he found the skinning so badly done by the museum officials that he declined to undertake the work."
Eugene prospered on the personal front as well. He married Adelina "Patti" Wheal, daughter of the Jaipur maharaja's horse trainer John Wheal. They were married in Poona, where Patti was born.
Over the next few years, both Mysore and the Van Ingens marked a number of milestones. In 1902, Patti and Eugene had their first child, and Mysore became the first state in India where electricity was available. The Generate Electric company in New York had laid cables to power mining operations in the Kolar Gold Fields. In 1903, when the second child arrived, the kingdom found out that the hydroelectric project it had built for KGF was generating more power than needed. In 1905, when the couple had their third child, Mysore put the excess power to good use―Bangalore became the first city in Asia to light up its streets with electric lamps.
Patti and Eugene had four sons and a daughter. The last child, Joubert, was born two years before World War I began. After the war, three of the sons joined Eugene in the business. And thus emerged Van Ingen & Van Ingen.
THE FORD OF TAXIDERMY
In 1905, an engineer of the Ford Motor Company visited a slaughterhouse in Chicago. The first of its kind, the slaughterhouse was equipped with a long, overhead conveyor belt with metal rings for workers to hook up livestock.
The process was diabolically simple. As the belt begins moving, the first worker would hook up a live hog by its leg. When the hog reaches the second worker, its throat is cut. A third worker scalds the bleeding hog with boiling water to remove hair; and down the line would be more workers―to wash the hog, gut it, cut it into pieces, and freeze and process the parts separately. The belt was like a meat train, moving from workstation to workstation, disassembling as many as 5,000 hogs a day.
Many people were appalled by this modern "disassembly" line. One of them was the novelist Upton Sinclair, who wrote a novel about the horrors of the Chicago slaughterhouse. "There were high squeals and low squeals, grunts, and wails of agony," he wrote in The Jungle. "There would come a momentary lull, and then a fresh outburst, louder than ever, surging up to a deafening climax. There was a long line of hogs, with squeals and life-blood ebbing away together; until at last each started again, and vanished with a splash into a huge vat of boiling water. It was all so very businesslike… It was pork-making by machinery, pork-making by applied mathematics."
The Ford engineer was impressed. The company was struggling to meet the booming demand for motorcars, and the Chicago slaughterhouse offered a solution―reverse the principle behind the disassembly line, and an assembly line could be built to churn out motor cars. In 1913, the engineer helped Ford open the world's first automobile factory.
Eugene was one step ahead of Ford. He opened the world's first taxidermy assembly line in Nazarbad in 1912, clearing a large tract behind the newly built Bissal Munti. It was not the first time he had borrowed an American innovation; a Colorado taxidermist had been the first to use papier-mâché.
The working of the Van Ingen factory was a trade secret revealed only in 2003, eight years after it was officially closed. A British scholar of taxidermy named Pat Morris visited Joubert and obtained his permission to record how it had functioned for more than 80 years. According to Morris, the Van Ingens ran "very likely the largest and the most sophisticated taxidermy operation ever in existence". The factory had dedicated workspaces for different stages of the taxidermic process, and more than a hundred skilled workers who were assigned to specialise, Chicago style, in sundry processes involved in making a trophy―from washing, de-boning and pickling, to clay-moulding, manikin-making and mounting. The animal bodies that moved along the line were referred to as 'jobs'. Each job had a corresponding 'job card' containing information about who worked on each of the processes. Foremen helped the Van Ingens run the factory, which in its heyday churned out thousands of trophies a year.
The 'raw material' came from jungles across India. Both herbivores (deer, wild buffalo, gaur, blackbuck, rhinoceros) and carnivores (lion, leopard, tiger, wolf, hyena) were hunted and converted into trophies. All this was enabled by the Indian Forest Act, 1878, through which the colonial government assumed ownership of forests and wildlife across British India. The act carved forests into reserves, which in turn were divided into shooting blocks. The entry to the blocks was regulated by licences. For British and Indian nobility, obtaining game-hunting licences and collecting souvenirs became a mark of prestige. The booming shikar culture did wonders for the gun and taxidermy market.
Shikars had a social utility as well. The colonial administration saw that they were useful in training soldiers and keeping British youth from gambling and drugs. In his celebrated 1859 book Wild Sports of India, Major Henry Shakespear advised British parents to instil in their children a love for hunting, for "this will keep them fit for their duty as soldiers, both in body and inclination", and keep them "out of a thousand temptations and injurious pursuits [arising out of] ennui and thoughtlessness".
Between 1875 and 1925, the jungles paid a heavy price for curing the British of peacetime lethargy. As many as 80,000 tigers, 1.5 lakh leopards and two lakh wolves were hunted and killed. Dozens of small mammals became extinct, and dozens more were driven to near extinction. Lions, which once roamed forests in much of central and north India, almost became history. By 1888, there were no lions left outside the Kathiawar peninsula in Gujarat.
Maharajas, too, joined the British in the plunder. The king of Cooch Behar spent 37 merry years hunting big game all over India. He wrote a book about it. Maharaja Sadul Singh of Bikaner shot more than 50,000 animals and 46,000 game birds, and had the best of them mounted by Van Ingen & Van Ingen.
After 1912, more than half of all animals and birds that hunters wanted to convert to trophies came to the Van Ingen factory in Mysore. The family kept copious notes about the comings and goings―where each body came from, and in what condition, and where the specimen was destined for.
Eugene became the Ford of the taxidermy business, with his own Model T―the mantled tiger. To be precise, snarling, lifelike tiger heads mantled to wooden shields. But unlike the iconic Model T, the world's first affordable motorcar, the custom-made Van Ingen tiger trophy was so expensive that only the cream of the big-game hunters could afford it. But those who could competed to claim as many mounts as possible.
The walls of the 'tiger hall' of the famous Hopetoun House in Scotland, for instance, have nine tiger heads from Mysore. They were owned by Victor Hope, aka Lord Linlithgow, viceroy of India from 1936 to 1943, who said "the destruction of these abnormal and dangerous animals is a service of great value" to the empire.
"Many Britons in India, especially visitors, were desperate to 'bag' at least one tiger," wrote Gilmour, "and there were some dedicated tiger-slayers such as George Yule, a civilian said to have killed hundreds of these animals."
The British who had served in Mysore had a special reason to relish tiger hunting. Troops who had killed the Tiger of Mysore, Tipu, in 1799 had discovered a mechanical toy showing a tiger on top of a British soldier. The toy was encased in wood, and within it was a crankshaft and a pipe organ. When the crankshaft made one hand of the helpless soldier move, the pipe organ emitted a wailing sound from the soldier's mouth and a grunt from the tiger. Nothing could have incensed the British more. After restoring the kingdom to the Wadiyars, and commemorating the victory with a medallion that showed the imperial lion of Britannia overpowering a tiger, the British started exterminating the beasts. Hundreds of tigers were slaughtered every year since 1800, most of them for no reason other than sport. Special rewards were given to kill tigresses and cubs.
The shikaris were inspired by a booming literary genre of tiger-hunting tales. They often portrayed the animal as a crop-destroying man-eater whose killing was a service to humanity. In Wild Sports of India, Shakespear went to the extent of describing the tiger as a bloodthirsty vampire that "relished" bleeding its prey. "This is always done preparatory to eating," he wrote, "by opening the jugular vein with his large fangs; and it is very commonly the case, that a tiger would satiate his thirst for blood and not eat for several hours after."
Such hyperbole gradually became a key element of shikar tales. And the processes involved in taxidermy even contributed to it. For example, a recommended procedure before treating the tiger skin with preservatives was to stretch the skin. Some sportsmen stretched not just the skins, but their tales as well. The result was that impossibly large tigers began to be killed for the pleasure of readers hooked to hunting tales. The scam was later busted by a hard-nosed hunter-journalist, James Forsyth, who said skin measurements "have done more to extend the size of the tiger than anything else".
"The skin of a 10ft tiger will easily stretch to 13 or 14ft, if required," Forsyth wrote. "And if the natives are allowed to use the tape, they are certain to throw in a foot or two to 'please master'. Master himself, no doubt, pleases himself in a similar manner."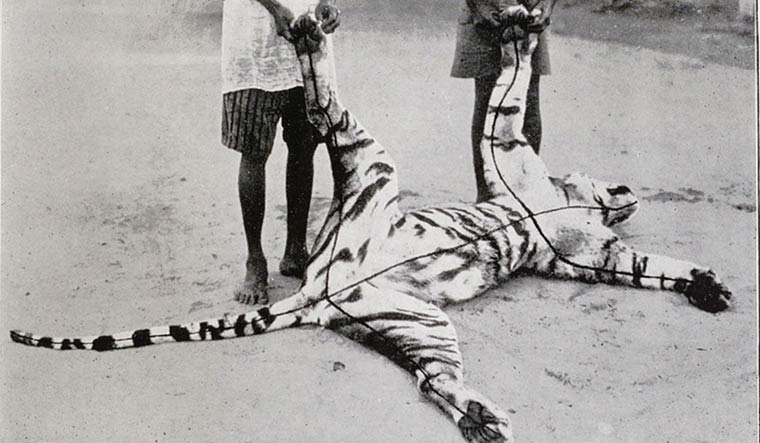 The Van Ingens, however, were sticklers for accurate measurements. Their assembly-line taxidermy called for shaping manikins that were as lifelike as possible. "Bones, bellies and skulls were measured in inches to make moulds of accurate size," Manjula K., a third-generation employee of the Van Ingens who joined the factory in its sunset years, told THE WEEK. "Accuracy was crucial because these moulds were meant to replace body parts."
Tiger hunting required long hours of simply waiting and watching, and sportsmen often opted for 'soft kills'―that is, shooting the animal from a safe distance when it was in a vulnerable state, such as drinking water from a ditch or languishing under a tree in post-meal stupor. The challenge for the taxidermist was to make a trophy out of the animal that would give the impression that the hunter had killed it after a heroic struggle.
"The Van Ingens were very good at making full-scale tiger trophies," said Manjula. "Trophies would be ordered in particular poses―standing, running, leaping. This called for making accurate moulds and arranging the various parts in a particular fashion, at a particular angle. Reconstructing mouths was especially difficult. Closed mouths were easy, because workers didn't have to work on the expression. But, for a snarling tiger, you had to get all the features, even the curve of the mouth, right. It was trophy-making by mathematics."
The Van Ingens called it art. In 1928, the firm published a handbook called Preservation of Shikar Trophies to educate itinerant sportsmen on the prerequisites for getting a quality trophy. The handbook was signed 'Van Ingen & Van Ingen, artists in taxidermy'. "It is essential that skins and masks be in perfect condition if the finished trophies are to be a success," read the preface. "Sportsmen should realise this, as the taxidermist cannot be expected to work wonders."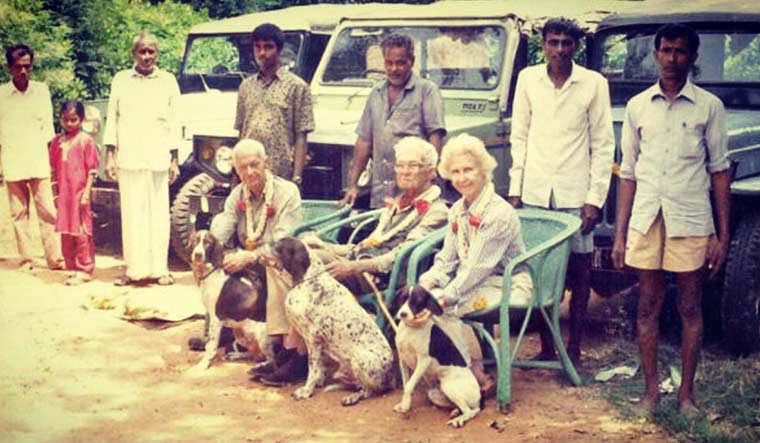 A key piece of advice for sportsmen was ensure cheap labour. "Every village has a chamar; they are very low jat Hindus. They are cobblers, tanners and dealers in raw hides on a small scale," read a chapter. "The first thing a sportsman should do on getting into camp is to engage a chamar, either for helping to tie out baits or as a camp coolie."
The Van Ingens also warned against being a generous employer. "Although the chamar is the best man you can obtain to help in preserving your trophies, leave nothing to his tender mercies. Like most [local] men, the chamar also has a little tired feeling. He should work under strict supervision…. If properly instructed, coolies can do a tiger in six hours at most."
Time was of the essence. Time meant decay and disintegration, and the whole point of taxidermy was to prevent time from spoiling precious trophies. Days at the factory would begin at 7.30am, with the loud clanging noise of metal rod against steel girder. Workers were strictly monitored to maximise output. The rigours of the assembly line often provoked rebellious workers into sabotaging valuable skins by making 'accidental' cuts. Hence, the gradual implementation of job cards.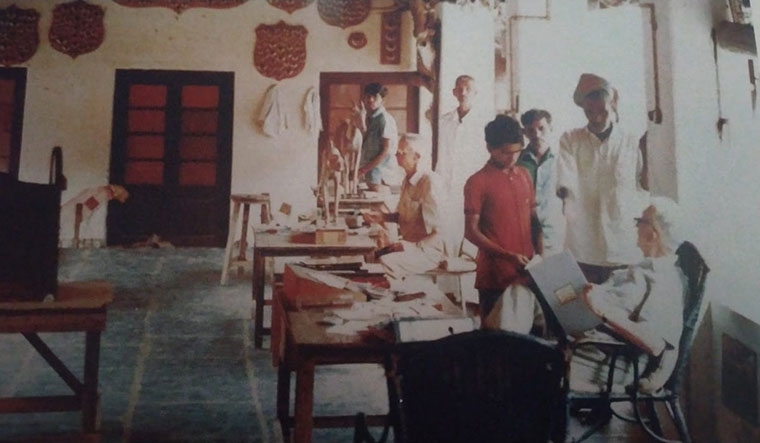 Manjula was just eight when she joined the factory in 1987. She worked there till it closed down in 1999, acquiring enough skills to become a taxidermist herself. Her father, Kendaganna, was a true cog in the machine. He had joined when he was 10, when the factory was in its prime, and worked till he died. Kendaganna's father, Biliaiah, was a hunter of repute who accompanied Eugene and Jayachamarajendra Wadiyar, the 25th maharaja of Mysore, on their expeditions. The elephant ash-tray that Naipaul saw was the result of one such expedition.
Kendaganna specialised in making glass eyes. The factory imported glass orbs of various sizes from Germany, and Kendaganna would paint them in a manner suiting the animal being stuffed. It was the eyes that animated a trophy, and he was a master in pouring life into them.
Mysore's labour pool was large and cheap, so the Van Ingens could do away with men who did substandard work. Those who did good work were fully utilised. Manjula, 44, recalled living in the factory as a child, as the workload prompted Kendaganna to stay put several nights at a stretch. "The factory was seven long sheds built side by side," she said. "The main shed was in the middle, with three sheds each on either side. The shed on the far left housed the 'operation theatre', for skinning and fleshing animals."
The factory made good use of the caste system. Sheds on the left side were meant for carrying out such unpleasant tasks as skinning and pickling, so they were tagged as unclean and assigned to untouchables. Sheds on the right were meant for skilled workers such as carpenters and modellers, with spatial arrangements reflecting the caste hierarchy. "It was the workers who kept the line moving with their range of skills," said Manjula. "The segregation helped the Van Ingens make good use of them all."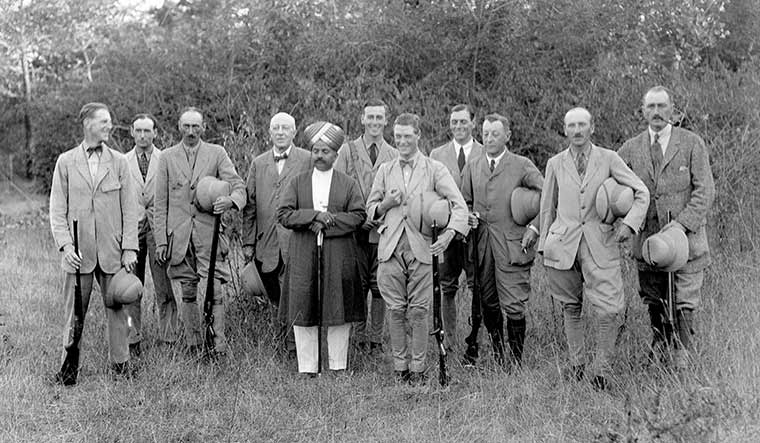 The family banked on their social status as well. When Prince Edward of Wales, or the future king Edward VIII, toured India in 1921-22, Eugene Van Ingen was chosen as a member of the entourage. Politically the royal tour was disastrous, as Mahatma Gandhi's non-cooperation movement completely upstaged it. But as the naturalist in the entourage, Eugene ensured that the prince had a wonderful time catching fish and hunting wild buffalo in the Cauvery basin.
Eugene died in 1928, leaving the reins of the factory to Patti and two elder sons, John DeWet and Henry Botha. The third son, James Krueger, joined an ordnance factory. Joubert was just 16.
The family's extraordinary success was a product of the times, and perhaps the experience of running the factory made them realise it. DeWet and Botha became not just able managers but accomplished naturalists as well. They kept meticulous records about the diversity of flora and fauna across south India, and contributed to pioneering conservation efforts in Mysore State. In 1946, DeWet set a world record by catching a 54kg mahseer from the river Kabani. Considered by anglers as the largest and the most challenging freshwater fish in the world, mahseer has a local nickname―'the tiger of the Cauvery'.
In the 1930s, Botha was held captive by a woman who practised taxidermy of another kind. She was Barbara Flaherty, the daughter of Robert Flaherty, the legendary American filmmaker known as the father of the documentary genre. After releasing Nanook of the North, the world's first commercially successful full-length documentary, Flaherty came to Mysore on the maharaja's invitation to film Rudyard Kipling's Toomai of the Elephants. He was accompanied by his wife and daughter, and they enlisted Botha's help as the production coordinator.
The result, a piece of orientalist docu-fiction called The Elephant Boy, was released in 1937. It launched the career of the first Hollywood star from India, Sabu Dastagir, who played the title character. The film also changed Botha's life. He was captivated by both photography, a sort of taxidermy of time and space, and Barbara, who was a photographer herself. They were soon married.
From the 1930s to mid-1950s, the factory churned out tens of thousands of animal trophies. They were shipped to royal families from Wankaner to Jaipur, officers and administrators from Peshawar, Ahmednagar and Lahore to Pachmarhi, Nagpur, Cochin and Ceylon, and museums in London, Sussex and New York. The family amassed considerable wealth in the form of sprawling plantations across south India.
World War II briefly interrupted their halcyon days. With the Japanese edging closer to India, Botha and Joubert joined the war to defend the colony. The brothers and the family reunited in 1946.
Joubert joined the business, but unlike Botha and DeWet who were focused on managerial matters, he followed in his father's footsteps and became a professional taxidermist. He further streamlined the assembly line by borrowing principles of anthropometry―the study of human measurements for the purposes of understanding physical variation―and applying it to taxidermy. Moulds of ready-made sizes began to be made for each species, so that manikins could more easily be made and plastered with skins. The idea was to replicate what ready-made clothes had done to the fashion business.
But even though Joubert's improvement had revolutionary potential, the factory could not reap much dividends from it. India became independent, shikars lost their colonial flavour, and conservation efforts gained momentum. The government soon banned hunting altogether.
It turned out to be the death knell for the factory.
END OF EMPIRE
The foundations of the conservation movement in India were laid, ironically, by a group of British hunters who met in Bombay in 1811. They started an informal club to organise shikars. Their expeditions were successful, attracting more members to the club. The group gradually became the Bombay Natural History Society.
The BNHS was formally constituted in 1883. Academic-minded sportsmen would meet every month to "exchange notes, exhibit specimens and otherwise encourage each other". A journal was started in 1886, and it quickly became one of the world's best-known publications on biodiversity and conservation.
It was only natural for sportsmen to realise that the shikars could not go on indefinitely. Economic growth had resulted in shrunken forests and disappearance of entire species of wildlife. Railways accelerated the destruction, with each new mile of tracks uprooting 2,000 trees. The railways, said one study, "opened up vast tracts of land, increased the influx of sportsmen, and promoted an alarming decrease in game."
Worse, amateur hunters ended up merely injuring, not killing, big game. Robbed of the ability to hunt in the wild, tigers and leopards descended on villages and preyed on humans. Aggravating the crisis were waves of droughts and disease, such as the cholera and influenza epidemics that swept India in 1918.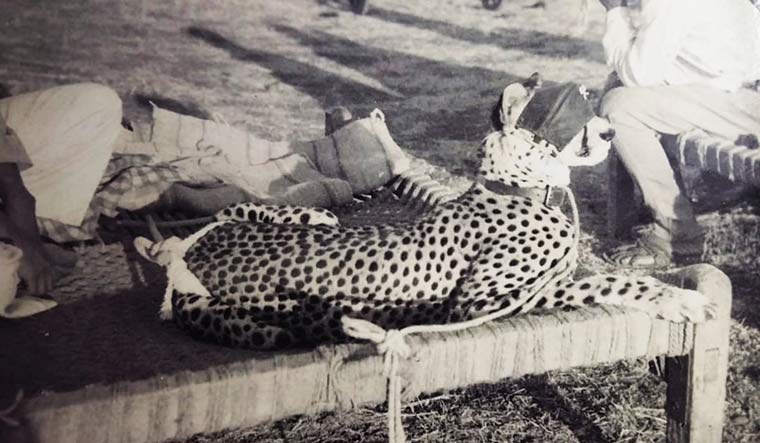 North India was the worst hit. Regions like Kumaon in the United Provinces became notorious for man-eating tigers. "A man-eating tiger is a tiger that has been compelled, through stress of circumstances beyond its control, to adopt a diet alien to it. The stress of circumstances is, in nine cases out of 10, wounds, and in the tenth case, old age," wrote Jim Corbett in 1944.
Like most hunters, Corbett had once believed that "tiger shooting is only incidentally a sport, and that its true nature was the protection of the empire". He had made good money off the bounty system that the government had instituted for killing tigers to protect villages. But Corbett, much like the hunters who formed the BNHS, came to realise that the lasting solution to man-animal conflict was conservation of wildlife, and not its extermination. His advocacy resulted in the setting up of India's first national park in 1936.
Corbett was a contributor to the BNHS journal. Joubert was a patron as well, even though he continued to profit from the destruction of wildlife. Joubert preserved landmark specimens for museums―such as the record mahseer caught by DeWet―and sent notes to the BNHS whenever he saw something extraordinary in the wild.
A rat snake coiled around a baby muntjac in his plantation in Wayanad, for instance, prompted a dispatch to the BNHS office in 1981. "Rat snakes are quite common on the plantation, and they probably live on birds and rats," wrote Joubert. "But this is the first occasion I have known of a rat snake seizing a small deer for its prey." The note was promptly published in the next issue of the journal.
After independence, there was a wave of conservation efforts across India. In 1956, a year after Corbett died, the national park he had helped establish was named in his honour. Four more national parks were soon set up.
In the 1970s, the conservation movement went mainstream. Women in Kumaon and surrounding regions started the Chipko movement, embracing trees to protect them against loggers. In Zanjeer, the 1973 film that made Amitabh Bachchan a star, a Pathan don named Sher Khan (sher means tiger in Urdu) reforms himself and refuses to kill the tiger-like hero. "A tiger doesn't hunt another tiger," says Sher. "As it is, there are very few tigers left in the country. I have even heard that the government has prohibited the hunting of tigers."
Sher was right. Heeding calls for conserving India's remaining wildlife, the Indira Gandhi government had passed the Wildlife (Protection) Act in 1972 that banned hunting nationwide. A year later, Project Tiger was launched and Panthera tigris replaced the lion as India's national animal―a change worthy of a grunt from Tipu's toy tiger.
With the demand for its signature tiger mounts gone, the Van Ingen factory began its decline. There was still good money to be made from hunting expeditions to Africa, where the Van Ingens had a network of sources and patrons who guarded the last outposts of colonialism. But that network, too, withered as newly independent countries like Kenya started banning hunting safaris.
By the 1980s, the factory resembled an automobile firm that had shut its sales division and lived off its servicing one. Most trophies needed chemical washes and other maintenance measures at least every three years, and the Van Ingens continued to make money servicing private collections and museums. The assembly line, however, drew to a halt and import of equipment largely ceased.
"On paper, the factory closed in 1995, as forest rules made it difficult to renew licences," said a former employee. "But Joubert still ran it unofficially for three-four years, and shut it down only when he became too old. There were around 60 employees when the factory was closed for good."
Krueger was the first of the brothers to die, in 1981. DeWet died in 1993, and Botha in 1996. Rosamond, Joubert's sister and Tilly Gifford's grandmother, died in 2006. The children had long emigrated to Europe and North America. After Botha's death, Barbara settled in Vermont, US, and became a renowned photographer. One of their grandchildren, Sami Van Ingen of Canada, followed in Robert Flaherty's footsteps and became a reputable documentary filmmaker.
Botha and Barbara's younger son, Michael, remained in India, occupying a bungalow near Bissal Munti. He kept Uncle Joubert company in his final years. Now in his eighties, Michael's memory is fading. "He is suffering from dementia, and rarely speaks to outsiders," said his caretaker.
Before he died, Joubert himself reportedly became quite senile, often chasing away visitors to his bungalow by threatening to shoot them. But he did make one last noble gesture before he took leave―he agreed to donate part of the Van Ingen registry to the government. The records came in handy a few years ago, when the government launched a study to reintroduce cheetahs that had gone extinct in India in the 1950s. Researchers traced the animal's extinction history using the records, and put together plans for arranging habitats that would be sustainable. In September 2022, cheetahs were finally reintroduced in India.
The Van Ingen trophies, however, are slowly dying. After the British left, various government departments which had a good number of the trophies showed little interest in maintaining them. Thousands of trophies rotted away and some were actively destroyed. Some of the pieces were smuggled out of the country, and they gradually entered the mainstream art-history market.
Tens of thousands of trophies still remained. Joubert donated part of his collection to the Regional Museum of Natural History in Mysore. DeWet's mahseer is on display there. Some pieces went to the rest of the regional museums in western, eastern, northern and central India. A sizeable collection, perhaps the largest single one, was acquired by the National Museum of Natural History in Delhi.
When Joubert was on his deathbed, the Van Ingen collection in India was scattered across palaces, museums, heritage buildings, universities and government offices and guest houses. Army regiments also inherited numerous trophies. One of the largest collections is kept at the officers' mess of the Madras Engineer Group's training centre in Bengaluru.
"There are more than 60 magnificent head mounts," said Col M.K. Singh, who was in charge of maintaining the MEG collection. "We take care of them with routine dusting and cleaning, but it is Manjula that does the detailed maintenance and restoration work every two or three years."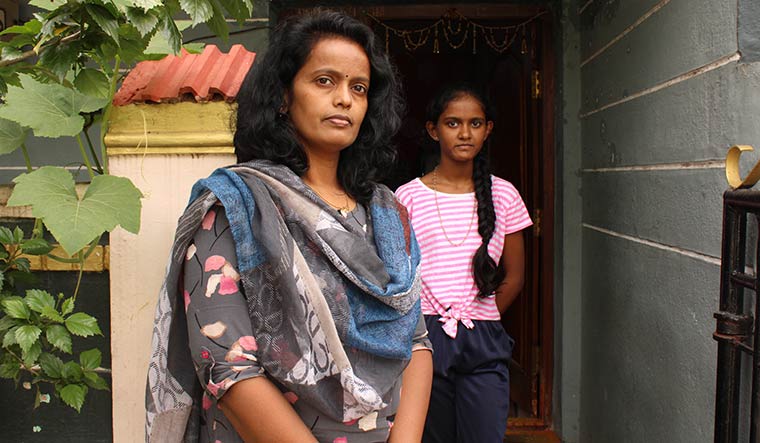 According to Manjula, the Army is properly maintaining the trophies, but the same cannot be said of museums. She said Van Ingen mounts in many museums were in need of urgent restoration, while a number of trophies kept in godowns owned by the forest department were in various stages of decay. "Sometimes, authorities even issue orders to burn down trophies to save space," she said.
Last year, a group of former Van Ingen employees wrote to Prime Minister Narendra Modi that the destruction of the trophies was causing a huge loss to the exchequer. The letter said a full-scale Van Ingen tiger mount alone would fetch crores of rupees in the market, and that there were thousands of similar specimens of various kinds that the government could either auction off or exhibit in a museum. "If the government can show some interest on this issue," said the letter, "then future generations can get to see and learn" about India's natural history.
But museums have not been up to the task. The National Museum of Natural History in Delhi, especially, has an abysmal record. In April 2016, a short-circuit in the museum building started a raging fire that consumed not just a 160-million-year-old sauropod fossil, but also the museum's entire Van Ingen collection.
"A loss of a natural history collection at this scale has not been seen outside of war," Prof Corrie Moreau of the Field Museum of Natural History in Chicago told The Washington Post as news of the fire broke. "Scientists around the world rely on natural history collections to serve as the archive and source of material for scientific research, and a loss such as this will have ripple effects around the globe, now and for decades, even centuries, into the future."
The National Museum is now history, but the government continues to run up administrative costs. Plans for constructing a new museum building are stuck in red tape, making India the only major country in the world without a national museum displaying its environmental heritage.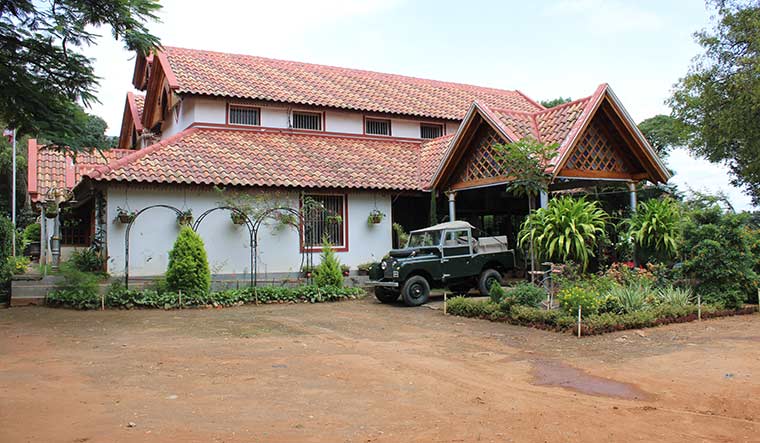 Michael Eshwar continues to look after Joubert's private collection at Bissal Munti. It has been 10 years since Joubert died, and a charge-sheet against Eshwar has been filed at the judicial first class magistrate's court in Mysore. Tilly Gifford says she is determined to bring Eshwar to book.
"I thought Joubert was getting old and paranoid when I visited him in the final years and he said he was in danger," she said. "I was quite naive at the time, and I hadn't really put the pieces together. I now regret not having intervened more to protect Joubert from Eshwar's predatory behaviour."
Eshwar said he was confident of proving his innocence in court. "The ED has closed the file on me," he said. "The RBI, which looked into the FEMA matter, has concluded that the sunset clause in the legislation (the provision that sets an expiry date on investigations) prevents it from taking up the matter."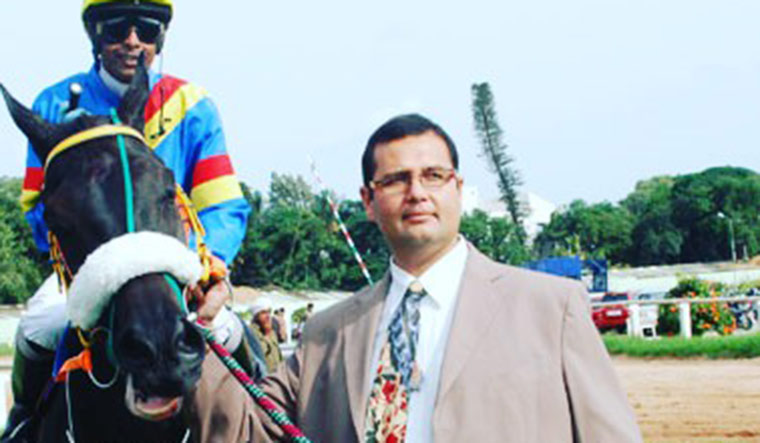 According to Eshwar, the Kerala government's efforts to seize the estate in Wayanad had also failed. "The government had invoked the right of escheat (reversion of property to the state if the owner dies without leaving an heir)," he said. "But the court directed that the property be restored to me, as I am the rightful owner. What remains of the legal issue is actually purely civil, and not criminal in nature as the prosecution says."
Years after the Supreme Court directed it to file a report on the progress of the case, the Karnataka CID has now filed a charge-sheet in the trial court in Mysore. "To me, there is no doubt that he is a conman," said Malagathi Basavaraj, former deputy police commissioner who oversaw the initial investigation after Gifford met him to file the complaint. Basavaraj said Eshwar had bribed police personnel in Nazarbad into bungling the FIR. "It was the FIR that weakened the whole case against Eshwar," he told THE WEEK. "But the CID has now filed a watertight charge-sheet."
With Joubert gone, Bissal Munti is no longer the place it once was. The factory was demolished in 2011, and excavators buried what remained of the machines and moulds. It has been replaced by a glitzy shopping mall―Mysore's fourth and biggest.
Joubert himself has largely been forgotten in Mysore. Perhaps just one man living on a parcel of land on the Mysore-Bangalore road still remembers him often. His name is Antony, and he is a sexton at St Bartholomew's Church, Joubert's old parish.
Antony and his family live on church-owned land, and a portion of it serves as a graveyard. He came to know of the Van Ingens after Joubert's death, apparently because people from abroad sometimes come visiting. "This is Eugene and Patti," he said pointing to a large headstone, "and over there are his brothers. Here, right next to Eugene and Patti, is where Joubert is buried."
There was no headstone; in fact, nothing that marked Joubert's grave. Only a mound covered by overgrown grass, beside which a goat sat and chewed in contentment.