Q/ How are youth in Punjab falling prey to the gangster-terrorist network?
Punjabi gangsters in foreign countries cannot operate in India without making use of their local associates. These are generally primary contacts. The association may come from [having been part of] criminal activities [together], having studied together or having been involved in similar activities before taking to crime. Once such primary contacts are arrested, the gangsters task them with getting new associates; these are secondary contacts. The gangsters can also get these secondary contacts through a nexus with other criminal gangs operating in neighbouring states or even with new entities on foreign shores.
As these gangsters are themselves young, in their 20s and 30s, their associates are mostly young. While a few of the contacts might have criminal records, quite a few of them are first-time offenders and even juveniles.
These people are often unaware of the full criminal conspiracy in which they were engaged. For reasons such as poverty, lure of gun culture or the need to go abroad through whatever means, they carry out the limited tasks they are assigned.
The Punjab Police is addressing the [expansion of these] networks not only through hard investigation, but also through counter measures such as community policing, crackdown on gun culture, and coordination with central agencies and police in neighbouring states.
Q/ What are the security threats from these gangster-terrorist networks?
The gangsters have mainly been resorting to extortion and illicit gunrunning. A number of them are also involved in narcotics smuggling, bootlegging and so on. Pakistan's ISI (Inter-Services Intelligence) and pro-Khalistan terrorists based abroad have, in the past few years, managed to forge links with these gangsters and have [made them] carry out terror strikes. Harwinder Singh, aka Rinda (in Pakistan), and Lakhbir Singh, aka Landa, Arshdeep Singh, aka Dalla, and Goldy Brar (all three in Canada) are a case in point.
Q/ How serious is the drone threat on the international border in Punjab?
The main challenge at present, in terms of cross-border smuggling, is that rogue drones are being used for delivery of narcotics and militant hardware consignments. The primary role of guarding the international border (with Pakistan) is that of the BSF (Border Security Force), but the Punjab Police has set up a second line of defence in coordination with the BSF.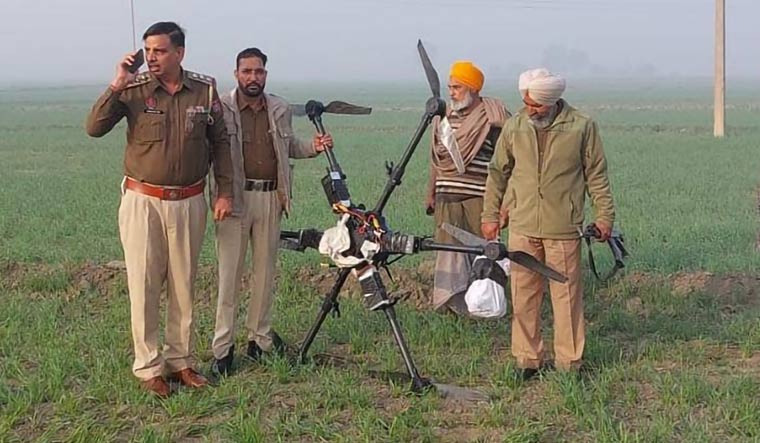 Q/ Have you informed the Centre about Punjab's concerns?
The state government and the Punjab Police have been working in close coordination with the Union home ministry and the central agencies on the various facets of this challenge. Recently, the MHA approved the setting up of a high-security jail in Punjab; the Centre will bear the cost. Furthermore, the MHA is providing funds for the modernisation of the state police.
Active pro-Khalistan terrorist outfits have been been proscribed under the Unlawful Activities (Prevention) Act. Similarly, active pro-Khalistan elements, including gangsters-turned-terrorists, have been declared "individual designated terrorists" under UAPA.
Q/ Are there suspected hawala links to the money inflow into Punjab?
Hawala channels are known to be used for both outflow and inflow of such ill-gotten money purely to avoid detection by law enforcement agencies. The Punjab Police has a dedicated Financial Intelligence Unit, headed by an inspector rank officer under the supervision of the special director general of the internal security wing, to investigate such linkages, among others.
Q/ How are you handling extortion calls to locals as well as policemen?
To counter extortion and threat calls, the first step is to take cognisance, register FIRs and investigate on priority. This is being ensured. Both anti-gangster task force units and the internal security wing are monitoring extortion and threat calls. Recently, 70 such extortion cases were cracked.
Q/ Families of some of these gangsters are still living in Punjab in a pathetic state.
It is well known that such criminal activity by any individual brings hardship for the family. The primary reason for this hardship is on account of social disgrace. While the police might have sympathy for the families of these gangsters, the rule of law must prevail. The police's sympathy will primarily lie with the victims. Besides, families of such individuals cannot morally wash their hands of the problem; they are [responsible for the] primary enculturation.
Q/ What urgent steps are needed to prevent militancy of a different kind in Punjab?
From the police side, establishing the rule of law is paramount, which is being done with utmost sincerity. It is important to understand that gangsterism is not limited to Punjab, but is also active in neighbouring states, which are working in full coordination to bring this to a stop. While all-out efforts are being made to apprehend the gangsters on the run and to monitor the activities of those in jail, simultaneous efforts are being made to wean away gullible youth from gangsterism and terrorism. De-radicalisation is an important police initiative and, as such crimes have socio-economic roots, the state government is taking definitive steps. We are also taking strict action against the promotion of gun culture and are reviewing the issued arms licences.