Peace. That is what you find when you step in to the Sevagram Ashram, Wardha, set up by Mahatma Gandhi in 1936.  The prayer in the wee hours of the day and the one when the ashram closes for visitors in the evening take you away from yourself. And as you stroll around inside the ashram, soaking in a slice of history, you forget the outside world.
'Bapu kuti', 'Ba kuti', 'Akhri Nivas', 'Adi Nivas', Gandhi's secretariat—all these places where Bapu and Kasturba stayed along with their close associates for a decade, take you to the times when history was scripted. Whether you are a believer of Gandhi's philosophy or not, the ashram enlightens you—instilling in you something beyond what you had before you stepped foot on to the sands around the ashram. There is no concrete road leading to the ashram. It is has been kept natural, like it was during Bapu's times. The kutis (cottages) and Gandhi's belongings, or the place where he received medical attention leave a lasting impression.
Seldom does anyone from the ashram need to ask visitors to maintain silence. Except for the chirping of birds or an occasional horn of a vehicle passing by, you will hardly hear any sounds. In the school located on the campus, the children are imparted education based on the 'Nai Talim' concept introduced by Gandhi.
There is no entry fee to visit the ashram. The footfalls speak volumes about the contribution of Gandhi and the relevance of his philosophy. Nearly 1,000 to 1,200 people visit the ashram daily and there are about 100 to 200 foreign visitors in a year, said manager Siddheshwar Umarkar. Young or old, each one takes away a lesson or two from the ashram. Hailing from Wardha, 19-year-old Ashwini Salve felt peace at the ashram and said non-violence can be practised. Forty-two-year-old Kanchan Prabha from Bhagalpur remembered the message of cleanliness given by Gandhi. "I try to follow what Gandhi taught. And yes, one should not see bad, hear bad and speak bad," she said.
If the outsiders are inspired by Gandhi, the inmates of the ashram are deep-rooted in Gandhian philosophy. For instance 53-year-old Shobha Kavadkar from Chandrapur worked with women and was a social changemaker in her locality before she decided to move into the ashram. "I came to the ashram because I wanted to make khadi on my own so that I can wear it," she said. Kavadkar, who also teaches farming and pickle making to people, said she felt at home at Sevagram.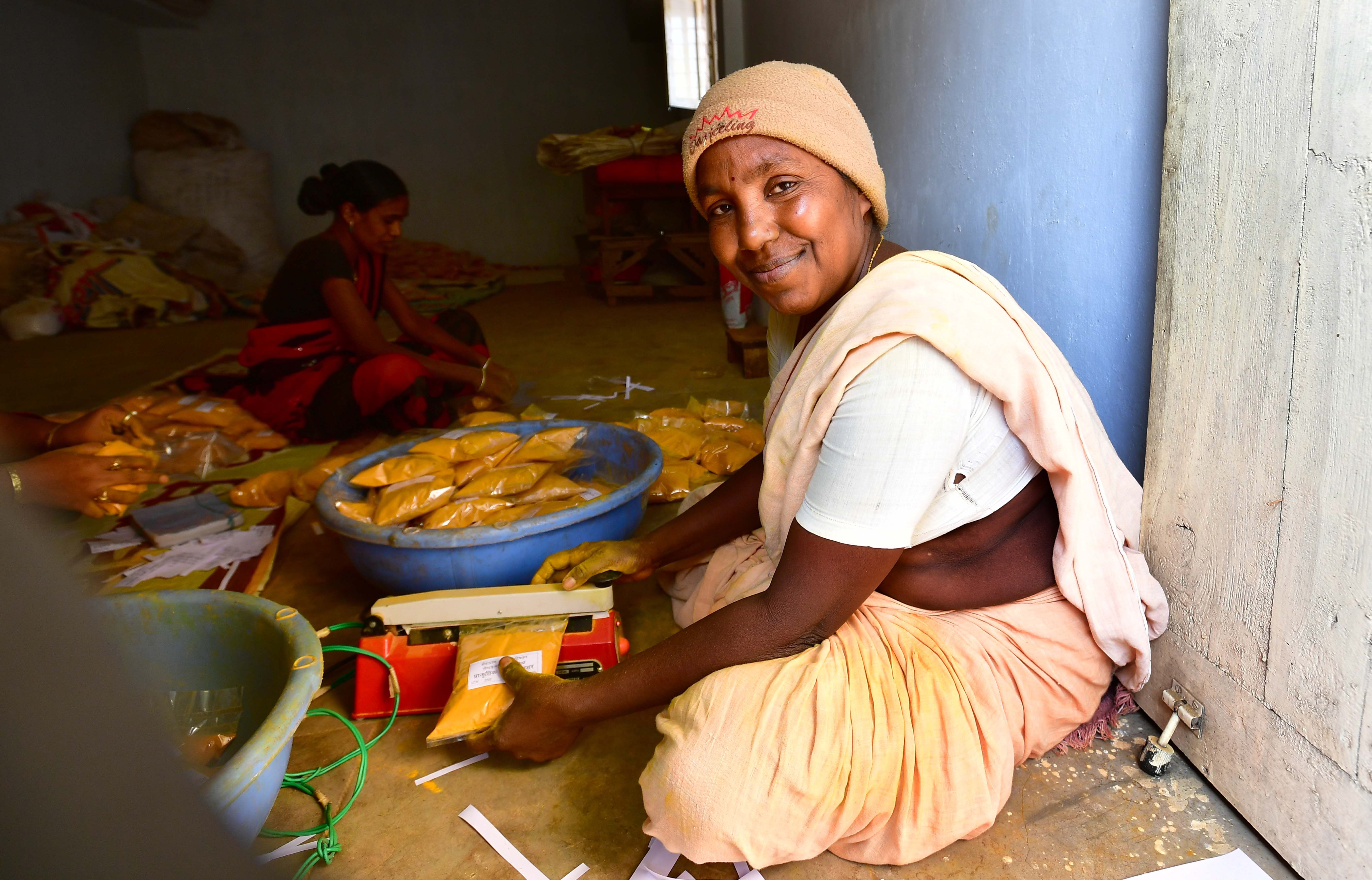 For all those who have been influenced by Gandhi's life, their lives are content. A graduate in arts, Umarkar is an example. He stays in the accommodation of the ashram with his wife and son. His wife works in ashram's khadi bhandar and son studies in the Nai Talim school that has about 400 students. The rent is nominal when compared with to other regular accommodations. "I know I could have perhaps earned more had my wife and I and worked in a private sector. However, I am satisfied. I do not have many needs. Moreover, what I am doing here is a kind of service to the society," he said.
It is not only in the Sevagram Ashram that you find peace. The Yatri Nivas run by the ashram is an ode to simplicit with clean rooms, simple cots, khadi bed sheets, pillow covers, comforters. Probably the cleanest and safest accommodation in Wardha comes at an unbelievable per day price of only Rs 250 for double occupancy. Breakfast and lunch are provided on paid basis. "We get visitors from various walks of life. Initially, the Yatri Nivas had a capacity of 70 but now we can accommodate 120 persons at a time. There are rooms to accommodate large groups," said Yatri Nivas manager Babarao Khairkar.
Not only has the Gandhian philosophy touched and shaped those staying in the ashram but also several people in Wardha. Here we sample three people, who have been silently working for the society.
Ashok and Niranjana Bang: Son of activists Thakurdas and Suman Bang, Ashok was born in Sevagram. Despite being activists, his parents never imposed on him that he should follow Gandhian philosophy. "For me it was not important whether I followed Gandhi or not. It was just a coincidence," said Ashok.
Ashok's experience made him realise that he should work in the agrarian sector and those related to women. "There is lot of violence in these two sectors," he said.
Joining in Ashok's efforts is his better half Niranjana. The couple has been trying to bring in changes in the way crops are cultivated. "We are focusing on farming that is deep rooted and not based on violent technology. We also do research and development so that things that are used do not harm the micro-organisms and the micro-organisms in turn do not harm the soil," said Ashok. The couple strongly believes that the path other than what they are following in not viable and not productive on a sustained basis. Moreover, the farmer has to be dependent on outside inputs.
About hundreds and thousands of farmers, including those from Maharashtra, have benefited from their efforts and in an intensive manner about 150 farmers of Wardha district are being monitored by them. Documentation of 100 farmers done by the Bangs has revealed that there has been an increase in productivity, profitability, stability and sustainability apart from improvement in the quality of life for those involved in such farming.
Niranjana's efforts are focused towards getting women to the forefront. Women are not "thinking entity" and we want them to become that, she said. With the efforts of the couple, farmers have now started growing 20 to 30 food crops along with cotton. It is because of economics, generally the farmers tend to grow cash crops like cotton, said Niranjana.
Dr Ullahas Jaju: A professor of medicine at the Gandhi Institute of Medical Sciences, Wardha, Dr Ullahas Jaju is a staunch follower of Gandhian philosophy. Grandson of Krishnadas Jaju, secretary of the Charkha Sangh, who was closely associated with Gandhi, it was natural for Jaju to follow Gandhian philosophy. Despite his busy schedule, he spins rovings on his Amber Charkha to make thread, which in turn finally takes shape of a cloth after other processes. It takes 15 hours for him to spin rovings that are enough to make material for one shirt. "Spinning rovings has many aspects. It is about simplicity, it exercises your body and it is about swadeshi," he said.
Jaju has not limited the philosophy to his personal life. With the help of the government, he has been working in about 40 villages of Wardha district. The villages have witnessed equitable water distribution, water reaching homes and growth of dairy industry. With some financial aid and participatory approach of the villagers 100 per cent homes in about 10 villages of Wardha have latrines. These are odour-free latrines that require less water, he said.
He felt that the one who has understood Gandhian philosophy will implement it in public life as well.