Got your first salary? What next? Partying with friends or family? Buying the latest smartphone? How about saving money? The earlier you start saving and investing, the better, isn't it?
But that is easier said than done. How and where can you park your money? How much would you need to invest each year to meet your life goals and build a retirement corpus? Equity investing can be rewarding over time, but the risks associated with it and the long-term patience required to build a large corpus may not be every one's cup of tea. So, then?
A seminar organised by THE WEEK, in partnership with Aditya Birla Sun Life Mutual Fund, tried to answer many such questions. Titled 'Master the Mind and Manage your Money', it was held at the Narsee Monjee Institute of Management Studies in Mumbai, and saw good participation.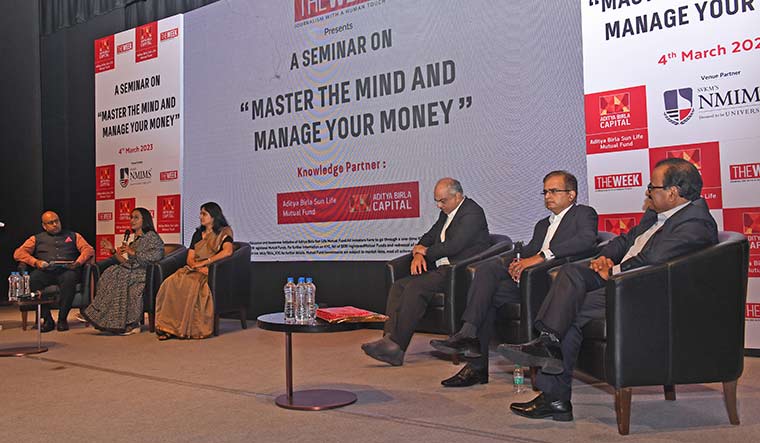 The speakers included K.S. Rao, executive vice president and head of investor education and distribution development at Aditya Birla Sun Life AMC; Alpa Shah, founder, Empower Education, author and finance professional; Amit Trivedi, author and personal finance expert; Kiran Telang, author and financial planner; and Vinod Bhat, portfolio manager and chief of knowledge management at Aditya Birla Sun Life AMC. Dr Ramesh Bhat, vice chancellor, SVKM's NMIMS Deemed-to-be University addressed the audience at the start as the venue partner for the event.
"Protecting wealth is not sufficient as inflation eats away your money. Wealth maximisation is important. We need to take certain risks, understand them and create wealth," said Rao.
Perhaps, it is time for today's generation to think differently. With rising costs and increasing life expectancy, investing first and then spending from the leftover income could be more ideal, said experts.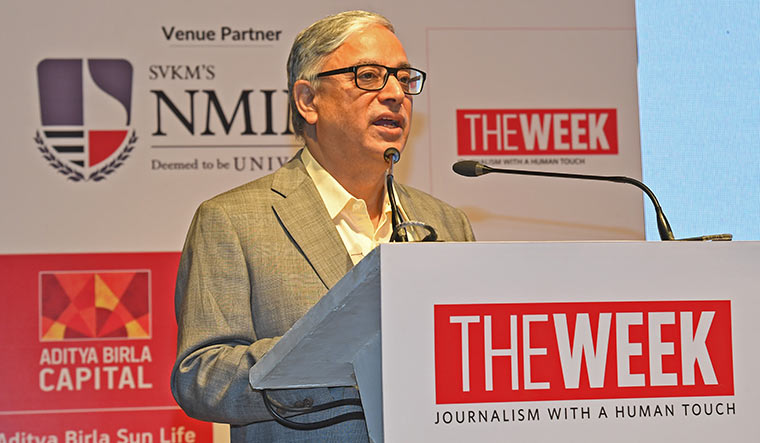 While investing over the long-term helps in building a sizeable corpus, starting one's investment journey early is equally important as the earlier you start, the higher your corpus, thanks to power of compounding.
Like beginning to invest $5,000 per month after college, assuming that annual returns is of 12 per cent, it could grow to around $1.75 crore over a 25-year period. "But delaying it by even five years will leave you with a significantly lower corpus of around $94 lakh," said Rao, "Delay it another five years, and the wealth corpus that you accumulate could come down to $48 lakh."
Agreed Alpa Shah, "If you start your Systematic Investment Plan (SIP) five years late, you are half rich; 50 per cent of your wealth is gone when you retire. That is the impact of compounding and starting early." Shah felt that as soon as students get a job and start earning, they should start systematic investments in mutual funds.
One common mistake, said Bhat, is when a person invests when the market is rallying. And when there is a correction, he would panic and sell, instead of buying low and selling high.
Said Bhat, "That is where the principle of asset allocation comes into the picture. Starting from fixed deposits, gold and real estate, which are low risk and low return, to hybrid and equity mutual funds, which have moderate risk and returns, to direct investments in stocks, which have highest risk, but potentially higher returns. The best principle to follow is to invest in multiple asset classes."
Financial planner Kiran Telang said one should be mindful and take decisions based one ones goals. "If you have invested in a recurring deposit or in a liquid fund, what happens in the stock market should not impact you. You should know your focus, goals and invest accordingly. That is how mindfulness can be an important factor while investing," said Telang.
Engineer-turned-life coach Gaur Gopal Das shared insightful thoughts on this aspect, which drew a lot of enthusiasm.