The Mobvoi TicWatch C2 looks like a traditional watch on the outside, but style and smart features come together here to give you a top-quality device in the smartwatch segment.
Whether you want to check your mails, messages and notifications on your phone or to monitor your fitness and physical activities on a day-to-day basis, TicWatch C2 ticks the boxes of a smartwatch that has the functionality of a classic wristwatch and is packed with smart features for both iPhone and Android users. GPS tracking is built-in in the device, as is Google Assistant, which makes it easier for users to do a quick search or set a reminder. It also supports Google Pay. So, next time you want to do some quick online purchases, just tap your watch and get going.
The TicWatch C2 has genuine leather straps with a stainless steel watch case, giving it a hint of elegance. The device comes in three styles or colours―Onyx, Platinum and Rose Gold. The Onyx has a black stainless steel body and black leather strap; Rose Gold, as you guessed, comes in a rose gold stainless steel body and an off-white strap; and the Platinum has a metallic or silver body with grey strap.
The bottom side of the watch, however, is plastic, where the heart rate sensor is located. But not to worry, it's nearly unnoticeable while the device is in use.
It comes with two buttons on the side of the watch―a top button that lets you open apps, takes you back to the main screen and move around in general, and a bottom one that opens the device's fitness settings, helping you navigate through the interface.
The TicWatch C2 has a Qualcomm Snapdragon Wear 2100 chipset and not the recently rolled out 3100 upgrade. Considering other smartwatches in the market haven't put in the upgrade, the TicWatch C2 isn't missing out. It comes with a 1.3" AMOLED 360 x 360 px display which can be adjusted in the setting.
However, two apps―Wear OS and Mobvoi―need to be downloaded on your mobile device so as to make the most of the TicWatch C2. The Wear OS app helps you check your Google Fit data, and also change your settings as per your preference. The Mobvoi app collects the data from TicWatch's apps such as TicExercise and TicPulse Live, helping you keep track of health and fitness data.
In addition, the TicWatch C2 is a bit on the heavy side. Users with lean wrists may find the device to be a bit uncomfortable.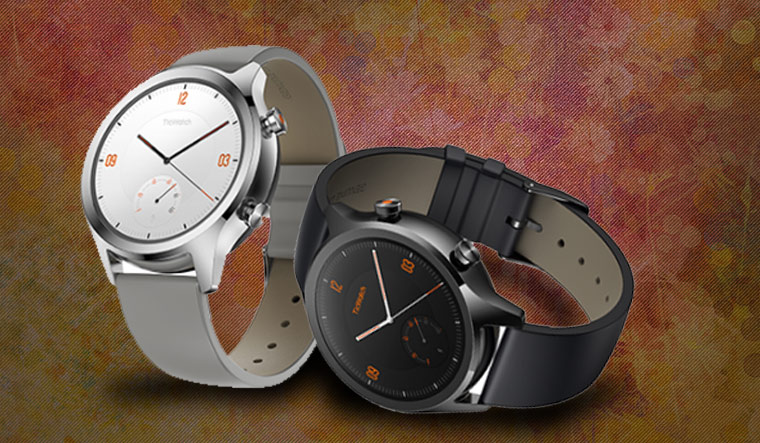 The device has a 400mAh battery which should last two days with light usage and one day with heavy usage, as per the specs. You can charge the device by plugging it into a USB port, and it takes about 1-1.5 hours to go from empty to fully charged.
The watch is dust and waterproof, which means you can go for a run in the rain while wearing it if you want, but it is advised that you don't go swimming wearing the TicWatch C2 and avoid submerging it in water for long.
The TicWatch C2 is comparatively easy on the pocket too, at Rs 17,999! It may not be a high-end smartwatch like the Apple Watch or Samsung's Galaxy smartwatch, but those looking for smart wearables on a budget can loosen those purse strings just a tad to get their hands on this classic wristwatch with a good design, a bunch of cool features, and performs well enough.