When in doubt, ask Google. That's what quite a few of us have been doing for most of this decade. For years now, Google has been the search engine of choice, especially in markets like India where it enjoys a dominant position. It was Amazon that took the lead in the digital assistant space with Alexa and its smart speaker – Echo. Google and Apple now have their answers to Echo. Google Home arrived in India, months after its global debut and the launch of Amazon's Echo range of smart speakers. It actually has two variants – Google Home (that we checked out) and the pint-sized Google Home Mini. Does it have all the answers and does it truly simplify your life?
Design
Scandinavian chic. That's the first thing that crossed my mind when I spotted the Google Home. It is minimalist, can blend in easily into your living room or den. Just like the Amazon Echo, it needs to be constantly connected to a power source. This obviously makes it less portable than your favourite Bluetooth Speaker that can probably clock anywhere from 6 – 12 hours on battery mode. But there's one key difference, Google Home works best if it is 'always on' and has way more tricks up its sleeve than your everyday Bluetooth speaker.
Getting started
It is incredibly simple to fire your Google Home up. You will need a companion app (that is also available on iOS devices) and within a couple of minutes you are good to go. The speaker's 'hearing' skills are quite incredible – it worked even at a distance of thirty feet from the next room. A simple installation process helps you pair the device with multiple Apps and also lets you set up default Apps for specific services – we used the free version of Saavn as our default music App. A simple 'Hey Google' prompt wakes up the device with the trademark Google coloured dots that light up the top of the speaker. The top of the speaker can be used for multiple controls including volume.
Getting stuff done
What's your 'use case' proposition for a smart speaker? For many consumers, it is the ability to come back home and toss that smartphone in a remote corner. It's almost like getting a cross off your back after a long day at work or not having to keep going back to your phone on a Sunday. Amazon has almost pitched Alexa as an additional member of the family; someone who can be part of conversations, answer seemingly bizarre questions – the type of questions your five-year old never gets tired asking. With a wealth of search data under its belt, Google Home can answer almost any question you throw at it. We kept quizzing Google Home and it was on the ball on weather, trivia and the latest News.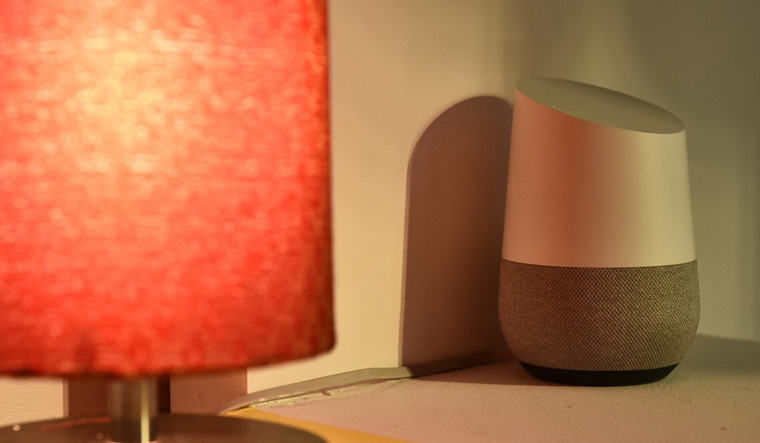 It is not just the 'good to know' stuff, Home was able to estimate travelling time from my house and office to multiple destinations with inputs from real-time traffic, thanks to seamless Google Maps integration. It was able to scan my calendar and update me on my meetings. This is where Google Home has the edge – the ability to leverage from Google's multiple services. Which is why it came as a bit of a surprise that it couldn't read my latest emails off my Gmail account. Also, it can't connect via Bluetooth to other devices; it needs the companion app.
The smart home
Smart speakers clearly need to integrate with your everyday lifestyle better to become more ubiquitous and almost indispensable. It is why we are chained to our smartphones. Part of this multiple-skilling involves connecting with multiple devices at home. We paired our Google Home with Philips' Hue smart light and enjoyed altering the brightness settings via voice commands. It's no longer just the shape of things to come, the smart home is all but here and Google Home already has a few tricks up its sleeve. It will be a while before smart speakers can get a lot of stuff done; it is certainly not going to be your primary purchase driver for Google Home or the competition just yet. But having a speaker that can play a song on a whim is a worthy skill. No need to search your phone playlist, just name the song and Google Home can play it for you. The sound output is impressive; don't expect the same sound quality of an expensive Bluetooth Speaker though.
Taking the plunge
Does Google Home do enough to justify an immediate purchase? The answer hinges on your current lifestyle and whether you consider yourself a first mover among your peer group. Google Home scores with its chic design, its seamless integration with Google offerings like Maps and Calendar. It is clever, quite resourceful – for instance it can recommend restaurants based on your location and is a handy music companion. It's certainly not perfect, there are still some skills that Google Home needs to acquire and hone. That's the key to the success of this category. Google Home has demonstrated that it is a quick learner and is busy adding multiple services. That's one reason why it merits your consideration.
Google Home costs Rs 9,999/- while the Google Home Mini costs Rs 4,999/-