This summer is likely to be the hottest in history, and the weather is unlikely to offer any kind of relief. But there may be one sure-shot escape route, albeit a literary one—'Cities and Canopies: Trees in Indian Cities'.
A delightful summer read, reminiscent of languid long summer afternoons, the book is everything you need to survive the hot summer—gentle, wise, peppered with tree related trivia and more.
In tree-starved cities that India now lives in, this book provides the much needed cover—and of course, the impetus, for more trees. The book brings together urban stories of trees that dot the streets that need to be told and treasured. The writers, Harini Nagendra and Seema Mundoli, who are clearly tree lovers, tell them well. There is also plenty of tree history offered.
In Delhi, no summer is complete without the purple jamun. From Delhi to Bengaluru, jamun is a favourite to be planted. It is said that during the vanvas of Lord Ram and Sita, the jamun was a fruit they feasted on.
Babur may be disliked for its bitter taste, but it is admired for its 'fine form'. The tree finds a mention in the travelogue of Hiuen Tsang and even before Fa-Hsien. The tamarind tree was favoured by Sher Shah Suri and Jahangir. The nawab of Awadh continued this tradition for its shade.
In Bijapur, there is a 890-year-old tree that still survives. The leaves of the tree fascinated Alexander the Great who came across the tree on the island of Tylos, modern day Bahrain.
Bringing to readers this rather unexplored world of trees and their history, Cities and Canopies is fascinating as it is heartening. Where history fails, the writers chose mythology and poetry—from the classical English to the Indians. The frangipani, which came from Peru, is also known as the kalki tree. Planted by some Muslims on their graves to act as sentinels, the tree is believed to symbolise immortality. The seed of the tree is believed to be a cure for cobra bite. According to the book, there is a belief that the tree has no pods as cobras destroys them out of fear.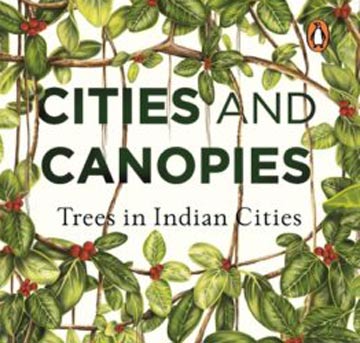 The book also brings to the fore the well known great eucalyptus debate. Whether the tree—introduced by Tipu Sultan, a keen horticulturalist, who was gifted the trees by his French allies—planted to promote the pulp and paper industry is actually environment-friendly? Unlike in Australia, where the tree originates, in India, the eucalyptus isn't embraced with the same warmth as it is a water guzzler. While the debate rages on, for those interested in the first few, the authors claim some of Tipu's trees still survive in his garden in Nandi Hills.
The book will take you on a tour on the familiar as well as the unknown. There are tree facts, fauna facts and flora facts and plenty to keep you riveted. Go grab a copy.
Book: Cities and Canopies: Trees in Indian Cities
Authors: Harini Nagendra, Seema Mundoli
Publisher: Penguin Random House India
Pages: 239
Price: Rs. 499