It has been a little over two years since the Jaguar F-Pace arrived in India and set tongues wagging with its sheer performance, handling and luxuriousness. Now, the petrol variant is here. We drove the Jaguar F-Pace 2.0L Petrol Prestige variant, (the only variant that is available in petrol) and which is now made in India, and we were rather impressed!
The Jaguar F-Pace is a handsome SUV with not just a beautiful design but with very good proportions as well. And when you get inside and start driving it, at no point in time you feel its bulk weighing you down. On the contrary, it is quite a sprightly SUV—a delight to maneuver—even in city traffic. Put it through the paces and you will be even more pleasantly surprised, not a groan or a whimper from what is evidently a well-calibrated engine. And at no point you feel that the engine is overworking or stretching itself beyond its limits.

The Jaguar F-Pace 2.0L (1997 cc) petrol Prestige variant is packed to the gills with features. Once you are seated inside, you will definitely appreciate the creature comforts that the SUV comes with. Starting from the 12.3 HD touchscreen infotainment centre to its four-zone climate control, to its air quality sensor to cabin air ionization—small steps towards healthier living—and to its 360-degree parking sensor, you will appreciate the thought that has gone into providing F-Pace owners with these technological features that allows them to enjoy their SUV to the fullest. However, the 360-degree parking sensor can be slightly cumbersome in our densely populated country with every square centimetre of the road (especially in metros) occupied by two and four-wheelers. The seats are well-designed and supremely comfortable, and make the F-Pace's interiors seem really plush. Even the large instrument cluster adds to its luxe feel.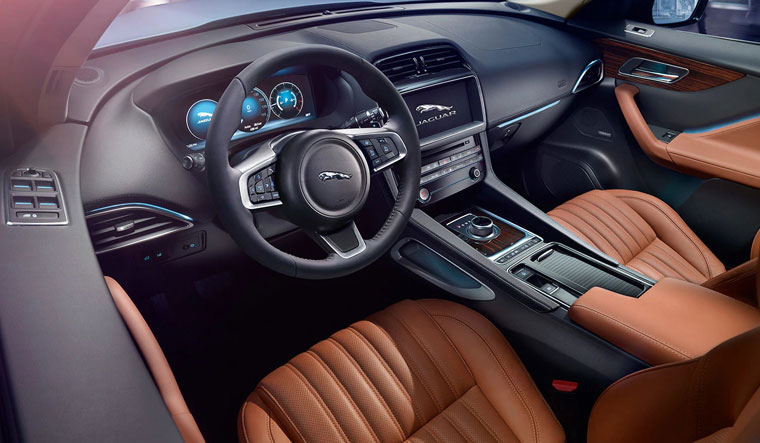 The F-Pace is powered by a 4-cylinder, 2.0L turbocharged Ingenium petrol engine that is mated to an 8-speed automatic transmission producing 247bhp. Besides being a 7-second car (0-100 in 7 seconds), this super-fast SUV belts out 365 Nm of torque and has a top speed of a whopping 217 kmph! That's quite incredible, really, given its footprint but all this is largely made possible thanks to its all-aluminum engine which gives it its lightweight body structure, not to mention its aerodynamic design, which gives it a decent fuel economy too.

Ride and handling are very good and the steering is precise too. There is something in the F-Pace that sort of reminds you of the F-Type, especially the manner in which it is so eager to lunge forward. If you haven't driven any other Jaguar F-Pace before, you are bound to love this one, have no doubt about it. If you're looking for something different from the Porsche Cayenne or the Mercedes Benz GLE or the Audi Q7 or even the Volvo XC60, this may well be the answer!

Priced at 63.17 lakh (ex-showroom, Delhi), this isn't out of bounds for many SUV-enthusiasts with deep pockets and considering the Jaguar F Pace is a great combination of tech, comfort, design and build quality it does have a lot going for it!