As the space race intensifies, China on Tuesday launched Shenzhou-16 spacecraft with a three-person crew to its orbiting space station. It is the fifth manned mission to the Chinese space outpost since 2021, state media reported.

The Shenzhou-16 or "Divine Vessel" spacecraft lifted off from the Jiuquan launch center on the edge of the Gobi Desert in northwestern China just after 9:30 a.m. (0130 GMT).
The launch was a "complete success" and the "astronauts are in good condition" said Zou Lipeng, director of Jiuquan Satellite Launch Center.
The Shenzhou-16 mission is led by Jing Haipeng, 56, China's senior spacecraft pilot. Including two trips as mission commander, he had travelled to space three times.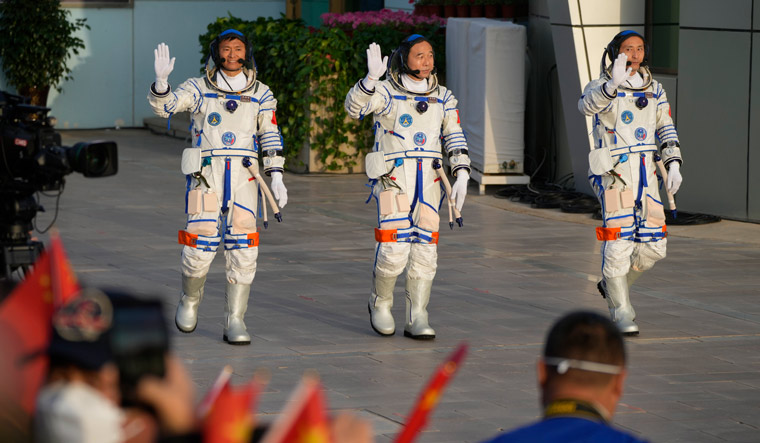 Jing flew along with Zhu Yangzhu and Gui Haichao. Gui, a professor at Beihang University, will serve as a payload specialist engineer on the mission, while Zhu will serve as spaceflight engineer. Gui is the first civilian astronaut to travel to the space. 
After completing the six-month mission, the crew now aboard the Tiangong station will be replaced by the new crew. The three-person crew in the Shenzhou-15 will now return to Earth after the mission.
The space programme officials on Monday said that they have plans to expand the space outpost along with launching a crewed mission to the moon before 2030. It was by the end of last year the station, comprising three modules was completed.
China has already made plans to make the next module a cross-shaped structure.

It was after exclusion from the International Space Station China built its own space station. The major reason behind it is believed to be largely due to US concerns over the Chinese space programmes' intimate ties with the People's Liberation Army, the military branch of the ruling Communist Party.

China's first manned space mission in 2003 made it the third country after the former Soviet Union and the US to put a person into space under its own resources.


(With agency inputs)