Fire on the mountain. Run, animals run!
Hell's broke loose in Amazonia. Over the valleys and the hills behind the mountain that borders the Ambue Ari Wildlife Sanctuary in east-central Bolivia, fire blows from the treetops, it is coming down the mountain and it is calling on the habitat of the jaguars, tapirs, birds, bears, monkeys and some 39 different species and 500 animals rescued from animal trafficking, circuses, and abuse situations in one of the world's valiant efforts to conserve biodiversity and battle wildlife trafficking, illegal trading and mistreatment.
In tropical forests, biodiversity is the key to a delicate ecological balance, said Bolivian naturalist and conservationist Hugo Santa Cruz evaluating the effects of a runaway wildfire on conservation theory and its impact on the area. Resilience and ecological as well as biologic success rest on biodiversity, said Santa Cruz, making the case for preserving, maintaining, and protecting natural habitats.

"The interdependence and ecological roles of each species—from ants to jaguars — have an essential ecological role and a very important function," he added, contemplating the fire-born destruction in the area.

The 900-hectare sanctuary is now the epicentre of a wildlife emergency. It is under threat of a rapidly expanding wildfire that threatens to extinguish lives of animals already in danger of extinction. Many of its rescued animals are not able to escape the fires on their own as they can no longer survive in the wild. The sanctuary focuses on giving them the best possible quality of life in a natural environment.

The fires have overwhelmed all current efforts, however, and aerial support is desperately needed, says Andrea Benavente, communications director of Comunidad Inti Wara Yassi, the NGO that developed, funds, and manages Ambue Ari and two other sanctuaries in the area.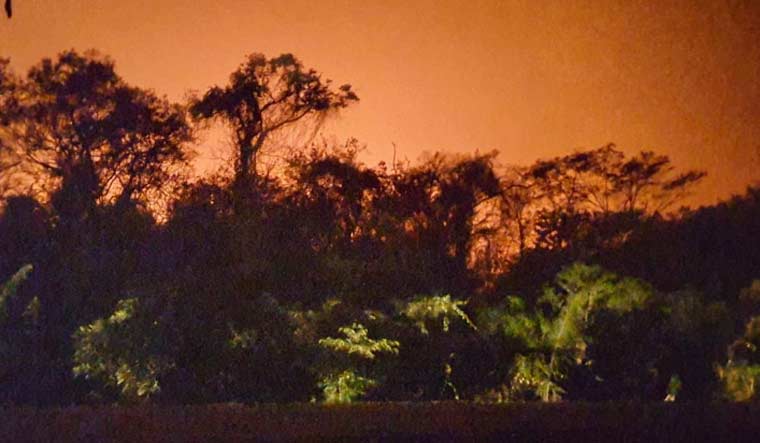 Benavente is coordinating firefighting efforts and pleading for additional support. The Bolivian Defense Ministry sent in a ground contingent of 30 men but Benavente says they were quickly overwhelmed and that air support is needed to put out the fires.
Stopping the fire has been left up to just 14 volunteers who were there to attend to the animals and have had to become instant firefighters. They have received some support from the nearby Guarayos Municipal Fire Brigade and the Bolivian Forestry Protection Department.
"Really, we are in profound despair at this moment, and that is why we again appeal to the authorities to send us air support. There is not another way to get control of the fires that at this moment are already within the Ambue Ari Sanctuary."
It is indeed hard for land-based firefighters to know where the fire is in order to mount an effective response. Drone and aerial support are needed in order to map the fire and direct resources and to deliver sufficient quantities of water to put out the fires.
The area is a natural corridor for jaguars and other endangered animals, and at least one jaguar was seen crossing roads in a mad exodus of scorched and frightened wildlife. Voracious flames and choking smoke kill animals outright and also chase them out of their habitat, making them susceptible to opportunistic predators as they flee.
While birds can often fly away from wildfires and are better equipped than ground mammals, they are sometimes overwhelmed by the rapid-moving fires, and cannot leave the burning trees because of their nests, explained Benavente. "We are losing a lot of wildlife...we are talking about lives that are raked over second by second."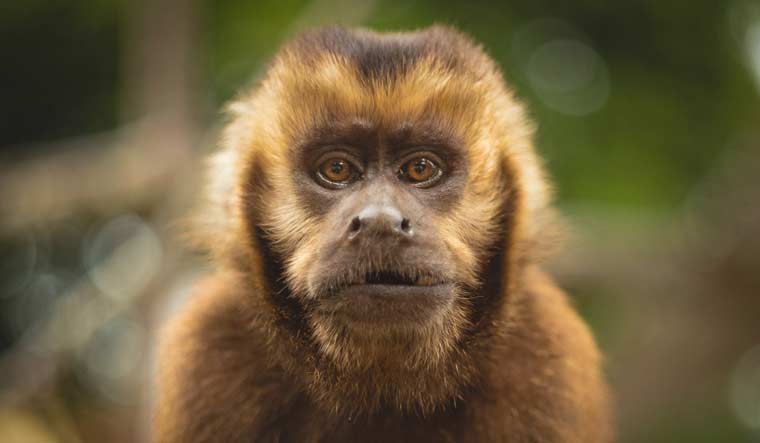 "Anger," is the first reaction of conservationist Nicholas McPhee, a former Australian Army digger whose eco-tourism company, Nicks Bolivian Adventures, promotes the area's biodiversity and looks for solutions to wildlife conflicts. "It's a feeling of hopelessness, shame, and anger," he says. "Every year fires are increasing, yet political parties keep pushing for more land-clearing and extractive policies that are driving these fires and destroying the incredible flora and fauna of Bolivia."
Shame that these animals that were rescued from wildlife trafficking are not even safe in wildlife refuges, says McPhee.
The region affected by the fires is an area that hosts an incredible amount of biodiversity including endangered species like the Harpy Eagle and many threatened species like Lowland Tapirs, Jaguars, Spider Monkeys, and more, explains McPhee.
The biological success of the area dates back to the beginning of the Holocene Epoch—our current geological period—and was due to an important climactic stability covering some 10,000 years, explained Santa Cruz. "That has allowed life to be more diverse than in periods that last millions of years."
"Jaguars, which are rapidly declining, are often forced to look for livestock after fires and are frequently killed. Without Jaguars other species like peccaries can reproduce to unsustainable populations and cause a lot of damage to crops and affect forest regrowth too," said McPhee.
The importance of big cats to the environment is in the control of the population of herbivores that are their common prey, expounded Santa Cruz. For farmers, their presence is of economic benefit—on top of the food chain, they control small animal populations that would otherwise destroy crops.
In runaway fire situations, the damage is broad, multi-level, and lasting.
"Tapirs, for example, are extremely vulnerable to local extinctions due to slow reproduction and overhunting. With fires and limited forests, they become easier for locals to hunt," explained McPhee. However, as they are important seed-dispersers, the forest regrowth is greatly affected, he said.
The interdependence is real, and it is current, and the fire threatens the balance and economy of this swath of Amazonia as much as it threatens the rescued animals.
"We can't continue to be indifferent to this reality," concurs Benavente. "We need to press the authorities so they can take not just mitigation but also prevention measures and strengthening of the sanctions — it is forbidden at this time to burn at the national level. This is what happens with the lack of conscience of people who continue setting fires."
For more than 28 years, her organization has been rescuing wildlife from illegal trafficking, circuses, and mistreatment with an overall mission to conserve biodiversity in the area.
Wildlife researchers at Ambue Ari study the rescued animals well as other wild animals that live independently on the protected lands. In the process, the knowledge-base of sanctuary staff is unique in its understanding of rescued wildlife, new world primates and felines and they are a source of advice and information to governments and organizations on the care of such animals.
Though the ultimate goal is to release an animal back into the wild, it is not always possible. The sanctuary, has nonetheless been able to rehabilitate and reintroduce animals from different species back into the wild.
"We have had particular success with capuchin monkeys, squirrel monkeys and howler monkeys, as they can practice survival skills together in the sanctuaries and be released as groups into the wild," notes the CIWY website. Some animals cannot be handled directly by humans, so the centre has built enclosures or runners with a special system that allows them to move around without human interaction
The threatened sanctuary is located in a remote and economically poor region of Bolivia where hunting and deforestation for agriculture have been a way of life for centuries. CIWY also runs a parallel effort to employ locals and to provide education and environmental awareness.
"The truth is we feel totally overrun, frustrated because we cannot help all the animals that need it," says Benavente, noting again that her 14 volunteers are working round-the-clock turns to fight the fires.
"Yesterday at dawn, we had to evacuate an ocelot and a puma because their enclosures were overrun. Imagine those animals that cannot escape because they are in enclosures." Because many of the animals in the sanctuaries are victims of illegal traffic they are not in a condition to escape the fires or live on their own.
"The Spider Monkey is an endangered species. The Jaguar is classified as threatened," says McPhee. "They are nearly all at risk of local extinctions —the jaguar, the spider monkey, the lowland tapir, and the white-lipped peccary. These are the species that generally are most affected by hunting and landscape alteration."
CIWY recognizes poaching and habitat destruction as the two biggest threats to the area's biodiversity. "A larger percentage is in grave danger of becoming extinct," says the non-profit, making the case that its work is extremely vital in keeping many species from vanishing.
As the wildfires rage sending billows of smoke into the sky, clouding the skies far into the more populated areas, hanging a red-blood-sun over the city of Santa Cruz de la Sierra—Bolivia's largest city and economic centre—images of blackened carcasses and charred bones are just a warning of what could happen to the 39 different species of animals sheltered at Ambue Ari.
The current inventory of protected animals includes among its carnivore mammals: jaguars, pumas, ocelots, margays, Geoffroy's cats, Crab-eating foxes, South American raccoons, coatis, tayras, and spectacled bears.
Among its primates, there are red howler monkeys, night monkeys, spider monkeys, white-fronted capuchins, brown-tufted capuchins, and squirrel monkeys.
Other mammals include tapirs, collared peccary, lowland paca, six-banded-armadillos, nine-banded armadillos, giant anteaters, common opossums, two-toed sloths, southern tamanduas, white-eared opossums.
Birds at the sanctuary include blue-yellow macaws, red macaws, red-and-green macaws, chestnut-fronted macaws, turquoise-fronted amazons, orange-winged amazons, yellow-crowned amazons, southern mealy amazons, mitred parakeets, blue-headed parrots, blue-crowned parakeets, green-cheeked parakeets, nandus, white-throated toucans, dusky-legged guans, speckled chachalacas.
Ambue Ari also cares for yellow-footed tortoises, red-footed tortoise, and the Chaco tortoise, vulnerable species threatened by habitat destruction and pet trade.
Urgent need for aerial support
As the fires swirl and jump and engulf more land, the firefighters on the ground cannot cope. "The helpers that arrived a few days ago have declared themselves overwhelmed and unable to help us," says Benavente. "We need aerial support."
When contacted for an update on the status of firefighting aircraft to the area, the Bolivian Defense Ministry did not respond. In televised comments later, however, Defense Minister Fernado Lopez said, "The focuses of fire are in places that are not good either for clearing nor for exploitation for wood. [They're good] for nothing. They are canyons where there is only fauna and flora."
The sanctuaries are essential, said Santa Cruz. "We need more than ever political leaders to understand the gravity of the situation," said McPhee.
In the path of the fires and already suffering its effects, Ambue Ari is an important refuge, said Benavente. "It has become an island of conservation that is a refuge to many, many species that are escaping the hand of man"
The focuses of fire are increasing in number. Thousands of animals and specifically nine jaguars that are in danger of extinction have been counted on camera in the area. "We are just 15 people defending 900 hectares of land that holds very important biodiversity. This is why we cannot give up," she said.
The fire keeps advancing. The wind does not let up.
"This is devastating," repeated Benavente. "That is why we are asking the authorities and we are insisting that they send us aerial help to prevent a greater catastrophe."