Priyanca Radhakrishnan, a list MP belonging to the Labour Party, is one of the three Indian-origin politicians to have been elected to New Zealand's parliament. She is the parliamentary secretary to the minister of ethnic communities.
In an exclusive interview to THE WEEK, Priyanca talks about how her government is handling the pandemic, the people's reaction to last year's terror attack in the country, and Prime Minister Jacinda Ardern's chances of coming back to power, with elections in New Zealand scheduled for October.
Excerpts from the interview:
New Zealand was one of the few countries that effectively controlled COVID-19, from March to August. But, in recent days, new cases have started emerging. What led to the outbreak and how is your government handling it?
This year has been a challenging one globally. There is no playbook for COVID-19. New Zealand's strategy has always been elimination, which means we have zero-tolerance towards COVID-19. As and when the virus appears, we address it immediately and work hard to stamp it out. That was our strategy during the first wave, and it continues to be our strategy. By going hard and early, we have saved lives, avoided the devastation seen overseas, and created economic opportunities. Our best economic response to COVID-19 remains a strong health response. We do not have to choose between the health of New Zealanders and the strength of our economy.
It is unfortunate that we have seen a resurgence in our community after over a 100 days of being COVID-free. It's not what any of us wanted. Our team of five million made great sacrifices to eliminate the virus earlier in the year, and we worked hard to tighten up the border to keep COVID-19 out of our community. However, experts told us a resurgence was inevitable. Since March, close to 50,000 New Zealanders—citizens and permanent residents—have returned home, often from countries where COVID-19 is rampant. The government had already designed a resurgence plan, which has since been activated. We have multiple lines of defence: robust systems for managed isolation and quarantine, testing, and contacting tracing; and smart physical distancing and mask-wearing requirements.
We continue to work hard to bolster these lines of defence, and whenever gaps emerge we move quickly to plug them.
Alongside fighting the virus, we're rolling out a five-point plan that's keeping people in work, retraining others, supporting job-rich infrastructure projects and strengthening our global position, including continuing negotiations on trade deals.
Countries with women leaders at the helm have handled the pandemic better than their male counterparts. New Zealand Prime Minister Jacinda Ardern earned praise for her steadfast response. What kind of support did you get from the people of New Zealand?
Over the last few months, as we have all grappled with the pandemic globally, the government has always been very clear about the strategy we will follow and has communicated this clearly to New Zealanders through daily updates from the prime minister, relevant ministers and our director-general of health. Very early on, when the pandemic hit our shores, the government created a clear alert level system that provided New Zealanders with information about what they could expect from us at every level, and what was expected of them.
The prime minister is determined to take New Zealanders on this journey. She wants to share with us the latest facts and figures, what we can expect to see at different alert levels, and how cabinet will make its decisions. People tell me this has helped ease some of their fears and frustrations about COVID-19.
While we've had strong, decisive and clear leadership and communication as New Zealand continues to deal with COVID-19, we could not have achieved what we have without the support and cooperation of the nation's people. The majority displayed a high level of trust in the government and complied with all public health guidance and rules at every alert level, including alert level 4—the most severe lockdown that was earlier on in the year.
Ardern has delayed the elections by a month to October 17. Will the elections be delayed further if COVID-19 cases increase by then? How confident is the Labour Party of coming back to power?
Given the disruption that the COVID-19 resurgence has caused, the prime minister made the call to postpone the election date to October 17. She has clarified that it won't be shifted again. Ardern contacted the leader of every party represented in parliament to canvass their view and ensure that her decision was as fair to all as possible. The prime minister's decision also took into account the time the electoral commission needs to re-book polling venues, print materials with the new date and organise their staff, which includes about 25,000 staff members on election day.
The government has ensured that the electoral commission has a plan and is equipped to run the election even if we're at a higher alert level on October 17. The date can be further postponed by the electoral commission, but this will only happen if it is absolutely necessary from a public health point of view.
The Labour Party continues to fare well in current public polls. However, we will take nothing for granted and continue to campaign and earn every vote possible in the lead up to the General Election. Our campaign was suspended nationwide while we were at alert level three and the government needed to focus on dealing with the resurgence of COVID-19. We are now restarting the campaign in a way that's safe and will continue to work hard to win a second term.
It has been a year and a half since the attack on the mosque in Christchurch. Some members of the Muslim community in New Zealand say there is still a rhetoric of hate and they feel unsafe sometimes. How is your government handling this, while also making sure that such an attack doesn't take place again?
The terrorist was recently sentenced to life in prison without parole—the first person in New Zealand to receive this sentence. Following that, he was designated a terrorist entity by the prime minister. The designation under New Zealand legislation freezes the assets of terrorist entities and makes it a criminal offence to participate in or support the activities of the designated terrorist entity. I understand that these actions have given some comfort to the families who lost loved ones in the attacks or whose loved ones were injured and to our broader Muslim community in New Zealand, who feel that justice has finally been served.
Immediately after the attacks, our government launched a Royal Commission of Inquiry into the events of March 15—how it could have happened, and how we prevent it from occurring again. The Royal Commission is due to report their findings later this year.
Soon after the attacks, our government passed legislation to make our communities safer by banning semi-automatic weapons, like the ones used by the alleged terrorist.
We have also boosted funding significantly for the Office of Ethnic Communities to increase grassroots connections between the government and ethnic communities.
Specifically, for those impacted by the terror attacks, we established an all-of-government emergency community support hub that allowed the affected community in Christchurch to access financial, emotional, health support in one, safe place. We also invested in securing many places of worship and learning, such as mosques, synagogues and schools, through the government's $6.8m Safer Communities Fund.
The prime minister and our minister for ethnic communities held many meetings across New Zealand specifically with Muslim communities, including different meetings for women and youth, to hear their concerns and ideas for a safer, more harmonious New Zealand. These were well attended and the resultant report—and programme of work—is publicly available on the Office of Ethnic Communities website.
Our government also fast-tracked a review of hate speech legislation in the wake of the March 15 Christchurch terror attacks, to protect New Zealanders' right to safety and be free from discrimination. This work is still ongoing.
New Zealand is a beautiful place to live in where value of social inclusion and fairness are the values of the majority. However, there is still more work that needs to be done to continue to strengthen social inclusion and our government is focused on valuing our diversity and also ensuring that all of us, regardless of ethnicity, religion or gender, are able to live with dignity and in a way that is safe.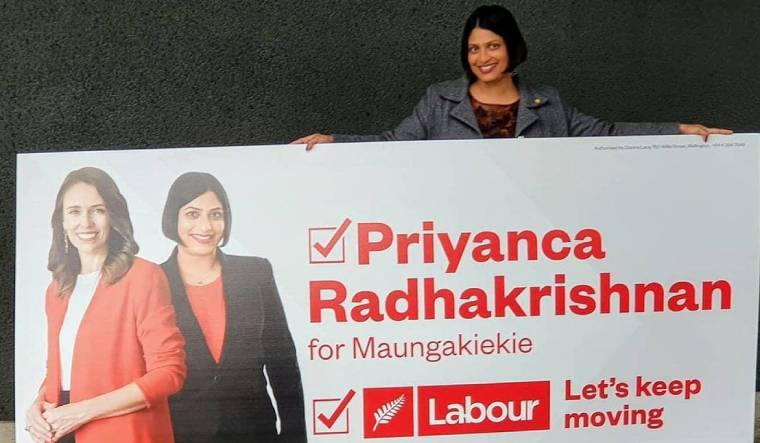 You are one of the three Indian-origin leaders elected to New Zealand's parliament. You were appointed the Parliamentary Private Secretary for Ethnic Affairs in mid-2019. What were your major accomplishments? Post elections, do you look forward to remaining in this post?
I am the only New Zealand MP of Indian origin on the government benches.
I was honoured when the prime minister appointed me as the parliamentary private secretary to the minister of ethnic communities, mid last year. In that role, I have been working closely with the minister on various initiatives to ensure that our ethnic communities are able to thrive. I often speak on behalf of the minister at various events, input into the work of the Office of Ethnic Communities and engage widely with different communities to raise their concerns and aspirations with the minister so that our government is able to lead in a way that is inclusive. I provide input specifically in areas related to domestic violence that disproportionately affects our communities, migrant worker exploitation, Immigration and support the work of the government to address barriers to employment and leadership positions for New Zealanders from different ethnic communities. I also had my name to a bill that made all forms of female genital mutilation illegal in New Zealand.
You are a Malayali. How connected are you to your roots in Kerala? Your family has been active in left-wing politics. How do you rate the performance of the Left Democratic Front's Kerala government, especially in handling COVID-19?
I was born into a Malayali family. I spoke only Malayalam till I went to school. Although I grew up in Singapore, I visited India every year to spend my school holidays with my grandparents and extended family in Chennai, visiting Kerala often. I still have family in Ernakulam and Ottapalam. My maternal great grandfather, Dr C.R. Krishna Pillai, was a medical doctor, who was the secretary of the Transport Workers Union. He was involved in left-wing politics in India and was part of the Aikya Keralam movement that was instrumental in the formation of the state of Kerala. He was also an author. One of the earliest travelogues for children in Malayalam was written by him in the form of letters to his granddaughter (my mother), and it was about his visit to the Soviet Union.
I have read about the work done by the Kerala government and commend them for it. I have read a bit about the Kerala's Health Minister K.K. Shailaja and her handling of the pandemic, which has been noticed and commended internationally. In fact, both Shailaja and our prime minister recently took out the top two spots in a British magazine's list of the world's top 50 thinkers. It makes me proud to be a Malayali woman and a New Zealander.