At a press conference in Jeddah, Saudi Arabia, on Wednesday, Saudi Colonel Turki bin Saleh al-Malki displayed pieces of what he claimed to be weapons debris from the attack on the Abqaiq and Khurais oil processing facilities on September 14.
Al-Malki said that 25 drones and missiles were used in the attack on Aramco's oil facilities on Saturday, stating that the attack was launched from the north and was "unquestionably sponsored by Iran". He added that they were working to find the exact launch point, which has yet to be confirmed as originating from Iran.
Yemen lies to the south of the targeted oil facilities, while Iraq and Iran lie to the north.
Al-Malki said that an analysis of the components suggests that they "point to Iran" and that "the attack could not have originated from Yemen" as it was not within the range of capability of the Houthi rebels.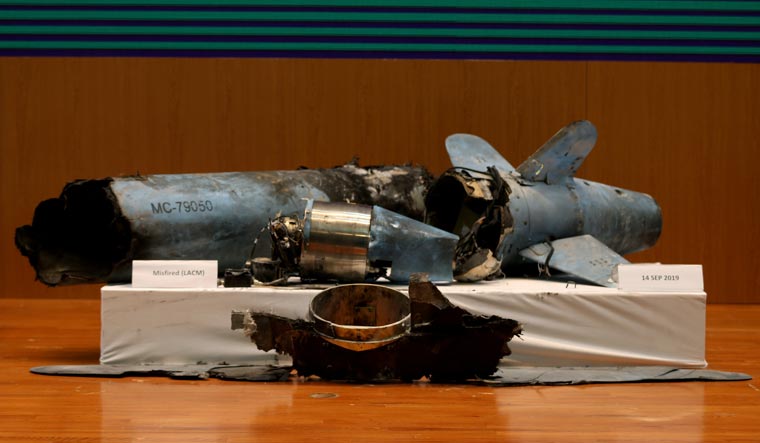 US Secretary of State Mike Pompeo arrived in Jeddah on Wednesday for talks with Saudi officials on the matter. Pompeo had accussed Iran of a role in the attack during the weekend, although he offered no evidence for the same at the time. While enroute to the event, Pompeo said that the attack put the "global energy supply" at risk, calling it an act of war.
US President Donald Trump and UK Prime Minister Boris Johnson had a phone conversation on Wednesday, seeking a "united diplomatic response from international partners" to Iran, with Johnson saying that Iran must not be allowed to gain nuclear weapons. Trump also tweeted on Wednesday that he would be asking the US Treasury to "substantially increase" sanctions on Iran.
Later, Trump told reporters that the Saudi conference had not added to what the US already knew about the attacks. He added that he would provide more details about the increased sanctions within 48 hours.
Iran's response
Iran has denied any role in the attacks and issued a diplomatic note to the US on Wednesday emphasizing this. The country's foreign minister, Javad Zarif, tweeted after the conference, "Escalating US economic WAR on Iranians, @realDonaldTrump ordered SoT "to substantially increase sanctions against the COUNTRY of Iran!" It's admission that US is DELIBERATELY targeting ordinary citizens: #EconomicTerrorism, illegal & inhuman. ُStop war & terror. #Security4All."
An advisor to Iranian President Hasan Rouhani said that the press conference showed how little Saudi Arabia knew about where the missiles or drones were made or launched from. Hesameddin Ashena tweeted saying, "The press conference proved that Saudi Arabia knows nothing about where the missiles and drones were made or launched from and failed to explain why the country's defence system failed to intercept them." 
Houthi rebels, currently fighting a war against a Saudi-led coalition in Yemen, had claimed the attack on Saturday itself, stating that they had used ten drones to conduct it. On Wednesday, Reuters reported a military spokesperson for the rebels as threatening to strike the United Arab Emirates (who are part of the Saudi-led coalition in Yemen) next. "To the Emirati regime we say only one operation (of ours) would cost you dearly," said Yahya Saria in a televised speech."Today and for the first time we announce that we have dozens of targets within our range in the UAE, some are in Abu Dhabi and can be attacked at any time." Sahya added that the Houthis have new drones, powered by "normal and jet engines".
Trump blamed Iran for the attack shortly after it took place, though he backtracked on his statement at a press conference in the White House on Wednesday, when a reporter asked him to clarify what he meant. Trump responded, "I said we think we know who it was, but I didn't say anybody but ... Certainly it would look to most like it was Iran but I did not say it the way you said it."
Kuwait had put its armed forces on alert on Saturday after a drone was spotted flying over the nation's capital, tightening security around its vital installations. In addition, on Wednesday, Saudi Arabia joined the international maritime mission to secure the Strait of Hormuz, Bab al-Mandab, the Sea of Oman and the Arabian Gulf, stating that it was doing so for the safety and protection of maritime shipping.