While most people tend to ignore the obituary section in newspapers, one particular death notice in the Redwood Falls Gazette from Springfield, Minnesota had its readers, and others, pick the paper and turn to the obit page.
Kathleen Dehmlow died on last Thursday aged 80. Her death was announced in the newspapers' print and online version. But what was unique was the details of Kathleen Dehmlow's life in the early 1960s that caught everyone's attention.
The obit begins properly enough noting her birth and parents. Her marriage to Dennis Dehmlow in 1957 and the brith of her children Gina and Jay is marked in the second paragraph.
The story then moves to her affair with "her husband's brother" in 1962 and the subsequent pregnancy. The obit goes on to tell the reader that Kathleen Dehmlow moved to California and left, or rather "abandoned", her children who were then raised by her parents in Clements.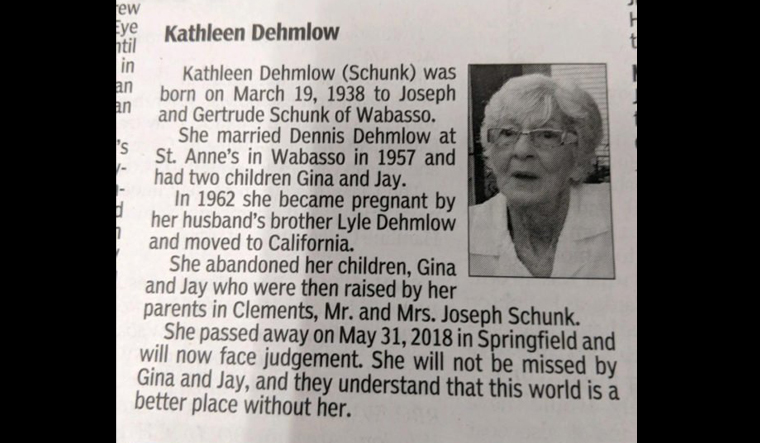 The closing paragraph notes her death on May 31, 2018 and promises that she "will now face judgement". Jina and Gay, who probably placed the obit, claim that they "will not miss her". They close the notice with the consolation that "the world is a better place without her."
While obituaries are informations of death with a brief biography of the deceased person, they are not expressions of anger or resentments. But, it is a new world and anything can happen.
The 105 words obituary was a reflection of what the Gina and Jay felt about their mother. While many enjoyed reading the savage obituary and congratulated the son and daughter on their take down of their mother, others criticised the newspaper for carrying the "hate" obit. The Gazette has since then removed the notice from their online version.